In the #bufferchat this week, Anil Dash shared his thoughts and insights about diversity and inclusivity in the tech world. We discussed how diversity impacts technology, how to work through challenges, and how we can foster a more diverse tech community. It was an hour of thoughtful conversation and idea sharing!
Catch our weekly Twitter chat, #bufferchat, every week on Wednesdays, 9 am PT / 12 pm ET / 5 pm UTC, for valuable industry insights and networking with nearly 400 other smart marketers and community managers. It's a fun time!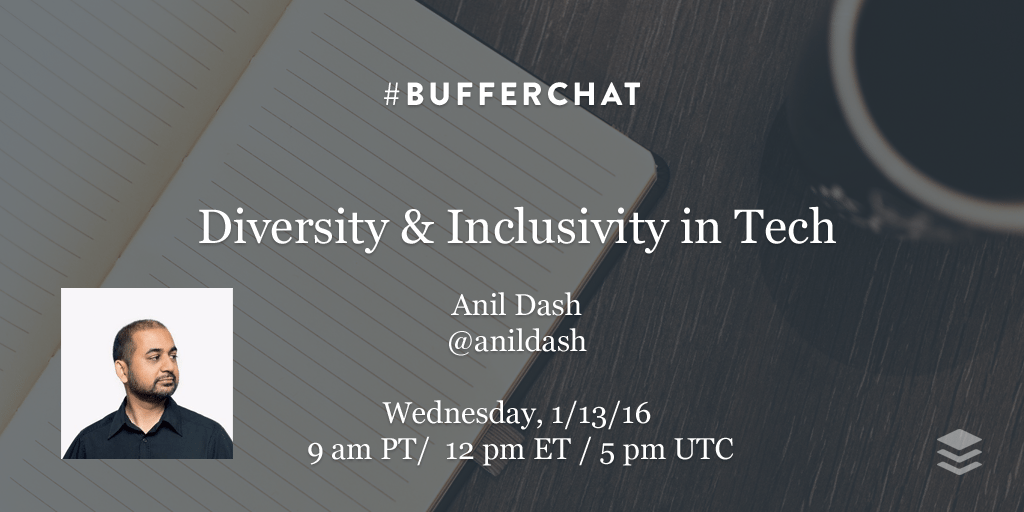 Q1: How does diversity (or lack of diversity) affect the way technology evolves?
From Anil:
The impacts are profound. For example, most in tech come from very well-off middle-class backgrounds, never having worked a job for tips.
Yet many people in tech are building "sharing economy" apps, where tips are part of the expectation for how workers get paid.
So we see an app change something like a button for choosing a tip amount, but the designers may not know how important it is.
We can imagine the same kinds of issues arising around cultural concerns & social norms that vary a lot by country or community.
From the community:
"Lack of diversity in technology can create to narrow of a vision. Diversity helps consider different uses & needs." @kristen_vaughn
"Without diversity we wind up with tech that only benefits a portion of the world—tech can and should help everyone." @michemakeswords
"Could tech truly evolve without diversity…? I don't think it's possible." @TennileCooper
See all the great answers to question 1 here!
Q2: Why does creating more diversity in a community often seem like a challenge?
From Anil:
There are many reasons that diversity in tech has been so difficult, even though we have at least started to discuss it.
The first one we have to acknowledge is that many people who are in charge now don't want any change. They're threatened by it.
Now, I think they're wrong to be threatened by diversity, since including everyone benefits everyone, but that is reality.
Another challenge is how we talk about inclusion, like it's homework we have to do, instead of an exciting opportunity.
The truth is, getting everybody to be able to participate in tech is often rewarding and inspiring all on its own. It's fun!
There's also a huge economic value to being more inclusive in tech. But if you have to rely on money as your inspiration… well.
From the community:
"One builds a community by inviting others. If we only know people like ourselves, how can we build a diverse community?" @kecatlin
"Communities lacking diversity can be unattractive to diverse candidates. No one wants to be only one in the room." @lkcalloway
"I think it's challenging because everyone has personal bias & we're often reluctant to acknowledge those biases…" @ms_w_chels
See all the great answers to question 2 here!
Q3: How can we work toward a tech community that looks more like the world at large?
From Anil:
And then @buffer asks the key question: What pragmatic things can we _do_ to actually make tech more inclusive? There's a lot!
The first is what we're doing now—talking about it. No problem ever got solved by ignoring or not mentioning it. Gotta say it.
But there are small, concrete actions we can do daily. Look around a meeting room or at an event—who's there? Who's missing?
If you speak up early & often about who is not in the room, people will start to work on changing it. They just need leadership.
Similarly, if you build products or sites, think _explicitly_ of a user from a different background, of different abilities.
Some people worry "I don't want to reduce diversity to a checklist." Well, if you're just getting started? A CHECKLIST IS FINE!
From the community:
"Go where underrepresented ppl are. SEE our experiences. LISTEN 2 what we say. And recognize that it won't happen overnight." @JustAnt1914
"Community building that puts those who are not heard at the forefront of the conversation." @sola_eclipses
"Create support system for diverse candidates after hiring, pay interns, have more STEM programs in high school." @lkcalloway
See all the great answers to question 3 here!
Q4: What people, groups and organizations inspire you when it comes to inclusivity, and why?
From Anil:
From the community:
See all the great answers to question 4 here!
Q5: How can we become more mindful about inclusivity on our social networks?
From Anil:
The first step is being mindful about our networks in general. This was the inspiration behind @thinkup—our time online matters.
So some of it is really thinking, the words we say, the people we connect to, they're real and they have huge personal impact.
For me, being mindful about social networks led to simple experiments. I started this a few years ago: (see article here)
Everybody can find their own way of expanding who they follow, who they amplify, who they read. It's taught me _so_ much.
From the community:
See all the great answers to question 5 here!
Q6: We all have bias. What can we do about it?
From Anil:
One of the toughest, most challenging questions from @buffer: What do we do about the biases we have?
I think a lot of people have come to understand we all have biases, and that we should acknowledge them. Which is great! But…
Sometimes people say, "Well, everybody's biased—it's just human nature." and use it as an excuse not to change. Frustrating.
So I prefer to think of it as two things: personal biases in each of us, and structural biases in society. We gotta fix both.
On a personal level, biases are bad habits we're taught. Just like your new year's resolution may be to unlearn bad food habits.
The _hard_ one, the invisible one, is structural bias. We usually don't even realize we're enforcing it & need help to fix it.
For years, LinkedIn told me my profile was "incomplete" because I hadn't listed my college degree. I didn't go to college.
I imagine the product meeting, the smart people making that tech, thought they were offering a helpful prompt. But for whom?
And then extrapolate from that product to the hiring or advancement opportunity in all of tech. What assumptions are baked in?
From the community:
See all the great answers to question 6 here!
Q7: What would successful diversity in the tech community look and feel like?
From Anil:
Alright, the last question from @buffer: What would: successful diversity in tech look like? I imagine this a lot. ?
Most folks who know me know that I'm a huge fan of pop music & pop culture. That informs how I think about truly inclusive tech.
Today, if you make innovative tech for audio or music, you'd create an app. But in the 70s or 80s, you'd probably make hardware.
So for example, Hohner is famous for making musical instruments. When they innovated in hardware, they chose who to give it to.
Instead of just going to the same folks who always played their accordions, Hohner gave their new clavinet to Stevie Wonder.
It might not seem like it, but Stevie Wonder's "Superstition" is _also_ an example of inclusive access to new technologies.
A company with innovative new hardware thought it should work for someone of a different race, with different abilities.
So, what would successful diversity in tech look like to me? Like this! ?

From the community:
See all the great answers to question 7 here!
—
Thank you so much to Anil and to everyone who participated in this thoughtful chat!
Catch #bufferchat each Wednesday at 9 am PST, 12 pm EST, 5 pm UTC. Join our new Slack community with over 1,000 members to continue these awesome conversations all week long!
Do you have any comments or answers to these questions? Leave your thoughts in the comments! We'd love to hear from you!
Image sources: UnSplash