Let's say you're a startup or early stage company and you've made it a priority to grow in a way that's diverse, inclusive, and representative of its surroundings. That's a great decision!
Now, how do you make it happen?
Do you tell everyone to say something when they see something? Create a committee? Appoint one person to create change?
At Buffer, we've tried all 3 of these methods and even more mixed combinations between them.
In the last few years, we've:
Allowed diversity projects to grow organically and freeform during our self-management experiment
Formed a diversity and inclusion guild of folks interested in working on diversity initiatives in addition to their "normal" roles
Given over a whole role to focus on diversity and inclusion efforts
All of these methods have created change. During the freeform phase, we conceived and created our open-source diversity dashboard as a side project. When a guild focused on D&I, we had an eye-opening teamwide unconscious bias training and saw peak conversations around these topics. When the effort was owned by one individual (me, in this case) we transformed our recruiting and interviewing process to remove as much bias as possible (it's important to note that I definitely didn't do that alone).
But companies change – especially startups and scaleups. In the year since we devoted a full role to inclusion, a lot has happened. Buffer experienced a cash flow crisis and subsequent layoffs of 11% of the team. We recommitted to a unique path of slow, sustainable growth – a big change from the previous year, where Buffer went from 34 to 94 people.
Today we're a company of 75 folks, still in a fair amount of diversity debt. We have no plans to hire for the rest of the year and we're looking at a slower growth plan for the foreseeable future.
So what does this slower-growth path mean for our commitment to diversity and inclusion? The main thing it means is that devoting a role specifically to D&I no longer makes a lot of sense at the moment.
As we're not hiring, there's much less need to focus on our recruiting, interviewing and hiring process (although we're still working hard to be ready when the time is right.)
We currently don't have the money we once devoted to POCIT, #wocintech, 2020Shift, Lesbians Who Tech, and other worthy initiatives and programs. (But if you do, you should absolutely support them; they're doing awesome work!)
What we can and will keep doing is focusing on the teammate experience at Buffer, making sure that all teammates feel a sense of inclusion, are healthily challenged in their work, and have a clear path for how they can grow and achieve at Buffer.
The inclusion side of "diversity and inclusion" often gets short shrift, so this presents a neat opportunity to focus in there, re-examining things like our company perks, career paths, and more with an eye toward ensuring each teammate can bring their authentic self to work each day.
What's interesting about focusing on the inclusion side of D&I is that the work inevitably seems to lead us back to higher-level People initiatives: How we handle things like vacation or burn out from lack thereof. How we coach leaders and grow individual contributors. How we promote and give raises. This may be because, like many startups, Buffer lacked a dedicated People/HR team for most of our journey. Or it may be simply that in the same way that diversity makes a company stronger, inclusion makes a company happier and more engaged.
For now, we've decided to honor the spot we're in and try to bake diversity and inclusion into everything we do instead of isolating it to one area/person. This has had interesting results so far, kind of bringing us full circle to the original "see something, say something" strategy.
In our engineering team, a culture survey showed a lower score on the metric of inclusivity and belonging: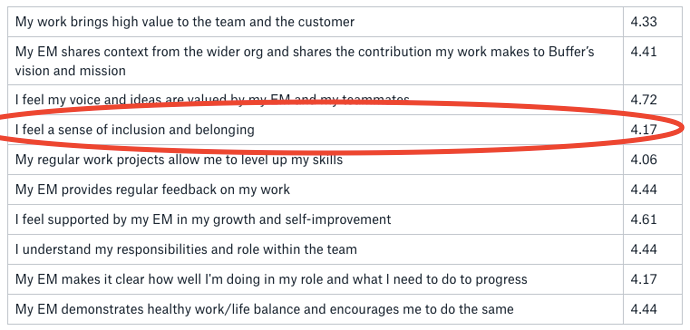 This led to a spirited discussion that got everyone reflecting on what it means to consider words like "guys" and "dude" as gender-neutral, especially when our engineering team is far from gender-balanced. Most teammates made the decision to try to avoid that language in order to make engineers who are women feel more included.
Meanwhile, our happiness team is digging into the topic of artificial harmony and working on exercises that will encourage more healthy conflict.
It's great to see that this topic can be diffused into many different areas of an organization and applied in the way that that area sees fit. But while I truly believe that diversity and inclusion is everyone's job, it's not a Lego I'm willing to give up completely. Oftentimes when something is "everyone's job," that actually means it's no one's job and it falls off the radar. We aren't going to let that happen at Buffer.
Especially when it comes to making progress on diversity and inclusion, the buck has to stop somewhere. So the ownership and accountability for this role still falls to me for now.
You won't see much evolution in our team photo for a while, but rest assured the work is still going on. And if you have suggestions on how to work on diversity initiatives in a slower-growth team, I'd love to hear them!