For the Denver Broncos—and most any major sports team—there's so much to share on social media not just at game time but all week long, all year long.
How do you get the right content out at the right times?
How do you ensure that all the awesome material from your site makes it to your social profiles—and know which content resonates?
How do you get your whole digital team to join in and contribute?
Look no further than the Denver Broncos. Their digital media team has a slick and efficient system in place to entertain and engage with fans on social media, using tools like Buffer. The results: The Broncos are one of the top teams in the entire NFL when it comes to social media.
Here's how they share.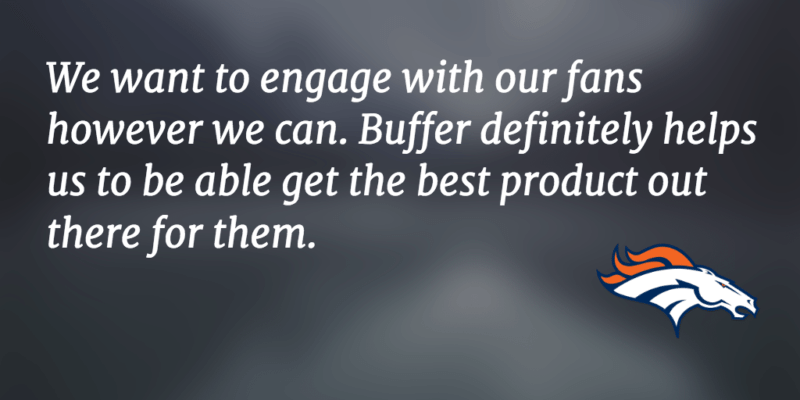 Getting the whole team involved in sharing to social media
Ben Hunt, the Broncos' Director of Digital Media, and Scott Ward, the team's Social Media Coordinator, have an awesome system in place for sharing. And one of the keys is the way the digital media team comes together to get content ready to ship to fans on social media.
The Broncos use Buffer's team members feature to allow for others on the digital media team to contribute content to Twitter, Facebook, and Instagram. Eight people are currently on board with access, and Scott and Ben have the final approval on everything that goes out.
Scott handles just about every social post that goes out on our behalf. It's definitely a challenge for him to be able to write, link, and put media with those posts, whether it's photos, or videos, or whatever. Having the contributors to be able to do that in advance for him—then he just needs to go in, maybe tweak the way the post was structured a little bit, or just approve it as is—that's huge for us.
The way team members works within Buffer, different people can have different permissions.
You can have profile contributors who can create the content and submit for review.
You can have profile managers who can approve content and fully manage the queue, analytics, and scheduling.
Ben and Scott use this system as a way to efficiently add content to their queue: It saves Scott from having to create all the content all the time and instead allows him to share ready-made stuff in a single click.
Another benefit is quality control. The team member functionality is an added step to ensure that the content is on point, accurate, grammatically correct, and all the little things are in place that make for a great social media update.
How to easily tell which content is worth resharing
The Broncos may share more than 20 social media updates per day (possibly even more on gameday when the team wins).
How do they know which content is resonating most?
In the absolute easiest way possible, Scott is able to quickly dive into Buffer analytics and see at-a-glance what's working, simply by spotting any Top Post tags.

Whenever these tags appear, Scott knows that this post was a hit, getting more total engagement (perhaps from extra clicks or extra reshares) than a typical post. At that point, he can act right away by re-scheduling it to share again.
Clicking on the re-Buffer link from within the update
Drag-and-drop from analytics back into the queue

We utilize the "top tweet" — how Buffer lets us know throughout the day what's performing well, that sort of thing. I'll Re-Buffer those at night sometimes, just at a different time. If it was in the morning, I'll do it in the afternoon. I use that a lot.
To fill out the picture from the analytics side, the Broncos also rely on Rival IQ for advanced analytics on their own posts as well as how their fellow NFL teams are performing on social media.
How the Broncos found their ideal posting schedule
The Broncos—and all sports teams—have an interesting use case of social media scheduling: There's a balance of live events and real-time news, coupled with the in-between times of sharing content with a different rhythm.
Ben and Scott have found some neat ways to work within this duality.
Get a standard schedule in place to help make sure content is always going out at the right times
Be flexible on game days and with news by sharing right away or setting custom times
From Scott:
If I were to stay directly on schedule, we never really go more than about 50 minutes without a post. But then there are times where we share stuff immediately or will share things just to get them out in a timely manner.

After a game I'll often do a custom schedule, and we will have posts scheduled around the clock because we have a lot of content and everything is relevant or timely at that point. Of course everything we throw out after a big win, our fans love.
The main schedule for the Broncos came about with a mix of research-backed data and personal results.
The team started with an around-the-clock schedule of 24 posts on Twitter, one every hour.
When the return from those late night tweets wasn't quite as good, Scott went into research mode, checking out some of the posts on the Buffer blog even that share about the best times to post on Twitter as well as concepts like The Burrito Principle.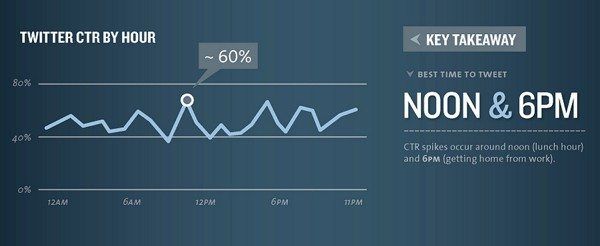 This inspired the new schedule: Sharing the same 24 times per day but in a condensed way. Every post the Broncos schedule is now set for daytime hours in the U.S., beginning at 5:00 a.m. on the East Coast and stretching to 10:30 p.m. on the West Coast.
The Burrito Principle has been a really good strategy to keep in mind, especially on Twitter. I'll even think about that, what that content is, and is it consumable. A lot of times, I'll put out a press conference around those times. If we have Coach Kubiak's press conference in the afternoon, I'll put the presser out right away on our Broncos TV profile, but later I'll retweet it at a time where I know people are probably sitting in traffic, or sitting on the bus. It's a perfect chance for them to, "Oh, let's see what Coach Kubiak said today."
Feeds & Making sure all the right content gets out there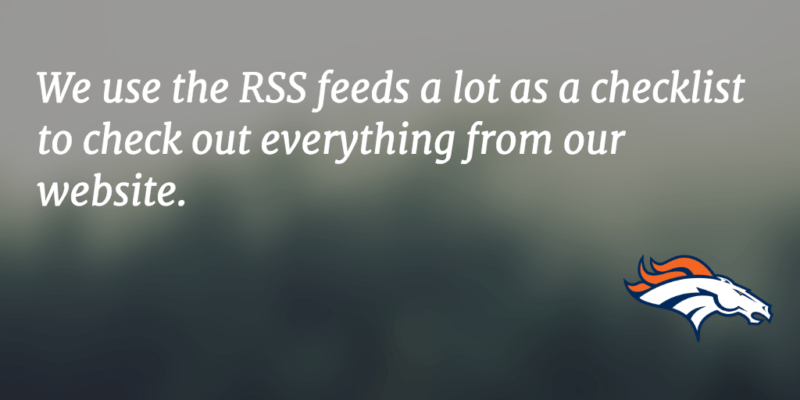 The Broncos are also epic content creators. Their official team website has loads of articles, videos, and features that make ideal content to share on social media.
And here's the way they make sure it all gets out there.
The Broncos use Buffer's Feeds to tie in content from their online content channels right into the Buffer app.
With Feeds, you can pull in up to 15 RSS Feeds per connected profile, and all that content fills in automatically and chronologically into the Feeds section of the app, from which point you can approve or dismiss with a single click.
Scott finds that the Feeds system works great as a sort of checklist for seeing what's been published and what's been shared. It's an inbox of sorts, constantly filling with new messages each time a new article is published.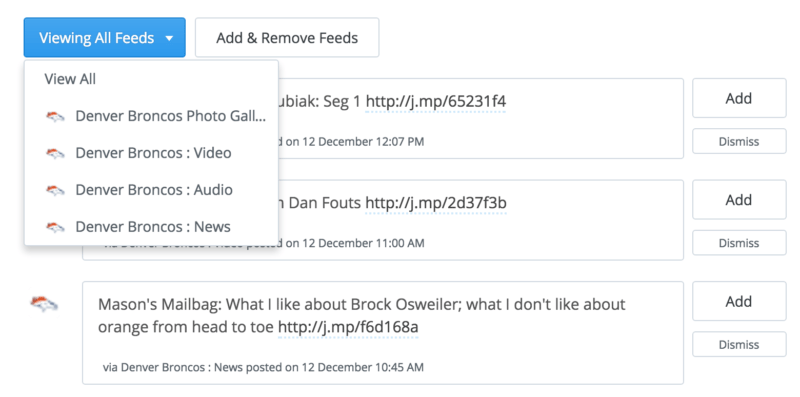 Mobile integration and sharing on the go (and on the bus, and on the field, …)
Due to the nature of pro sports, the Broncos' digital media team is always on the move—either traveling back-and-forth from away games, heading down to press conferences or practices. It's key that you're able to take your social media sharing with you wherever you go.
Ben, Scott, and the team have found this to be easily accomplished with the mobile version of Buffer (on iOS and Android).
With the app and the desktop version, it's a really smooth interface between the two. That really helps a lot. Our contributors use the desktop version to contribute content, and then I get alerted to it. I'll approve it, and make any edits and push it out. It definitely helps us to always be on.
The social media tools used and loved by the Broncos
Here's a picture of the full social media stack for the Broncos, all the tools that help them schedule and analyze content and see what's working for their players, fans, and fellow NFL teams.
Buffer – For social media scheduling, team management, and content distribution
Rival IQ – For competitive analysis and full context and data on their social media shares
Way In – For social data visualization and data discovery of the Broncos's particular niche
Encore Alert – For keyword monitoring of Bronco-related topics, fans, and players
Essentially, what Encore does, instead of us having to log into a dashboard all the time to see what's trending or seeing what's making news – as soon as something hits social, whether it's Instagram, whether it's Twitter, it'll let us know by sending us an email. The email gives us instant insight on say, "Hey, this is trending around Demarcus Ware" or "Emmanuel Sanders tweeted about this today, and it's getting 15% more traction than his normal tweets do." It allows us to take action in real time from the email alert.
Additionally, the Broncos have used Encore Alerts to spot new fans like UFC fighter Holly Holm, DJ Tiësto, actor Kate Hudson, NASCAR Sprint Cup Champion Kyle Busch and NBA All-star Paul George, just to name a few —all social media influencers who loves the Broncos and who the team might not have found out about without it.
Want simple team sharing and scheduling for social media?

The Denver Broncos use Buffer for Business to manage their social media marketing, to engage their fans with timely content, and to stay connected as a team on social posting on-the-go.
Join the Denver Broncos and 5,000+ other brands and business with a free trial of Buffer's most powerful social media features!
Image sources: Craig Hawkins, Pablo, Denver Broncos
Note: This article was originally published in December 2015 and has since been edited to include the most up-to-date information.