🔓Creators Unlocked
This interview is part of a series called Creators Unlocked that delves into the world of content creators to uncover the stories behind their social media posts.
From Twitter to TikTok, the articles aim to offer insights and learnings for aspiring and established creators while also offering a glimpse into the lives of those behind the screens. Check out the other interviews here.
Welcome to the latest installment of our series, Creators Unlocked, where we speak with creators to understand what it's like behind the screens of the tweets and TikToks to learn from their experiences.
Today, we're unlocking Katie Xu's creator journey, from being the brain behind the social media accounts of companies like Kapwing to being a TikTok creator with 80,000+ followers.
Katie's TikTok has grown in leaps and bounds thanks to several viral videos featuring her analysis and advice about what makes a successful creator. In this interview, we discuss Katie's unconventional approach to advising creators and look at her plans for growth as a creator.
✍🏽
This interview has been edited and condensed for clarity.
---
Q: What inspired you to start creating content on social media?
I've always been interested in social media and have been creating content for a long time – at least since middle school. Before, it was for myself, clubs at school, or the cafe I worked at. But I only started recently creating content to build my personal brand.
It took a while to get to that point because I had to take time to gather the courage to finally start putting myself out there. Until this point, I had been hiding behind other brands, running their social media as a business. Now, I feel like inspiring and empowering people through content and have even started getting messages that my videos help people get the courage to start for themselves.
Q: And what was the push to get started doing social media for yourself, not just other people?
I stumbled upon freelancing accidentally, but it opened me to a world of people who were doing business with no social media presence, and I became the person that helped them do that. That was eye-opening to the importance of social media in entrepreneurship. As I built expertise in social media, I saw an opportunity to build my personal brand and that was what got me started.
Q: What type of content do you create, and who do you create it for?
The lack of a niche doesn't help much here, but the content I create documents my journey as an entrepreneur and content creator and helps me share my thoughts, ideas, opinions, and experiences with all my various endeavors. The ideal audience is aspiring content creators and entrepreneurs, but I hope my content can reach and help a broader audience.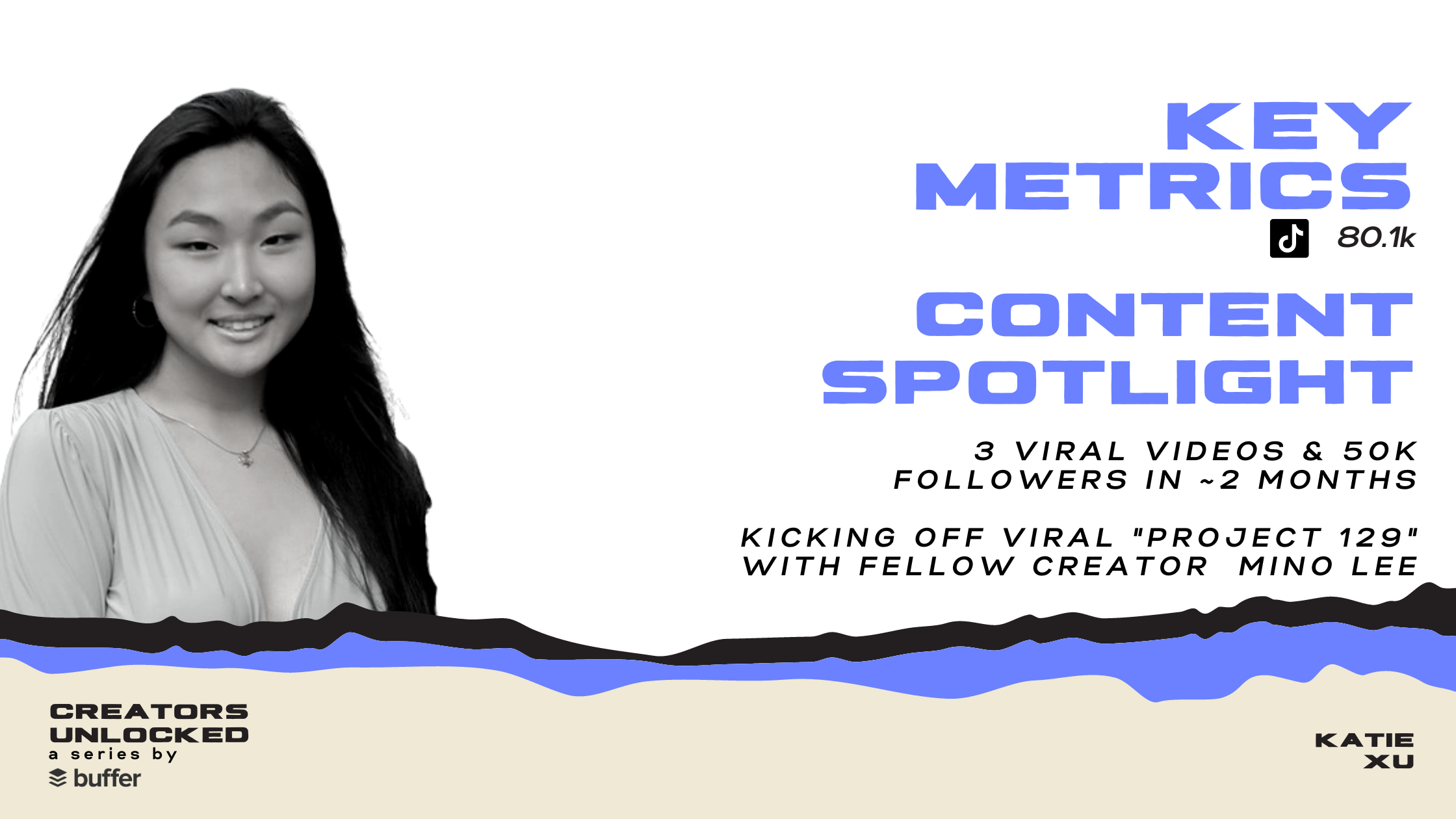 Q: What's in your tool stack for content creation?
For video creation, TikTok is where it's at. I don't like creating videos outside it because it adds too many steps to my workflow, which I like to keep simple. Even when editing for clients, I log into their TikToks because it feels more natural and native.
In terms of monetizing my platform, I use Stan for my link-in-bio because the user experience is so clean. And it makes the flow of purchasing [my products and services] easier for my audience.
Q: What are your goals for 2023, and how will you measure their success?
In terms of content creation, I'd say diversifying my brand and creating a long-term, sustainable business out of it. That's my ultimate goal because while I love creating on TikTok, a platform that you don't own can be taken away at any time. The algorithm can decide one day to stop pushing my content.
Also, some background: I took a gap year to pursue content creation and I'll be going back in the Fall [of 2023]. When I do, ideally, I'll have a brand that I can take with me and continue to document my life.
Q: That's so interesting – in terms of diversifying, what platforms are you considering? Are you looking outside of social media?
Definitely – I want to build a newsletter or at least an email list. I've heard from many creators how important it is, and I definitely see the importance as I slowly start to build my own. It's comforting to know that I can always reach my audience.
I'm also tentatively considering starting a podcast – and I say that because I'm hesitant to jump on just any medium or platform because I prioritize focus and doing things well. But you can hold people's attention much better with a newsletter or 30-minute podcast than a short video. The dedicated readers and listeners really become your core audience.
Q: The ideas you share on social media lean towards the unconventional. What would you say your creative process is like? How do you come up with ideas for content?
I'd say my method of coming up with videos is also part of the unconventional goodness of my content. Before getting to creating content, I worked backward in terms of strategy. So I decided for myself what kind of content I like, what I want my brand to look like, and what would be the best method to get my ideas out there.
There's a lot of great advice about which ideas you should be sharing, how to share them, and on which platforms, but it can be algorithm-oriented, which ends up being restrictive to creators. Personally, on TikTok, I want my videos to be raw, low-effort sharing of ideas. I want them to be things I come up with on the spot that are good regardless of flashy editing or trendy music.
Q: The lo-fi approach definitely works – you've gone viral several times already. And I know that with virality comes pressure, among other challenges. How do you navigate challenges as a creator?
With going viral came a lot of traffic, and while it wasn't a big challenge, I wasn't fully prepared to receive the influx. I had no official domain and could not handle all the incoming inquiries.
Another thing is that content creation has been time-consuming. So I can definitely see it being a challenge if I had to balance school and working for a company alongside creating. To be honest, I haven't quite found that balance yet.
Scrolling is one of the hardest things to handle because you're so used to engaging on social media as a consumer, but when you do it professionally, you have to pay ten times more attention. Your mind is always looking at content analytically, breaking down the creator's approach and thinking up improvements. It can take up more time than mindless scrolling.
Q: How do you navigate the need to earn a living from content creation with creativity as it becomes more of a business?
My situation is a bit different from other creators because my income isn't reliant on brand deals – it comes from the business I built before starting to take social media more seriously. So luckily for me, income is pretty steady.
The part where the balance gets tricky is that it can suck the joy out of content creation if that is all you do. I do it for brands, and I have to do it for myself as well. I've spoken to so many creators who want to work on their own content but are so focused on working for others that it becomes difficult.
Q: What advice would you give to someone who's just starting to take their social media seriously and build their brand?
One, realize that content creation is a skill that needs to be worked on and not just a lucky break that happens to anyone. Of course, people get lucky and go viral but if you want to pursue content creation sustainably, it has to become part of your routine. Treat every video you put out as practice so that even when engagement isn't forthcoming, you can stay consistent. The big creators make it look easy but they have skills, whether in editing or storytelling, or simply connecting with people.
Two, in my opinion, you have to become the niche. I think niches are a very nuanced discussion, but you have to realize that you can't hide behind the category.
Even with cooking videos, if you're just doing tutorials on YouTube and that's all you want to do, great. But if you ever want to grow as a brand and expand into other parts of your industry like releasing a cookbook, you have to be willing to speak in your videos and inject your personality. That's what builds real connection with an audience.
Q: You mentioned that you make most of your income from consulting – but have you started making income from publishing on social media? And can you rank your streams of income from most to least profitable?
I'd say my favorite method right now is coaching and working with people to build their brands. It's fulfilling to help them figure out what they should be doing and provide them with clarity. Then after that would be working with brands, which isn't bringing in too much money yet, but is rewarding all the same. Although to be honest, I prefer working more in the background for brands to make money than straight up selling something on my social media.
Q: What are some challenges you've faced when it comes to pricing your services as a creator?
My biggest challenge is definitely knowing what to price. I'm learning every day how to price confidently and even what value determines how I choose to price my work. I look forward to having a better perspective in a couple of years, but right now I'm still thinking about the difference between time vs. value-based pricing.
So many things go into why a brand deal costs a certain amount – it's not just the time you spend or your follower count but also your skill as a creator to deliver great content and sell a brand convincingly.
Q: Is there anything, in particular, you're keeping an eye on in the content creation space for the future?
I will definitely be keeping an eye on YouTube Shorts. I just think YouTube is definitely a threat when it comes to the video space.
Takeaways
Katie found success on TikTok by focusing on raw, low-effort content that prioritized sharing ideas over flashy editing or trendy music. This approach allowed her to stand out from the crowd and showcase authenticity, which helped her gain a loyal following of more than 70,000 followers.
To build a sustainable personal brand, Katie plans to diversify her online presence across multiple platforms. She recognizes the risks of relying solely on one platform like TikTok, whose algorithm may change or stop promoting her content. By building a newsletter, considering a podcast, and keeping an eye on emerging platforms like YouTube Shorts, Katie aims to ensure her brand's long-term success and stability.
As a creator, Katie stresses the importance of injecting personality into content and becoming the niche, rather than just fitting into one. She believes that this approach helps build a real connection with the audience and opens up opportunities for expansion within the industry. For instance, if a creator shares their personality while making cooking videos, they are more likely to succeed in releasing a cookbook or building a personal brand around their expertise.
When it comes to pricing her creative services, Katie's biggest challenge is determining the right price. She is constantly learning how to price confidently and considers both time and value-based pricing. Factors such as skill as a creator, the ability to deliver high-quality content, and convincing brand promotion all play a role in determining the right price for her services. This focus on value ensures that she can provide the best results for her clients while still earning a fair income.