In July, we shared that we were looking for a product leader to help us take Buffer forward in our next phase. After speaking to an incredible group of talented folks in product, I'm happy to share that Maria Thomas has joined us as our new Chief Product Officer.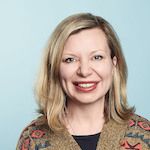 We're now a 10-year old company, and in the past year, I've done a lot of reflection on the purpose of the company and how we can set ourselves up to reach our potential and have the most impact. Buffer's mission is to provide essential tools to help small businesses get off the ground and grow.
Maria brings with her a breadth of experience working in SaaS and working with small businesses. Her most recent roles have been as the VP of Product at Bitly for the past two years and Insightly for the prior three and a half years. These are both SaaS companies that served small businesses and navigated the ups and downs of all that comes with that segment, including having a large free user base. Maria also spent seven years building products for SMBs at Intuit.
The opportunity to bring on an executive is rare, especially at a company like Buffer, where we have some very loyal and long-tenured people and are striving to create a decades-long sustainable company. There's much we can learn, however, from someone with experience of where we're trying to go, and with Maria we have found a great blend of significant experience and expertise we can learn from and an excitement for the unique type of company we are. In particular, Maria and I connected and had great conversations around the freedom and creativity that can come with being unconstrained by VC investment and how that can help us have a more pure focus on the customer, and ultimately more compounding long-term success.
In Maria's own words:
I am inspired and humbled to join Buffer. You have quite a following in the product management community. Several of my peers revealed that they'd had a long 'crush on Buffer' once they learned that I joined you as your CPO. I am thrilled to join a product-led company focused on helping SMBs, a profitable, transparent, sustainable SaaS business, and a majority female executive team.
We're lucky to benefit from all of Maria's great experience in product as well as her many years as an executive of similarly sized companies. Maria joined us late last year and has already had a significant impact, helping us to shape our goals and strategy for 2021. I'm confident that within the next few months, customers will start to see the positive and tangible results of her contributions.