In mid-2019, we moved our community from Slack to a new online home! We still run our Community Host program there. Learn more about our customer community here.
Over the past two and a half years, our Slack community has become our central hub for Buffer users and fans to meet, learn and grow together. It's a vibrant place full of incredibly smart, kindhearted, supportive marketers, and we're constantly looking for ways to better support these amazing people.
We've been building a leadership program for the past year to help members grow and tangibly impact the community, and I'd love to share more about how it came to be, what it looks like, and how you can try something similar in your own communities.
Learn more about why we decided to grow leaders within the Buffer community and how the Buffer Community Host program was developed below! (For a look into our Slack community as a whole, check out this Medium post I wrote about it last year.)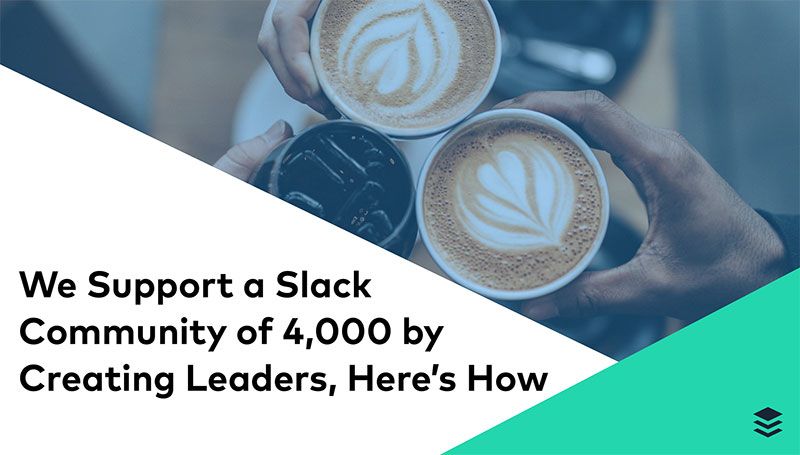 Why We Started A Leadership Program For The Buffer Community
As the community strategist on the Buffer team, I had two things in mind when I built out the Community Host program in our Slack community.
Putting together a team of active, committed community members who could help me do more — provide more support, launch new initiatives, and engage with members.
Wanting to provide a unique, impactful experience for the already-existing leaders in our community.
To the first point, I wanted to facilitate members helping each other. In my experience, a community is successful when it's more than a community manager talking at the rest of the members. They're successful when members are actively talking to each other, building relationships, and supporting one another.
A lot of online forums have "moderators" and I knew we needed something a little different. Our conversations didn't need moderating in the traditional sense, they needed warmth, new perspectives, and energy! My teammate Alfred came up with the term "Host" and I thought it fit perfectly. Hosts could show new members the ropes, lead folks into new conversations, kick off discussions, organize new events, and other "host-like" things.
To the second point, online communities are filled with members at many different stages of their community journey. There are always new members joining in, the curious ones reading posts but not yet posting, folks who contribute every so often, regulars who know the ropes, and the people who step up as leaders.
A lot of my community building experience and focus has been to engage the first three groups — the new members, the curious, and the contributors. I spend a lot of time thinking things like, "how can I involve new members and make them feel welcomed?" and "what could we do to encourage the curious members to post for the first time?" and "what kinds of recurring activities can I set up that will be valuable and meaningful for our contributors?"
I was so busy planning and designing for those members that it took me a long time to stop and realize that there were a lot of committed members who wanted to tangibly impact the community. These were the leaders! I wanted this program to set these leaders up for success, guiding them in giving back and supporting them along the way as well.
How Our Leadership Program Is Structured
The program has evolved quite a bit along the way, from our "beta" phase when we gave admin status to two members and just sort of let things happen organically, to our current format that involves an application process, an onboarding period, project collaboration, specific responsibilities, team bonding, and more!
Let's dive into what it looks like now.
What Hosts Do
Hosts get to do quite a lot in our Slack community! In addition to having admin status in Slack and a behind-the-scenes look at how we run community activities, they are involved in a range of initiatives.
Each cohort of Community Hosts (we're on our third cohort) comes on board for a six-month term. The cohorts have ranged in size from six to twelve Hosts, and we're aiming to keep them capped at around six to eight Hosts moving forward. This way, the Hosts in the program can get more quality one-on-one time with me, as well as a bit more guidance as they work on their projects, which I'll explain more about below.
Here's an overview of what Hosts do:
Create/work on one special project (ex: a newsletter, a new recurring discussion, a new way to connect members or repurpose content, etc)
Warmly welcome newcomers in our #introductions channel
Prompt discussions and empower fellow members to join in for conversations in various channels
Answer questions or find a way to get them answered
Take turns hosting our weekly Mastermind
Help make the community a safe and supportive space
Listen to feedback and discuss ways to improve the community
Each Host is able to contribute their unique perspective, expertise, and ideas through their project, which can take many different forms. Some of the projects in past cohorts included: starting a monthly email newsletter recap of happenings, organizing AMAs, starting a peer skillshare program, and creating a video series about remote work.
I work with each Host to articulate their project goals, and then let them free to make it happen! Often, the Hosts and I will pop onto video chats to think through their ideas and iterate throughout their six months.
How we choose Hosts
When I decided to put together our first official cohort in January 2017, I reached out to six super active members who were already contributing so much value and positive energy to the community. (Two of them were the Hosts in our "beta" phase.) I explained a bit of context, namely that I wanted to bring on a few Hosts to help welcome new members and spark discussions, and invited them to come on board. To my delight, they all were excited to give it a go! We agreed to check in after six months, and evaluate how it went.
When the end of the six months came, we were all excited to continue the awesome momentum and put together a new cohort. Instead of handpicking the group, I wanted to give folks a chance to step up and show their interest in being more of a leader in the community. An awesome mix of veteran and brand new members applied and from that, we created our second cohort of 12 Hosts!
In choosing the group, I wanted to have a lot of different kinds of people represented — members who live all over the world, who work in different industries, who were social media marketers and bloggers and SEO managers and content marketers and entrepreneurs and beyond. I also wanted to involve folks who had a vision for what the community could look like, and were excited to experiment and try new things!
Our Community Host Agreement and Perks
When Hosts start out, we share a Community Host Agreement with them, which lays out what we'd love to offer them and what kind of commitment we're hoping for. Here's the agreement we share with them:
Community Host Agreement
What We'd Love to Offer
Experience working as a community organizer alongside the Buffer team
Mentorship and a relationship with Buffer teammates
Experience volunteering within the social media industry at a SaaS company
A free Awesome plan for the duration of your time as a Host
A 1:1 chat with a person of your choosing on the Buffer team (if you'd like)
Some fun Buffer swag ☺
What We're Hoping For
A commitment of 6 months to support the Buffer community as a volunteer Host (if you need to pause your involvement at any time, just talk to Arielle!)
A project of your choosing that helps to strengthen the community
A commitment to host 1–2 Social Media Masterminds and oversee 1–2 channels within Slack
Care, respect, and empathy for your fellow Buffer community members
A positive attitude when communicating with your fellow community members
Open communication, trust, respect, and transparency when working with the Buffer Team
It helps set the expectations for the program right from the start.
And, of course, we love offering some fun perks to our Hosts, to thank them for all they do for the community and for Buffer!
All Hosts get a free Awesome plan (now called the Publish Pro Plan) during their time as Hosts, as well as a Buffer swag package.
A favorite perk of many of the Hosts was getting a one-on-one chat with a Buffer team member — some hosts chose to meet someone in particular they admired, and others chose someone in a career that they wanted to learn more about. This was a last-minute addition to the "perks list" on my part, and I'm glad I decided to include it!
In addition to some of these individual perks, we also wanted to incorporate some team bonding into the program. Something that was added to the program as a way to check-in and have questions answered via monthly video calls on Zoom has become an amazing way for the Hosts to support each other. Inevitably, a lot can happen in six months of someone's life — leaving a job, starting a new job, going through health issues, moving, traveling, stepping out of one's comfort zones were all things that happened in our 2nd cohort of the Host program — and an incredible personal support system was developed through these monthly calls.
How You Can Replicate This
If you're considering creating a program like this in your own online community, I'd love to share some tips to help!
My first recommendation is to take some time — before launching anything — to reflect on your goals for the community at large. What are the needs of your members? Where can your community experience be strengthened? What would a healthy community look like to you?
Then, think about the objectives you want to lay out for a leadership program. What kind of people would make great leaders in your community? What are their needs and what experience would be fulfilling for them? What specifically are you asking of them? What would you want the group to accomplish? Does it make sense for the experience to be collaborative in nature, or an experience that allows them to contribute independently to the community?
One vital piece of advice that I'd offer if you're building any sort of community program — ask members to help shape it! There doesn't need to be any sort of mystery here. Instead of guessing what your members want, ask them. Get them involved. Allow them the opportunity to shape the future of the community and drive it forward.
And remember this: communities are dynamic, active and always changing. There are always new members joining with new perspectives, members coming up with new ideas, new challenges to solve together and new accomplishments to celebrate. Don't be afraid of change in your communities! I encourage you to go with the flow and see where it takes you. :)
Feel free to take a peek at a few of the documents we use for our Hosts program:
Buffer Community Host Guide
A template of the Welcome Doc sent to new Hosts
Over to you!
Have you created a leadership program in your community? What does it look like, and what are your favorite parts of the program? We'd love to learn from you!
Photo by Nathan Dumlao