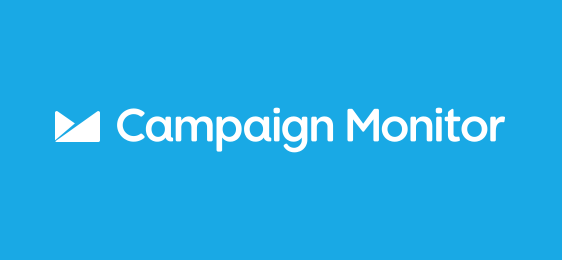 Whether you're a startup, a small business, an agency, or a brand, there's always such value to be had in going to the drawing board with social media marketing.
Setting a mission.
Defining goals.
Choosing the tools and workflows that'll get you there.
Campaign Monitor, a simple email marketing solution for businesses and professionals, has taken this bottom-up approach to building a social strategy. And we're honored to share how they've done it.
Campaign Monitor is a fast-growing, industry-leading company with some really incredible ideas on growth and strategy. Their marketing team, which has grown to five times the size in just over eight months, has the awesome privilege of sharing the email marketing message with others via a big number of different channels, social media included, and has just undergone this very exercise of hitting the drawing board and coming up with a rockin' new plan.
Here's a bit more about how Campaign Monitor redefining their social media strategy in light of their new ambitions, and how social management tools like Buffer fit into their daily workflow.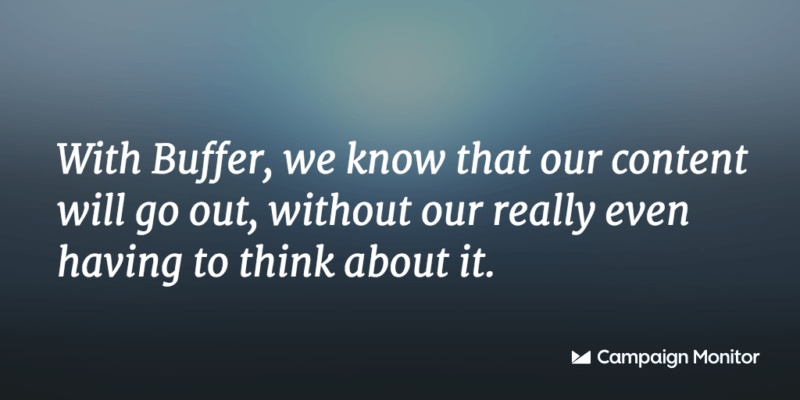 Defining the purpose of social media:
At the highest level, we use social to improve awareness and to drive traffic.
Aaron Beashel, Marketing Executive at Campaign Monitor, has the wonderful chance to lead the team that leads social media. And their recent focus has aligned around this purpose:
Raise awareness
Drive traffic
Campaign Monitor sees social media fitting within the acquisition funnel, right at the top, where visitors will move from website to signup to sending an email to becoming a paying a customer …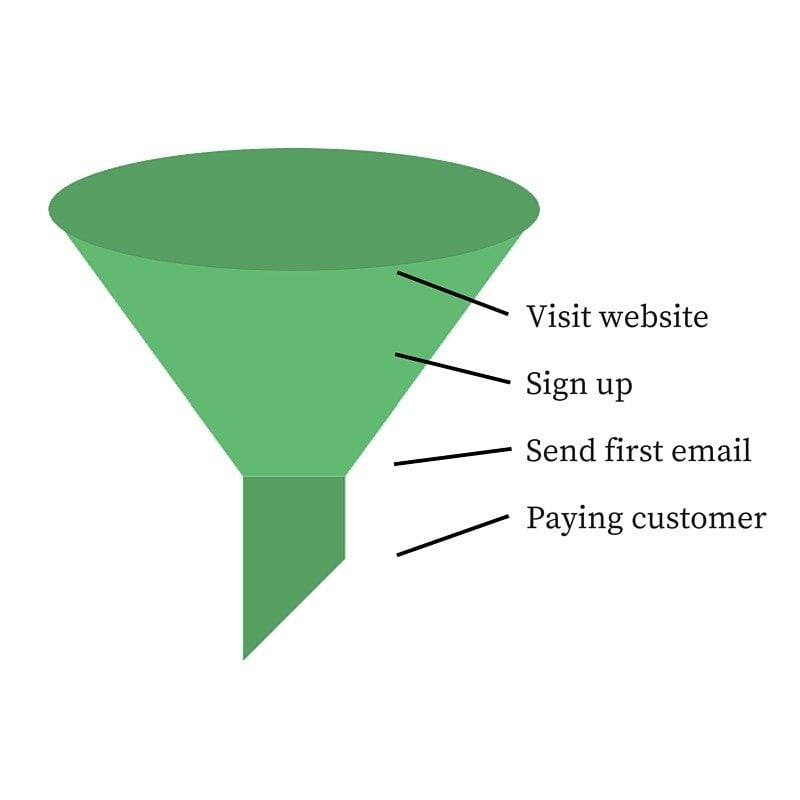 … and social media will be one of the keys to kicking off the customer flow.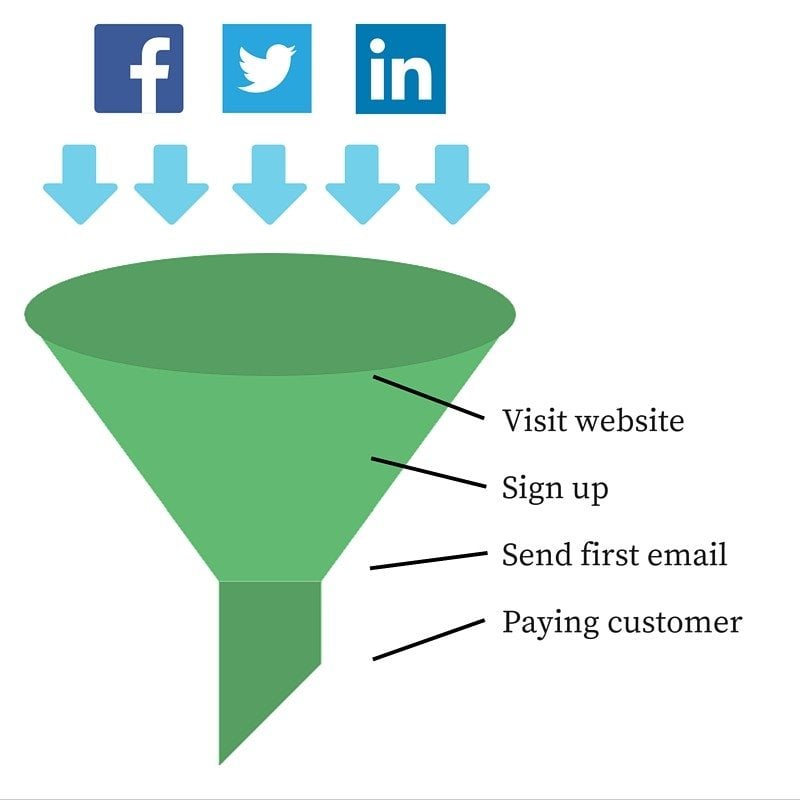 It's a funnel shared by a lot of inbound marketers (channels like content marketing, video, PR, and others also serve to meet similar top-of-funnel goals). And placing social at the top works to serve the overall goals quite well: The main goal of clicks will kick off the flow of traffic into the funnel, and failing traffic, social can raise awareness by helping Campaign Monitor get in front of the right audiences at the places they hang out anyway (Twitter, Facebook, etc.).
The billion-dollar question: What to share?
And a million-dollar followup: How to share it?
This is a part of building a social media strategy that can sometimes get skipped. Once you decide on the Why of social media, it's time to answer the What.
What kind of content do you want filling your queues and permeating your feeds?
This is exactly the type of question Aaron and the Campaign Monitor team sought to solve:
We had a bunch of internal discussions around do we share other stuff for marketers in addition to email marketing? Do we talk about other things for marketers, like social media, how to get more clicks on your tweets, or how to design a really great landing page, just general stuff that marketers care about outside of email? We know our designers aren't just email marketers. They're marketers doing everything and email just happens to be one of the things that they're doing.

But we, from a positioning perspective, wanted to be known as the email marketing experts, since our product is obviously an email marketing tool. So for that reason, we made the decision to stick to talking about email marketing best practices.
It's an important distinction to make, this matter of what to share. Choosing a particular, specific niche has a number of awesome benefits:
Allows the opportunity to become an industry expert or (fingers crossed) an influencer
Makes things easy for your audience: They know what to expect from you
Makes things easy for you: You can now curate from a more well-defined pool
Taking it one step further then comes the question of how this sharing will work itself out. There're a number of different social media sharing ratios, with catchy names like 4-1-1 and the Rule of Thirds.
Campaign Monitor came up with a hybrid of the Golden Ratio—a 60/30/10 split popularized by the folks at Rallyverse. Here's what it looks like for Campaign Monitor:
60% – their own educational content
30% – other people's educational content on email marketing
10% – promotional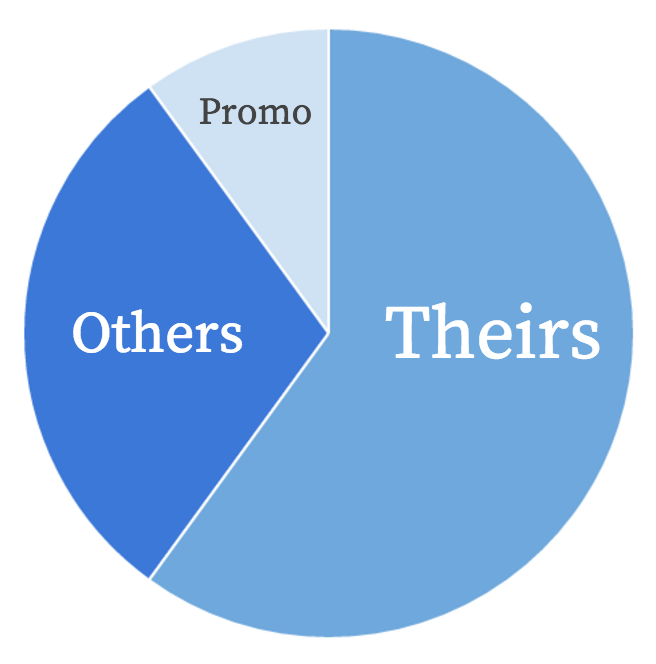 And one final step in this series (the hundred-thousand-dollar question, if you will): How frequently to share?
Campaign Monitor has a really admirable take on all this: They want to share more often.
Currently, Campaign Monitor shares
6 to 8 times per day on Twitter
1 to 2 times on Facebook
1 to 2 times on LinkedIn
They're looking to move to
15 to 20 times per day on Twitter
2 times per day on Facebook
2 times per day on LinkedIn
2 times per day on Google+
And they've got this new sharing system all loaded up into their Buffer schedule, perfectly spaced out and ready to post at the optimal time.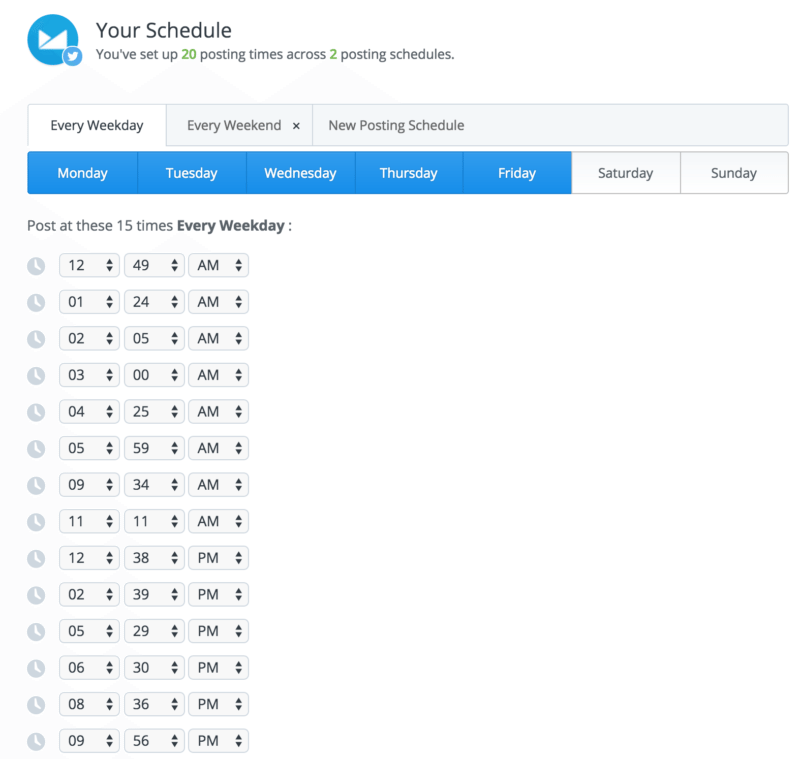 How do you triple your social media sharing?
Looking up at the pace that Campaign Monitor hopes to set, it would be about double or triple the current output.
How can you go from six shares per day on Twitter to 20?
The current strategy for Campaign Monitor is to identify the evergreen content and resources they've created in the past and get in the habit of sharing them again and again.
You can do this evergreen sharing in a number of ways, like
visiting archive pages on your blog (like, buffer.com/resources/page/13) and sharing
keeping a spreadsheet of top-performing updates and articles
creating an evergreen queue within Buffer, full of all your reshareable content
Campaign Monitor is keen to try a number of strategies here as they build up their sharing system—a system that continues to grow and evolve thanks to the help of tools like Buffer that make it easy to engage more in social media.
Their current system is:
Every Monday, make sure the Buffer queue for all our social networks is full for the entire week, mainly of evergreen content from the Campaign Monitor blog or Resources section of the site, but also of really high quality curated content.
Then, whenever they publish a new post that needs promotion, they go in and add it to the top of the queue.
The way we were managing it before, I think we were almost just tweeting sporadically, just tweeting when we had something to say, basically. We were almost going directly to Twitter and typing in the tweets and clicking post. That made it very sporadic; we weren't necessarily posting at the right times.

Buffer was really a great tool to help us be more considerate about our social strategies. We could actually say, based on where we know our followers are, we want to post two or three times a day, and we were able to just build a queue of stuff and know that it was going to go out during those times without us having to be up until 2 a.m. trying to send that out, or really even having to think about it.

One of the things it prompted us to do—that we absolutely couldn't have done beforehand—and it made it a lot easier was sharing more of our old content. Because wanted to tweet X amount of times a day and we've got this queue ready to start filling up, we were like, "What do we fill it up with?" Either curated content, which was part of it, or old content? I think it also prompted us to be more proactive on social media and it actually resulted in more traffic and better results from it as well.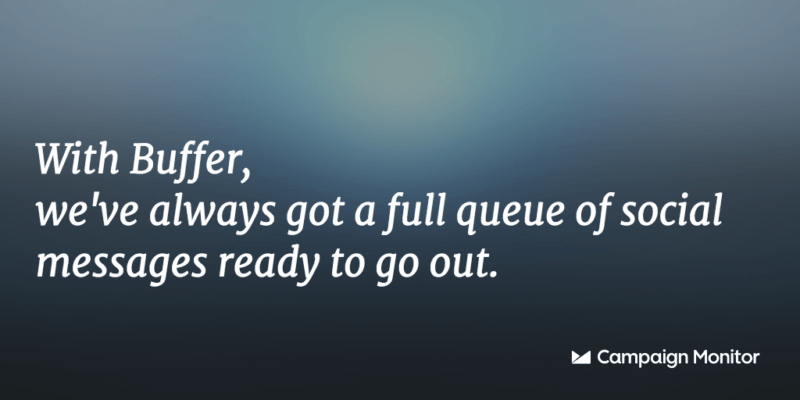 Checking analytics: Which stats matter most?
After setting the schedule and finding the content, Campaign Monitor next turns their attention to identifying what works.
What works often goes back to the first idea of what purpose social media holds.
Aaron and the Campaign Monitor team have a couple different ways of looking at their social media channels (and then, further, the most important metrics for each). They've split things into a pair of buckets:
Bucket A – Channels like Facebook, Twitter, LinkedIn, places where you have a dedicated profile page and feed
Bucket B – Earned media channels like Quora, LinkedIn Groups, Inbound.org, places where others can contribute the content alongside you
For social media as a whole, at the highest level, the key metrics are
followers
traffic
reach / impressions
sign-ups, leads, and customers
These fit at the top of Campaign Monitor's pyramid, the stats that are very top level and guide the strategies and experiments of the day-to-day.
One level down the pyramid come the more specific performance stats, split into the two different buckets that Campaign Monitor has identified.
For Bucket A essentially, once you figure out the high level stats, it becomes about which channels and content are driving those numbers.
"Which channels are working best and what kind of content is working best."
For Bucket B, these channels are more experimental where the specific experiments themselves will have their own individual metrics that gauge success.
Buffer's analytics really come in handy at measuring that level down the pyramid in Bucket A. What networks are working best for us and, more specifically, what content is working best for us?

Buffer's analytics are really good for helping us understand which content that we're sharing over these social networks is actually performing the best. Then, we can knuckle down on, "Maybe we're going to share that a little bit more," or, "Maybe we're going to drop that out of the rotation because it's not getting a huge amount of engagement."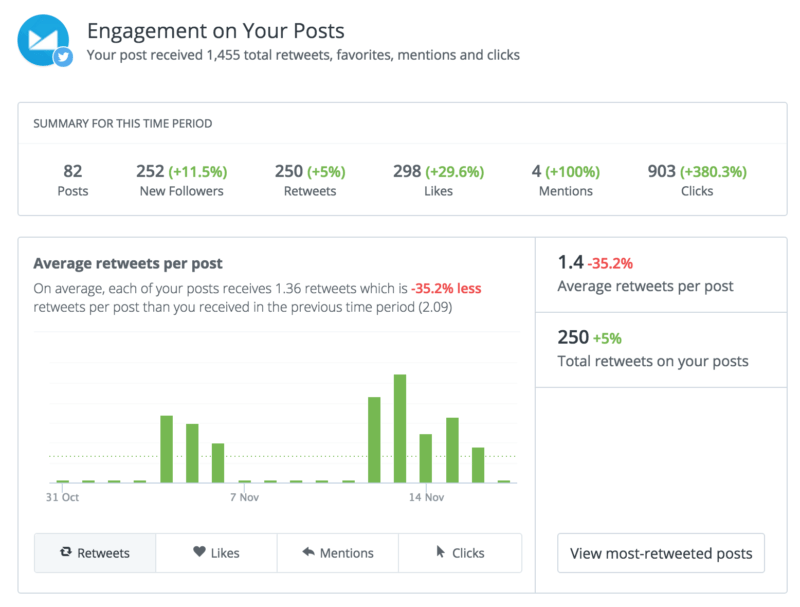 Bonus tip: How Campaign Monitor handles team requests
The Campaign Monitor marketing team (the previous iteration of three to four people) all had access to managing and contributing to the Campaign Monitor profiles, via Buffer's team member options. Everyone could contribute and monitor, and one person would own it: scheduling, making sure the queue was full, etc.
One interesting question would come up: How might things work if folks from a different area of the company (customer success, PR, etc.) had something they wanted shared?
Campaign Monitor's solution goes a little something like this:
What we actually set up was a Wufoo form that we embedded in our wiki that was "If you want something shared on social media, fill out this form. Here's what I think the tweet should be, here's why we want to send it, so on and so forth." What that actually did is we used that Wufoo to then send that into our Buffer queue and schedule it for like five years in the future or some ridiculous date. It got in there, and then we were able to double-check it and then reschedule it into an appropriate time.
Wufoo > Zapier > Buffer queue (waaaaay into the future)
Want more traffic and better results from social media?

Campaign Monitor uses Buffer for Business to manage its social media profiles, share multiple times a day (without having to think about it), and work together to identify the content that works and what to share again and again.
Join Campaign Monitor and 5,000+ other brands and business with a free trial of Buffer's most powerful social media features!
—
Image sources: Business Insider, Blurgrounds, Campaign Monitor, Pablo