In a world where customer service is becoming the new marketing – understanding how to find, monitor and respond to social mentions is a great skill for marketers to develop.
It can help to shape your marketing strategy, too!
Knowing where to listen for important conversations online will allow you to react in real-time to trends in your industry and deliver the content or answer that your audience is looking for.
We had the privilege of speaking with Mention's Head of Content and PR Brittany Berger about the specific ways brands and businesses can leverage monitoring to track social mentions and to shape their marketing strategy moving forward.
A huge thank you to Brittany for packing this episode with great insights and actionable takeaways for social media managers and marketers looking for ways to take their social media monitoring skills to the next level.
This episode is available on:
In this episode, here's what you'll learn:
Brittany Berger shares her insights and expertise into how marketers and businesses can use social media monitoring to deliver real-time, marketing results to your audience and potential customers. You'll also learn other great things about social mentions like:
The basics of social media monitoring and how to do them right
What tools are best for monitoring social media conversations
Why listening to peers and competitors is a great way to improve your strategy
What platforms are best for monitoring conversations and how it works
How social media strategy and social monitoring go hand-in-hand
3 Takeaways for Marketers Looking to Use Social Mentions to Influencer Their Marketing Strategy
In Brittany's Words…
1. Always listen to your audience first
Always listen to your audience first – no one knows them better than themselves. Even though we all like to think that we know them very well. Which I'm sure we all do!
2. Never discount doing the same thing as your competitors
Never discount doing the same things as your competitors, you can still do them differently and get great ideas from them. We've even worked with some people who might be considered a competitor after findings stuff that they've done and realizing the collaboration potential there.
3. Think of your marketing and social media processes as a whole
Always think of your marketing and social media processes as a whole. I like to make sure everything fits together well and that anything we set up as a team with mention or with monitoring in general makes sense with the other processes we have such as publishing.
Mentionable Quotes and Shareable Snippets
In Brittany's Words…
"Monitoring your own brand, monitoring your competitors, and monitoring your industry are the three basics of social mentions that you can use to stay general and learn so much with such a simple effort."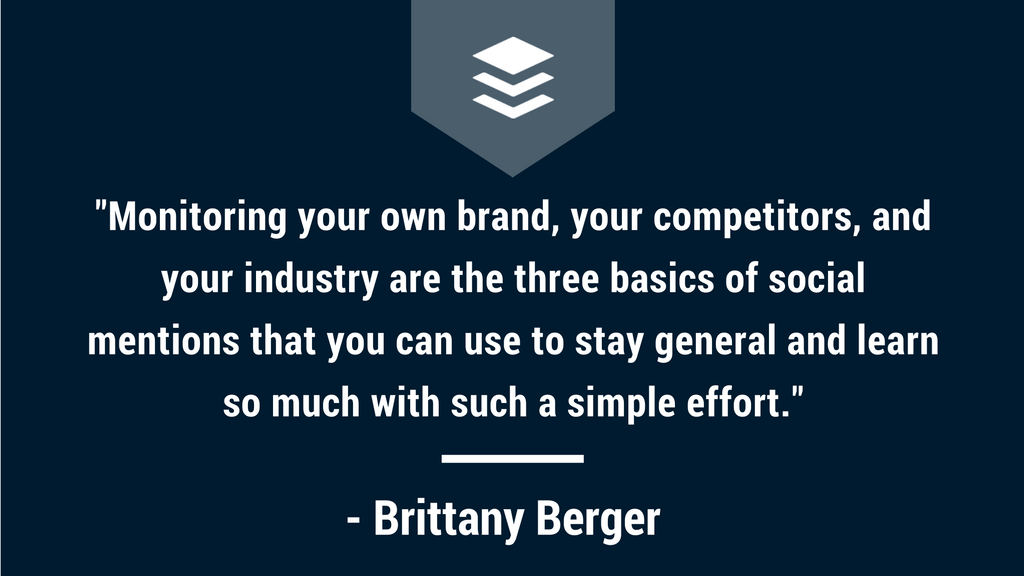 Show Notes and Other Memorable Moments
Thanks a million for checking out this episode! Below are the websites and other tidbits that were mentioned in today's podcast about personal branding on social media. If you have any questions for us, feel free to drop us a line in the comments and we'll respond right away!
Tools Mentioned by Brittany
Other Great Quotes from the Show
"When I'm writing content I always try to think of how that will tie into the end result (on social media) because it's not really something that you can just start thinking about once it's already live."
"There's a lot of hidden use-cases for tracking social media mentions online. For example, sales and support people or product development can monitor for insights into their audience or about their product."
"If you're not listening to your audience then you don't know what they really want. And so then how can you give them that?  You can take a good guess, and I know a lot of us do customer interviews and buyer personas, but that doesn't mean you don't actually have to pay attention to them."
"Anything about your own brand should definitely take priority (when it comes to the frequency of monitoring your brand). And it also depends on your goals and what you're using it for. If Influencer Marketing is one of your goals it's important to be on top of the things that you check first."
How to Say Hello to Brittany (and us)
Brittany Berger is super active on Twitter and would love to say "hello" at thatbberg and you can read more about Brittany and her work at brittanyberger.com.
Thanks for listening! We'd love to connect with you at @buffer on Twitter or with the hashtag #bufferpodcast.
Enjoy the show? It'd mean the world to us if you'd be up for giving us a
rating and review on iTunes
!
—
About the Show
The Science of Social Media is a podcast for marketers and social media managers looking for inspiration, ideas, and results for their social media strategies. Each week, we interview one of the very best in social media marketing from brands in every industry. You will learn the latest tactics on social media, the best tools to use, the smartest workflows, and the best goal-setting advice. It is our hope that each episode you'll find one or two gems to use with your social media marketing!
The Science of Social Media is proudly made by the Buffer team. Feel free to get in touch with us for any thoughts, ideas, or feedback.