Negativity. It's human nature. At least that's what research shows!
Researchers have demonstrated repeatedly that negative information has a greater impact on the brain than positive information. So much so that we now call this common occurrence "negativity bias". That negativity bias is a result of the of the fight-or-flight response that is activated only during negative experiences.
But we wanted to know: Is it possible to rewire your brain for positivity and happiness?
Storyteller and social entrepreneur Branden Harvey thinks knows so. He's seen the powerful effect of positivity countless amounts of times in the countries and people that he has worked with over the years. That's why he's on a mission to tell stories of good on social media for some of the world's most impactful companies and brands.
In episode #40 of The Science of Social Media, Branden shares his incredible journey from photographer to storyteller and the importance of chasing your passions. He also shares some incredible storytelling secrets and how marketers and brands can utilize the power of good on social media.
A huge thank you to Branden for packing this episode full of inspiration and actionable takeaways for marketers looking to use social media to make a lasting impact and change on the world – for good.
"Never doubt that a small group of thoughtful, committed citizens can change the world; indeed, it's the only thing that ever has." -Margaret Mead
This episode is available on:
In this episode, here's what you'll learn:
Branden Harvey gives us an inside look into his journey to make the world a better place by telling stories of good. Along the way, he provides incredible insights into what makes a compelling story and how we might all be able to tap into some of that magic. You'll also learn other things like:
The current narrative of social media and why it's so "easy"
How Branden has built a business around storytelling
Why chasing a profession is different than chasing your passion
How Branden was able to tell the story of Pope Francis, SouthWest Airlines, and others
Ways that brands and marketers can use social media for good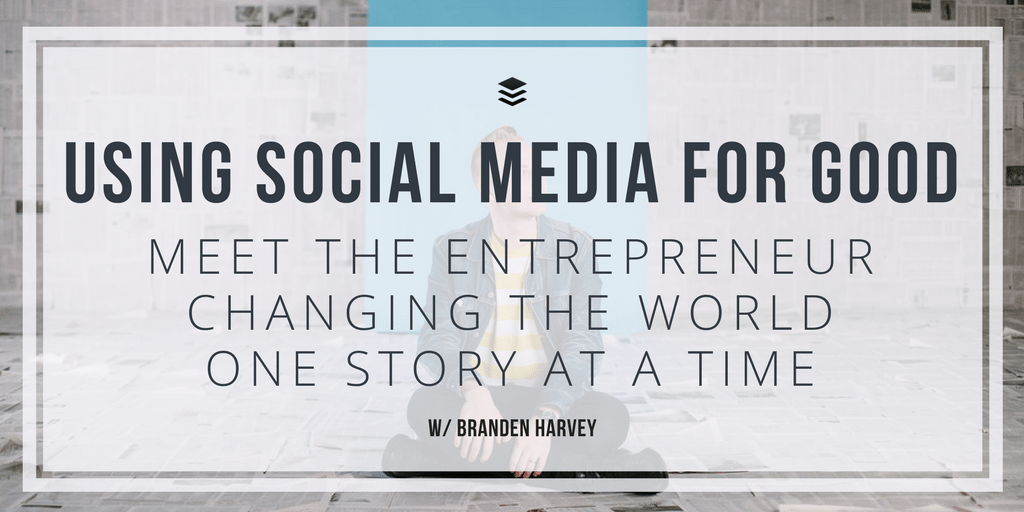 Actionable Advice for Brands and Marketers Looking to Use Social Media for Good
In Branden's words…
"One of my favorite things is seeing the ways that people can have an impact in a way that is unique to them. I think that is especially true on social media. What are your strengths? What are the things that you do really well? What does your unique platform give you the ability to do? Lean into that in a way that only you can. Don't be afraid to diverge from other people's footsteps and take your own path once you've learned a little bit. Do something that only you can do because that's how the world is going to change."
A Great Moment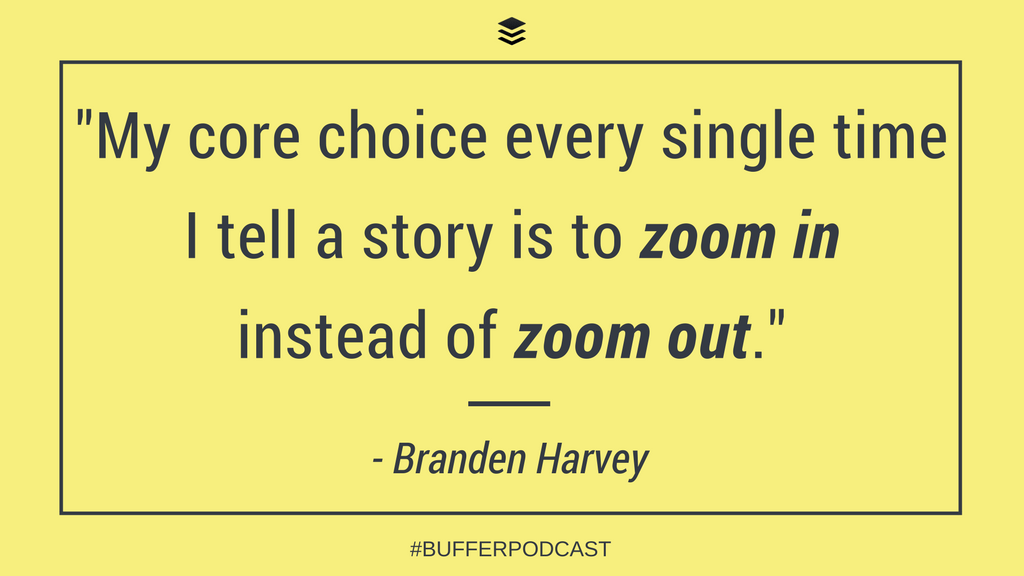 "My core choice every single time I tell a story is to zoom in instead of zoom out."

– Branden Harvey
Awesome People and Stuff Mentioned in the Show
Favorite Quotes
I started, almost serendipitously, building a really fun community of my own. People who are connecting with my stories on a deeper level because they share this value of focusing on the good in the world.
I think that social media inherently leans towards cynicism. And it's not anyone's fault and I don't think it's necessarily wrong – but cynicism is easy… The truth is, if you spend a little more time, if you dive into a little more nuance, you'll see that there's actually a lot of good being done under the surface.
Photography is a tool. It's a fantastic tool and it's what I use to tell so many of my stories today. But it's just one piece of the puzzle of helping to tell stories that matter.
I asked myself: What if I could get really into telling stories of real people doing real things in challenging situations. What if I could celebrate that? Maybe that will open up the doors and allow people to join in to help support that.
With the PetSmart project it was way more than just photographing puppies and kittens – I loved having those conversations with the children and communicating what a beautiful experience it was to be there.
I want to do this to help world-changers get the word out and help them communicate how other people can join in and help them in changing the world.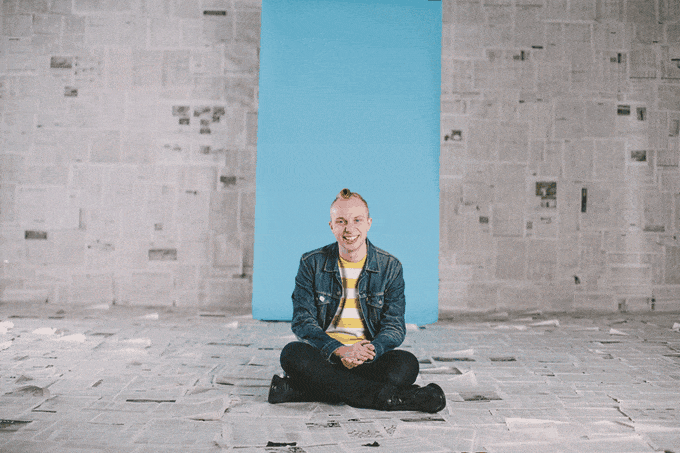 How to Say Hello to Branden (and us)
Branden Harvey is super fun to follow along with on social media and he would love to say hello to you! You can find Branden on Twitter here, LinkedIn here, or Instagram here. And if you're interested in checking out more of Branden's incredible work or podcast, head on over to brandenharvey.com
Thanks for listening! We'd love to connect with you at @buffer on Twitter or with the hashtag #bufferpodcast.
Enjoy the show? It'd mean the world to us if you'd be up for giving us a rating and review on iTunes!
—
About the Show
The Science of Social Media is a podcast for marketers and social media managers looking for inspiration, ideas, and results for their social media strategies. Each week, we interview one of the very best in social media marketing from brands in every industry. You will learn the latest tactics on social media, the best tools to use, the smartest workflows, and the best goal-setting advice. It is our hope that each episode you'll find one or two gems to use with your social media marketing!
The Science of Social Media is proudly made by the Buffer team. Feel free to get in touch with us for any thoughts, ideas, or feedback.