We've all been part of the rush to figure out gifts for family and friends as the holiday season approaches.
Many companies even recommend starting holiday shopping (plus social media and email marketing campaigns) months early to avoid shipping delays or out-of-stock notifications. The holiday season often means a busy time for brands — and that's what events like Black Friday and Cyber Monday intend to capitalize on.
But sentiments are changing. People are questioning and expecting more of the brands they shop from and 89 percent of shoppers say they would be loyal customers of a brand associated with a good cause, given similar price and quality. Brands are also saying no to the flash flood of demand and the rush to supply that Black Friday offers incite.
In this article, we want to highlight marketing ideas showing how businesses can use a Black Friday campaign to do good instead of encouraging the same old consumer habits while maintaining a strong brand purpose.
Highlighting other businesses to support on social media
Instead of sharing Black Friday deals, some businesses choose to highlight small businesses to support in a bid to give back to the community and discourage excess consumerism. It also helps spotlight these small brands to potential customers.
Ocean Bottle, a reusable bottle brand, highlighted other businesses to support and why on Twitter and Instagram. The reason, they shared, was to "...show how consumers can be a force for good by highlighting a few small brands that could use [your] support that 'do good' too."
The businesses Ocean Bottle highlighted also fit with the mission to 'do good.' One was From Babies with Love, a "purpose-led sustainable gifting brand" that donates 100% of its profits to orphaned and abandoned children worldwide.
DAME, a sustainable period products company, took its spotlight a step further, creating gift guides highlighting small businesses in one post and educating consumers in another.
Along with Black Friday encouraging people to buy more than they need, one of the key statistics highlighted by DAME's educative post was illuminating the push for more sustainable practices during the shopping season: eighty percent of clothes from Black Friday sales end up in a landfill.
Sproos Home, in collaboration with several other small businesses selling home goods, shared social media posts that could make great holiday gifts and the brands reciprocated.
💡
There are specific days for highlighting small businesses around the shopping season as well. Check out our article on
Small Business Saturday
for some more ideas.
Donate a percentage of your profits instead
In recent years, more brands have switched up their Black Friday marketing strategy by supporting social causes instead. Many brands choose to donate the profits from their shopping season sales on Giving Tuesday or independent of any particular event.
Misfits Market is a sustainable grocery company that allows customers to shop for groceries in curated boxes that would have been thrown out at big-chain supermarkets. Instead of offering discounts on Black Friday, they partner with Feeding America to donate money and meals through their skipped box donation program. Customers can choose to donate their order instead of just skipping it to earn points.
Grove Collaborative, a home goods company, also skipped Black Friday altogether for Giving Tuesday, allowing customers to donate or gift a donation to a chosen cause.
Stasher Bags, a reusable bag brand, highlighted the benefits of shopping from a sustainable brand and offered a discount.
In addition, they highlighted that they donate 1 percent of their profits year-round and made an additional pledge of $50,000 to the Surfrider Foundation during Black Friday.
AYM Studio ran a 10 for 10 campaign in which they gave a 10% discount to their customers shopping for the weekend and donated 10% of all sales towards the World Land Trust's Save-An-Acre programs.
The campaign was a great success and AYM and their customers were able to conserve well over 100 acres of animal habitat.
Skipping Black Friday entirely to do something different and make a statement
Some businesses choose to skip Black Friday entirely, creating their own spin on the event. Rubies in the Rubble, a condiments brand, shared that they would be doing Green Friday – a day to shop from small, sustainable brands instead of Black Friday.
In another post, Rubies in the Rubble asked their audience to tag small businesses to shop from, creating brand awareness with their marketing campaign.
Ombar Chocolate also chose to do Green Friday instead of Black Friday by highlighting other small businesses and donating all the profits from products sold to Fundación Jocotoco, a nature-focused nonprofit organization.
Paynter, a sustainable fashion brand, chose to donate instead of discounts for Black Friday. Paynter's animosity towards the season can be linked to its brand ethos to create a better way to consume clothing.
The brand only releases new products in batches, so its business model doesn't lend itself to the typical Black Friday template as it is currently practiced anyway. But they choose to actively take a stance against Black Friday, going as far as closing shop entirely in October 2020 and instead starting their now popular Paynter at the Pub meetups.
Like Paynter, This is Unfolded is a sustainable fashion brand trying to encourage low-waste consumption. The brand creates made-to-order clothes, only making an item when an order has been completed. The company created 'Do Good Friday,' a way for their customers to shop better and positively impact the world simultaneously.
The idea is to highlight businesses and practices that don't encourage waste or purchase regret, as Black Friday does.
Kai Collective created a "Mystery Box", giving you five key pieces including a set that you can only get in the box as an alternative to Black Friday sales. The curated box gives buyers two benefits: it's cheaper than buying all the items separately and you get limited edition pieces. They played with the sense of urgency you'd typically expect from a Black Friday campaign, with the limited time and quantity offer.
REI is an outdoor retailer with a consistently different approach to Black Friday. They launched their #OptOutside campaign to encourage their customers to spend more time outdoors. The goal of this campaign was not only to promote a healthier lifestyle but also to highlight the importance of nature.
Promoting conscious consumption with your social media strategy
One of the best Black Friday approaches from a new perspective is encouraging conscious consumption – often easier if your brand and target audience already adopt sustainable practices.
You can keep to the traditional Black Friday style of offering discounts or new products while also encouraging consumers to reject the hype cycle and shop sustainably.
This is the approach that Pela, a phone case company, took by doing regular Black Friday promotions through discounts while highlighting how shopping from them benefits the planet. In addition to supporting a small business, shopping at Pela means that customers donate to 1 Percent For The Planet, a nonprofit whose partners contribute 1 percent of their sales to environmental causes.
Wild, a natural deodorant brand, conducted a campaign in tandem with their Black Friday promotion, pledging to plant a tree with every order made.
On their blog, Wild shared their motivations for approaching Black Friday in this manner, saying, "As a small company, we cannot stop the waste that all Black Friday sales will cause by not taking part. Instead, we're using this time as an opportunity to challenge shopping habits for the better and propel sustainable products into the mainstream."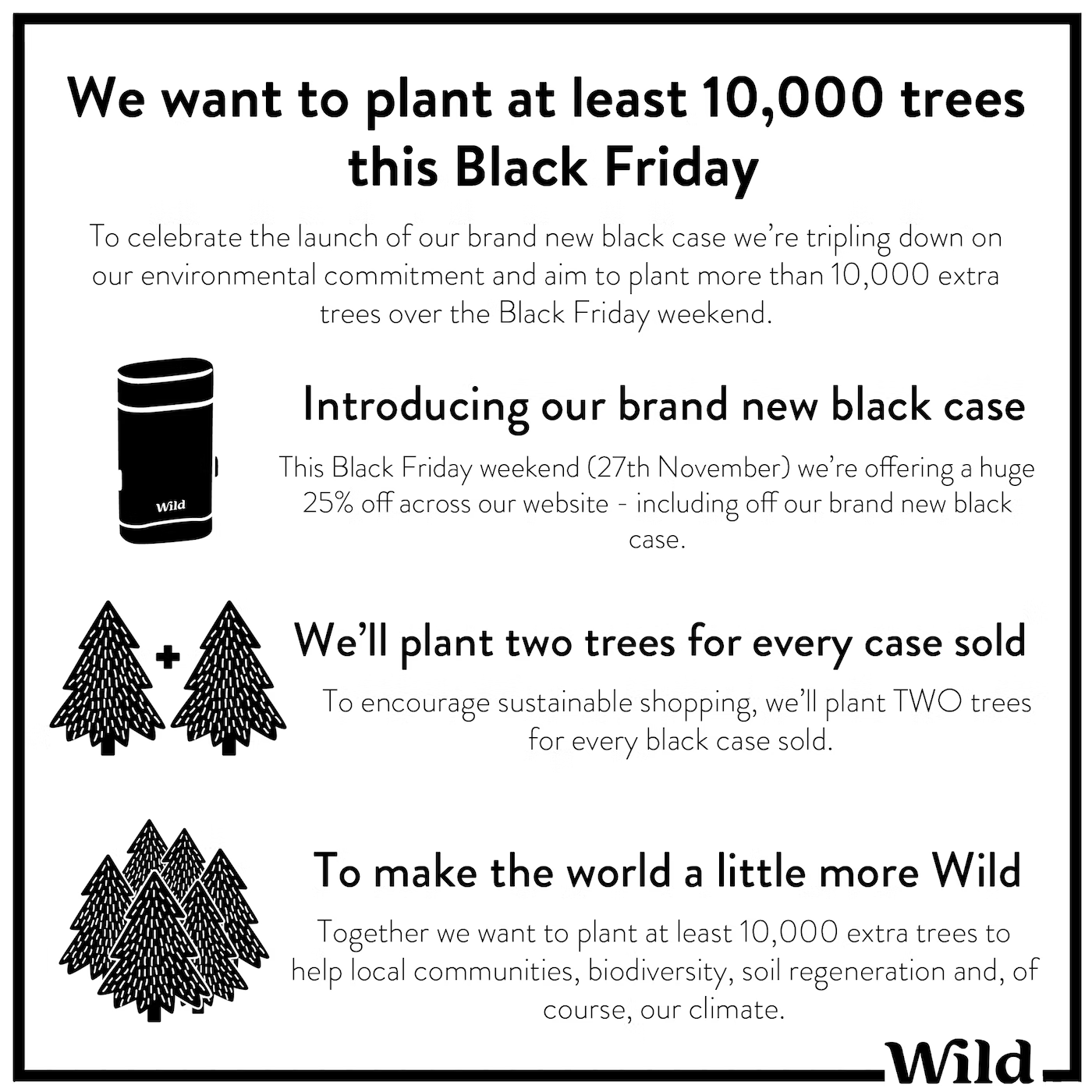 EYO Active, a fitness wear brand, took an interesting approach to Black Friday by raising their prices by 300 percent.
The founder, Lucie Halley-Trotter, shared in an Instagram post that she started EYO to tackle waste, not create it.
The post went on to say, "Every year, the big brands inflate and then slash their prices and pressure people into buying things they don't need, and a whopping 80 percent of it ends up in landfill. As a business on a mission to empower women and get people to reappraise their relationship with fast fashion, I refuse to play ball. So, instead of cutting my prices for the weekend, I'm tripling them."
Lucie shared that they didn't make any sales from this tactic – but that was the point. "We used this 'holiday' to show the world that we stand strongly behind our core morals," she said. This alternative Black Friday marketing campaign ended up quite well-received among consumers, as the brand shared in a follow-up post, showing that perhaps consumers are also looking for more sustainable ways to shop.
Show up authentically through your Black Friday social media campaign
Most businesses find a lot of success around the holiday sale season, so it's not practical to expect everyone to take a firm stance against Black Friday or Cyber Monday.
However, there are other ways to take advantage of the holiday shopping season without encouraging overconsumption, and the brands on this list have proven it.
What has been your experience with social media campaigns through the Black Friday shopping season? Do you have any alternative social media content ideas that have given you success? We'd love to hear your thoughts in the comments or over on X @buffer!