Your small business is the perfect outlet for your passion and creativity. With your products and services, you're able to positively contribute to your customers' lives. Simultaneously, your company can also be a great channel for championing a cause that you and your team care about. Through your brand, website, and social media channels, you have a platform that can be utilized for making an impact. Small businesses that include a charitable component to their brand can benefit both personally and professionally.
Consumers want to support businesses that stand for causes they feel strongly about. A 2021 survey found that 63 percent of individuals preferred purchasing from purpose-driven businesses. By bringing awareness to a social issue and organizing around it, you can feel more fulfilled as an individual, while also providing more substance to your brand. It's a win-win situation as you'll draw in more customers while contributing to a social cause you're invested in.
You may be unsure how exactly to go about supporting an initiative, but these five businesses will surely inspire you. At the heart of each of these brands are important social causes. And while providing quality products is their job – they've  also made it their mission to make a difference in their communities.
A Dozen Cousins provides yearly grants to organizations providing food education
Founded in 2017, A Dozen Cousins is a Black-owned and family-run business that sells three core food products: packaged beans, bone broth rice, and seasoning sauces. Each item is made with clean ingredients while still maintaining their Caribbean, creole, and Latin flavors. On their website, the small business states their goal is, "to inspire families of all backgrounds to eat better food and live longer, more vibrant lives." A huge part of their mission is providing everyone with quality food, regardless of their income level.
A Dozen Cousins is already dismantling barriers to healthy eating by selling nutritious, affordable, and quick meal options. But the company is going one step further by also awarding a grant to a nonprofit organization each year that is working with individuals to eliminate, " socio-economic health disparities in the US."
Since 2019, the small business has supported the following organizations: The Happy Kitchen/La Cocina Alegre, Project Potluck, Los Angeles Community Fridges, and Hike Clerb. Each of these initiatives has the goal of dismantling barriers to healthy eating, making food education more accessible, and connecting people of color back to nature. By partnering with like-minded organizations and providing them with monetary funds, A Dozen Cousins is able to act on their mission to bring more awareness around healthy diets to all.
If you don't have the bandwidth to start your own initiatives, consider partnering with a local nonprofit that is already doing the work. Rather than make a one-time or occasional donation, you can set up a grant program every year as A Dozen Cousins does. This also ensures you're supporting a variety of nonprofits instead of just one.
Kola Goodies highlights Sri Lanka's crisis via social media
When Kola Goodies was created back in 2020, CEO and founder Sajani had a goal to infuse her Sri Lankan heritage into healthy and nutritious blends for all to enjoy. The small business currently sells three teas – a super green latte, turmeric milk tea, and Sri Lankan milk tea – which were all inspired by Sajani's home country. But as Sri Lanka plunged into an economic and political crisis, Sajani made it a priority to support her country and documented it through Kola Goodies's crisis relief page.
Sajani first used the company's Instagram and TikTok accounts to bring awareness to what was happening back in Sri Lanka – an issue that wasn't getting a ton of attention in the States until just recently. After posting about the situation, Kola Goodies' social media was filled with questions from customers who wanted to help.
@kolagoodies Let's talk about what's happening in #srilanka, as a brand that was born out of the rituals I grew up with in Sri Lanka and with a mission to give back home and to communities across South Asia who has grown and used these ingredients for centuries, it's a miss to not talk about what's really happening to those communities because they are hurting the most right now. We are continuing to support through sending foreign currency back home. # #giveback #ethicalsourcing #kolagoodies #wellness ♬ original sound - Kola Goodies
In response to their followers' inquiries, Kola Goodies held several initiatives to raise funds for Sri Lanka including a pop-up shop in San Francisco where they donated 10 percent of proceeds to support two Sri Lankan organizations – Ghedora Connects and Tamarind Gardens farms to supply 275 meals to low-income families.
On top of that, 100 percent of proceeds from their muse sticker – hand drawn by a Sri Lanka artist – also went to supporting Sri Lankan families. While Sajani started these initiatives back in March of this year, Kola Goodies has continued to fundraise. They've also made all of this information easily accessible through their Sri Lankan crisis relief page on their website.
Kola Goodies took several steps – hosting a pop-up shop, selling their muse stickers, and donating proceeds to benefit Sri Lanka – and it all stemmed from the initial video about the crisis they cross-posted onto TikTok and Instagram. If you don't know how to go about supporting a cause, simply sharing a message highlighting the cause on your social media – just like Sajani did – is a great way to start.
Arctic Haven Studio donates proceeds to a wildlife conservation
At the core of Arctic Haven Studio – a small business run by sisters Anna and Kelly – is the love for the Alaskan wilderness. The duo creates stunning art prints all rooted in the Alaskan nature they grew up in. Unlike most common art styles, the sisters use hand-cut paper to make their designs come to life. Each piece is inspired by their real-life experiences, like encountering a lynx while hiking, which they turned into this art piece made from over 500 scraps of paper.
Not only do Anna and Kelly hope to bring people closer to nature through their prints, but they also want to give back to the very environment that raised them. The small business donates 10 percent of their proceeds to the Alaska Wildlife Conservation Center (AWCC). The Center takes in injured animals and rehabilitates them while also providing them an environment where they can still act true to their nature.
After only eight months of business, Arctic Haven studio raised nearly $1,000 for the nonprofit. And even more, the small business also supports the environment by embedding sustainability into their craft, only using recycled materials.
Choosing one single cause that is tremendously close to your heart – as the Conservation Center is to Anna and Kelly – and regularly donating a portion of your proceeds to them is a great and simple way to show your support for an important cause. If you don't feel comfortable with initially donating 10 percent like Arctic Haven Studio, try going for something smaller like 5 percent. Anything can make a difference.
Ami Ami creates an Instagram fundraiser for abortion rights
Influencer Alison Wu is known for her food blog Wu Haus, and she's also co-founder of the up-and-coming food brand Ami Ami which sells three distinct spice blends. Some of her flavors are inspired by Egyptian cuisine and as a way to give back, Ami Ami donates a portion of their proceeds to Heya Masr – an Egyptian organization that works to empower and support local girls and women.  
But both Alison and Ami Ami have raised awareness for other causes as well. The food blogger posted a video on Instagram supporting abortion rights in response to the recent Supreme Court decision to overturn Roe v. Wade. In the video, she called on her followers to donate to organizations fighting for reproductive rights. Alison also created an Instagram fundraiser and linked it to her video.
Specifically, Alison chose to donate to the National Network of Abortion Funds and shared the fundraiser on both her personal Instagram page and Ami Ami's business account as well. In the last three weeks, Alison has been able to raise over 5,000 dollars – halfway through her goal.
Social media is a great way to rally support around important issues and now most platforms have made it even easier by allowing users to create fundraisers for nonprofits at the touch of a button.
While services like GoFundMe are still useful, being able to make a fundraiser and connect it to your Instagram accounts in minutes really streamlines the process. Once you've created a fundraiser, it will be shown at the top of your IG account in mobile view, almost like a pinned post, letting your followers know it's the main priority for you.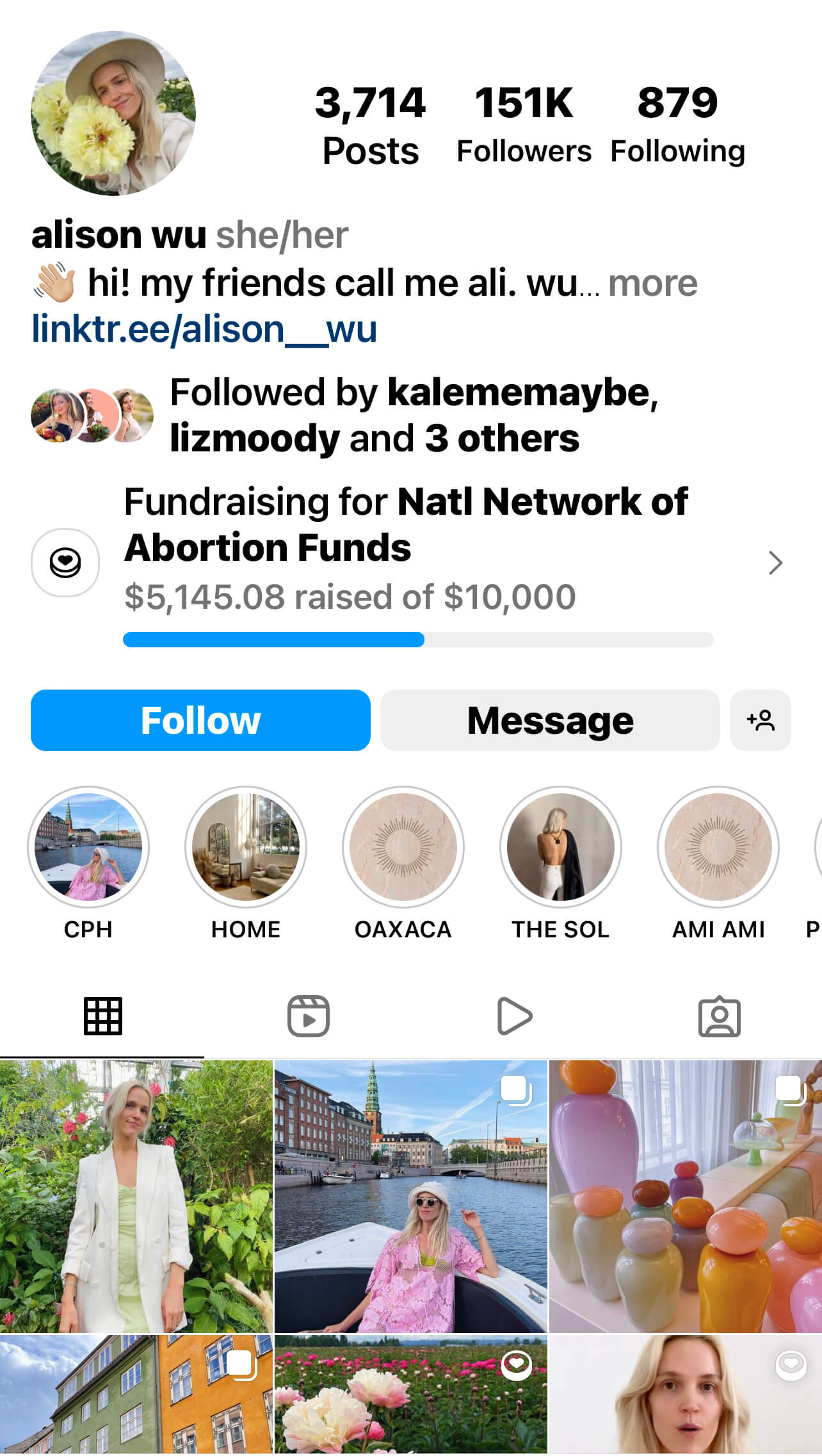 The IG fundraiser essentially acts as a giant call to action. It's more direct than simply making a post and directing people to your link-in-bio because, with an IG fundraiser, your followers can donate right through Instagram.
If your small business is especially active on Instagram, creating a fundraiser on the platform is a great way to highlight a specific cause.
Circular&Co. donates their products for an honorable cause
Circular&Co. is a UK business on a mission to reduce pollution and harmful waste that goes into the ocean. They sell reusable mugs with a "circular design" and use waste materials to make their products.    
The small business partnered with Leave No Trace Brighton, a community run organization that works to preserve Brighton's coastal and marine environment. During an event at the Brighton train station, Leave No Trace Brighton met with community members and asked them to take "The Brighton Pledge," and agree to live more enviornmently friendly lives. In doing so, individuals were able to buy a reusable NOW cup from Circular&Co. as a way to show they'll be incorporating more sustainable practices into their routines.
In their Instagram post, Circular&Co. said they donated 96 of their cups for the event and 100 percent of the proceeds went back to Leave No Trace Brighton.
Providing your products is a great way for your business to give back without having to spend any additional money. Circular&Co.'s mission aligns so well with Leave No Trace Brighton's that it made sense for their NOW Cups to be sold at this event. If you're not in a position where you can donate your products for free, consider donating your time and volunteering for an organization.
There are so many ways you can use your small business as a vehicle for positive social change! While most avenues revolve around providing financial support, we hope these examples have inspired some other ways to give as well. Remember, even speaking out about an issue is a free way to educate your followers about something important.
At Buffer, we're passionate about giving back and are always on the lookout for new initiatives to support.
Do you have a charity, cause, or organization that you're fond of? Let us know on Twitter or Instagram!