Update: Our pricing has changed quite a bit since the Awesome Plan was announced in June 2012.  We've updated this post, and you can also find the new Awesome plan details here and our new Buffer for Business plans here.
It's been a fun last few weeks here at Buffer HQ and we very happy to announce a brand new plan for you today: The Awesome Plan.
We sat down and thought a lot about how we can provide the best product for you. How we can simplify what we have right now and produce a more seamless experience. This is what we came up with, take a look:
What's the Awesome Plan?
The Awesome Plan is the first of our two paid plans at Buffer (the second, expanded plan is our Buffer for Business tier). The Awesome Plan is the exact same price as the previous Pro plan—10 bucks a month, or $102 per year if paid in advance (a 15% savings!)—it is packed with a lot of useful, premium features and Buffer goodness for you.
If you grab the Buffer Awesome Plan, here is what you will get:
100 updates in your queues
10 social profiles to connect, either Twitter, Facebook, Pinterest, Google+ or LinkedIn
Create multiple schedules (e.g., one for week days, one for weekends)
15 RSS feeds of content, per profile
Filtered analytics—sort your updates according to post type and performance
Unlimited hugs from the Buffer team. ?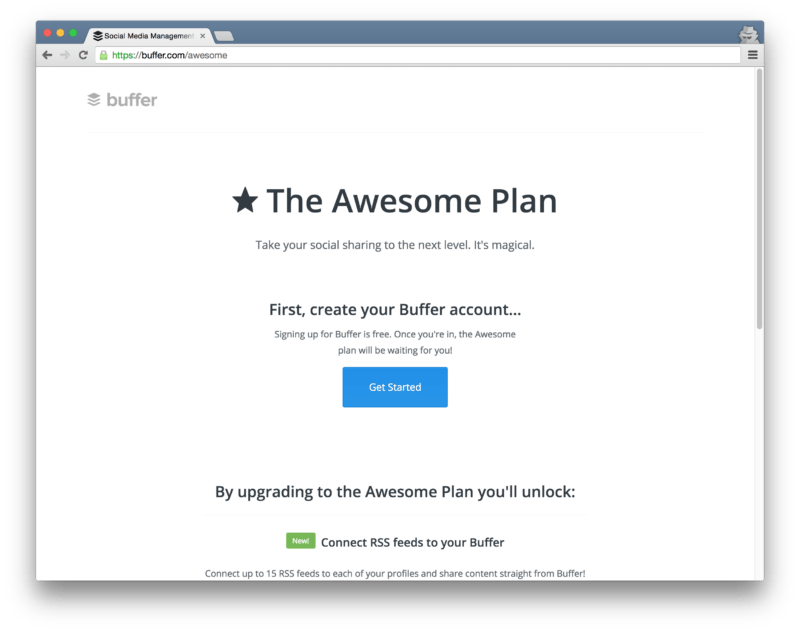 Our vision at Buffer, what's next?
The simple problem we want to solve with Buffer is to help you share better from wherever you are.  To make it easier to share to the right social network. To make the timing of your posts smarter. And to make you and your appearance on your social networks consistent and packed with awesome for your friends and followers.
To do this, we are partnering with tons of major apps, like Reeder, Pocket and IFTTT to make Buffering from anywhere easier for you.
Where do you read articles which you want to share in Buffer but can't right now? We'd love to hear from you: drop us an email or comment below.
FAQs you might have
I'm on Premium, what happens to me?
With the new Buffer Awesome Plan, there is no more Premium plan available for new users. However, if you already are a Premium user right now, we will keep you on that plan for as long as you want.
If you feel the Awesome Plan is more suitable for you now, you can of course cancel any time and grab the Awesome Plan instead. Just head to the Awesome Plan page and you can change it within seconds.
I'm on Pro, what happens to me?
You are now on the Buffer Awesome Plan. You will have all the extra features available right away, with unlimited posts in all your Buffer queues, up to 12 social profiles connected and 2 team members per social account.
You can change your credit card details or cancel at any time, from the Awesome Plan page too. It's awesome to have you on board! ?
I'm on Free, what happens to me?
That's great, we love you in the exact same way and are very happy to have you on free forever!
We hope to have many more free users like you in the future on Buffer and help you make your sharing easier.
If you are really enjoying Buffer, you can of course Go Awesome or tell your friends.
Even more features …
In addition to the Awesome Plan, you can also sign up for Buffer for Business, which comes with a huge selection of additional, expanded tools for you.
Advanced analytics, including exports, charts, graphs, and insights!
Team member support — collaborate on social media with your teammates
Groups — share to multiple profiles with one-click
The Business plan starts at $50 per month, and we'd be so happy to accommodate whichever team size makes the most for you. Depending on your needs, we have plans for small, medium, and large businesses, each with their own pricing and upgrades.
Any questions?
We'd be so happy to assist!
Reach out to us any time—we're a worldwide team, excited to jump in and help out whenever we can.
Email us any time at hello@buffer.com or catch us on Twitter @buffer.
Over to you now
What do you think about the new Awesome Plan? Do you have any suggestions on what you want to see next? Drop us a note below or email us any time hello@bufferapp.com