Social media networking is fun, however to achieve success, maximize our efforts and time spent, we will need to use tools. This guide utilizes Buffer and If This Then That (IFTTT). For the benefit of readers that are new to Buffer and IFTTT, here is what these 2 free web tools can do for you:
Buffer: Schedule Facebook status updates, tweets, and LinkedIn updates. I believe in the near future more will be added, and this will create more opportunities for us to leverage Buffer further.
IFTTT: We can create tasks that are executed whenever predetermined triggers are set off. Tasks that users create and share for public use is called recipe.
Using the multiple channels within IFTTT, we can create many tasks, however this guide focuses on how to use Buffer to achieve social media success, and to make networking on the social platforms a breeze.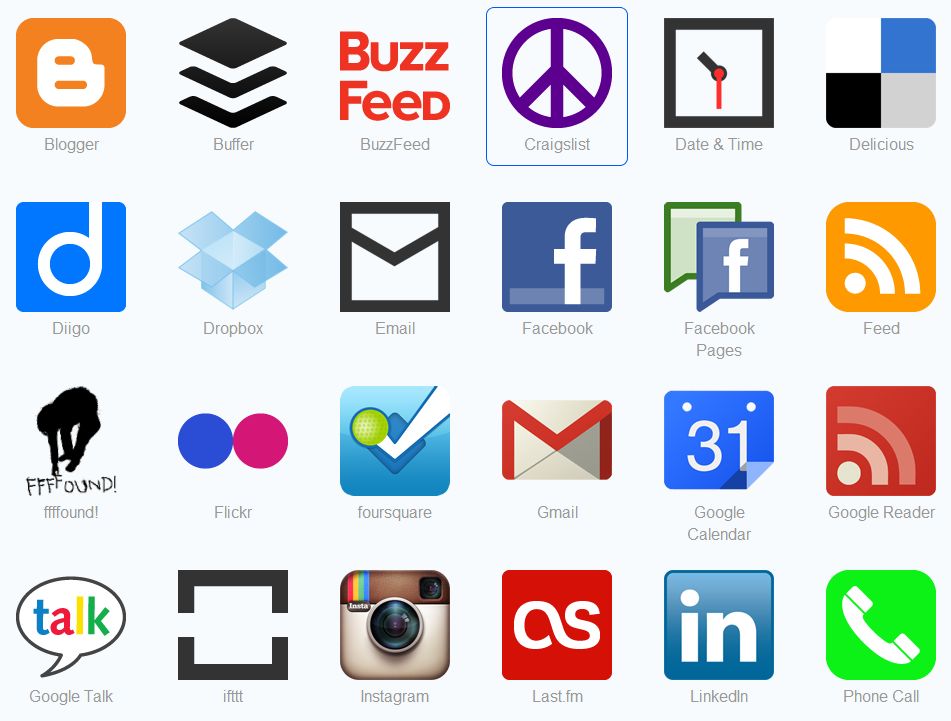 Before we start:
1. First create an account on IFTTT if you don't own any,
2. then activate the Buffer Channel
3. next authorize IFTTT to access your Buffer account,
4. and choose which Buffer profile (LinkedIn, Twitter or Facebook) you want to use.
The Buffer profile you choose is the social media platform that will be used to publish your updates. When you go to the Buffer channel, the social media service that you have linked up with is shown in the red box in the picture below.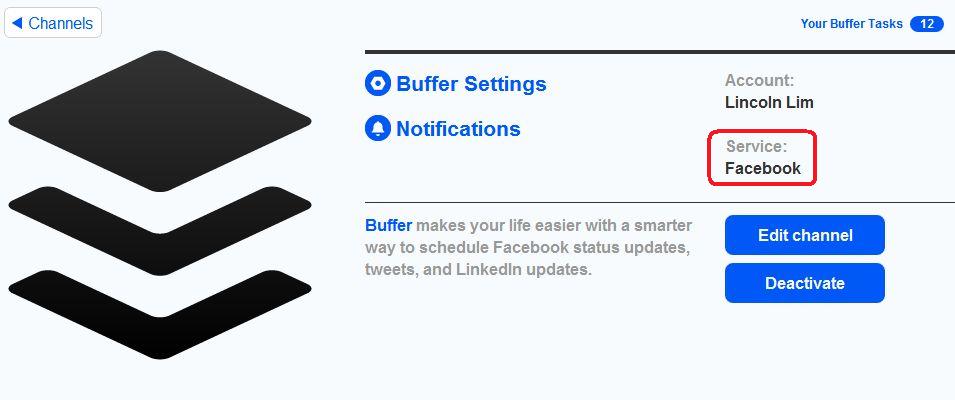 1. Engaging your Twitter Followers
Twitter is the most frequently used channel in IFTTT because it is the top 5 in terms of social media traffic, and has one of the most number of triggers available for creating different types of tasks. Popular triggers include:
New tweet by you (with or without hashtags)
Tweets that are favorited by you
Mentions or when you have a new follower
Depending on the task(s) you create, you should set up your Buffer profile account on IFTTT accordingly. For tasks/recipes such as thanking tweeples for mentions or welcoming new followers, using the Buffer-Twitter account is more appropriate.If you tweet a lot, you will agree that syncing all those tweets to Facebook or LinkedIn will trigger ruffles somebody's feathers, especially on Facebook. In order to avoid that, we can choose to queue tweets we favorited or only tweets created by you with a specific hashtag.

2. Connecting with the audience using Google Calendar & Buffer
For companies or blogs that posts lots of content on product launches, training or events, I believe most of them are already sharing their new updates on social media platforms. But how about listing those events on a public calendar? Or even a calendar of product launches that you want to review or buy, say iPad 2, iPhone 5, latest tablets PC?
Using Buffer and IFTTT, here are 3 great things you can do with this:
informing our visitors/readers on Facebook/Twitter/LinkedIn on new content being added to our website,
gaining traffic to our sites, and
adding the event to our Google Calendar to remind ourselves, as a reference for public or aparticular group of users on what's happening within the next week or month.
You can update from your Buffer dashboards, or use Buffer extension, e.g. from Chrome webstore, to quickly add to Google Calendar. To make sure the Calendar picks-up the dates and information the way you want it, you may want refer to the guide by Google.Below is a screenshot of what I get when I use the Buffer extension. If the date or time is not picked up by the extension, you can type them in, then choose the social media platforms that you want to post to.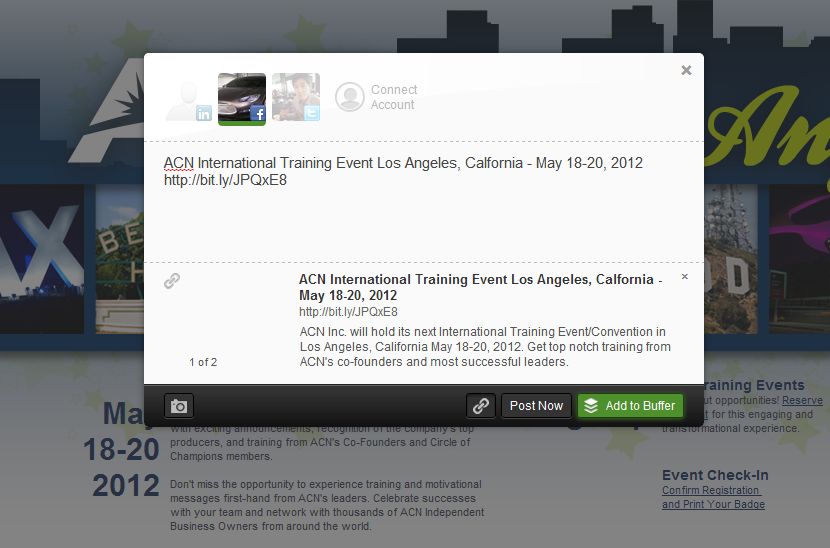 3. Getting Social Media Exposure for your Web 2.0 Blogging Platforms
Are you posting content on other blogging platforms such as tumblr, WordPress, Blogger and Posterous? Why not use IFTTT and Buffer to save you time and automatically get social media traffic from Twitter, Facebook, or LinkedIn?
Using IFTTT, we can have tasks performed whenever we created new content. We can push all new content, or only for posts under specific label (blogger), tags, or categories (WordPress). With your Buffer full and queued, you don't have to sit infront of your computer 24/7 to post regular updates for your FB subscribers around the world.
Out of the four, tumblr is the most versatile social media platform that can be triggered with many conditions:
Any new post
New photo post
New video post
New post on a blog you followed
New post tagged
New link post
New audio post
New like
New text post
New quote post
Every N Posts
If you do not post much new content daily, using tumblr as a trigger (in particular new tumblr likes), you can have your Buffer queue full pretty fast to keep your readers entertained. Below is an update on my Facebook when I liked a post on tumblr.com.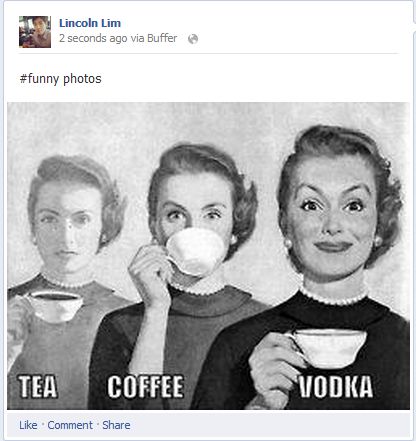 4.Drip-Feed Updates from RSS URLs

We can feed a RSS feed and have our posts/updates scheduled on Buffer. By doing so, we don't overwhelm our readers/followers/friends with too much updates within an hour or even mins. We can use our blog's or another website's RSS feed. By tapping on others' RSS feed, we can use their rich content to supplement interesting or relevant reads to our readership base.
Your choice of RSS feed is entirely your decision and depends on factors such as your niche and requirements. When creating your RSS task, there are two triggers you can use:
1. You can load in a RSS feed, and have it fired up every time there is a new item
2. Or have it triggered whenever a new item in the feed contains a specific keyword or phrase.
Works best when you use popular feeds such as Yahoo with lots of contents daily.
To ensure that your feed and task will work properly, use this to validate and check the syntax of the RSS feed.
5. Posting instagram picture links to Buffer

Instagram supports sharing to several social media platforms including Twitter, Facebook, Flickr, Tumblr and Foursquare. However it requires you to manually share new photos, and it does not allow you to schedule the photos updates too. To overcome this barrier, we can create a recipe to auto share all new photos from Instagram to your Buffer account.
For individuals who wish to be selective or mindful of what you want to share socially, you can use hashtags to filter the photos. For example, I may just want to share funny events that happen in my life, so I'll use a recipe that only posts updates to Buffer when there is a #funny tag in the photo's caption.
The task is triggered when we import pictures to instagram as well as when taking new pictures with instagram.
6. Set your Social Bookmarking on Auto!
It is a known fact that social bookmarking gives us SEO and traffic benefits. Having our websites and pages bookmarked give us links created are one-way and we get to leverage on the big traffic the bookmarking sites are getting. However manually doing it takes much time especially when you are running multiple websites. With Buffer and IFTTT, we can make bookmarking on diigo, delicious and zootool work automatically.
But how can you implement this?
The first thing we need to do is create tasks that triggers when hashtags are used in tweets. For a quick reference, you can check out the recipes here: diigo, delicious, zootool.
To bookmark into diigo, zootool, and delicious, simply include 3 different hashtags (e.g. #bm, #bm1, #bm2) in your tweet. You can use whatever hashtags suitable, but remember to keep them short since we are only limited to 140 chars per tweet. You can do this for LinkedIn and Facebook too.
When I have new posts I prefer to schedule the updates, and I always use Buffer (via Chrome extension) to regulate the updates frequency to FB, Twitter or LinkedIn. When the Buffer extension prompts, I'll simply type in the hashtags to trigger the tasks.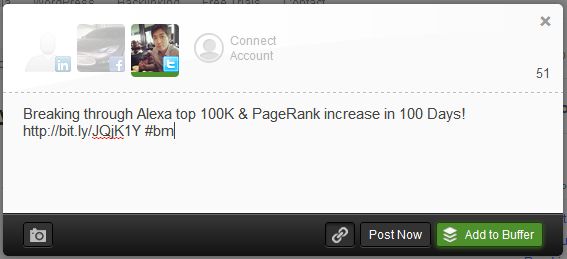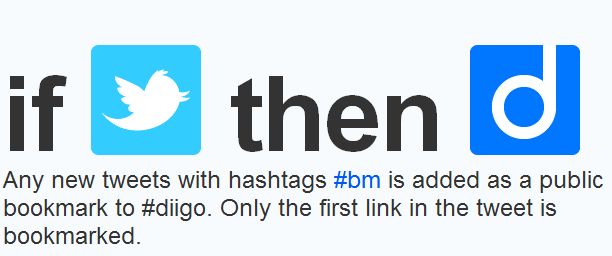 On many occassions I find myself using Leo's recipe that sends a bookmarked URL in diigo to Buffer account to be scheduled and posted later. You can use this method on delicious bookmarks too.
Other useful Buffer recipes, include
For a full list of the recipes that I have created, check it out here. I hope these 6 methods using Buffer and IFTTT can push your social media results to a new level!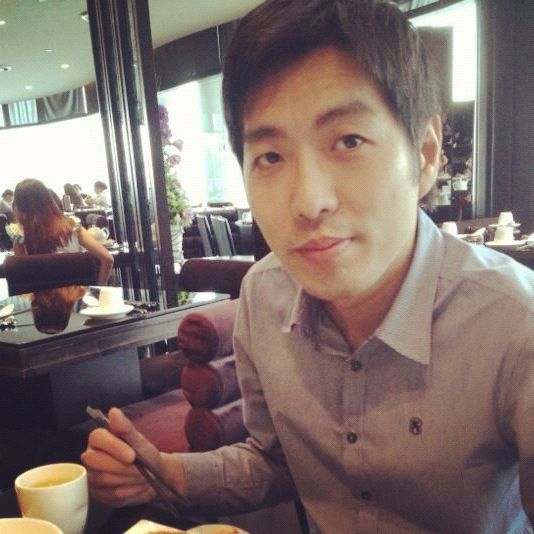 About the author:
Lincoln writes mainly on internet marketing, social media, blogging tips & guides on his blog. Other than sharing his own blog updates via Google+ and Twitter, you can usually catch him sharing interesting content, ranging from geeky stuff, motivation, social media, tech to internet marketing.