Imagine taking a week off at the beach while your social media profiles hummed along without missing a beat.
One of the greatest social media superpowers you hold—as an individual, a brand, or an agency—is the ability to control time. With the right tool, you can post into the future so that the next two days, two weeks, or even two months are taken care of, no matter where you happen to be.
Social media automation makes it possible to save time, stay flexible, and plan your online marketing strategy down to the very minute.
It works for folks managing a single profile. It works for folks running 363 profiles.
Marketeering Group happens to fall into the latter category with—yes!—363 connected profiles for nearly 200 individual clients (and that number increases every week). Their online marketing agency, based in Seattle, Washington, helps local small businesses create and manage a full online presence with web design, content creation, SEO, multimedia, and—at the heart of the strategy—social media.
The job of scheduling content for the 363 profiles falls to two people, Jessica Dringman and David Parker.
Without the ability to work ahead on evergreen content and future planning, sharing such a high volume of social media updates simply wouldn't be possible.
How to manage your time on social media
Inside the strategy of an agency that shares to 100s of profiles each day
The foundation of Marketeering Group's strategy is a simple and brilliant two-step process.
Create high-quality, evergreen content
Schedule this content on social media
For the first part, Marketeering Group enlists the help of staff bloggers who create articles that address the needs, problems, and solutions for each client's audience and customers specifically. To supplement the written content, Marketeering Group also has an in-house videographer and photographer who help create professional multimedia. The content then gets scheduled and published to a client's blog and scheduled and published for social media.
When it comes to social media scheduling, Jessica and David think far in advance.
They schedule enough posts to fill the next two months for each client profile.
All this scheduling happens in Buffer, where Jessica and David automate social sharing by combining the different elements of the client's content (blogpost, video, photo) into unique updates.
David says the ease-of-use for scheduling with Buffer saves him a half-days' work, every day. Jessica agrees:
I don't even think what we do would be possible without Buffer.
The challenges of social media automation
One of the built-in risks in scheduling content is losing the personal, relatable aspect of social media. It's a risk and challenge that Jessica and David are eager to solve.
Our biggest challenge is finding a balance between being personable and relatable and using our time effectively. It's a battle between time management and a focus on relationship-building, being genuine, and interacting with the community. When you have so many accounts to manage, it's hard to balance it all.
Working at the scale they do—363 profiles and on pace for 500 by the end of the year—leads to big pressures on time and efficiency. And they're the same pressures for everyone—whether you manage profiles in the hundreds or handfuls.
How do you balance getting work done fast and also taking things slow to engage?
It's a great question.
And one that so many social media marketers are looking to solve.
The answers are likely to look different for each agency, brand, and individual. Engagement can be a personal topic, which is what makes it such an investment of time and also such a meaningful interaction.
Still, if it's answers you're looking for, here are a few quick ways to add a bit of a personal touch to your efficient social media strategy.
Thank those who reshare your content.
A simple thank you can go a long way—and it's a quick gesture to make. You can thank by replying to the person who shared, favoriting their update, or following their account. A super fast way to find these folks is to click into the details of any individual post. You can do this directly from Twitter, Facebook, and the other social media channels; you can also find this info in Buffer by clicking into your analytics.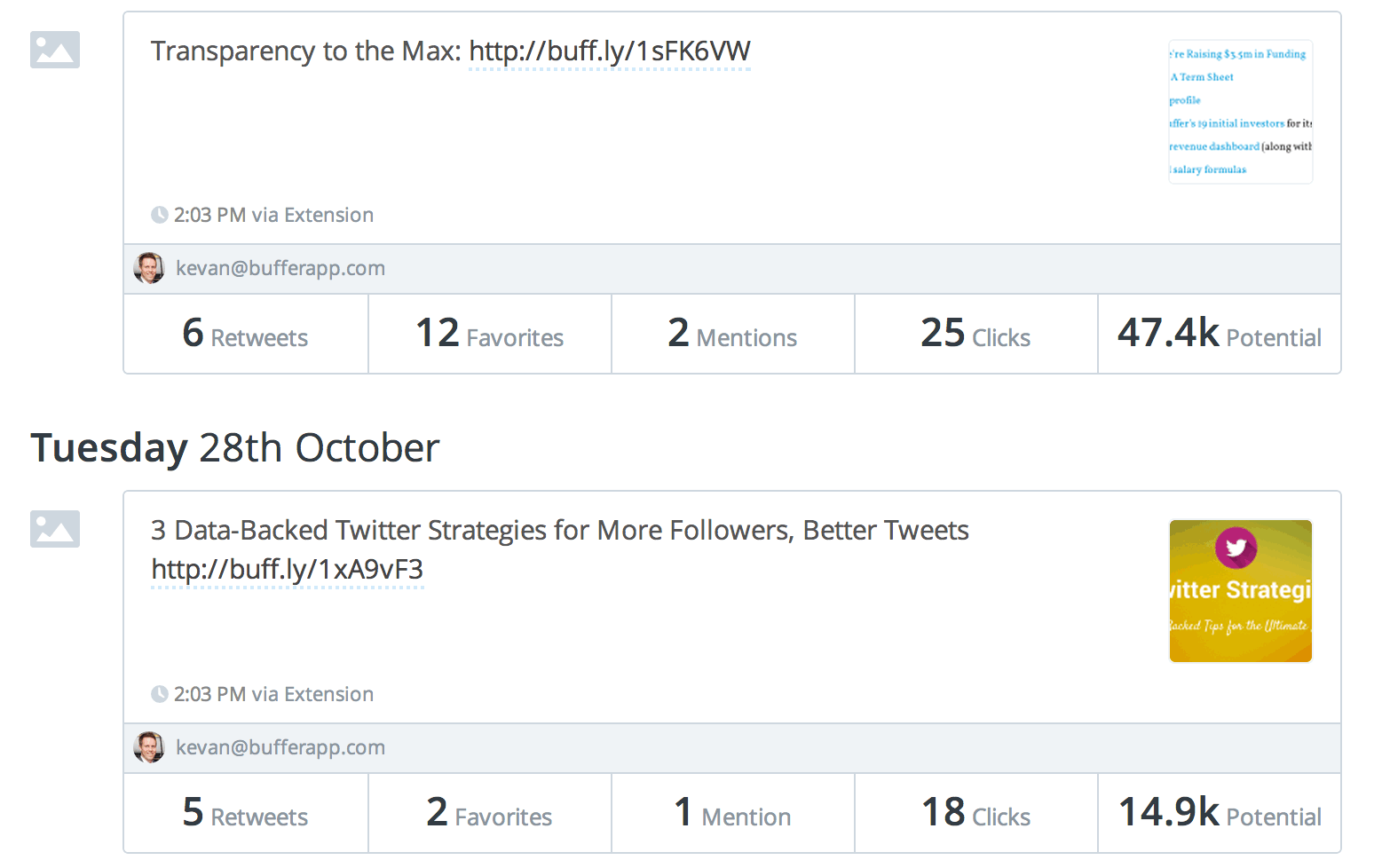 Share content from those who follow you.
Add retweets and reshares to your social media strategy, and be purposeful about highlighting your followers as part of this reshare effort. You can track VIP followers in a Twitter list or by following on Facebook. Then, when a relevant tweet or update comes across, pay forward a bit of happiness by sharing the post on your profile.
Use direct mentions, hat tips, and vias as often as possible.
Whenever possible, address others directly on social media, linking to their profile so they receive a notification.
On Twitter, type a username beginning with @. (If you try this in a Buffer update, you get a smooth autocomplete option.)
On Facebook, start typing a name and then choose the profile from the dropdown that appears. To tag a page, place an @ before the page name.
On LinkedIn, simply start typing the name of a person or brand.
On Google+, type a person's name beginning with +.
The 5 best automation and reporting tools for agencies
Having the right tools has been key for Jessica and David to accomplish the high volume posting and management they do. Here are five of their most-used tools.
Buffer lets you manage multiple social media accounts from one dashboard, whether it be your personal profiles on Twitter, Facebook, Google+, and LinkedIn, or the 363 profiles of 100 small businesses as Marketeering Group does.
Having everything in one place is a huge time saver. Here's the difference it makes for Jessica:
Buffer keeps you organized, keeps you sane. Otherwise we would have a million things active. This way, we can go leave for the weekend and know things are still gonna be posted.

Buffer allows us to put out better content and not be so hasty, and that drives traffic eventually.
Some of Jessica and David's favorite Buffer tips are the draggable content, both in the way you can move content up and down the queue and the way you can drag an update from one queue into the queue of another profile.

The extension is key to their sharing as well. No matter where you are, you can click the extension to save and share the link and add straight to Buffer.
MavenLink's project management tools help Marketeering Group stay connected with their clients. With MavenLink, Jessica and David can record what they're doing for each client account and send the client an updated feed and report of what they've been working on.
🖊️
Note: MavenLink has merged with and rebranded to
Kantata
.
Known for its SEO services, Raven Tools has been a helpful tool for Jessica and David to track the response to social media marketing, following up on campaigns by noting the traffic and referrals from social.
Latergramme is a type of Instagram scheduler, with a twist. Since Instagram does not allow third-party scheduling, Latergramme sends you a push notification at scheduled times; opening the notification opens your image in Instagram for you to manually post.
You can set up a full schedule in Latergramme, via their iPhone app or via the web app, and get reminded when it's time to post.
Like Latergramme is for Instagram, ViralWoot is for Pinterest. You can schedule pins to Pinterest via ViralWoot (and follow up on all sorts of neat stats through the tool as well).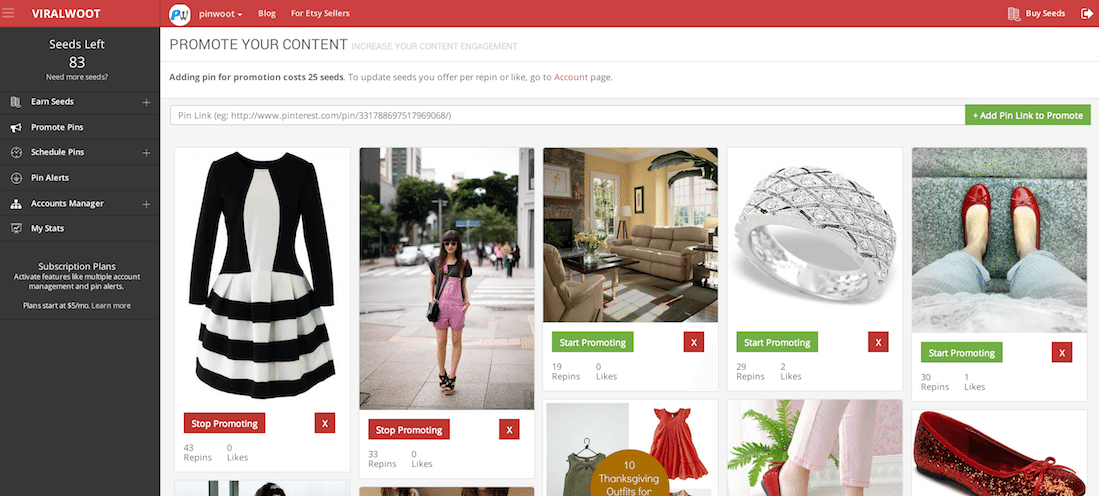 Over to you
Whether sharing to a huge number of profiles or a small number, there remain some common strategies and challenges. Automation can be a key component to a well-planned social media strategy, not to mention a huge time saver and stress reliever.
How far out do you schedule your social media posts?
Is automation part of your online marketing strategy?
It'd be great to hear your take in the comments!
Image sources: Blurgrounds, IconFinder, Leshaines123