How does IFundWomen empower and support women entrepreneurs? Their strength is in their community. IFundWomen, the go-to funding marketplace for women-owned businesses, aims to support women entrepreneurs as they navigate building their businesses. They've identified a powerful marketing channel to help these women bring their visions to life: digital community.
Read on for a behind-the-scenes look at how IFundWomen integrates their marketing and community building to foster inclusive digital spaces. You'll hear directly from Shakivla Todd, Marketing Associate at IFundWomen, and you'll learn:
Community tactics to build closer, longer-lasting relationships with your customers
How to learn from your community to inform your marketing strategy
Where Shakivla finds inspiration for creating social media content for a small business audience⠀
How to avoid tone-deaf marketing in uncertain times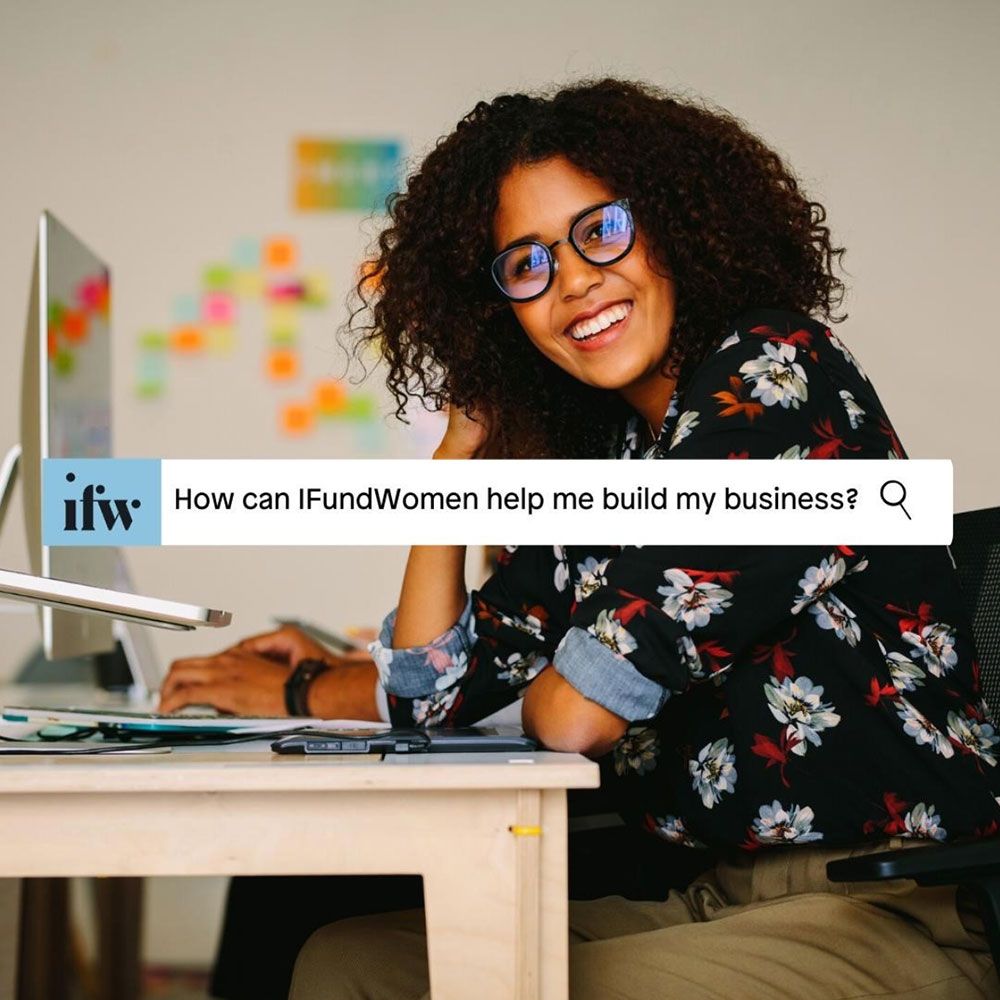 This post is part of the #BufferBrandSpotlight, a Buffer social media series that shines a spotlight on the people that are helping build remarkable brands through social media, community building, content creation, and brand storytelling.
This series was born on Instagram stories, which means you can watch the original interview in our Highlights found on our @buffer Instagram profile.
---
Who are you?
My name is Shakivla Todd and I am the Marketing Associate for IFundWomen. More importantly, I'm a stellar older sister, a dope friend, and a budding plant mom. IFundWomen is the go-to funding marketplace for women-owned businesses and the people who want to support them with capital, coaching, and connections. We offer immediate access to capital through a premium online fundraising experience, access to small business grants from corporate partners, expert business coaching on all the topics entrepreneurs need to know about, and a network of women business owners that sparks confidence, accelerates knowledge, and ignites action.
I manage our digital communities through social media strategy, Slack engagement, and e-mail marketing. I also am a startup coach and I get to coach women entrepreneurs on how to level up their social media game—this is one of my favorite parts of my role!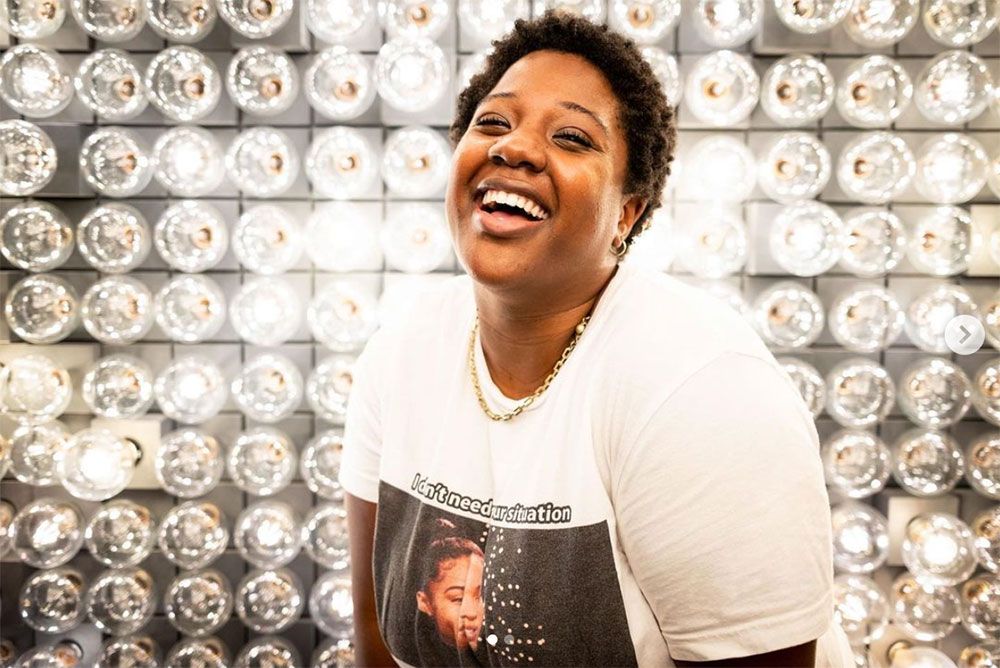 Where do you find inspiration for IFundWomen's social media content?
I spend a lot of time scrolling through Instagram to get inspo for social content. I am always stalking Ellevest, R29 Unbothered, Freelancing Females, Girlboss, the list goes on. Additionally, our community is #TeamMemes so pop culture inspires a good amount of my content. I am also looking for the next thing to be memeified! For example, millennials collectively are re-watching the early 2000s sitcom Girlfriends on Netflix. Everyone is talking about it, so I made a meme from a picture of the cast to promote one of our grant programs.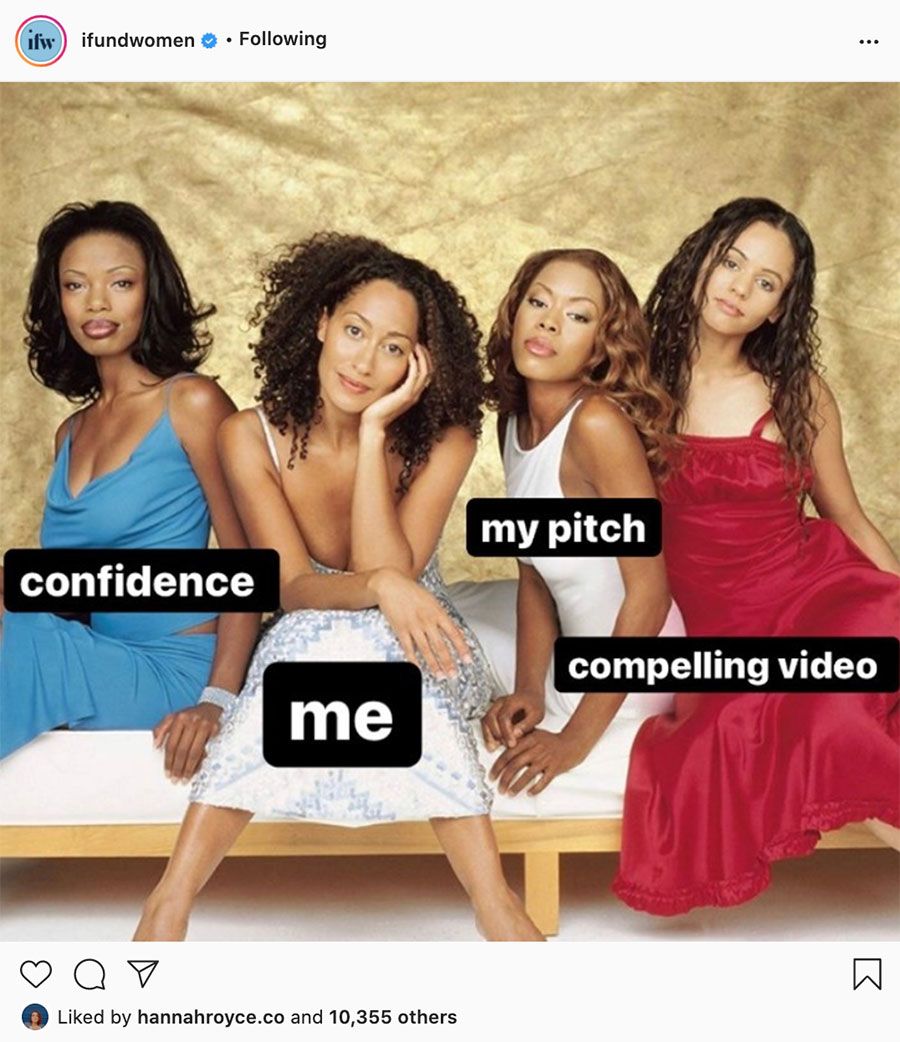 Lastly, I would be lying if I didn't say that we get inspired by checking out our competitors. It's a great tactic!
How does managing IFundWomen's social media account and community look like on a day-to-day basis?
First thing I do in the morning is check all DMs across platforms. I can do this from laying in my bed, so it's a good slow start to the day and I don't have to worry about it during the workday. I like to respond to any messages and comments within 24 hours, but if it's a launch day or something important I check in with Instagram much more frequently.
On an amazing day, I have already scheduled my posts into Buffer. So, I'll go check on them to make sure everything is still good to go. After that, my day is clear to be creative and strategize for future content. I collaborate with our sales, coaching, and creative teams to ensure that we are consistently marketing our products, services, events, and partnership. I have to make sure everything is reflected in our marketing content calendar.
What advice do you have for brands that are trying to foster a supportive, inclusive online community?
Don't be tone-deaf. A lot of STUFF is going on in this land of 2020. You can't ignore it. You have to find some way to address it that aligns with your brand's mission, values, and voice. That being said, don't just say something to say something. Be authentic and make it work for you. For example, during the aftermath of George Floyd's death instead of going silent or posting a black square, our response was amplifying and supporting Black women-owned businesses recognizing that one of the most important actions to combat racial injustice is to redistribute money to Black-owned businesses. ⁠
Don't be tone-deaf. A lot of STUFF is going on in this land of 2020. You can't ignore it. You have to find some way to address it that aligns with your brand's mission, values, and voice.
How do you learn from your community to help guide your marketing strategy?
Our community is loud and clear about what they need, want, and love. I like to try out different tactics and just watch to see where our community takes it. If something goes "viral" I continue to create content similar to that. Our followers are also often in our DMs asking for help to get their businesses funded. Their specific questions fuel my marketing strategy.
Our followers are also often in our DMs asking for help to get their businesses funded. Their specific questions fuel my marketing strategy.
For example, IFundWomen partners with companies to build grant programs for businesses. Over the summer, during the application window for one of our grants people were consistently sliding in our DMs asking very specific questions about their grant application. We decided to host a workshop specifically on grant writing. To promote this free workshop I seriously just took a screenshot of the first slide of the presentation that was going to be used for the workshop. The post blew up with nearly 1000 likes and over 400 people registered for the workshop. I think it succeeded because the Instagram post was very simple, straight to the point, and directly addressed a concern our community was having.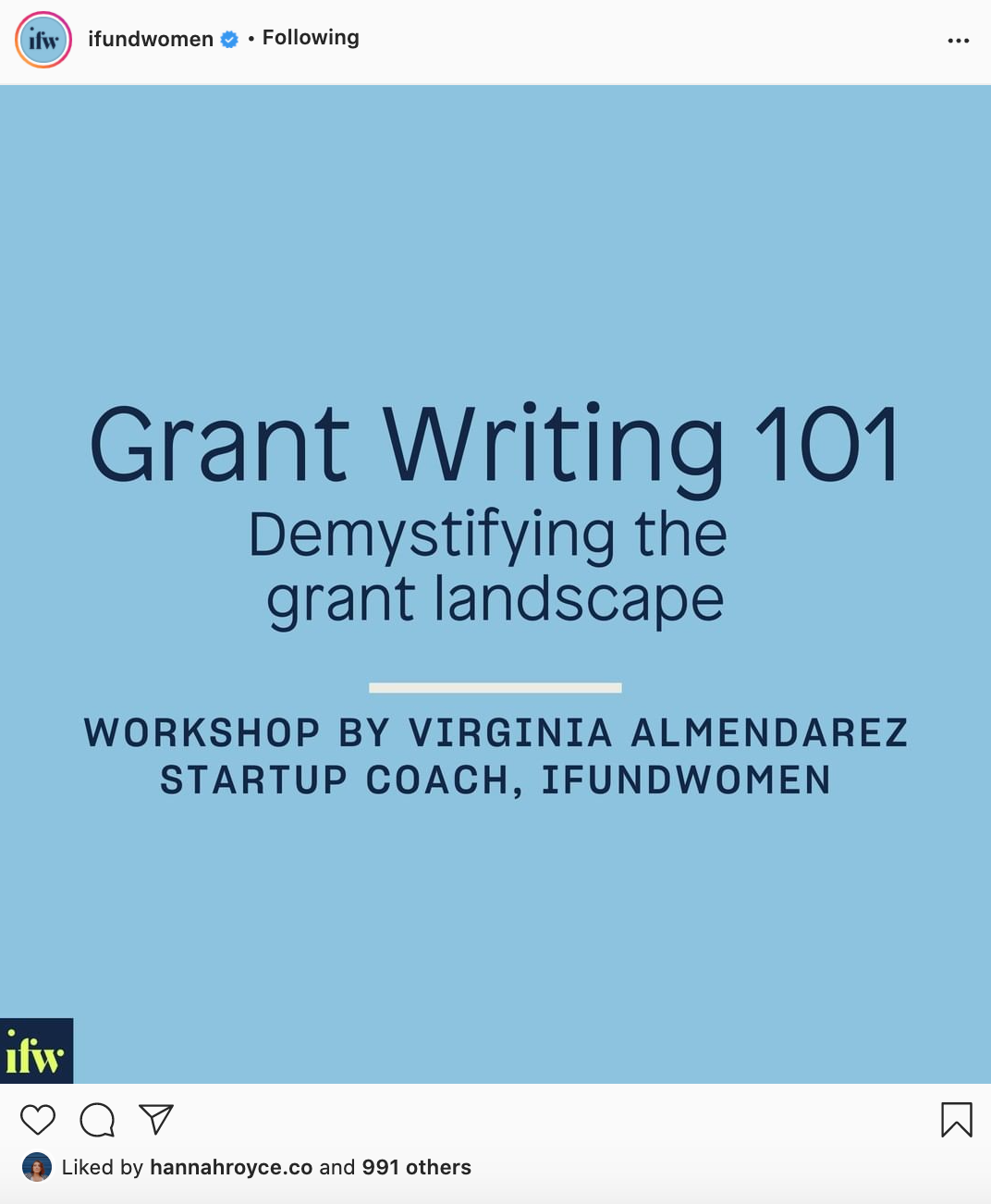 What's your number one tip for engaging with IFundWomen's community?
Perform like everyone's best friend on the gram. What does that mean? That means most comments and DMs get very personalized responses. I interact with our followers not only on our posts but on their posts as well if it comes across our feed. I often engage as if our business account is a personal account. It's a great tactic to beat the algorithm, but also to build community and brand trust.
Perform like everyone's best friend on the gram.
How do you stay up to date on social media/marketing trends?
I love reading Buffer's, Later's, Hootsuite's blogs, and Social Media Today. A good scroll through TikTok and Twitter is also good for the brain. I think most trends start in those two apps. Shameless plug, I take what I learn all over the internet and put it into a roundup of "trends to keep up with" in my newsletter, Trending with Shak.
What's your favorite IFundWomen partnership to date and why?
The Funding Journey is an IGTV series where we interview successful founders on the long, sometimes complicated, journey to getting their businesses funded. It's my favorite because:
I get to put on my true producer hat and build something out start to finish.
Most of the founders we interview are from HUGE brands. It means amazing reach for us as a brand plus our community LOVES hearing from brands they love like Black Girl Sunscreen, Lively, and The Helm.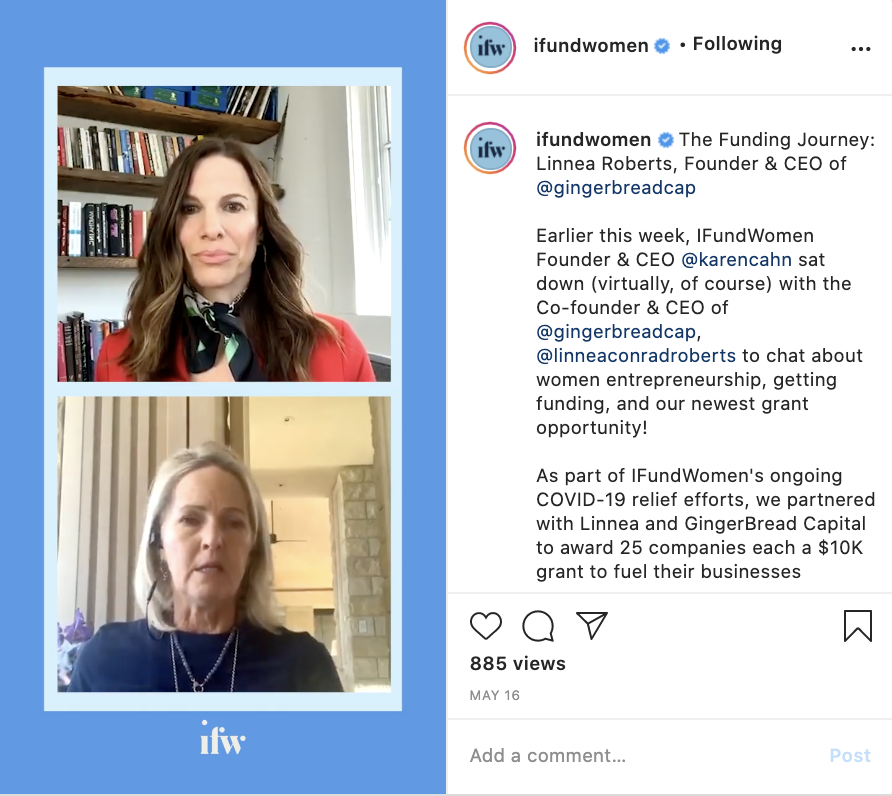 ---
We hope this interview with Shakivla helps you get started with or double down on your social media efforts. You can follow her journey on Instagram here!

Have any questions for Shakivla? Feel free to reply with your questions to the Twitter post below and Shakivla or someone from the Buffer team will get to them as soon as possible.