Note of appreciation: This is a guest post by Jordan Lyall from Twin River Labs. I have been DYING for such a tool that lets you easily add Tweet buttons to sentences in your posts. Jordan has done an amazing job here. I think this will be incredibly useful to any blogger! ?
One thing I learnt: People don't share your articles simply because of the great content. Unless you already have a following of passionate readers, the "post it and forget it" strategy tends not to work. If you feel your post is "tweet-worthy," you need to take whatever actions you can to get it in front of as many people as possible.
It starts by optimizing your post for sharing.
With MyTweetLinks, a WordPress plugin that lets you provide for your readers short one line phrases pre-set for quick sharing. It helps you queue up bite-size content (excerpts from your post) that visitors can easily tweet or add to Buffer.
Update: MyTweetLinks is no longer being supported.

Download the plugin here:
MyTweetLinks
You have probably already added instant sharing to your blog via social buttons (if you're smart, you've installed Buffer's
DiggDigg
. But even then your readers are forced to either share the post's headline or write their own recommendation. MyTweetLinks makes the experience of sharing your content very easy.
With sample tweets are already displayed, the reader picks their favorite and easily posts to Twitter.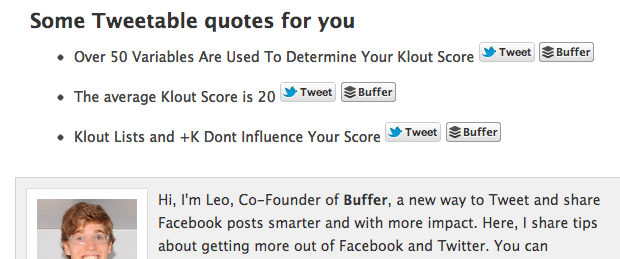 You're creating a new reason to share – without them having to write something from scratch. The goal should be to reduce any friction before the share.
1.) How to set up MyTweetLinks on your WordPress blog
Installing MyTweetLinks couldn't be easier. Just go to Plugins > Add New in your WordPress admin and search for "MyTweetLinks". From there you can install and activate the plugin in just a few clicks.
Alternatively, you can download it right from the
WordPress plugin database
.

2.) Customize your version of MyTweetLinks
MyTweetLinks was designed to fit the design of any blog. From the Options screen you can customize the heading text, the background color, and whether or not you want to include Buffer buttons (highly recommended).

From the options page you can also choose your method of implementation. When set to "Show below post content" the box of tweet links automatically appears at the bottom of your post (above comments).
Alternatively, you can choose "Shortcode" as your method of implementation. Now you can place the list of tweet links anywhere in your post or the theme itself.
Your mileage may vary, but I recommend displaying the tweet links at the bottom of your posts. After reading, your readers are ready to take action and it makes it easy where they don't have to scroll up to the top to share.
However, when you post the tweet links at the top of your post, you're presenting your readers with a summary of the content to come.
3.) Adding tweet links to your articles
With MyTweetLinks installed, your post-entry screen has an extra box below the main body content text area. After you've written your blog post, scroll down and start entering your tweet links. Just enter a sentence or phrase you want your readers sharing (see tweet recommendations below) and press "Add New" to lock it in. Rinse and repeat for as many links as you need.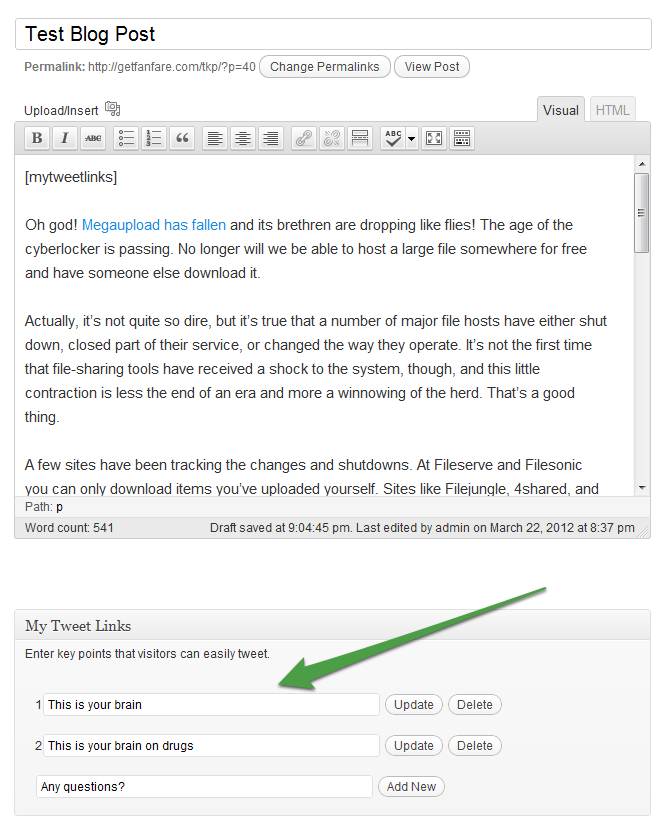 That's it, you're done! You've primed the pump. Your readers are now much more likely to share your content.
As a blogger, you know how to optimize the message. Don't rely completely on the reader to craft an effective tweet. You know what will work. You know what keywords help you build
social SEO
. Below are a few suggestions on crafting quality tweet links.
4.) How to create winning tweets with MyTweetLinks
Choose your words carefully. Use keywords that encourage clicks.
Resist the temptation to spam.  Stick with key quotes from (or descriptions of) your posts.
Mention others. Does your post quote or link to another source? Give them a shout out with one of your tweet links.
Use hashtags.
Test. Test. Then test again.

Pro Tip: Eat your own dog food and share your top quotes
After publishing your post, click the "Buffer" button on each link to add it to your own queue.
The tweet half-life is roughly 3 hours. Get them with a different hook on the second chance tweet (and third, fourth, and fifth chances).
And as we've discovered with DiggDigg, the more visible the sharing buttons, the more likes and tweets your posts will receive. Couple that with pre-packaged, sharable sound-bites and you can imagine how many more people would share your content.
I hope you find the plugin useful in promoting your blog. I'd love to hear any feedback, or ideas for improvement in the comments below. Thanks!
About the author:
This is a guest post by Jordan Lyall from Twin River Labs. He also created the above MyTweetLinks plugin.
Jordan is a super friendly guy, be sure to hit him up @jordanlyall any time on Twitter.