To really make your brand stand out, you need to effectively communicate the story behind your small business to your audience. While you can connect with your customers on social media, creating a website is just as important, if not more. A website provides a variety of benefits and is a permanent landing page for your business that gives your brand credibility. It's not enough to simply have a website, you also need to make sure you include compelling copy on it.
Well-crafted web copy can build your brand and hopefully lead to more sales. Your website is often the channel where customers will be purchasing items, and in order to convince buyers to trust your products, you need to have enticing marketing. The good news is, you don't have to be a professional copywriter to include well written copy on your site. We'll go over some best practices for copywriting as well as review some examples from small-businesses who have great text on their websites.
Why good website copy is important
Once your customers navigate to your website, you want to ensure they will actually stay on the page and learn more about your business and products. Bad copywriting – writing that isn't clear, too lengthy, or hard to read – can feel jarring to customers and lead to a higher exit rate on your site. On the flip side, good copywriting –  writing that is clear and evocative –  will encourage your readers to browse through your website, increasing the chances they will make a purchase.  
These are just some of the benefits of good copywriting:
Clearly communicate your business' mission and goals. Good copywriting should tell the story of you and your business. When you write clearly and effectively, you can pull readers in and help them emotionally connect with your brand.
Provide a permanent hub of resources. On your social media, you may only be highlighting your latest products or services, but customers can find the entirety of what you have to offer on your website. By including solid copywriting, you can ensure all the information is easily accessible.
Make a good first impression. Imagine if readers came to your website and saw grammatically incorrect copy. That experience may be off-putting and lead them to exit your page. By including good grammar and punctuation, your customers will see your brand as more credible.
SEO Benefits. If you optimize your website for SEO, you can pull in more organic search traffic. This means including key-words related to your business and making sure your website copy is informative and educational for your readers, rather than a lot of fluff.
The more effective your language is, the better your chances are of connecting with customers and building brand awareness.
Key things to keep in mind when writing website copy
You should be creative and feel comfortable to add your own style and voice to describe your small business on your website. With that being said, you also want to make sure your writing is logical and comprehensible. Here are some ground rules that will help make your copy strong.
Be concise
People are busy and they typically tend to skim through long blocks of information online instead of reading it in full. This means it's best to give the most important information upfront, rather than hiding it in paragraphs of text. Your website is a source of information after all, and you want it to be easily accessible.
Being concise does not mean all of your copy has to be to the point, though. In fact, we'll go over examples of small businesses that do include lengthier descriptions in an effective way. But more often than not, you'll want to keep your copy short and sweet.  
A Dozen Cousins, a black-owned and Muslim-owned family business selling healthy Caribbean inspired food, does a great job of this on their website. Their homepage currently has a banner advertising their latest drop with a catchy slogan: "We've got the sauce." It's quick and direct, letting customers know exactly what the product is.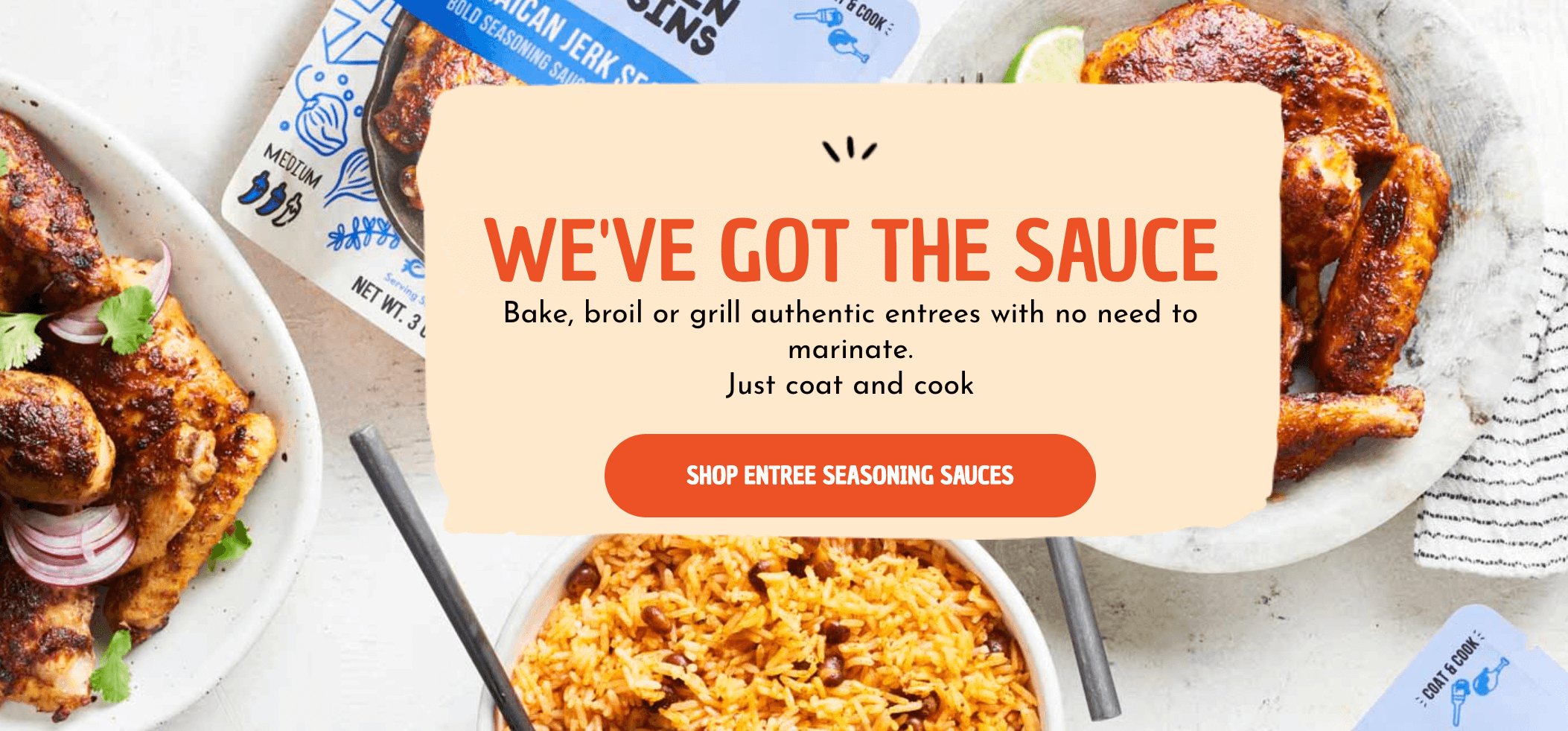 The phrase is also a fun play on words as many hip hop artists have used the word "sauce" to mean something special, but it also literally relates to A Dozen Cousins seasoning sauces. Coming up with a short and fun slogan or catchphrase, especially one that is relevant in a pop-cultural sense, is a great way to hook your audience.
Clarity is key
Try to be as clear as possible with your word choice. While it sometimes is okay to use purple prose or flowery language, that kind of wording could also feel vague and unclear to your readers. You'll want to explain your business' goals and products in the most straightforward way possible.
Whenever you're drafting a new copy for your website, ask yourself if you can simplify the language. If so, break your copy down into simple sentence structures with simple words.
Clarity also means you should be honest in your writing. Don't over exaggerate the benefits of your products or services. Be honest about your small business' goals and missions. You want your readers to trust you after all, so be direct and frank with them.
Consistency is important
Another part of clarity is being consistent across your website and social media channels. Businesses often develop a specific brand voice – a tone that is unique to your business. Your customers will get used to this distinct style of communication, and it's best to stick to it throughout your website and other channels.
Structure your content effectively
When your customers look at your website, you want the information to flow smoothly. This means a couple of things:
Your page layout should be easy to read. It's never fun to come upon a webpage that is one giant block of text. Play with spacing and include bullet points to break up the text.
Include headings and subheadings.  When writing your website copy, make sure your paragraphs are organized in a logical way with a beginning, middle, and end. There should be clear headings and subheadings and smooth transitions between sections.
Add visuals. Make sure to include images and graphics in your text. Not only can that make your page easier on the eyes, but well placed visuals can also add an emotional layer to the text.  
Squigs Beauty, A South Asian founded brand, sells haircare and skincare products free of synthetic fragrances and dyes, including a hair oil and face serum. When describing their gooseberry delight hair oil, the brand includes a typical description of the product, but on top of that, they added another blurb with a list of  tips to get the most out of the hair oil and broke it down into four categories: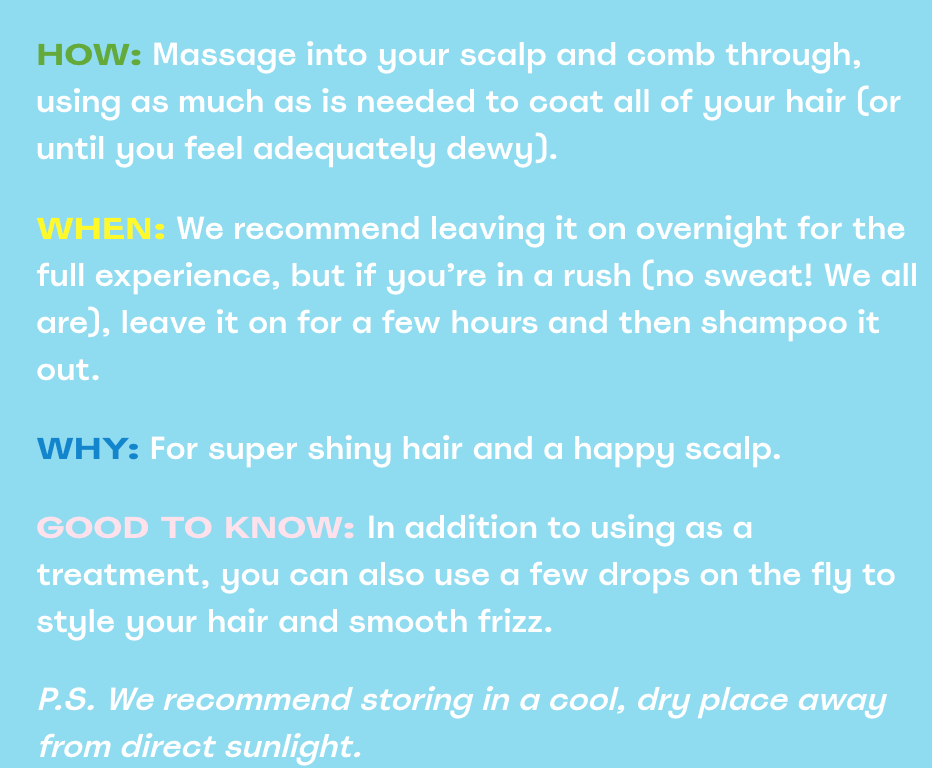 Just like Squigs Beauty does here, we recommend playing around with bullet points, spacing, and coloring to break up your text and make it more visually appealing for readers.
Always edit your work
You don't have to be an expert at grammar and punctuation to write good content. Instead, just make sure you review your work often. We recommend first outlining the text for your website. Once you have a solid outline, you can start drafting the exact wording for your webpage. If possible, have a colleague or friend peer-review that draft before. At Buffer, we peer-review our blog posts and often go through two rounds of drafts before publishing the final product.
Another great tool to use is Grammarly. Dubbed a virtual writing assistant, Grammarly is a free software that edits your work and offers suggestions to clear and strengthen your writing. While the free version works well, if you feel like you need extra help with grammar there is a paid version that can really fix up your copy.
Reading your copy aloud is another helpful tip. When you do so, you can hear whether the words flow smoothly together or if there is any awkwardness in the language. It's also a great way to see if you've missed necessary punctuation like commas.
Main sections to include on your website
You can organize your website in a myriad of ways, but here are some main sections you should definitely include.
About section
When your customers click on your website's about page, they should be able to get a good sense of what products and services your brand offers as well as an idea of who you are as a company. Most business about pages include information about the CEO and other key leadership roles.
Arctic Haven Studio is a small business ran by sisters Anna and Kelly. They sell shareable art depicting animals that are native to their hometown in Alaska– making their products extremely close to their heart.
Because the business is so personal to the duo, their about page is too. The sisters wrote the entirety of the website by themselves, and didn't rely on copywriters to help them set up their content.
They include an in depth section describing why exactly they chose the name Arctic Haven Studio. The explanation is both informative and lyrical. This is a great example of how to include longer text on your website.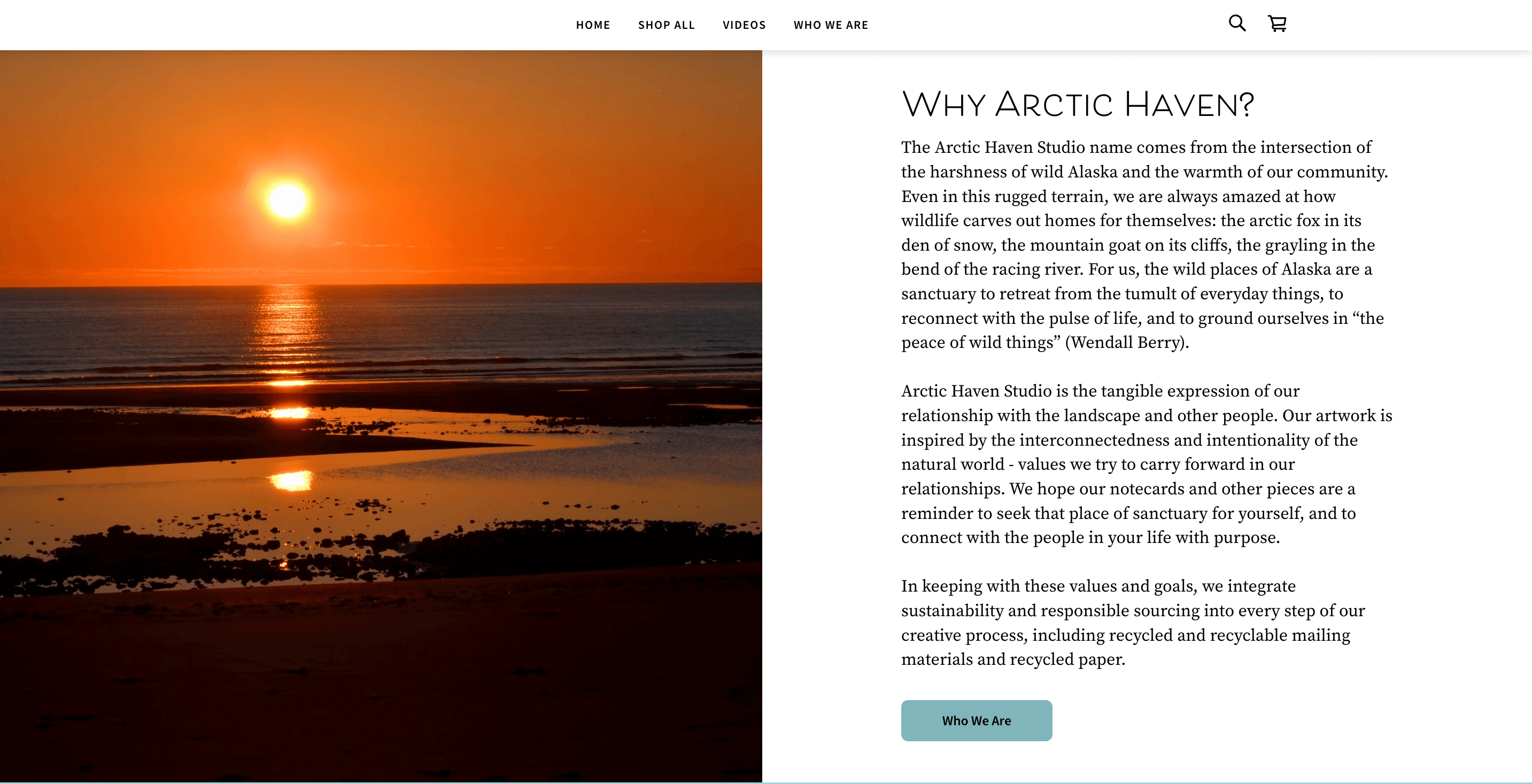 Anna and Kelly's writing provokes beautiful imagery, making customers want to buy their art. Lines like, "Even in this rugged terrain, we are always amazed at how wildlife carves out homes for themselves: The arctic fox in its den of snow, the mountain goat on its cliffs, the grayling in the bend of the racing river," paints a picture in the reader's mind. It's also clear from their writing just how much they respect nature as well. This can give readers the sense that their passion for the outdoors is authentic.
The writing is lengthier, but it serves a clear purpose: to tell the story of why the outdoors is so important to them.
They also include blurbs about themselves, telling customers who they are as people. While you don't have to go into great detail or include any personal details about yourself, giving some insight into who you are as a person and what inspired you to open your business can help your readers build an emotional connection to your company.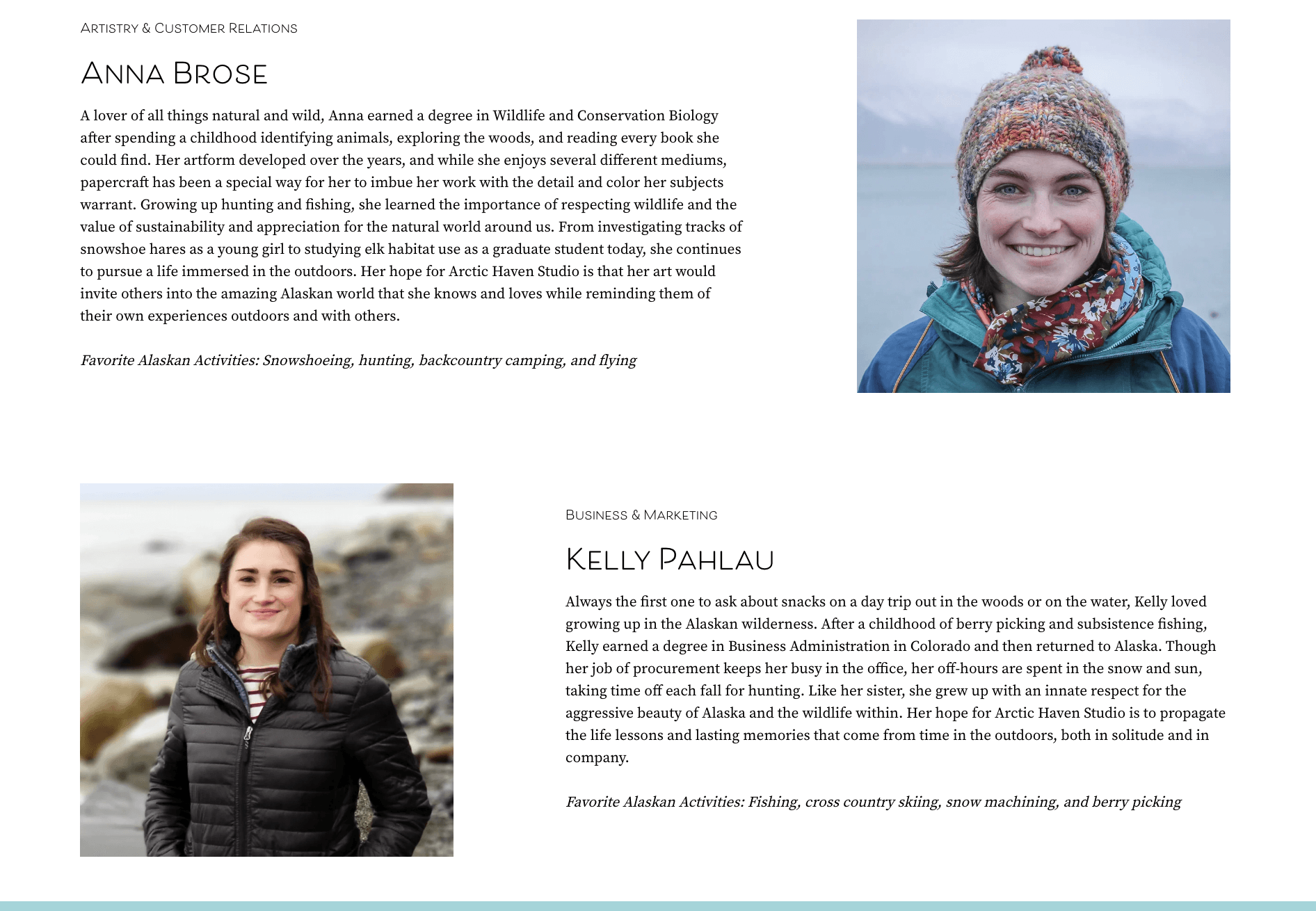 Neither Anna nor Kelly are trained in copywriting, but their passion for Alaska's wildlife reflects on the page. With some thoughtful editing, they were able to craft a compelling about section that successfully describes the values behind their small business.
Another element you can incorporate into this section is your company's values and goals. We've listed out our six core values on our about page so customers can have a better sense of how we operate at Buffer.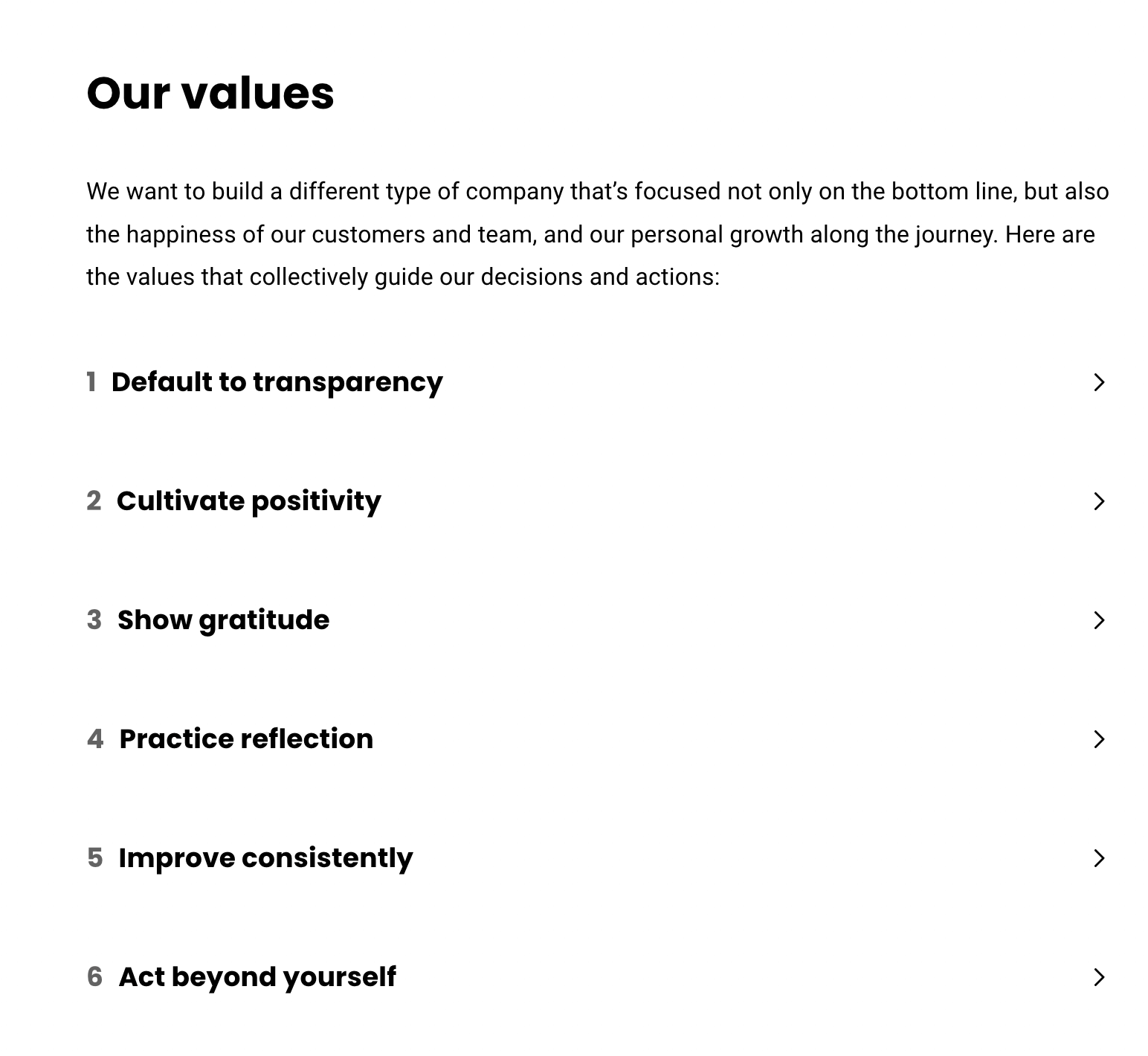 However you decide to set up your about page, make sure readers can take away what you're hoping to accomplish as a small business owner or content creator.
Mission statement (if relevant)
If you're partnering with an organization, donating to a nonprofit, or have some kind of charitable component tied to your business, you should dedicate a section of your website to your mission statement and explain how and why you're supporting a certain cause.
A mission statement can make customers feel good about supporting your brand and like they're making a difference by purchasing your goods or services. Here's a great example from Seattle Chocolate Company.
The brand was founded in 1991 and has long since been a staple in the Seattle area – and other parts of the country, too –  for selling top quality chocolate with unique and eccentric flavors. But the small business also has several causes they are working with as well and they've dedicated multiple pages on their website to their mission. Like this page about where they get their chocolate from.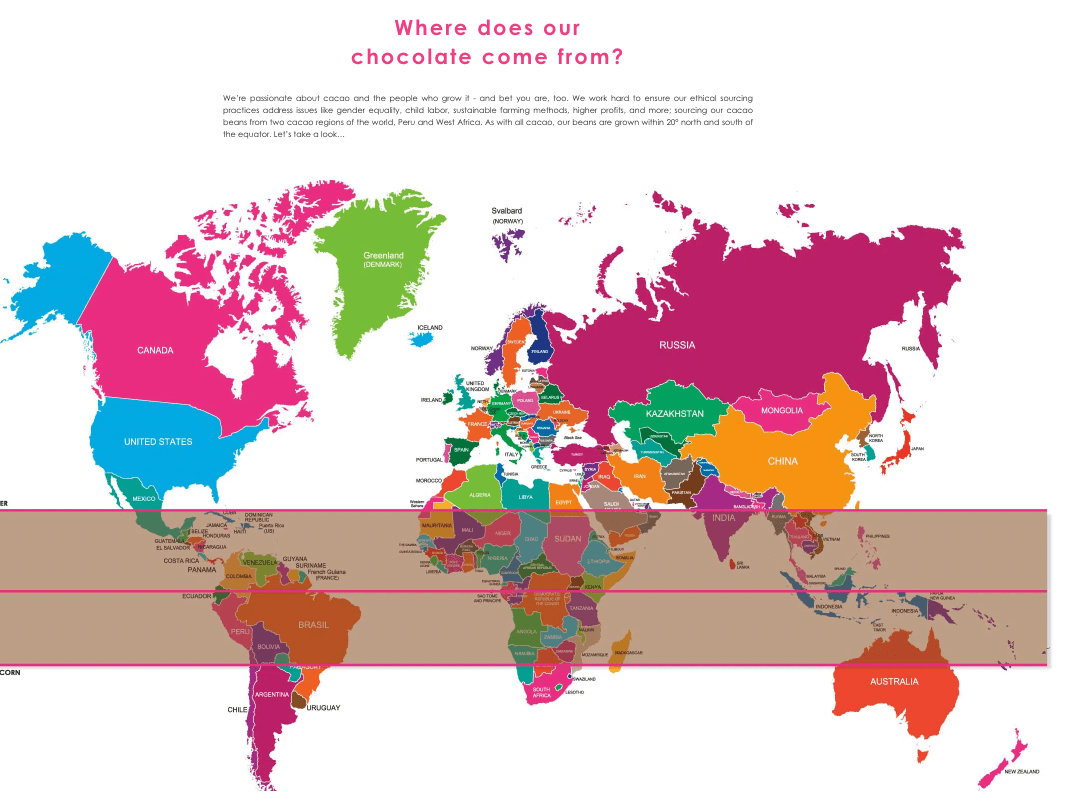 They discuss where their chocolate is sourced as well as their partnerships with small family farms. The brand also provide factual info along with maps to educate customers about the regions they work in.
The page is both informative and compelling as the company gets to describe how they go above and beyond in order to source cacao ethically.
They also have another page dedicated to their partnership with Girls Inc., an organization empowering and mentoring young girls and providing them with tools and resources to tackle economic and social barriers.
This section immediately lets customers know that their purchase will not only get them a quality product, but will also help someone else. Seattle Chocolate Company also points out that they themselves are a women-founded company, this is super effective as it can help readers feel like the small business's support is authentic and not performative.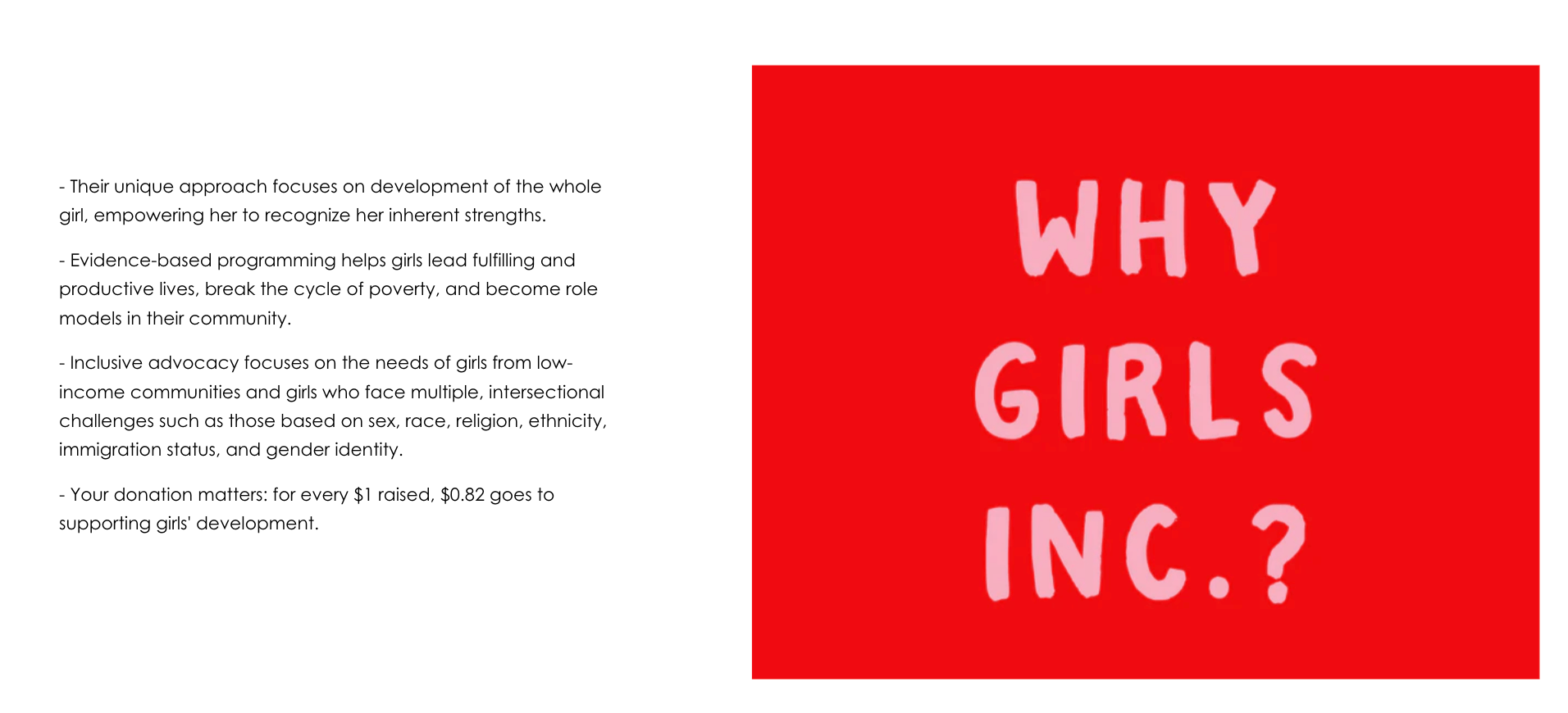 The small business also includes effective language like: "Our mission has always been to make the world brighter through chocolate, especially when it comes to empowering girls and women."
The language is clear and simple, yet evocative – the company is showcasing how their chocolate not only uplifts people on a daily basis, but is contributing to something even bigger like women's rights.
As you can see, you don't need to include a bunch of text explaining why your small business supports a certain cause, even a short paragraph or a list of bulleted points can get your point across effectively.
Product page
The most important part of your website may be your product page or pages! This is where you highlight what exactly you're selling, whether it be a physical item, a software, a service, etc. You want to include a clear description of your product, as well as include the price and any other relevant information, depending on what it is you're selling.
Try to be both persuasive and honest in your product page. Build up your product to make it appealing to customers, but remember not to over exaggerate either.
In just a few short sentences, A Dozen Cousins tells readers how to cook with their sauce packets, explains the flavor profile, and provides a few meal ideas, making it a very effective product copy. As we've mentioned earlier, oftentimes visitors will be skimming your site, so it's best to shorten your descriptions and get to the point quickly. This product description is the perfect balance of brief, yet informative text.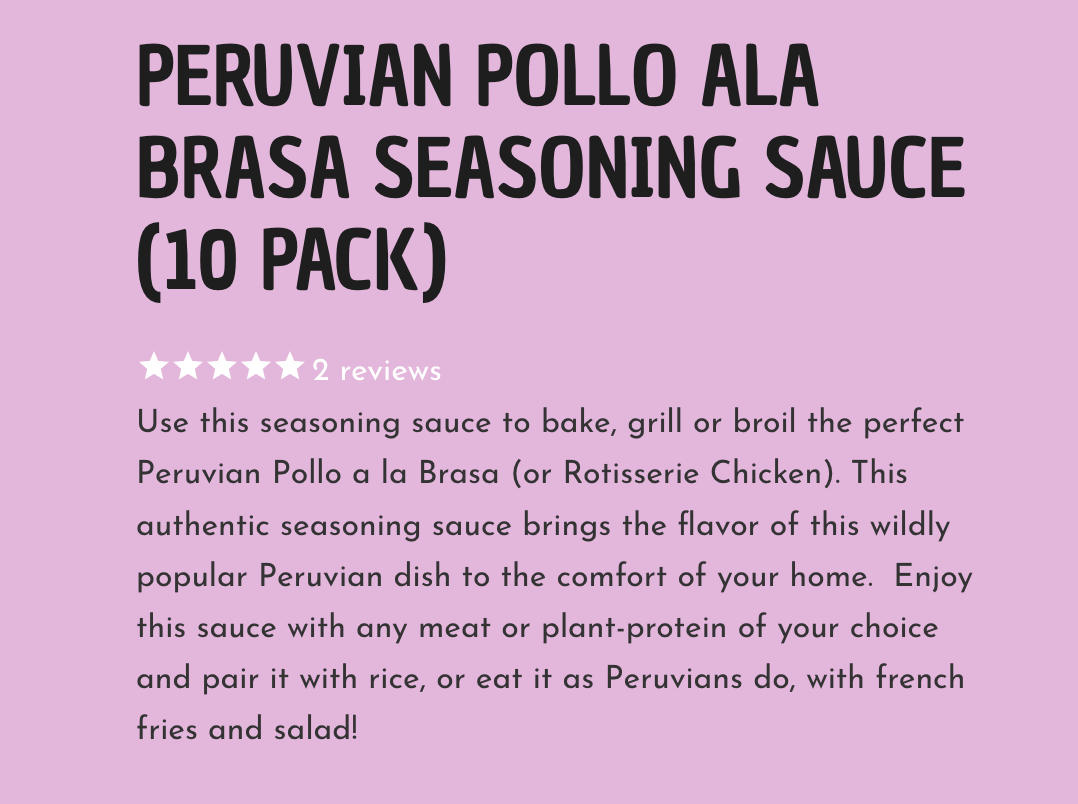 Paynter Jacket is another example of a small business creating excellent copy for their products. The ethical clothing company drops four limited edition jackets every year and creates a compelling narrative around each one.
For their latest work, the carpenter jacket, they provide historical details explaining how it's inspired by the California Gold Rush. Readers are given a brief history lesson that is actually engaging, and makes the product more appealing.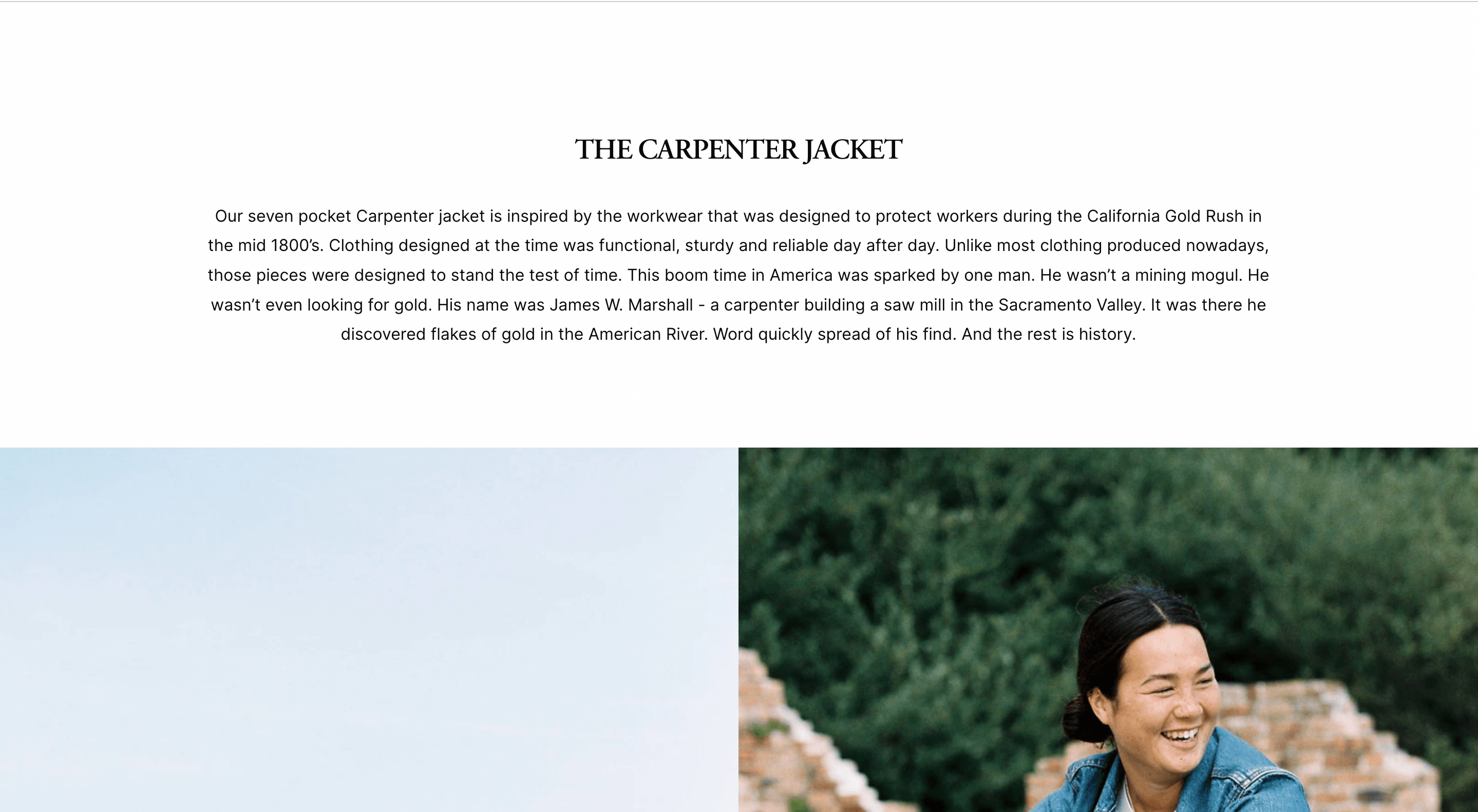 Part of the copy reads, "This boom time in America was sparked by one man. He wasn't a mining mogul. He wasn't even looking for gold ....  It was there he discovered flakes of gold in the American River. Word quickly spread of his find. And the rest is history."
In providing social and historical context to their jacket, the small clothing brand effectively tells a story that is intriguing and also builds up hype around their product.
Contact page
Finally, add a contact page. While it's helpful to include your social media handles on your website, not everyone is active on those platforms, so it's a good idea to add an email address where customers can easily contact you. Check your inbox regularly to ensure you're not missing important messages.
As an entrepreneur, you are the expert on your small business, making you more than qualified to tell the story behind your products, goals, and mission.
You don't have to be the most seasoned writer to create a compelling copy. Along as you start off with some ground rules, edit your work, and include why you're passionate about your business and mission, you can write excellent website copy.
We hope this can help you craft compelling copy no matter your website.  💜
➡️ Ready to share your website across social media? Check out Buffer to plan and schedule your content.
Brought to you by
Did you find this article helpful? You might also like our all-you-need social media toolkit.
Get started for free now