33% of adults globally experience loneliness, according to Statista. This contrasts with the global social media usage rate of 49%, showing that people feel more isolated than ever despite an increasingly connected society.
Feelings of isolation aren't limited to interpersonal connections but also the connections people feel towards brands. This is where online communities come in. While the community of a brand or company isn't a catch-all solution for loneliness, it can offer people a sense of belonging and a way to connect with others who share similar interests and values.
Companies create communities — or implement community management techniques across the organization — to build genuine relationships between their clients, supporters, and audiences. This guide will walk you through the steps and best practices for creating and managing a community that connects with your audience.
What is community management?
According to Tribe, community management can be summed up as the collective activity of creating an inclusive community through different forms of interaction with the consumers, staff, and partners of a company.
It's how a company leverages opportunities to engage with its customers (in real-life and digital media) by building a network through which all the participants can communicate, share, and grow a sense of belonging.
Community management is increasingly becoming a go-to strategy for many businesses and is acknowledged by all forms of brands – but for many, it's not always clear what exactly it entails.
Rachel Karten says in her newsletter Link in Bio that "Making community management one of your social media manager's 14 other sub-roles is not "community." Paying influencers to talk about your brand is not "community." To me, for a brand to build what is a community, it must, first and foremost, invest in a full-time role (a Community Manager, likely!) that fosters past, present, and future customer relationships. Someone engaging with customers online, listening for insights, and creating meaningful conversations."
Some benefits of or reasons for creating and managing a community include:
Get reviews and collect ideas through direct interaction with community members
Offer assistance quickly
Increase brand awareness
Gain insights into what your customers want
Build a platform to facilitate valuable networks between your company and customers
Boost customer satisfaction, lifetime value, and referrals
You may think that community management sounds quite similar to social media management — after all, they both have some of the same goals and might happen on some of the same platforms. However, they are different and require different strategies to work effectively.
Social media management vs. Community management: what's the difference?
Social media managers are focused solely on social media efforts. They tend to map out a social strategy for each active channel and monitor the results of organic campaigns and ads.
On the other hand, a community manager's first and primary task is interacting with the community through comments, DMs, and the overall space you've designated for community interaction. And, on some days, when required, they share the insights they gather with the rest of the team and act based on their findings.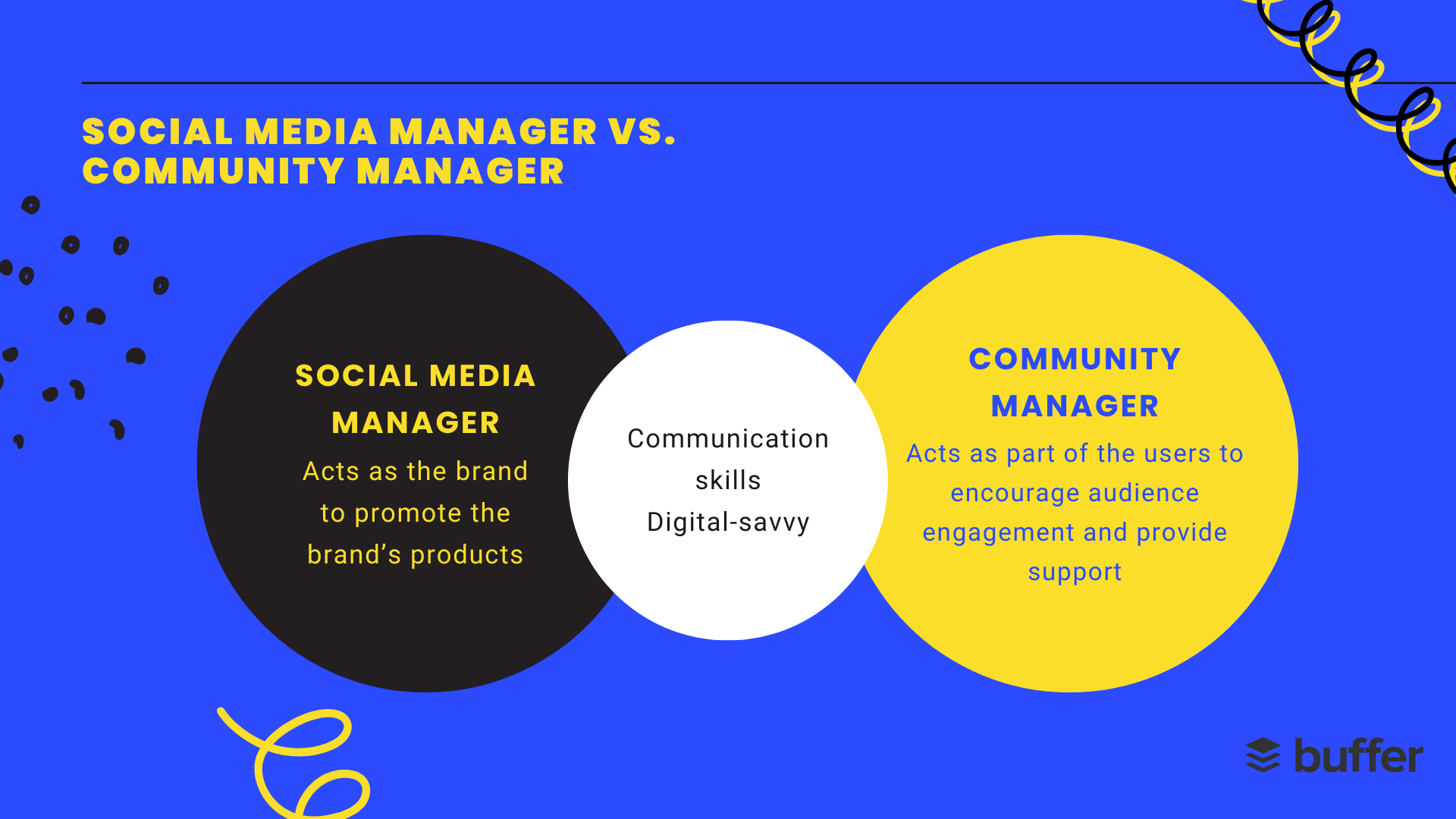 Perhaps the biggest difference is that social media managers act and post as the brand, while community managers act and post as individuals, allowing them to have a more personal connection with followers
The focus of community management is bypassing customer service on social media and offering customers help right then and there in DMs and comment sections, getting the most out of those one-on-ones they have with customers, and simply creating more intimate relationships with them.
For aspiring community managers, the barrier to entry is pretty low. As Vikki Tokarz, Head of Community at Scribe, advises, "You don't need to be hired as a community manager to get experience – your experience in communities you're already a part of counts! I got my first role in community after building two communities of my own. Your degree doesn't influence your community management career – what you need is a true, genuine passion for community."
Types of community management
Brands start communities to generate buzz and engagement with their customers. Loyal and potential customers then join the community to get support, find information about a product, or endorse the product to other customers.
Jimmy Daly, the founder of Superpath, a community for content marketers, brings up helpful questions to consider when building a community strategy: "Are you creating a community to support your users? If so, do you plan to use it as a marketing channel, a way to educate users, offer customer support, etc? Are you creating a community to monetize with a job board and/or ads?"
Here are some types of communities to help you determine which is the right fit for your brand. CMX Hub shares a framework to understand the different types of communities called SPACES:
Support: members answer questions and solve problems for each other to reduce overall customer support costs and improve satisfaction.
Product: members share ideas and feedback that drive innovation and product improvements e.g., Buffer's customer-focused Discord.
Acquisition: operate as a network of ambassadors and advocates who drive awareness and growth for the business. Communities like this include Demand Curve on Slack and Her First 100K's Facebook group.
Contribution: built of people who are contributing content that makes up the product or other assets.
Engagement: bring together a group of people around a common interest related to a given brand or product. The community around Harlow, a tool for freelancers, is a great example of this. Another great example that we've covered on the blog is Bamby Collective.
Success: similar to support communities, success communities go beyond just fielding questions to actively drive increased product adoption and customer lifetime value.
One common thread among all these community types is the customer focus. No matter what, your community must be geared toward providing value to your customer.
How to create a community management strategy
As you can see, there are several types of community management and ways to implement them at your company. Here's how to create a strategy to help you manage your communities across different platforms.
Choose a channel – with your audience in mind.
You'll first want to choose the channel through which you'll manage your community. Consider your target audience's demographics to determine the best option for your company.
What are some options?
Social media: Facebook Groups, Twitter Communities
Community management-specific platforms: Discord, Slack
Product feedback-specific platforms: Geneva, Telegram
The conventions shouldn't restrict you — community management is still a new field, so there are no rules for where a community should be hosted. For example, Every's Writer Collective is hosted on Discord which they can use to host live chats with guest speakers. What matters most is your audience and which platform they are most likely to constantly engage with – like Facebook Groups for parenting communities instead of Twitter Communities.
Once you've chosen a social media channel, identify your audience on that platform. This helps you understand the type of content, platform, and engagement style you'll be using.
For example, most Slack communities tend to be business/finance/career-oriented. While most Discord communities are more geared towards gaming, entertainment, or NFTs. Determine the purpose of your community (using the SPACES model) and then conduct surveys with your existing followers on social media. Your research and feedback will allow you to begin thinking about your where, what, and how.
Determine how you'll identify the success of your channel and set goals
To measure your results, decide on the best method for your needs, goals, and company. There's no right or wrong answer here — this is completely based on what matters to you and your company. Some success identifiers:
Growth in audience members
Number of conversation participants in a live chat or discussion
Amount of content shared or liked by your followers
Overall engagement (likes, shares, mentions, hashtags, messages, comments)
Increase in brand awareness
Increase in customer satisfaction and retention
Traffic that's directed to your website
Growth in your sales and conversions
Don't get hung up on the quantitative data — numbers don't always reflect all of your efforts accurately or the sense of belonging you're creating for your community members.
Engage regularly with your audience
Building a community requires two-way engagement. It's not enough to publish content, you also have to be reactive to your audience. Consider:
Encouraging and leveraging user-generated content.
Responding to comments, whether they're questions, concerns, praise, or something else.
Creating polls and surveys
When creating content, find ways to highlight community members. A possible tactic creating a relevant newsletter and using it to highlight community members like the Heyday community does with its Workspaces newsletter, which shows off the home offices of remote workers.
Measure your results and implement community feedback
It may be unclear how to measure your success — particularly because community management is a relatively new industry. However, there are many ways to gauge your progress. You can look at engagement, social mentions, and brand sentiment.
Engagement may look different from one platform to the next. However, tracking likes, comments, shares, and replies are standard metrics. You can also try out sentiment analysis tools to see whether there's been an improvement in how people talk about your brand online. Here's a list of tools to help you get started.
Finally, it's important to ask community members for feedback periodically. You can do this through frequent and simple polls and surveys asking for feedback on your strategy.
Create guidelines for community engagement
When you create a community for your brand, you want it to represent your brand well. You have to make sure the community serves its purpose. To ensure this, you have to define some community guidelines and rules for all the contributors and the members, including members from your team managing the community.
For example, Superpath has a central document that is shared with and accessible to all new members, which dictates how the community is expected to conduct itself. If you run a website or forum, you should also share this document and reference it at all times. Some basic things to include in your guidelines:
Treating each other with respect
Zero tolerance policy for spam, harassment, and hurtful comments
Limit promotion to one designated space or time of the week
💡
Want to develop guidelines for your community? Check out Superpath's
community guidelines
to help you get started.
In addition to creating guidelines, it's also important to enforce them. This means a designated person should be trained to manage issues appropriately, i.e., your community manager or moderator. Finally, as your community grows, update your rules and guidelines frequently.
Tips on community building from experts
Normally, we bake the advice from our subject matter experts into our articles. But some of the advice from our contributors was so valuable that I felt compelled to highlight each one in a section all on its own.
Rosie Sherry: "When you start community you do things that don't look like community building"
Rosie has been building communities for 15+ years, bootstrapped Ministry of Testing, led Indie Hackers, and now focuses on writing and teaching about community at Rosieland. She has two pieces of advice for anyone looking to build a community.
First, when you start a community you do things that don't look like community building. I often find that people get stuck with where to start with building a community. The outcome they want is a community, but we have to do other things to get there. This is your community discovery. Your relationship building. And a big sprinkle of conversations.
And two, take a Minimum Viable Community approach to building community. We are often pressured to do big launches and projects that make the community and the business look good. Instead, we should focus on taking small and experimental steps to understand what will work for our community. What works for other communities won't necessarily work for yours. Big launches don't generally work in business, the same applies to community. Start small. Build upon what works and seek every little growth and learning opportunity."
Alex Kracov: "Make your community a safe space, no strings attached"
Alex has an impressive community management track record, having started the Resources for Humans community at Lattice – a 15,000+ Slack community- leading to a virtual conference with 40,000+ RSVPs. He is currently the CEO and co-founder of Dock, a sales enablement platform. He says:
"When creating Resources for Humans (RFH), we decided to create a community for modern people teams….This meant that the community had amazing top-of-funnel marketing benefits to Lattice as we could provide value to HR folks before they are ready to buy our product."
Here are some interesting tactics Alex implemented while building Resources for Humans:
Kept the Lattice sales team out of the community. This made it a safe space for people leaders to have conversations without feeling like there were strings attached, and they were being sold to.
Invested in making the community bigger than a Slack channel by creating a newsletter, organizing meetups, ambassador programs, content hubs, and a virtual conference.
Although the community was initially targeted toward company executives, they quickly realized that these people don't have time to engage in a Slack community. When they expanded membership to anyone working in HR, then the community started to take off.
Incorporated the community into everything at Lattice. At the end of webinars, they would shout out the community. When we got rejected in sales emails, we would invite people to the community. It was not just a marketing strategy but a company strategy.
Mariusz Michalowski: "Remove inactive/spam/harmful members"

Mariusz is the Community Manager at spacelift.io, an Infrastructure as Code solution for DevOps engineers. His advice for community management aligns with what we've spoken about handling negativity in your community.
He says, "Community managers are reluctant to remove the community members for the number's sake. Quantity is important to grow, but so is quality. It would help the community grow if you regularly clean the groups and followers/following lists – similar to the email marketing team that cleans email lists.
Spam accounts, inactive members, and some vile members that do not follow the community guidelines make the environment unsafe for the newcomers. Having pride in being a community member is one thing, but pride to the extent that you start bullying, the freshers bring disharmony to the community. While some conflicts and differences of opinion improve the discourse, most members try to make vile attempts to insult each other.
A community manager acts as a vigilante in such instances, mutes the user's account for a time, blocks the threads, and suspends members who disobey the guidelines repetitively."
Mary Regalado: "People will not stay if they do not feel seen, heard, and valued"
Mary is the Community Manager at TeamBuilding, an event planner for in-person and remote team-building activities.
She says, "In order for your community members to feel a true sense of belonging, you cannot treat them simply as followers and consumers. Your community members are contributors to your product and mission, and they should be given the amount of reverence and respect that role entails. This approach means giving your community choice and credit. Empowering members to have influence within the community gives them a sense of ownership. People will not stay if they do not feel seen, heard, and valued."
Jimmy Daly: "Make sure you're an active member of several communities"
Jimmy has been running the Superpath Slack community for 3+ years now. He highlights the importance of experience, "This is obvious but worth stating: Make sure you're an active member of several communities. You have to experience a community as a member to understand how to run one well."
Conclusion
Building a community is really hard and not a catch-all solution for engaging with your audience. It takes time and effort that not a lot of businesses, especially small ones, have – unless you have an existing audience that is willing to engage with your community. This means that you can't neglect other forms of engagement like social media and content but must use everything in tandem.
Here are some resources that may help on your community building and management journey:
Are you planning to start a community of your own? Do you run a community of your own? Tag us @buffer and let us know what advice you're looking for or can share with others!
Brought to you by
Did you find this article helpful? You might also like our all-you-need social media toolkit.
Get started for free now