You've read all the articles and social media blogs, and you've heard that you should be on Twitter, you need to be on Facebook, and you're losing out if you're not on Pinterest.
Is that truly the case?
Turns out, most social media experts believe in prudence: that you might miss out on connecting with your true audience if you're spreading yourself too thin on too many social networks.
But who is your true audience?
How do you get to know them?
Where are they hanging out?
How can you find out which social network is the right fit for your audience and what to pick as your niche?
We've devised a step-by-step process.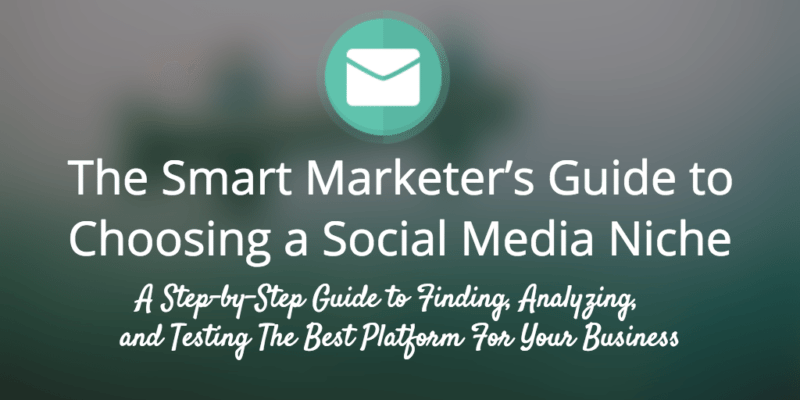 Go all in or one at a time?
When it comes to social media, there are two major strategies or schools of thought:
Be everywhere
Focus on one network
1. Be everywhere
The "Be Everywhere" strategy was popularized by Smart Passive Income's Pat Flynn, who believes in the idea that if you truly want to build your audience, the best way to do that is to go where they are. Some of them may like audio, some might prefer video, others prefer blogging as a way to learn and get information.
If you pick only one channel, he says, you're missing out on the audience that prefers other modes of learning. In a podcast interview, he notes:
When you start a blog or a website or any sort of business, I compare it to putting a message into a bottle and then throwing it into the ocean…Sometimes, more often than not, people will eventually find it through Google search naturally or somebody with some influence will pick it up and then share it with their friends and followers and the tide will have taken it somewhere that will benefit you. But the whole point about the Be Everywhere strategy is don't just throw your message into the ocean and just hope. You've got to place your message where people are already looking for brands or websites or information that you already have.
There are some fantastic benefits to the "Be Everywhere" strategy:
You reach people who have preferences for one channel over another quickly. If you're on Twitter and Pinterest and YouTube, you're reaching audiences who enjoy text, audiences who enjoy images, and audiences who enjoy video. Get rid of any of those social media networks and you may lose a large chunk of your potential audience.
Some people may choose to follow you on several different networks. This gives you the opportunity to reach them through many different channels and get your message across multiple times without even trying.
If you have a social media team or the budget to spend on one, the "Be Everywhere" strategy can be a fantastic one and I highly encourage you to try it.
For brands and one-person businesses with limited time and resources, however, it can be very difficult to have a fruitful presence on many different networks.
If you're a small team, I recommend the next strategy, which is to pick one network and focus on it exclusively.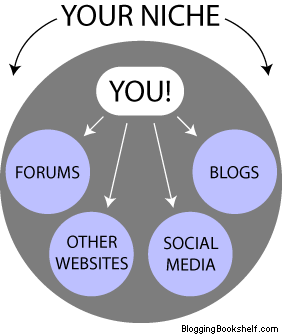 2. Focus on one network
With this strategy, you'd pick one social media network, get extremely good at delivering what your audience wants from it, and then, when you have systems in place for getting new followers, generating leads, and bringing people over to your newsletter or funnel, only then would you move on to the next social network.
In her post "Trim the Fat From Your Social Media Plan," Laurie Hurley, the CEO of a social media marketing agency writes:
Trying to be everywhere with your social media plan will result in not being anywhere with substance. Narrow your focus and see greater results.
Doing this can have several advantages:
It's easier to put your energy into one social media channel and build traction with that before moving on to the next one. This can also be great for your social proof, since building 1,000 subscribers quickly on say, Twitter, is better than having 200 followers each of five different social media channels.
Building your audience for the first time on any given social media channel probably the most difficult part of social media marketing. But the good news is that once you've got some traction on one network, building your audience on the second, third, and fourth networks becomes a lot easier since many of your followers from one network will follow you over to the next network as well. This gives you traction pretty much immediately with engaged readers as well as social proof, helping you attract even more much more quickly.
Staying focused on one social media channel at a time helps you to stay consistent and to learn, especially about your customers' needs and wants on that particular platform. Once you understand what your target audience responds to on one platform, say Twitter, it becomes easy to then tweak that content to suit your audience on a different platform.This also helps you pick up tips and tricks that help you grow faster on one particular platform and the work you put in builds on itself, creating a compounding effect instead of being distributed among different channels.
Being focused on one channel exclusively allows you to be very quick and responsive with your audience, which can be a fantastic way to build relationships and grow your audience early on. Research shows that over half of consumers won't trust a company if they don't have a social media presence and don't engage with customers. By having the bandwidth to respond, and respond quickly, to people on social media, you can easily stand out and get more visibility.
When you're focusing on one social media channel at a time, it gives you the time and the flexibility to jump quickly on to new social media channels that seem like the perfect fit for your brand and become an early adopter. It also helps you deal with changes and new rules that come up on the existing ones, such as those that regularly happen within Facebook.
While you may be convinced that going one at a time with social networks is the way to build your brand visibility, the question still remains: Which one do you focus on first and how do you make that decision?
Let's talk about that now.
Which social media platform should you use? 6 steps for figuring it out
Step 1: Understand your audience
Which social media platform your audience is most likely to use will come down to who defines that audience in the first place. What do your demographics look like?
Are your customers primarily male or female?
What age range?
Are they likely to be married and have children?
What kind of purchasing power do they have?
These are important questions to ask when you're at this first step because it helps you narrow down the places where your users and customers may be hanging out. For instance, we know that 85% of Pinterest's users are women. If your brand is largely female-focused, you know pretty quickly that Pinterest needs some serious consideration in your social media marketing plan.
For The International Freelancer, my business that provides training to freelance writers and journalists, for instance, I found that my audience was largely to be found on Twitter over Facebook or Pinterest, not only because of the text over images nature of my business, but also because journalists and writers, as a group, prefer speed and efficiency over laidback pinning.
It also helps you rule out platforms that are unlikely to work as my friend Chris Thorne, who runs a website for make-up artists, points out in his post, "Why Facebook is a Waste of Time for [Make-up Artists]."
So, how do you go about finding who your core audience is?
One of the simplest ways to do this is with Google Analytics. The steps below will give you a good idea of how to approach this:
Log on to your Google analytics dashboard.
Under the "Audience" section, click on "Demographics."
Click on "Overview."
You'll see graphs and pie charts giving you a bit of detail about your audience.
When I did this for my own business, The International Freelancer, as you can see below, I found that my audience skews fairly young (mostly between the ages of 25 and 34) and are largely female.

Step 2: Understand your goals
You've looked outward towards what it is that your audience wants. Now it's time to look inwards to what you want. Why are you spending time, money, and resources on social media? What do you hope to get out of this process?
In her post on Search Engine People, Sharon Hurley Hall, offers the following ideas:
increasing awareness of your brand
giving your brand personality
connecting with your customers with helpful or entertaining information
delivering customer service
getting access to influencers
showing leadership in your niche
increasing authority with your audience and search engines
improving your online reputation
building a network of people interested in your business
streamlining and segmenting your marketing
increasing conversions
Remember, these are great goals to consider but they're not all great goals to have. At most, you want to think about the one or two ways that social media can help your business and focus exclusively on those.
Which social media channel you end up picking will largely depend on what you hope to achieve.
Step 3: Understand the different options and what purpose they each solve
There are dozens, if not hundreds, of social media networks out there, from the broad-ranged, such as Facebook and Twitter, to the niche and fringe. You don't need to understand, or even know of all of them, but having a general sense of what's out there and what purpose it can solve can help you start making decisions early on.
To that end, let's talk about some of the bigger social networks out there and whether or not they may be right for your business.
Facebook
With 1.49 billion monthly active users and an average of 20 minutes per days spent per user on the platform, Facebook is pretty difficult to ignore as a social platform.
Facebook, however, can be a tricky platform. It's been noted repeatedly that despite your best efforts at audience building, only a fraction of your audience will see your updates. Even so, Facebook is one of those platforms that require personality, personalization, and regular reader interaction. It's a fantastic network to engage with your readers in, especially with cool and clever storytelling strategies, but if your goal is to create brand awareness or simply showcase your products, your lack of responsiveness or conversation on Facebook can make you seem aloof and distant.
Twitter
Prefer words to images?
Like speed and efficiency?
Choose brevity every time?
Twitter could be your platform of choice.
If so, the statistics are encouraging. The number of people using Twitter has increased by more than 50 million in the past year with the network now having over 270 million active users. Further, the average Twitter user follows five or more businesses and over a third (37%) of Twitter users will buy from a brand they follow.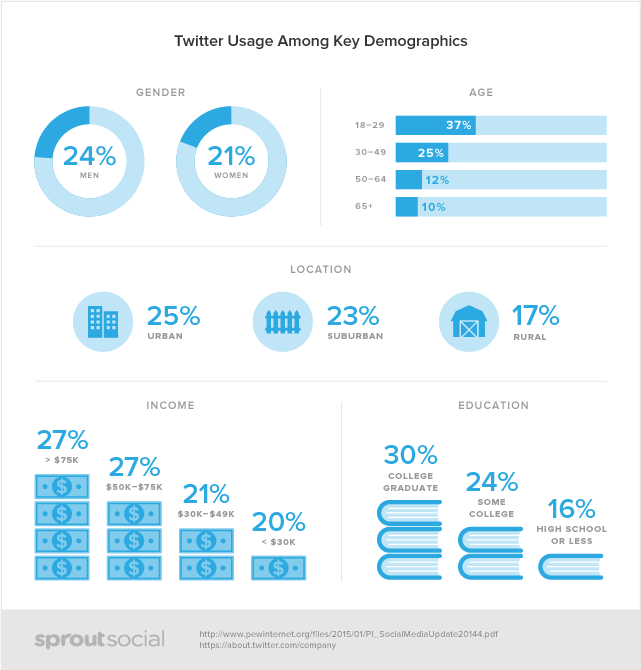 LinkedIn
LinkedIn almost never makes it to the big list of social media networks to try it, even though, for many businesses—especially service-sector ones—LinkedIn can be a fantastic way of building brand visibility and credibility. With 380 million users in 200 countries, it's a network that is growing and will continue to grow.
Writing for PR & Marketing firm Barnett Cox & Associates, Brooke Pitts says:
All businesses—small and large—should be set up on LinkedIn with a company page. This allows you to post updates on your business, raise awareness of your brand, develop a follower community and showcase your products and services. Furthermore, you can recruit potential employees on LinkedIn using the career tab.
She notes that while LinkedIn is best for B2B companies from a marketing and sales standpoint, it can still be effective for B2C companies looking for networking opportunities within their industry.
Pinterest
According to Nielson data, 84% of US Pinterest users are women. Weddings, home décor, fashion, travel, food, and style all seem to do really well on this platform and if you have the time and resources for creating unique and clever images, Pinterest can be a fantastic way to showcase your product and build relationships with your audience, many of whom are highly engaged with the platform.
One of the great things about Pinterest is the boards that make it easy for you to classify your images into categories and by interest, which makes browsing easy and fast. It also means that you can reach different types of audience with your Pinterest page by promoting each individual board.
If you have an image-heavy brand but limited resources, Pinterest may be difficult to keep up with and other image-focused platforms such as Instagram may be worth exploring. But if you're able to focus on creating consistent visual content, Pinterest can be a fantastic place to build an audience quickly.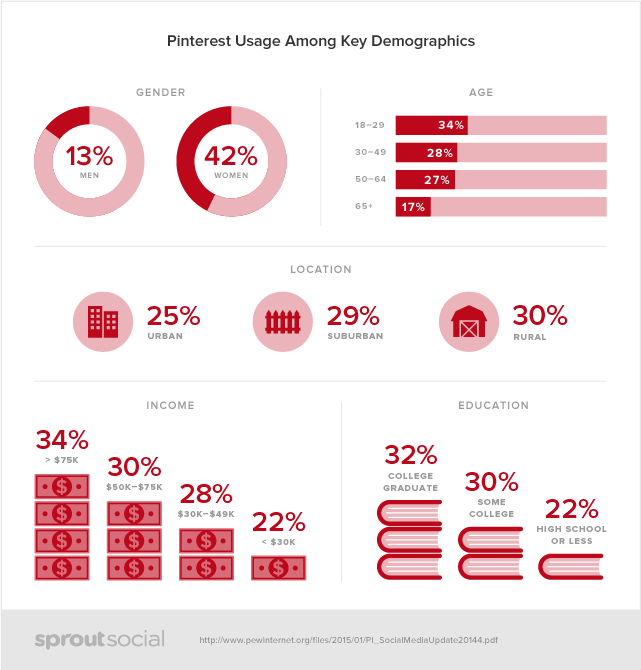 Instagram
While Pinterest's user base is largely American, it's interesting to note that 70% of Instagram's users are based outside of the US. This, if you're an international business, or a business with global reach, is important to note during your social media marketing efforts.
That's not all. The average Instagram user spends 21 minutes a day using the app, which for a network that focuses exclusively on images, is a pretty high number.
Like with Pinterest, if you've got a product or services that can be showcased via images, this is a fantastic platform to get active in. Users are connected, responsive, and receptive to products, and if "conversions" was one of your goals in Step 2, this is definitely a platform worth exploring to increase those numbers.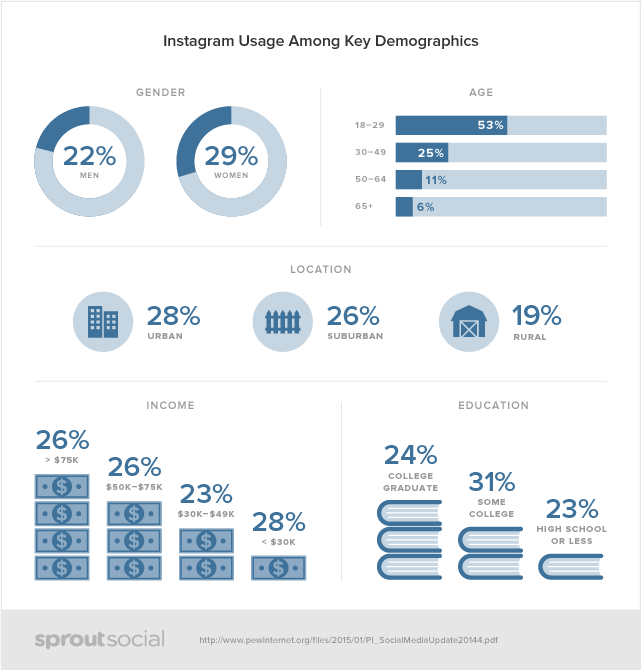 YouTube
If video's your medium of choice, YouTube is a great place to start with your audience-building efforts, given its 1 billion users. 6 billion hours of video are watched each month on YouTube, which makes it a highly desirable network to be on if you have good-quality video, but also makes it highly competitive for the same reason. Yet, when it comes to video, while Instagram, Facebook, and other networks have certainly made sharing easier and faster, YouTube still remains the top place to post video content as well as make money from it.
Step 4: Pick and rank
Now that you know who your audience is, what they want, and how you can align your content so as to meet their needs as well as your business goals, it's a good idea to start looking at what some of your competitors are doing, which platforms they're most active on, and what is getting them the most results.
Swellpath has an excellent guide on how to do this, in which they lay out the following steps:
Identify your competitors
Identify their voice
What is their fan to follower ratio?
How active are they on social sites?
Engagement rate with fans
What types of content are they posting?
What is their month-over-over percent growth
Then, it's time to take your pick.
My advice is to make a list of the platforms that will fit into your business, and then rank them according to priority.
Now pick one to focus on.

Step 5: Create content and engage with your audience
Timing, frequency, and consistency are everything when it comes to engaging with your social media audience.
While the timing of what you post and how often you'll post it differ from network to network (read our guide for Twitter, Facebook, and blog posts here), it is important that you have a consistent schedule that you stick to.
More importantly, make the effort to respond to your audience when they engage with your content. In a study done by KISS Public Relations, more than half (51 percent) of respondents agreed that if a brand is not present or active with its social media, it would reflect negatively on the company.
While it's perfectly fine to have profiles on social networks where you're not actively engaging with your audience, a good practice is to let your users know where you are active. Says Simon Heseltine, Director of SEO with the Huffington Post Media group:
If you don't have the resources to maintain an active social account on a particular social network, then what you should do is let users of that network know where you are engaging with the general public so they at least have the opportunity to contact you over there."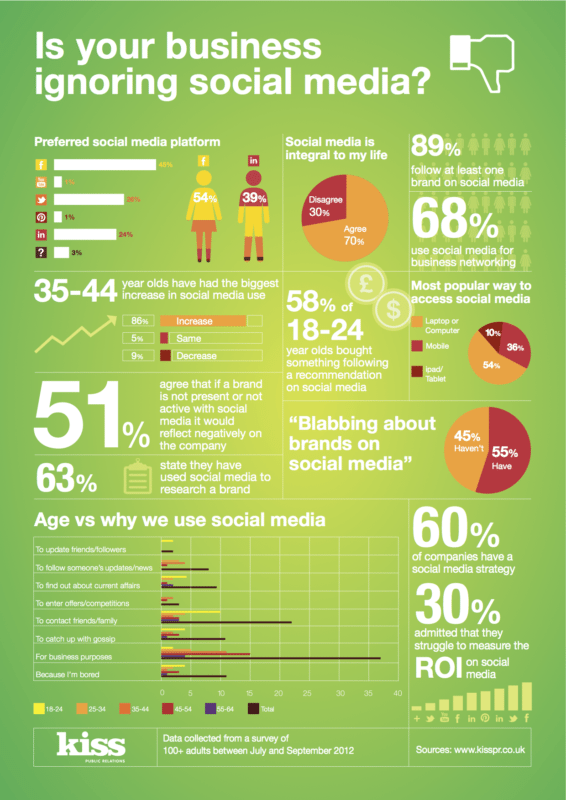 Step 6: Create content and engage with your audience
Finally, measuring and tracking your social media efforts can help you analyze whether or not you're on the right track and whether the social media platform you've picked has, indeed, been the right choice.
If so, you might just be ready to add on another one.

Keep in mind, though, that much like everything else, the 80/20 rule (aka the Pareto principle) applies to your social media marketing, too. Which is to say that 80% of your results will come from 20% of your social media channels.
So when you find a social media channel or two that work, stick with them and try to put most of your resources towards them.
You want to be active on all social media networks, and perhaps over time, even have individual strategies for each of them.
But you'll find, as most people do, that there's one that works better than most.
That's the one to stick to.
Over to you
I'd love to hear about your strategies, too! What works for you—be everywhere or focusing on one specific channel?
And if you are focusing on one specific channel, I'd love to hear in the comments, which one's working particularly well for you.
Brought to you by
Did you find this article helpful? You might also like our all-you-need social media toolkit.
Get started for free now