We've found it to be the case that with social media marketing, you're either a) doing social in addition to so many other roles, b) doing social for way more than one client, or c) doing social and wishing you had the bandwidth to try bigger and bolder things.
The solution? Having more time!
Of course, time isn't easy to come by, which makes finding a good workflow and choosing the right tools immensely important.
WebFX runs social media for hundreds of clients, and switching to Buffer has saved them over 100 hours in the content creation process. As the team grows, the savings continue to mount: WebFX shaves 40 hours a month off the usual time it would take to create, schedule, and analyze the content they send to social.
How did they find this significant savings? The team was gracious to share their insights on how they do social for their clients and the ways that they've found to optimize their workflows with social media.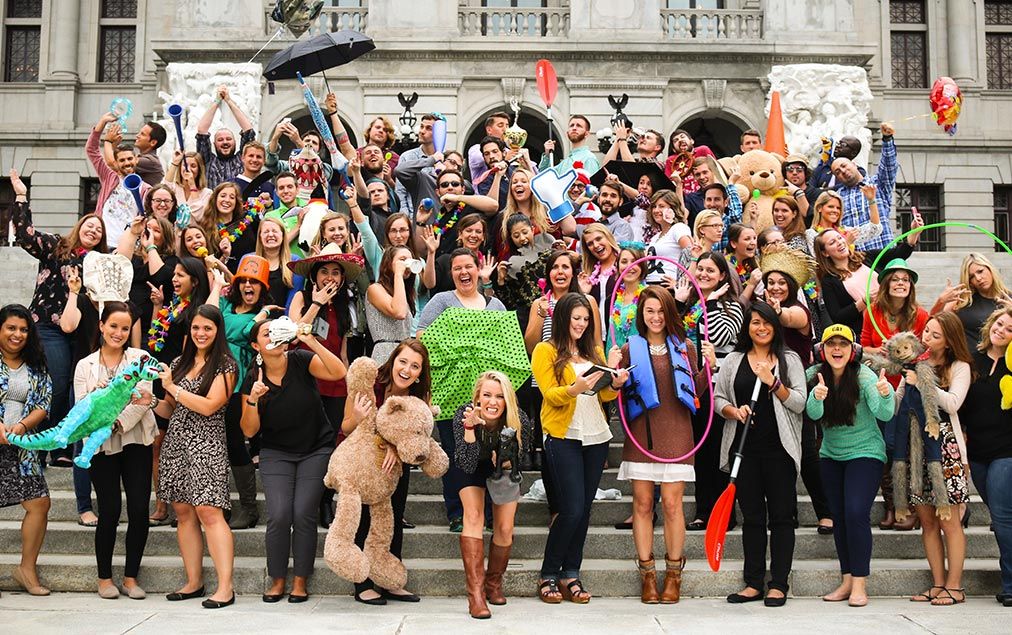 A key agency workflow to save hours and hours on social
WebFX runs a full digital agency, with services ranging from SEO (their bread-and-butter) to web design to social media. As the agency has grown rapidly, so too has the client list and projects for WebFX's social media team.
As they grew, they found their previous workflows and tools weren't scaling in the same way.
Previously, the team was manually transferring all of its social media updates in bulk to their social media tool.
When the team switched to Buffer, it all happens in one smooth flow now.
The WebFX account managers connect with clients to learn what kind of content makes the most sense to focus on.
The WebFX team creates the content right within the Buffer dashboard, and the content automatically slots into the preset, custom schedule.
The client logs in to review the content and make any tweaks or edits necessary.
Done! The content goes out on schedule!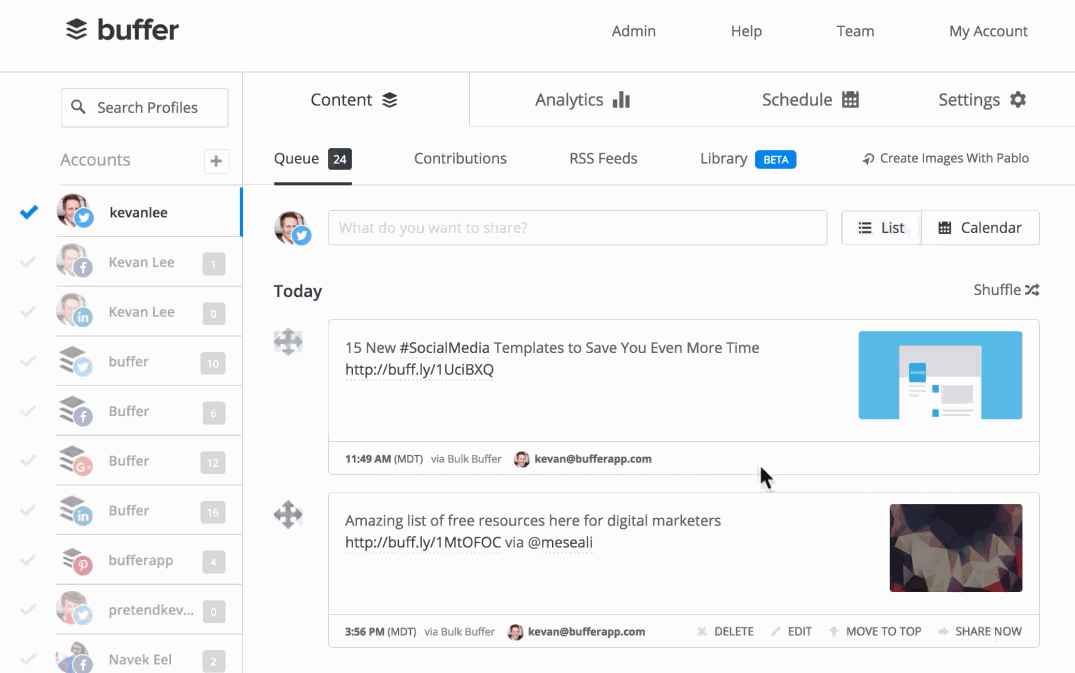 This in-app workflow has been key for WebFX and their growing list of clients and account managers. Here's how social media manager Katie Goodling describes it:
With our previous social media tool, we had one team member who was responsible for scheduling all of our social media posts through the tool, for all networks, for all clients. It was very crazy because we only had one account. So we had to use the bulk uploader. It just took her a lot of time with formatting the CSV files, making sure everything was accurate. It worked for a while. I would say she probably did that for like a year and a half.

Then as our team started to grow and we got new client accounts, we had to find something different. Uploading the content was just taking up so much of her time. Even for all of us to go in and learn how to use the tool, it just didn't make sense. I was personally very interested in finding a new solution. I tested a few things, a few different tools. Buffer happened to be one of them.

When I saw all we could do, I was like, "Oh my gosh. We have to do this." …

Once we figured out Buffer would save us, at that time, 40 hours per month, we had to make the switch! That was back when we had half the accounts we have now. If we were still doing it that way, we'd have to have at least 5 people scheduling content all the time.

So we use Buffer. That's how we craft our content. If we're working on our monthly editorial calendars for our clients, we use Buffer. We'll go in there, we'll write the post, we'll recommend when we want it to be scheduled for: the date and time, upload any photos, videos, links, whatever it may be.

Our clients really love it because we can just send them a note and say, "Hey, your next month's content is up on Buffer. Go ahead and review it." They have their own login. So they can log in and see only their networks and none of our other clients, which is really nice.

They love that they can actually just click on things and change things. Whereas before in our other social media tool, we really couldn't do that. We would be training clients to use the other tool, and it's a lot harder to use.

Buffer's really simple for them. They can just scroll down, click the post, and make a change. I would say all of our clients love it. Most of them use it. There might be one or two clients that would prefer to get it in a spreadsheet or something like that, but overall, Buffer has been the absolute best solution for us.

It's been a huge success. It's such a time-saver for us because we're showing the clients their content within the Buffer interface. It's clean, it's simple, it's easy for them to use. Our clients are our number one priority, so making their lives easier is very important to our team.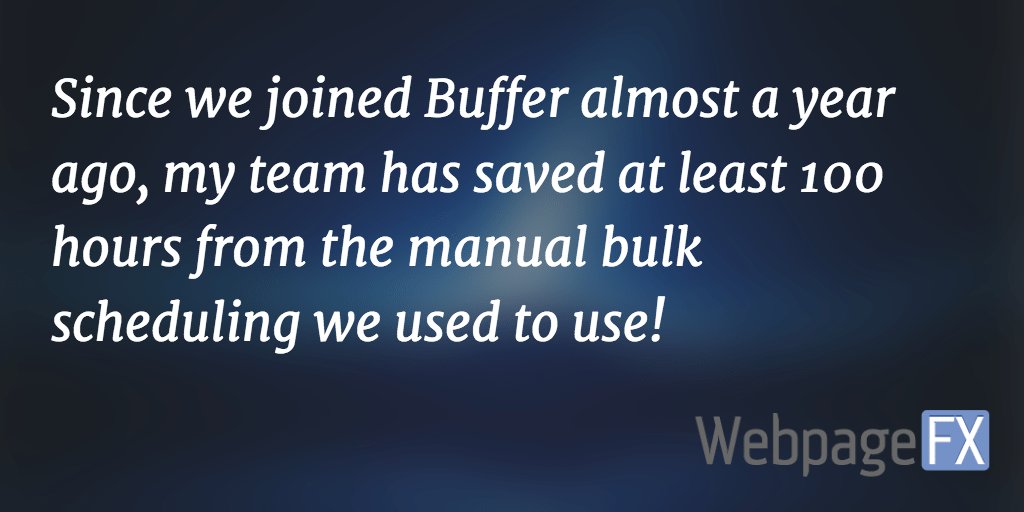 Since we joined Buffer almost a year ago, my team has saved at least 100 hours from the manual bulk scheduling we used to use!

– Katie Goodling, WebFX
How to measure ROI from every post
Once the posts are scheduled and published, the next step of the process begins for WebFX: Analyzing the results.
There are lots of different ways to gauge success, depending on which social media metrics matter most to you. For WebFX and their clients, there is always one North Star metric for everything goes out on social media: the impact on a business, the ROI.
I feel like we're a little bit different than a typical social media agency, in that our overall business at WebFX is very focused on marketing and ROI, not just impressions. We don't care about impressions. We care about action.

Are people going to the website? Are they spending a lot of time on the website? Are they converting? That's what really drives our social media team as well. Of course we want to have that positive relationship with our customers. We want to provide customer service for our clients, but ultimately at the end of the day, our goal is to improve their businesses.

We use URL tags to track each post, and then we pull them up the stats in Google Analytics. We have specific audience segments saved with the parameters we typically use for our UTM tag so it saves us time.

For example, let's say I'm posting on a client Facebook page. One of my clients, they do a lot of weekly promotions, so I'll have the campaign named "FB" and, if the promotion is giving away a car for instance, I'll have an abbreviation for that and then I'll put the date of the update that I'm posting. Then when I go in Google Analytics, I have a segment set up that I can literally pull anything that has "FB," the promotion name, and the campaign name. It pulls it all up and it's in this long list. I can look at how many people visited, how much time they spent on the page, did they convert, things like that. We use a lot of custom dashboards and reports in Google Analytics.

Our reporting is very innovative. We trust our team members to do the best, so we all have different ways of optimizing, reporting, and getting amazing results. For me, to save time, I run most of my posts that I don't promote with ad spend to using the automated tags within Buffer. If it's specific promoted posts that I'm putting through Power Editor on Facebook and advertising, that's when I use the Google URL builder more. I also have custom dashboards set up in Google Analytics.
It's a brilliant process for tracking the individual performance of social media posts, social channels, campaigns, and dates. Here's a quick run through again of how WebFX has it all set up:
1. Begin with a UTM naming convention for the links you share to social media
UTM parameters are the extra bits that you can add to the end of a URL to help with tracking. You can turn a link like
https://buffer.com/agency
into a link like
https://buffer.com/agency?utm_source=newsletter&utm_medium=email&utm_campaign=promocode
The link still goes to the same place and provides the same experience for the end user. (Google has a really quick and simple tool for building out these longer UTM links.)
In order to make things easy to track, you can work from a UTM template that includes the same names for the different variables. In most cases, a UTM string will include a "source," a "medium," and a "campaign." You can sometimes bundle quite a bit of info into the campaign variable alone. Here's a sample UTM link with the different elements:
https://buffer.com/agency?utm_source=FB&utm_medium=social&utm_campaign=cargiveaway
Source is Facebook
Medium is social media
Campaign is a car giveaway promotion (wow!)
And here's all that within a single campaign variable:
https://buffer.com/agency?utm_campaign=FB-cargiveaway-040216
2. Add your UTM parameters to your links
You can do this with the Google URL builder tool, or you can set this directly from within your Buffer dashboard (available on Business plans and above).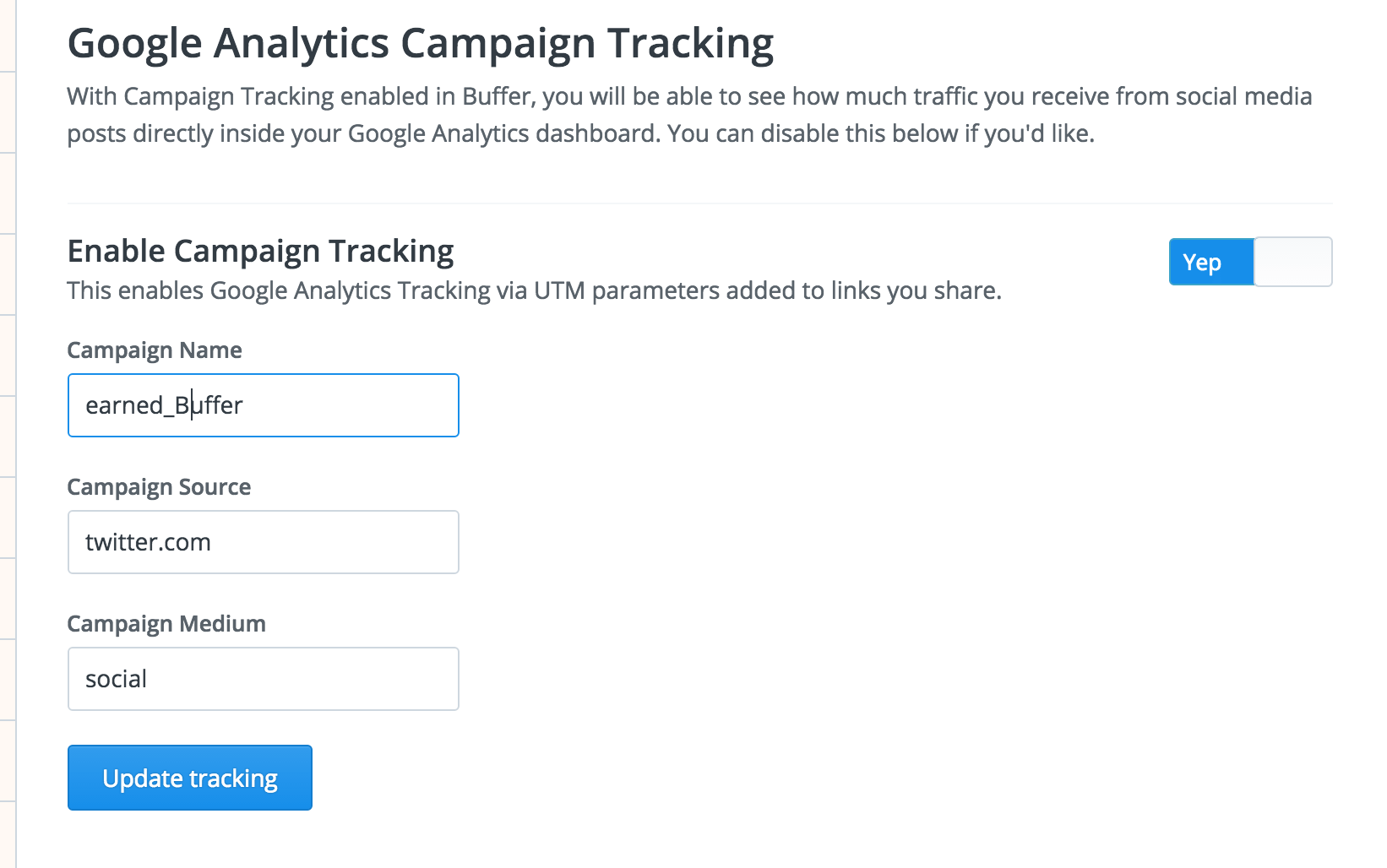 3. Share your update ?
4. Check Google Analytics to see how it performed
Within Google Analytics, you can spot your UTM performance in the Acquisition > Campaigns view. From within this view, the default is "campaign," and you can switch also to see "medium" and "source."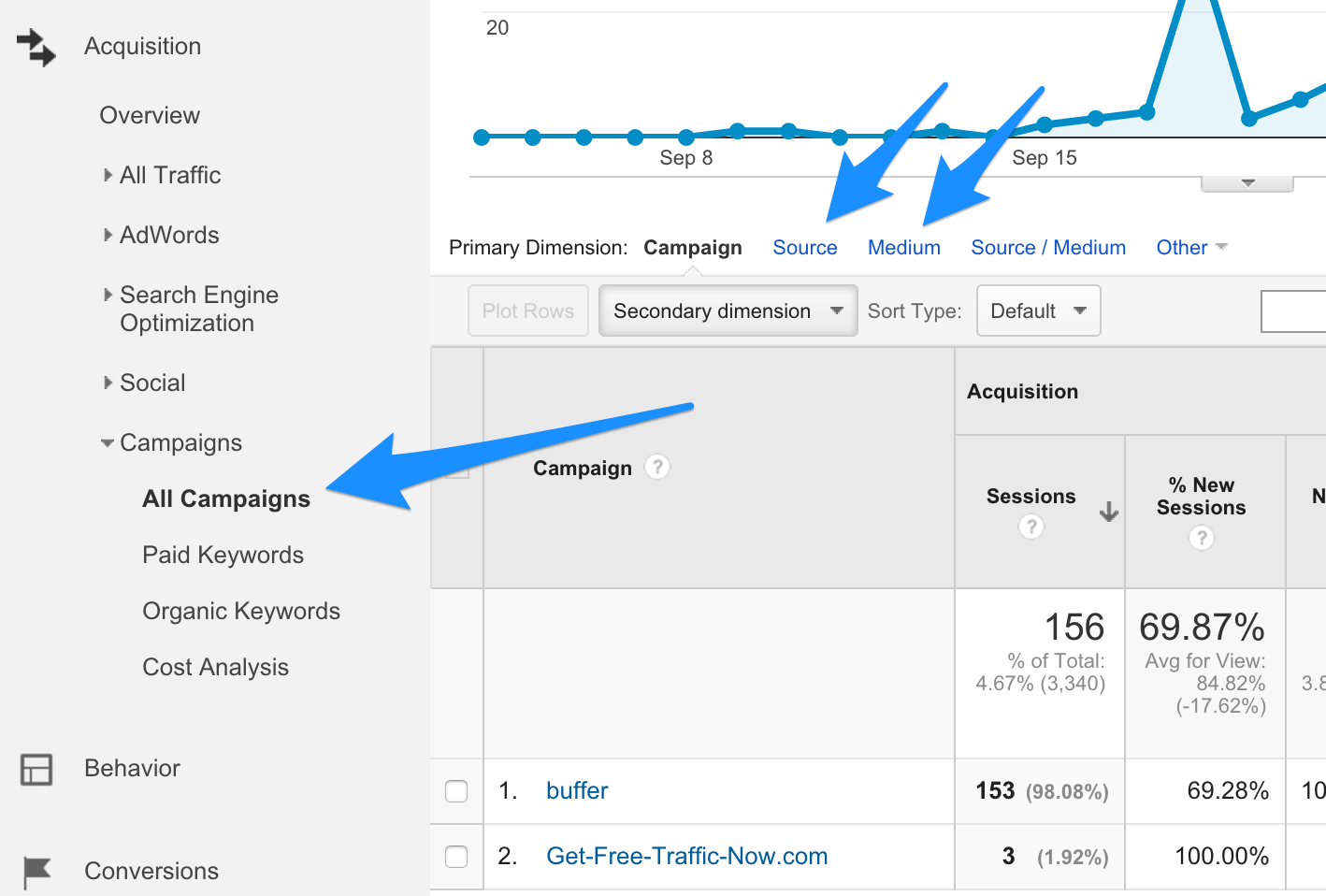 Also, the way WebFX has theirs set up is with advanced segments, which automatically filter the data according to UTMs. Here's a bit more info on how to set up an advanced segment.
(Even more) Stats that matter to clients
In addition to ROI, sometimes clients might like to see the standard social stats also. These include things like
Engagement
Clicks
Reshares
Followers
The good news is that most social media tools will offer this level of reporting automatically. Within the Buffer dashboard, there is a section for top posts, analysis, follower trends, and more.
Some of my clients like to see the top tweets, the most popular Facebook post, and things like that. It is very convenient for me to go ahead and show them how they can look at that on their own. Or sometimes we do include it in our monthly reporting.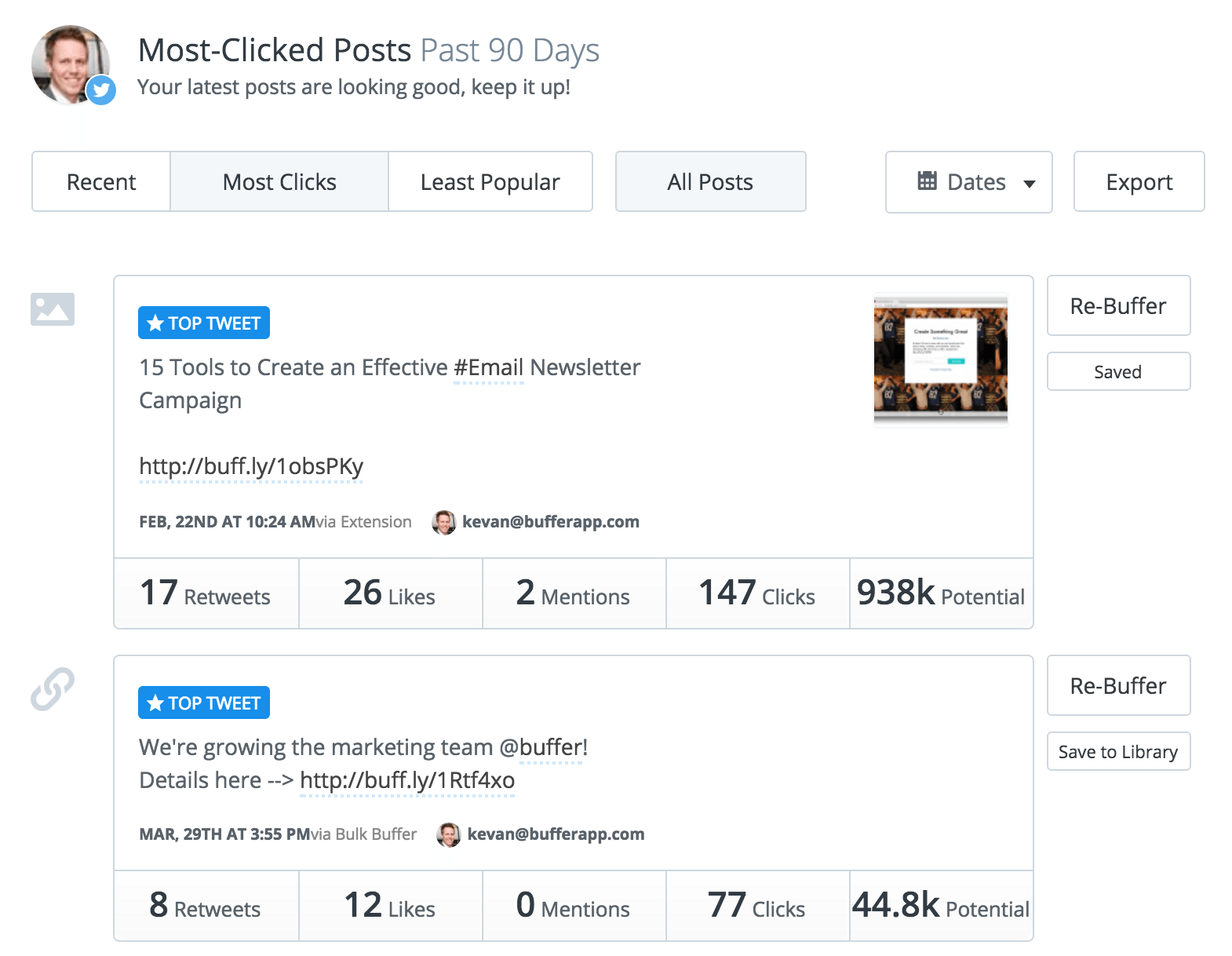 Key challenges for agencies
It was amazing to hear about all that Katie and the WebFX team have figured out: time-saving workflows and actionable analytics are two huge elements of social media management.
And in working on a daily basis with the clients they serve, Katie and her team are well aware of the challenges that exist to bridge the gap between client and agency — and also the challenges that exist to keep creating content at such a big scale.
Challenge-wise… agency-wise, I would say staying on top of all the different businesses that you're servicing. For example, our client base is so diverse. We have heavy equipment dealers, we have casinos, we have tourism attractions, we have e-commerce stores. We're all over the place and I think one of the challenges we face is getting to know those businesses inside and out. We have it down to a science now but it's always a challenge, especially if you're growing, bringing even more clients on. We need to stay on top of it and we need to know basically everything, just like we would if we were an internal employee at those companies.

I think just that learning curve and the beginning of a campaign is very challenging and learning the style, the tone, and of course, what your client likes, what your client doesn't like. We welcome any feedback, any opportunity to learn really, we're open to anything.

I would also say just creating content is always a challenge, because at an agency, you only have so many resources. We aren't in-house, we can't walk down the hallway and take a picture of something cool that's happening on premise. That's another challenge.

We really try to do a good mix of evergreen content and things that are going on now for the business: deals, promotions, things like that. Also, custom images are very engaging — like I said we use Canva a lot. We try to keep it pretty interesting but that's definitely a thing that will always be a challenge for any agency because you're not actually on premise, but we make it work and we see great results for our clients!
The WebFX social media marketing stack
Our theory, or our belief, is to do more with less.
To that end, Katie keeps the tools quite simple:
Buffer for all things social media management
Google Analytics to see the performance of tweets and strategies
Canva to create beautiful, shareable images to go with the content
Want the smoothest social media experience for your team and clients?
WebFX and hundreds of other agencies use Buffer to manage social media profiles, content, analysis, and more for each and every client. With Buffer, you'll get straightforward pricing that scales along with your business, 24/7 customer support, and an agency-first approach to the features that matter to you.
Join WebFX and 5,000+ other brands and business with a free 30-day trial of Buffer's most powerful social media features!
—