Sharing your brand's story through user-generated content (UGC) is one of the best ways to build an authentic and engaging community on social media. It takes the old-school marketing approach of "brand to consumer" and turns it into a way for your audience to connect one-on-one with each other through shared content.
Dom Garrett – marketer at BTC Revolutions (one of Inc.'s top 500 fastest growing private companies in America), social media manager at CMX,  and managing editor at The Only Colors, has personally witnessed the power of user-generated content in action for some of the world's top brands.
We had the pleasure of speaking to Dom about his unique approach to community building on social media and why user-generated content is a great strategy for brands and businesses looking to build real connections with their audience.
A huge thank you to Dom for packing this episode with amazing insights and takeaways for social media managers and marketers looking for great ways to develop a user generated content strategy.
This episode is available on:
In this episode, here's what you'll learn:
Dom Garrett provides real-world examples of the power of user-generated content and how it can help to build a vibrant and engaged community on social media
Why user-generated content is such a powerful tool on social media
How some of the world's largest brands implement user-generated content in real-life
Why we use the word "influencer" in marketing today and why it's important
How marketers and brands can start user-generated campaigns of their own
3 Community-Building and UGC Takeaways from Dom
In Dom's words…
1. Take advantage of the fact that you are agile
If you are a small business or individual, take advantage of the fact that you are agile, take advantage of the fact that you are small. People are automatically on-edge and defensive against large brands. So if you are small and you don't have a ton of budget, that's awesome. Use that to your advantage.
2. Listen first and be a fan
People sometimes expect for marketers to be fake. The radar that people have to be able to tell if somebody is doing something in a self-serving way is really high. User generated content is a way to showcase what someone else is doing and talking about in relation to your product.
It's a great feeling when people can see that content. Both the feeling that it provides to the person that shares it and then the message that it sends out to the people that see it as well.
3. Measure twice, cut once
Being agile doesn't necessarily mean flying by the seat of your pants. Being agile just means that you can change quickly. Think carefully about how you are going to respond to situations and react to change.
Change and react based off strategic decision to move with what people are talking about.
Mentionable Quotes and Shareable Snippets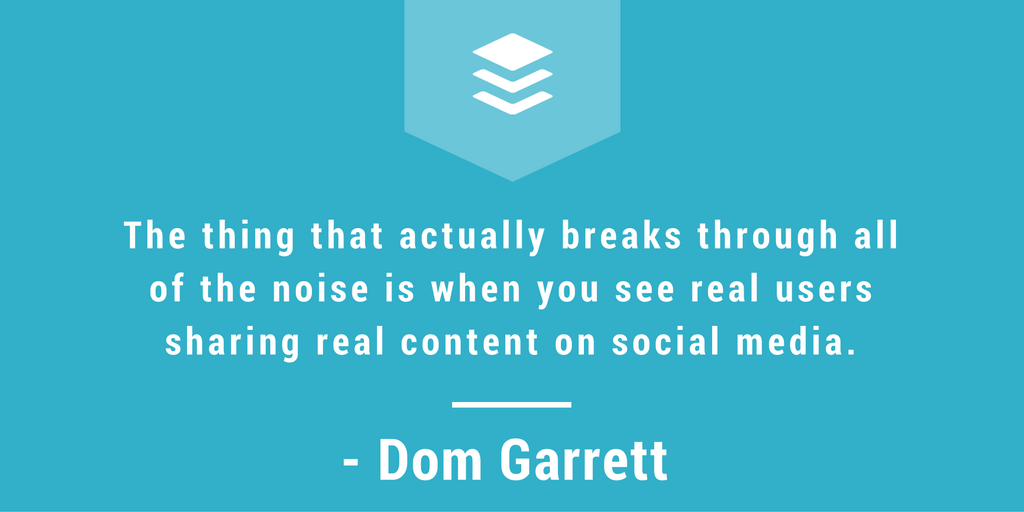 "That's that difference between old-world and new-world thinking when it comes to marketing… It's not just a bunch of somebody saying, 'Hey, I know what's best for you.' The reason we say the word 'influencer' now, as often as we do, is because of this buy-in for user generated content. And this buy-in from saying, nobody wants to pay attention to the Fortune 500 company talking. The thing that actually breaks through all of that noise is when 'Steve,' who you have followed on Twitter for a long time, is sharing a picture of themselves at a specific restaurant."
Show Notes and Other Memorable Moments
Thanks a million for checking out this episode! Below are the websites and other memorable tidbits that were mentioned in today's podcast. If you have any questions for us, feel free to drop us a line in the comments and we'll respond right away!
"It's the idea of the Dale Carnegie model. You can make more friends in two months by being genuinely interested in them, than in two years trying to make them genuinely interested in you."
"Facebook even starting implementing user-generated content with their ads. If you like a specific page or brand, they're building that word-of-mouth feature within the News Feed itself."
"Work with influencers and develop conversations around specific marketing initiatives. Highlight a specific person's content and that will help to take the extra step for others to buy-in."
"You have to listen and pay attention to what people are sharing and what they're talking about. Take those findings and see how you can leverage that knowledge in marketing towards your target market."
"Get down into the details and listen. Really be a fan of what others are producing."
"You don't have to have a visually-stunning product to implement a successful user-generated content campaign. If you are a marketer, you are a storyteller."
How to Say Hello to Dom (and us)
Feel free to say hello to Dom on Twitter at @DomGarrett or at @BTCrevolutions.
Thanks for listening! We'd love to connect with you at @buffer on Twitter or with the hashtag #bufferpodcast.
Enjoy the show? It'd mean the world to us if you'd be up for giving us a
rating and review on iTunes
!
—
About the Show
The Science of Social Media is a podcast for marketers and social media managers looking for inspiration, ideas, and results for their social media strategies. Each week, we interview one of the very best in social media marketing from brands in every industry. You will learn the latest tactics on social media, the best tools to use, the smartest workflows, and the best goal-setting advice. It is our hope that each episode you'll find one or two gems to use with your social media marketing!
The Science of Social Media is proudly made by the Buffer team. Feel free to get in touch with us for any thoughts, ideas, or feedback.