In this week's headlines we saw thousands of hijacked Twitter users have their passwords reset again. (Of course, we also learned that Facebook fights 600,000 compromised logins every day!)
This was the week Twitter began testing an expandable timeline,  the first user reached 15 million followers (@LadyGaga), and a new tool was released to show you the demographics of all your followers. Oh, and we learned that the "real" Voldemort has a problem with Twitter, when Ralph Fiennes blamed Twitter for 'eroding' language.
So now, on to the roundup! Let's start with our security overview for the week: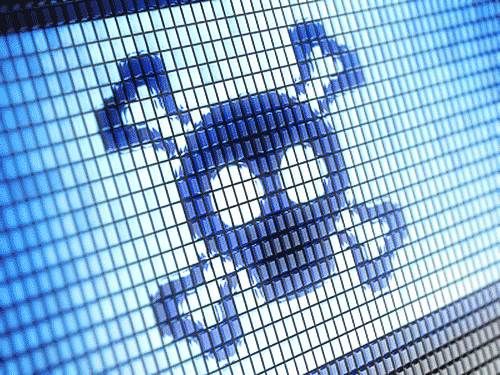 You've probably received one of those Twitter messages claiming there is some picture or blog about you. If you clicked it, you would have been taken to a realistic-looking Twitter login page.
But: if you looked at the address of the page, you would have seen that the URL was NOT twitter.com. However, thousands of people did NOT notice, and entered their password, which was immediately stolen to hijack their account and send out messages trying to hijack other accounts.
It again got so bad that Twitter had to reset thousands of accounts for the second time in a month. Of course, Twitter's problems pale next to Facebook's, where this week we learned that there are 600,000 compromised logins every day. (In other Facebook security news, a method to find out everything Facebook knows about you was revealed.)
And that guy next to you at Starbucks with the iPhone? This week we learned he could be recording everything you type on your laptop with iPhone spyware.
Get 200% more clicks
on your Tweets
By Buffering Tweets, they are posted at optimal times giving you 2x more exposure.
Whatever happened to Freedom? In the U.S. the PROTECT-IP and SOPA bills caused many to say they were "Breaking the Internet" by making draconian steps toward national censorship and surveillance, particularly of hosting services and Twitter.
And in a surprising turn, the  hacker group known as Anonymous began attacking alleged child porn websites.
Twitter News, Tips and Tools You May Have Missed Buffer this
We experienced what some called the #Kloutpocalypse this week, a change by Klout to make their service more accurate and transparent, but which saw many top Twitter users lose as many as 20 points on their score. Klout's CEO joined #ToolsChat to explain the changes.
In other top Twitter news:
Twitter not everything you hoped? You might want to read 5 Reasons Why Your Twitter Efforts Aren't Working which covers:
You Behave Like A Company And Not Like A Publisher On Twitter
You Are Not Smart With The Content You Tweet
You Don't Tweet Frequent Enough
You Don't Invest Time In Follower Acquisition
You don't have something amazing behind your Twitter account
Looking for a laugh? In a hilarious roundup of Twitter humor, we learned that the 5 Funniest Twitter Infographics are:
All of Social Media Explained in One Diagram
The Four Stages of "Getting" Twitter
Profile of a Twitter User
How Do You Know When You Should Delete A Tweet?
What If Social Media Sites Were Your Neighbors?
This week we also learned about 8 Great Twitter Tools That Will Get You Tweeting Like A Pro, tools that can help you learn how to put Twitter to work for you and do things faster and more efficiently, yet still be active and not on auto-pilot.
Additionally, this was week two of the four-week Twitter Marketing Boot Camp covered getting more followers in less time and writing different kinds of tweets for different kinds of audiences and results. (After learning how to get set up on Twitter last week, next week teaches how to find and manage followers.)
Ever want to see the demographics of your Twitter followers? An amazing new tool from Schmap, which has raised three million for development, shows you detailed demographics of who your followers are. Schmap's free summary analysis of your followers shows gender, marital status, profession, likes and interests, and location by country (and U.S. state).
While some felt this was a privacy intrusion, others were more interested in the entertaining details revealed about the followers of celebrity Twitter users, such as:
Twitter users who keep pets are fans of Wolf Blitzer but are not fans of Tiger Woods.
Sarah Palin's followers are religious married parents who like reading books.
Donald Trump's followers are fitness fanatics.
Ever wonder where to put links in your tweets to get the most clicks?  This new study tells you where. And if you ever wondered what the 5 Misunderstood Great Benefits Of Twitter are, here you go:
Twitter Lets You Do In A Day What Would Take A Lifetime
Twitter Gives EVERYONE And Anyone A Support Network
Twitter Lets You See What The WHOLE World Is Thinking & Doing
Twitter Gives You An Outlet Like No Other
Why You Should Start Your Own Anonymous Twitter Account For Fun
To learn when to tweet, take a look at these Top 5 Tools to Better Time Your Tweets. Each tool takes a look at your own personal following to calculate best tweeting times to show you how to optimize your tweeting schedule.
Here at Buffer we also thought we'd cover 5 Keys To Making Google Plus Work For You for you this week:
Set It Up According To YOUR Preferences
Follow These 5 Key Strategies and Guidelines
Know the Top Security Tips
Share Your Circles
Take Advantage Of Cool Tools
Back To You
What news did YOU find the most interesting this week? Try any new Twitter tools? Have any questions about Twitter? Leave a comment in the box below. We'd love to hear from you!