Twitter favorites are changing to Twitter likes.
The star is switching to a heart.
What might it mean for marketers?
We're thrilled to see the all the latest changes and improvements to Twitter (Twitter hearts come hot on the heels of the announcement for Twitter Polls), and we're eager to learn what effect it might have on our sharing, engaging, and marketing.
As we start experimenting and testing, we'd love to pass along some early thoughts on what we think could happen with the shift from favorites to likes. (All good things, especially as it relates to engagement!)
About the change to Twitter hearts & likes
This change from Twitter is a mostly cosmetic one—the functionality of clicking the favorite/like button still works the same, it just comes with a different icon and name.
In your per-tweet statistics, the text now shows as "likes."

On tweets in a timeline, the Twitter star icon is now a heart icon.

The change was brought about by a few different factors. According to Twitter's announcement post, the star was potentially a bit confusing for users, particularly those who were new to Twitter.
Favoriting was a bit of a difficult concept to grasp (e.g., can more than one thing truly be a favorite?). Liking is a bit more universal, likely due in part to Facebook's ubiquitous use of the term.
Also, the heart icon specifically had performed really well as an engagement method on Twitter's live streaming app Periscope. For those watching a Periscope live stream, you can interact with the stream by tapping the screen to add a heart/like (with a kind of cool animation, seen below).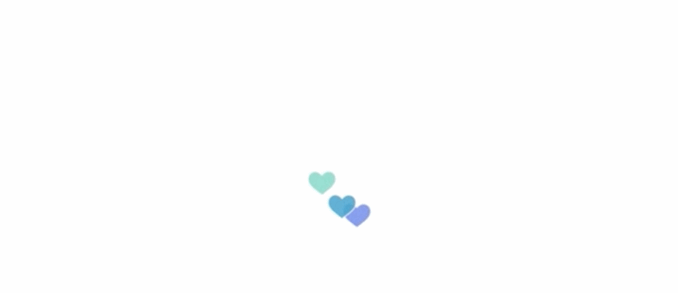 Vaynermedia founder and Twitter investor, Gary Vaynerchuck belives this small update shows that Twitter is making the kinds of changes they need to make to increase growth and become a mainstream product (like Facebook), as he explains on his blog:
Twitter is moving toward making this product a little more consumable and understandable for the broad market. It might seem like a small step to many, but to me it's a signal that Twitter is finally acknowledging the market. It speaks to Twitter's self-awareness, and maybe even to a brighter future for the company.
Takeaway: Might Twitter hearts mean more engagement for tweets?
One thought that we've had with this change to Twitter hearts is that it's possible tweets could see a rise in engagement as it's now easier than ever to interact with an individual tweet.
It's perhaps a bit of semantics, but it seems that before there was only the one option to "favorite" something, which had a rather specific type of feel to the action. "Liking" a tweet seems to open up a huge variety of possibilities for the emotion behind the like.
From Twitter's announcement GIF (embedded in the tweet above), they share a number of different types of responses that all fall under the umbrella of the heart:
yes!
congrats
LOL
adorbs
stay strong
hugs
wow
aww
high five
Could you say all these things with a star or a favorite? Perhaps not.
We're excited to see if this broader term (with so many different applications) leads to more people liking a tweet, thereby ramping up engagement numbers for all.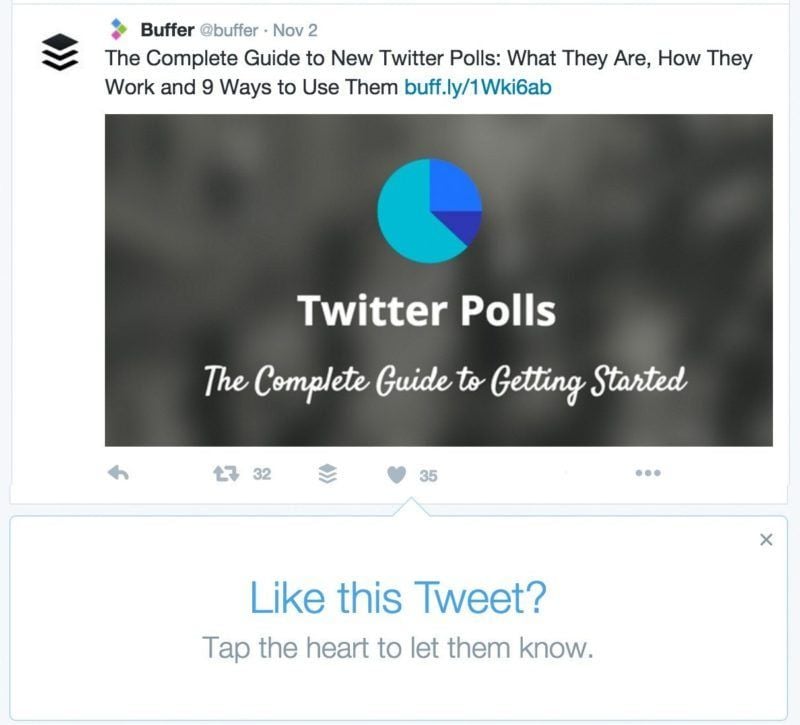 What will come of all the ways people used favorites?
An interesting discussion on the Buffer blog in the past is how to use favorites. social proof for their brand.
Some people use them as a Buffer to-do list.

Now that they've gone extinct, will people continue to use the old favorite in the same way? Or will these methods be replaced by new uses?
We can't wait to see!
Your thoughts
What do you think of this change to likes and hearts?
How have you gone about using favorites in the past?
We'd love to hear any thoughts you might have here! Feel free to drop us a note in the comments, on Twitter at @buffer or vote in our Twitter poll below. Excited to chat more!
Image sources: Partnhers, Dirty Diaper Laundry,