If you had asked me a few years ago to picture my future, as much as I'd have liked it to include remote Portuguese Islands, a puppy, a surfboard, and a laptop, I'd probably never have come up with that.
It probably would have looked more like business suits and handshakes. I'm really glad it went in the direction of the puppy and the laptop instead.
This is the story of how my journey of working remotely led me to traveling the world with my dog, Eca, and what I've learned along the way.

How I started with remote work
I didn't start working remotely by choice. This, to me, was a concept I never knew about until one day it happened.
I was fresh off an incredible snowboard season in the French Alps (if my family is reading, I meant to say "finishing my Masters in France"), and working at a big firm which didn't feel as inspiring as I initially thought.
Thinking through things further, I felt a startup position would teach me a lot more.
I had my first startup opportunity in London, England working for PayWithTab out of Google Seedcamp. This was also my first experience working remotely. Independent coffee shops were our clients, which meant that owners were more than happy to have me work from their cafes while we tried getting our idea off the ground.
This allowed me to be super productive, as I was able to lend a hand in-person if our software wasn't running well. I also kept a good coffee buzz going all day, every day, which had me working and biking from cafe to cafe at warp speed!
I've now been working remotely for more than four years. It has allowed me to engineer my life in a way that makes me happiest. Whether that is working from coffee shops, working from home while I raise a puppy, or from co-work spaces to meet new people in different cities!
Adding a dog to the mix
I never had a dog of my own before working remotely. I always thought it'd be too tough to take on with a full-time job, especially the puppy stage.
Landing a remote job at Buffer definitely spurred my decision to pull the trigger!
I remember Danny, my role buddy during my first 60 days, asking me a question during our interview process. It was: "If you started working at Buffer, what would be one of the first things you'd do?"
I didn't think twice as I blurted out: "Dog… I want dog."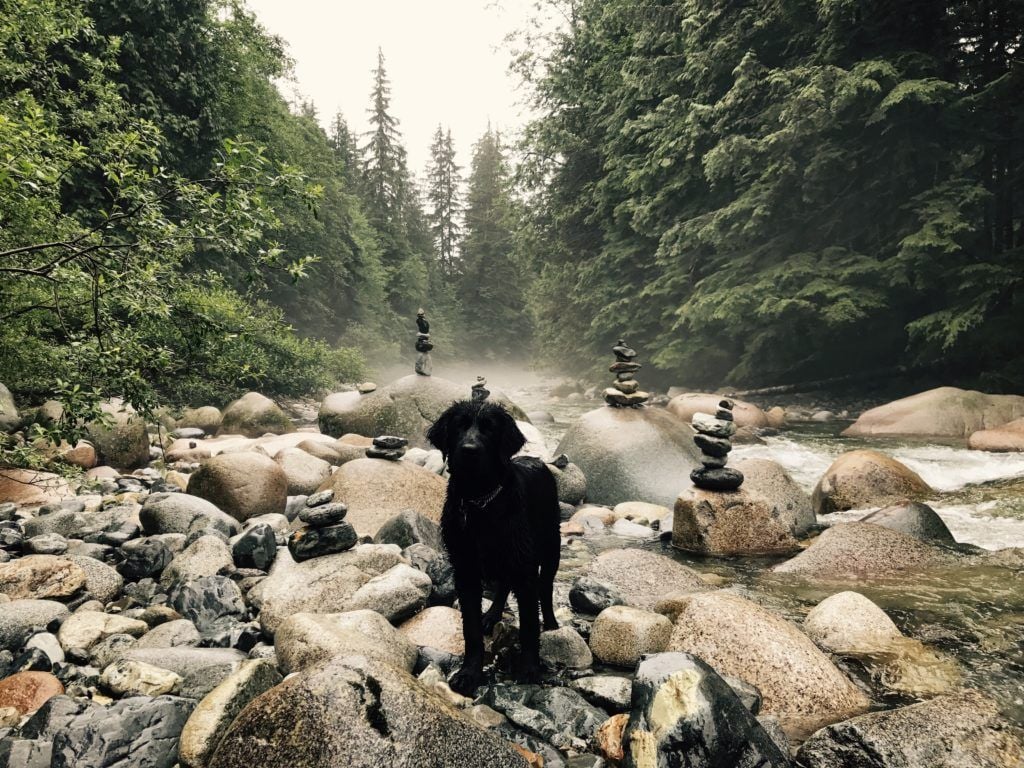 Not only are dogs absolute lords, they'll steer you towards a healthier lifestyle.
Physically, they force you to exercise and spend a ton of time in fresh air. Dogs are also good for the heart and naturally get you to socialize more.
People love dogs, it's science.
But I also knew I wanted to travel while working remotely. Introducing a dog into the mix definitely raised some doubts. How would I fly with him? How on earth do you get all the paperwork together to enter another country with a dog? Are there quarantines? Vaccination rules?
My guide to traveling with a dog
Turns out, traveling with a dog can be done without losing your mind – or your dog. If you're planning on doing it, I'd love to share some pieces of advice that might help!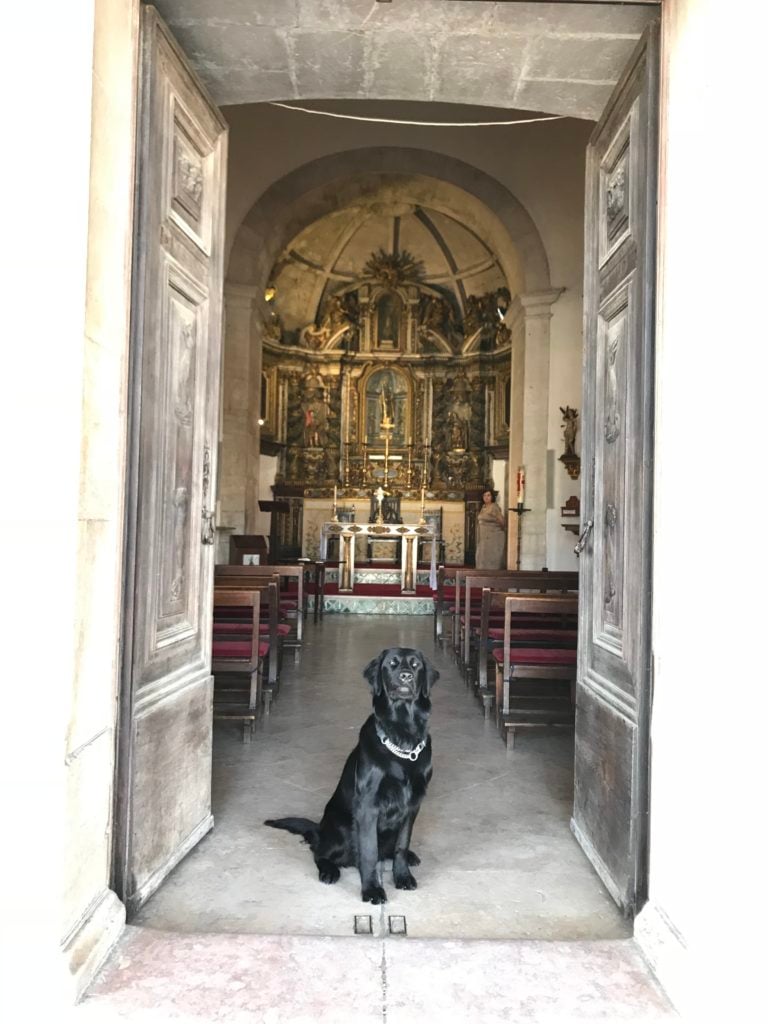 Crate train your new best friend
People dread the idea of bringing their dog on a plane. If they're too big, which was the case for Eca, they'll have to fly in the undercarriage.
But, wait… this is not as bad as it sounds.
The plane's undercarriage (where animals are stored) is set to the same air pressure and temperature as the cabin where we fly. If you compare these conditions to ours up in the cabin, dogs actually get way more leg room. Eca's crate was the equivalent of a king-sized bed.
Crate training them from day one will make this inevitable obstacle painless. I used Cesar Milan's method, and it worked like a charm. Eca was totally relaxed when we arrived at our destination.
Get your timing right with vaccinations and paperwork
This step in getting your dog ready to travel is where I almost blew it. It's key to review the customs laws of the country you're traveling to. Unfortunately, there isn't a one-stop resource for this, as each country has their own.
This step is super important! There are microchips, shots, and forms involved. Some countries won't allow dogs from certain other countries to enter at all, and others will have a mandatory quarantine.
Each country will require you fill out a pet passport for your dog. It sounds cute, but it's no joke. Here's a handy resource for downloading this necessary paperwork for each country.
Personally, I botched the paperwork and only had it signed by my vet. Upon landing in Azores, customs let me know that the paperwork also had to be signed by another Canadian regulatory body and that what I had wasn't useful.
They let me know that my dog could be quarantined for 14 days… Luckily Eca was begging for a belly rub as the customs officials debated this. They settled on getting him another rabies shot at the local vet and merrily on my way I went…after Eca got his belly rub, of course.
Notifying your airline
So, your best friend has all their shots and paperwork ready, and their crate has been solidified as their second home. Now it's time to get in touch with your airline to notify them that you'll be traveling with a dog.
Warning: Don't skip this! It'll ensure things go smoothly once your trip comes around. While an airline might transport animals for one flight, that same airline might not for a different — let's say international –  route.
Make sure you are given written confirmation or something official that states that the airline has been notified you'll be traveling with your dog. I didn't and I was put on a later flight, prolonging my trip unnecessarily.
Luckily Eca's crate was filled with his favorite things on Earth. More on that coming up!
On the trip
You did it. You're at that glorious moment where you realize this might actually work. Your dog loves their crate, and the vaccinations and paperwork are organized. The trip itself is the next challenge. Here are some tips to make it a smooth one!
Fill your dog's crate with some of your dirty laundry. I know, don't judge me. But your dog will identify your smell and it will have a calming effect, I promise.
Before you fly, make sure to take your dog out for a super rigorous session of exercise. A tired dog is a happy dog, and you'll want your dog on the brink of collapse for this. In fact, I've often been asked if I gave my dog any pills for the flight.
In my opinion, sedatives aren't the best option. Instead, working diligently to properly crate train your animal so they're nice and calm in the crate (surrounded by your dirty socks), can really pay off.
At your accommodation
Finally, make sure your accommodation, whether Airbnb or hotel, is pet-friendly.
I forgot to tell my friends about bringing Eca on a recent surf trip. We were able to sneak him into the hostel, but I was later caught by the front desk taking him out late at night.
It wasn't my best moment, but to my surprise, they didn't send me packing; the fact that it was 1am worked in my favor! Plus, Eca was asking for another belly rub.
I don't recommend this as a way to go about things; please learn from my mistake on this one!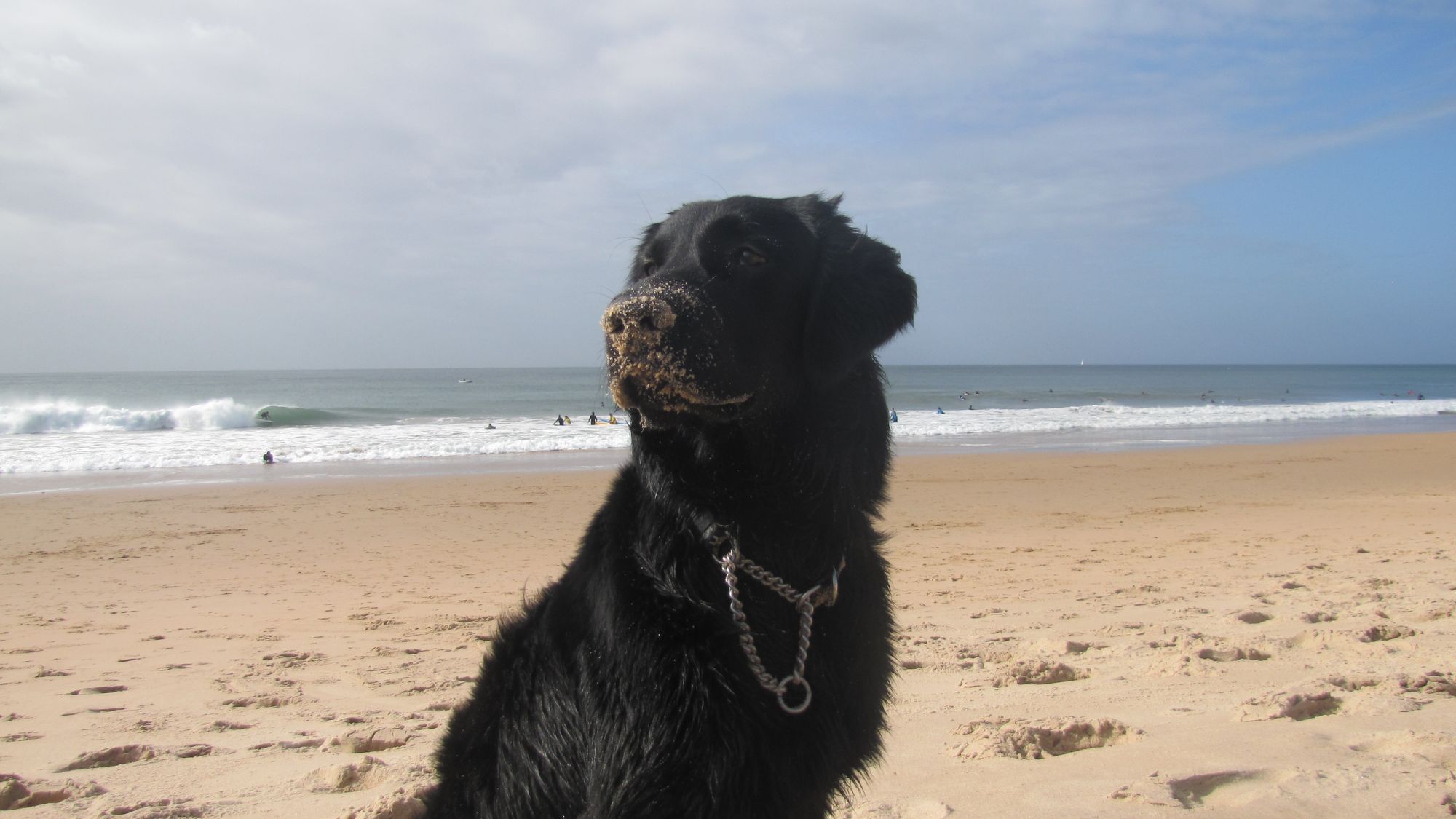 Going forward
Despite a few minor hiccups, traveling with Eca has been totally worth the effort. The initial trip went so well, I decided to continue the trip to Lisbon, Portugal and explore the coastline for a few months.
Have you ever traveled with your animal? How'd it go? I'd love to hear any stories below!