When Tommy Williams was growing up in Austin Texas, he probably didn't think his love for cooking and local farmers markets would lead to starting a nationally-recognized food brand.
But that's exactly what happened.
Williams began to embrace his entrepreneurial spirit after college. As a graduate, he started selling a variety of salsas and spice mixes in local retailers — and this is where his passion for promoting a healthier way of eating really came to the fore.
In 2014, Tommy's Superfoods was born. The company sells non-GMO verified, seasoned frozen vegetables and its products are now available in popular retailers such as Costco, Bristol Farms, Kroger, and more.
However, as any business in the consumer goods industry will tell you, it can be hard to stand out next to thousands of other quality products.
Tommy's Superfoods needed a way to simultaneously increase brand recognition and brand loyalty. The resulting campaign helped the business to reach more than one million people on social media and grow its email list by 22 percent.
Here's how the campaign generated these impressive results…
Creating a movement to help achieve business goals
Wondering how to go about increasing its brand recognition and growing its email list, Tommy's Superfoods turned to Road Warrior Creative, an agency that specializes in food and social good marketing.
The campaign — #ThinkVeggiesFirst — was focused on teaching people to start each meal by choosing the vegetable component first, as a healthy way of eating.
"We decided to build the campaign as a monthly challenge," explained Amber Hinds, Creative Director & CEO of Road Warrior Creative. "We challenged people to eat vegetables at every meal – even breakfast!"
The campaign initially ran for the month of February and aligned perfectly with the time of year when people are still thinking about New Year's resolutions. "We made it a 'movement' that people could engage with and participate in," said Amber.
Amber and her team needed a way to not only inspire people to eat more vegetables but also build awareness of its products and drive signups to Tommy's Superfoods' mailing list.
To do this, Road Warrior Creative worked alongside Tommy's Superfoods to create a ton of added value for people who signed up to its email list.
"We created a branded landing page where people who joined the email list would receive a free printable meal planner download, coupons for buy one get one free on Tommy's Superfoods products, and could enter to win 100 free packages of Tommy's."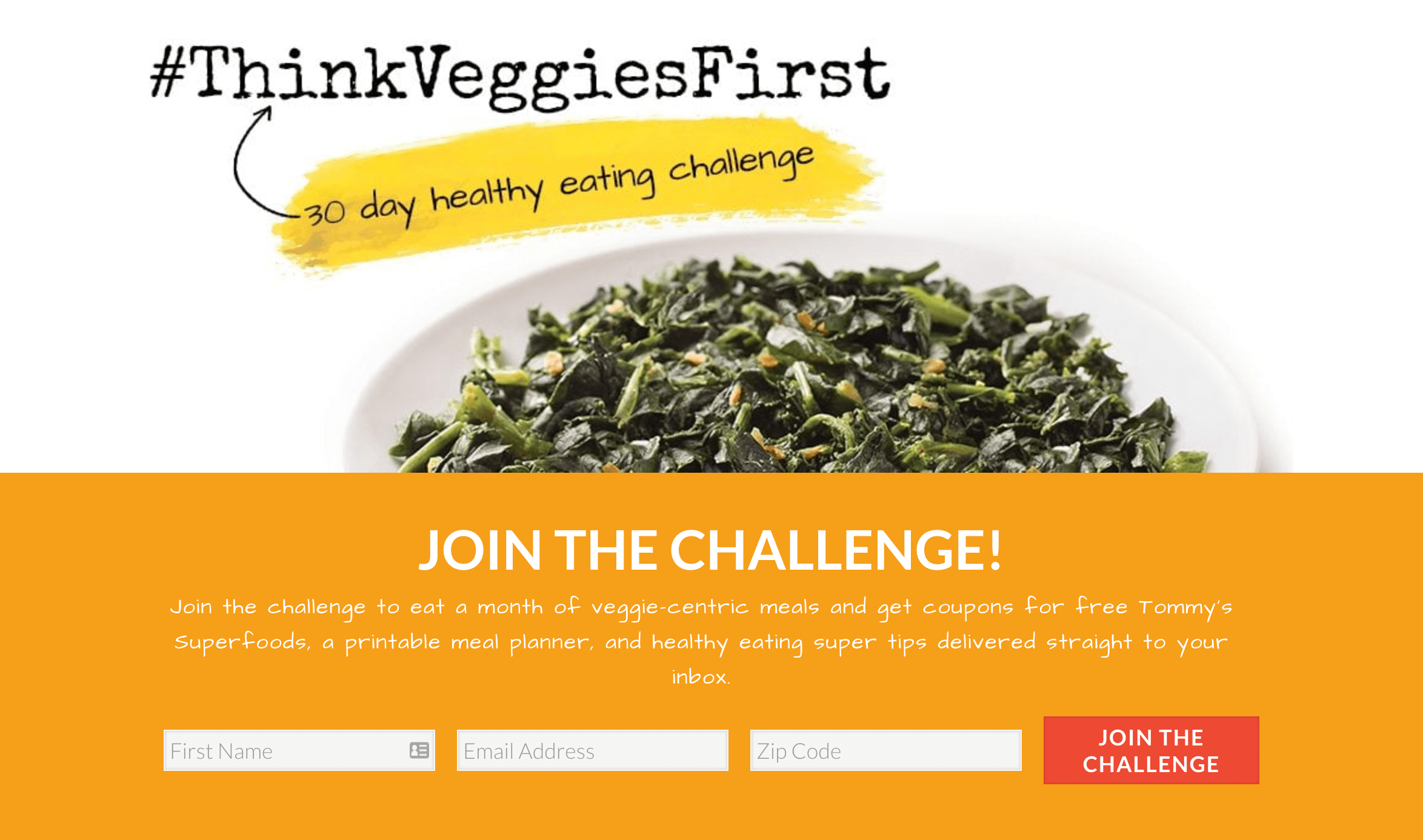 Building a successful multi-channel marketing campaign
With the #ThinkVeggiesFirst concept in the bag, Amber and her team then needed to figure out how they could generate awareness of the campaign, and drive traffic to the landing page.
To do this they first looked at what they could learn from other campaigns in the healthy eating niche. "We began researching similar ideas and learning about the types of content that would work best for achieving campaign goals," Amber explained.
Creating a content plan
Next, it was time to put everything they learned from their research stage into a cohesive content plan, looking at when they would publish blog posts and email newsletters as well as Facebook, Instagram, and Pinterest posts.
Mailchimp made it simple for Road Warrior Creative to set up a bunch of email messages to send subscribers during the challenge.
The email campaigns focused on keeping new signups on track during the 28-day challenge. For example, around half-way through the campaign they shared a bunch of fun, veggie-first meal ideas:
When it came to social media content Amber and the Road Warrior team focused on creating content native to each platform: sharing beautiful images of veggie-first meals on Instagram, saving recipes to its boards on Pinterest and posting videos on Facebook.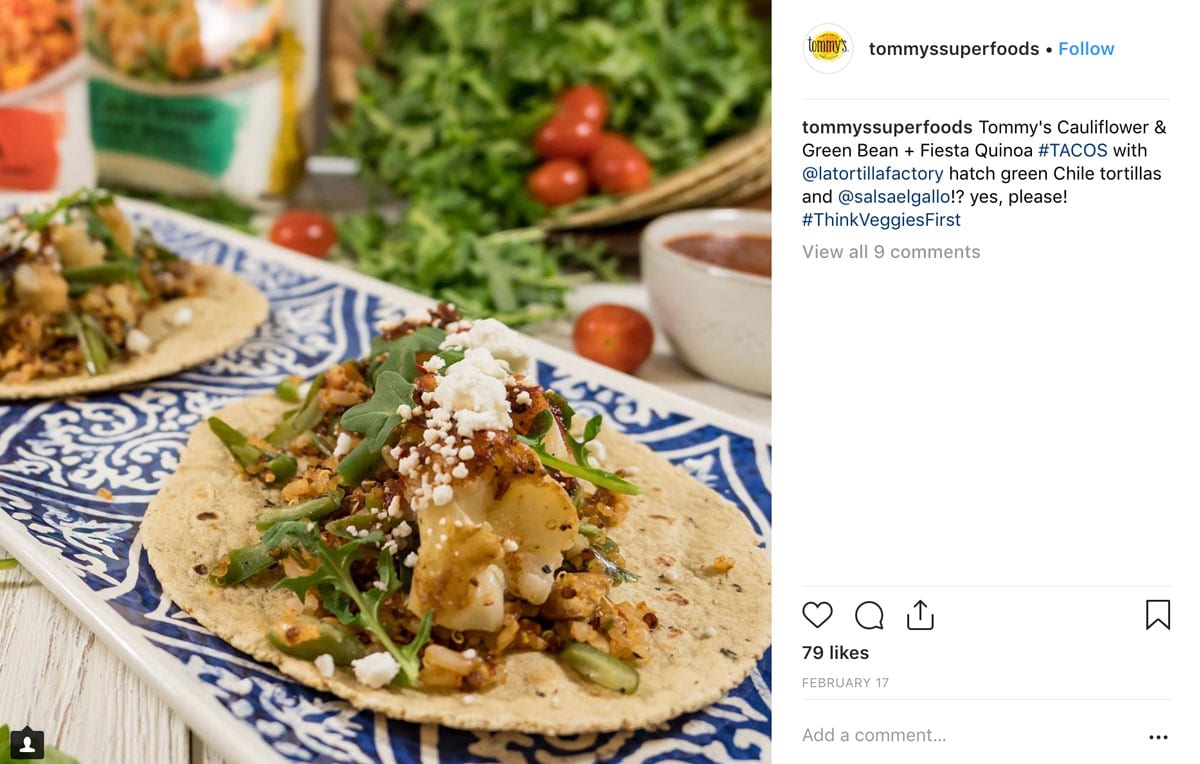 And with Buffer's social media publishing tools in their corner, it was simple to get the whole month's content scheduled across Facebook, Pinterest, and Instagram in one go.
Complementing organic content with paid ads
Paid social media ads also played a part in the #ThinkVeggiesFirst campaign. Road Warrior set up various audiences within Facebook Ads, targeting people with an interest in healthy eating and custom audiences containing recent website visitors.
Amber says the largest social media success during the campaign came from Facebook ads. "We saw greater engagement and conversions from video ads than ads with still imagery," she noted. "And greater success with retargeted ads than those to a defined audience."
Encouraging user-generated content
They also used the sweepstakes component of campaign — the chance to win 100 free packs of Tommy's Superfoods vegetables for joining its mailing list — as a way to encourage user-generated content. Every person who signed up to the mailing list received an entry to the sweepstakes, then, for additional entries, they were encouraged to post their own 'veggie-centric' meals on Instagram, tagging Tommy's and #ThinkVeggiesFirst in the photo.
Over the course of February, each email sent to Tommy's Superfoods subscribers featured a reminder about the campaign: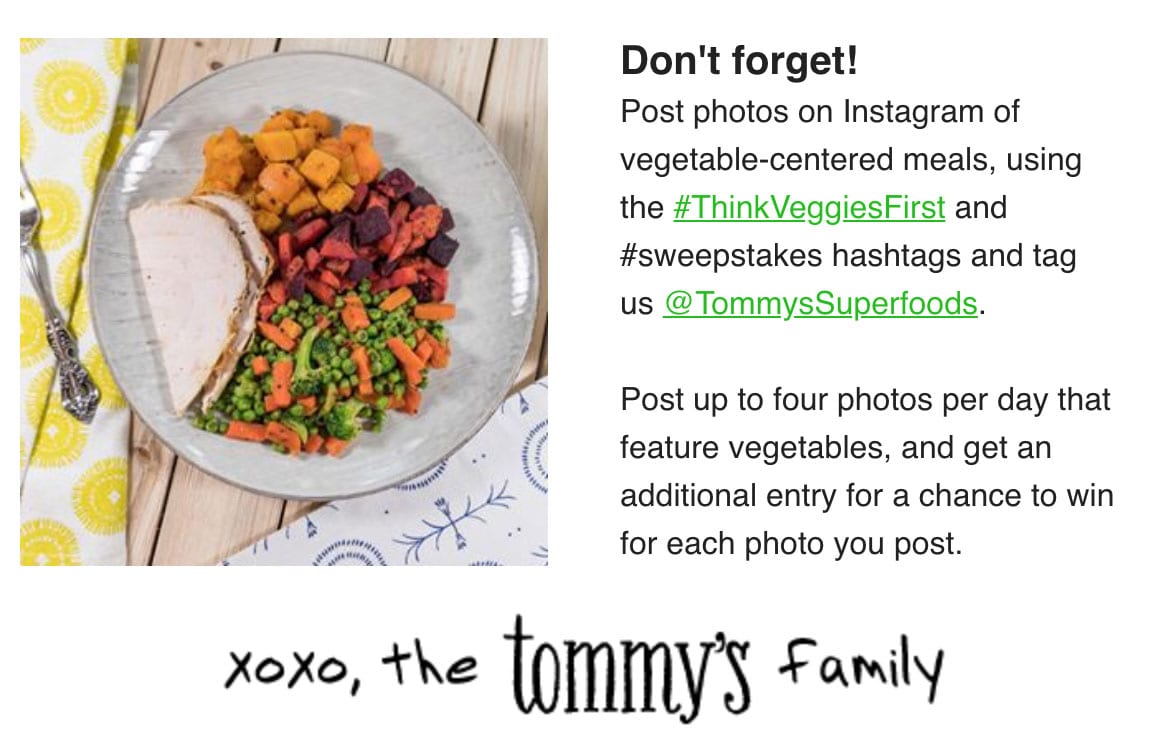 And the hashtag has now been used more than 600 times on Instagram: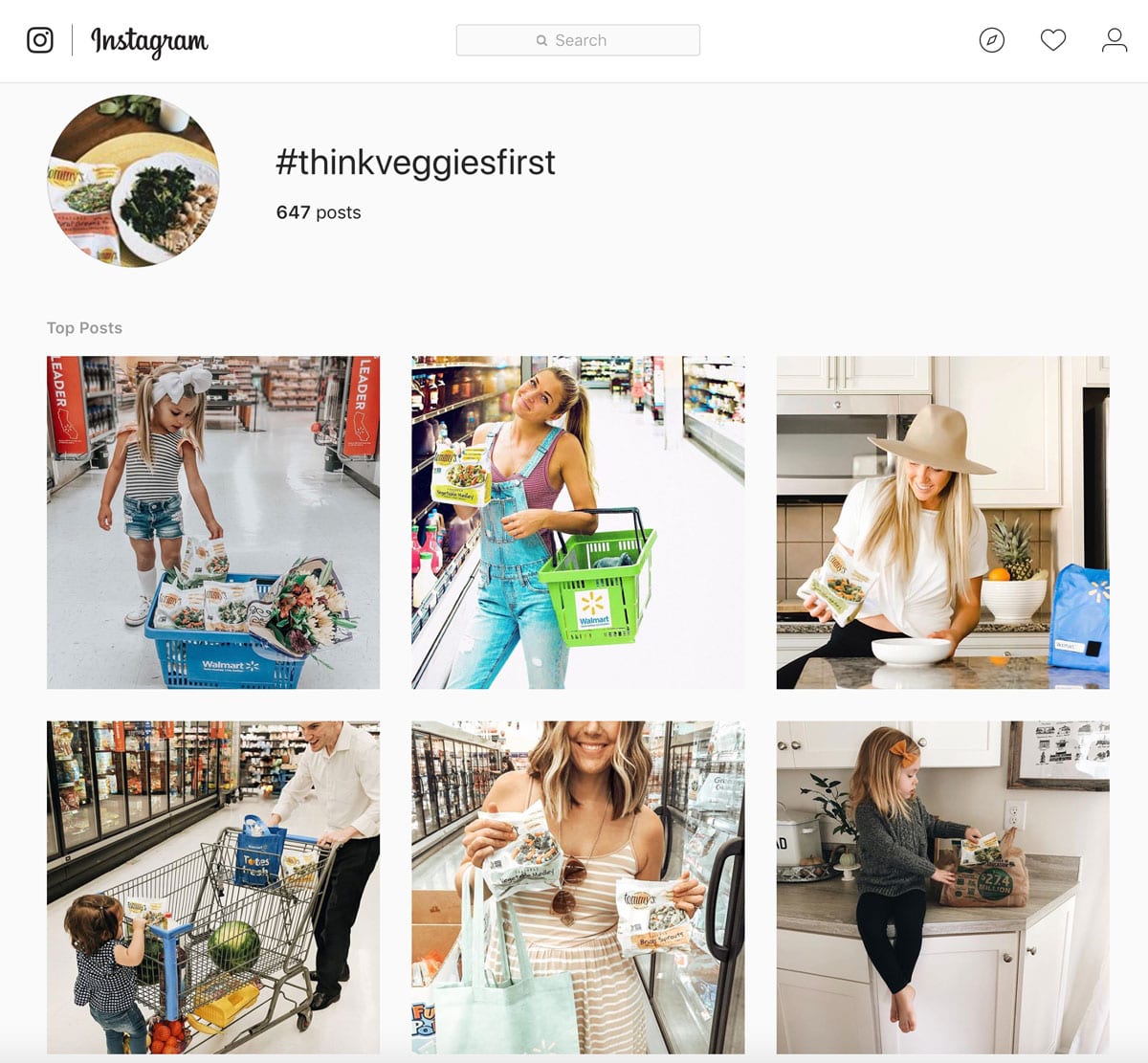 Amber also focused on generating links back to the landing page from popular healthy eating and sweepstakes websites. "A large number of signups were also generated by link building efforts — all unpaid, more of a matter of time and effort put in than cost — and getting other websites to talk about and share the sweepstakes with their followers."
Building towards long-term success
At the end of February, Tommy's Superfoods had grown its email list by 22 percent in just 28-days.
And what started out as a month-long campaign has become a staple part of Tommy's Superfoods marketing strategy.
Once February was over, the #ThinkVeggiesFirst campaign didn't end. Instead, the landing page was updated to remove any mentions of the sweepstakes, and it continues to be a regular source of email subscribers for the brand.
On social, #ThinkVeggiesFirst has also remained a key part of Tommy's Superfoods strategy with the hashtag being used on each of its Instagram posts, and it has also begun working with micro-influencers to encourage people to eat healthily and help keep its products top-of-mind at meal times.