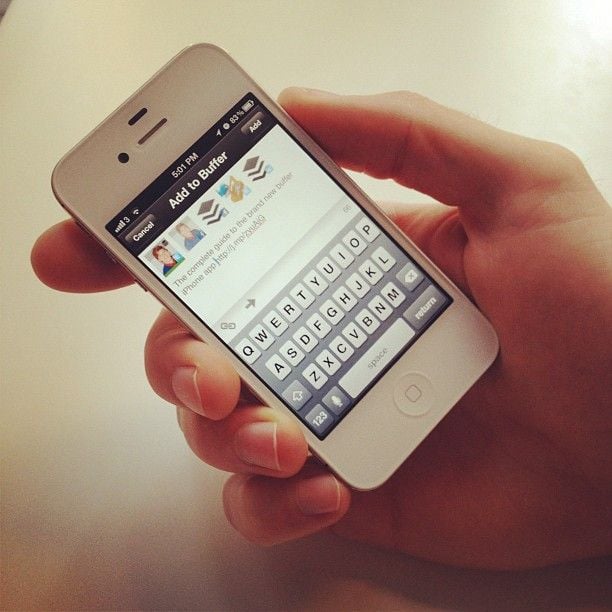 Yes, it is finally here! The long awaited Buffer iPhone App is in the App store with the latest update as of this week.
It has certainly been the most awaited feature and there wasn't one day, someone nudged us on Twitter or via email. And that's awesome. Having you and others on board, who tell us what they would like to see next is what keeps us going.
With Buffer, we aim to give you a new and smarter way to share your Tweets and Facebook posts. You simply add an update to your Buffer and we post them for you at the optimal time, well spaced out over the day. And now you can do it from your iPhone.
The app is built by the amazing Andy Yates (you can give him a shout @Andy383). I hope it will help you to make sharing articles and ideas from on the go more productive and much easier.
How to add any article to your Buffer from mobile Safari
The first thing I want to show you, is the Buffer Bookmarklet for your iPhone. It will allow you to tap "Add to Buffer" whilst you are reading any article. With one click, you can add it to your queue. Just how you can already do with our browser extensions.
Here is how easy it is: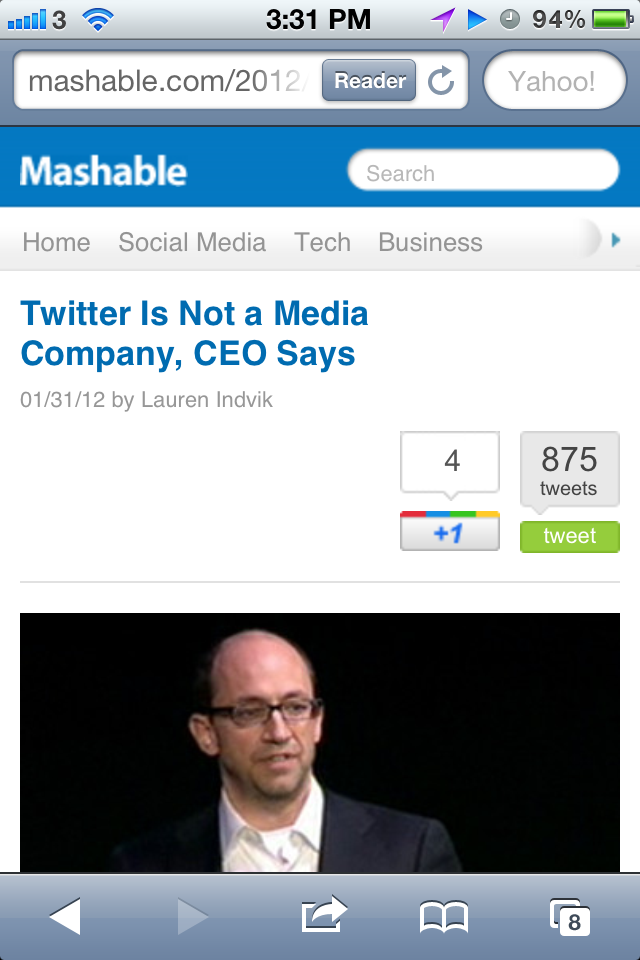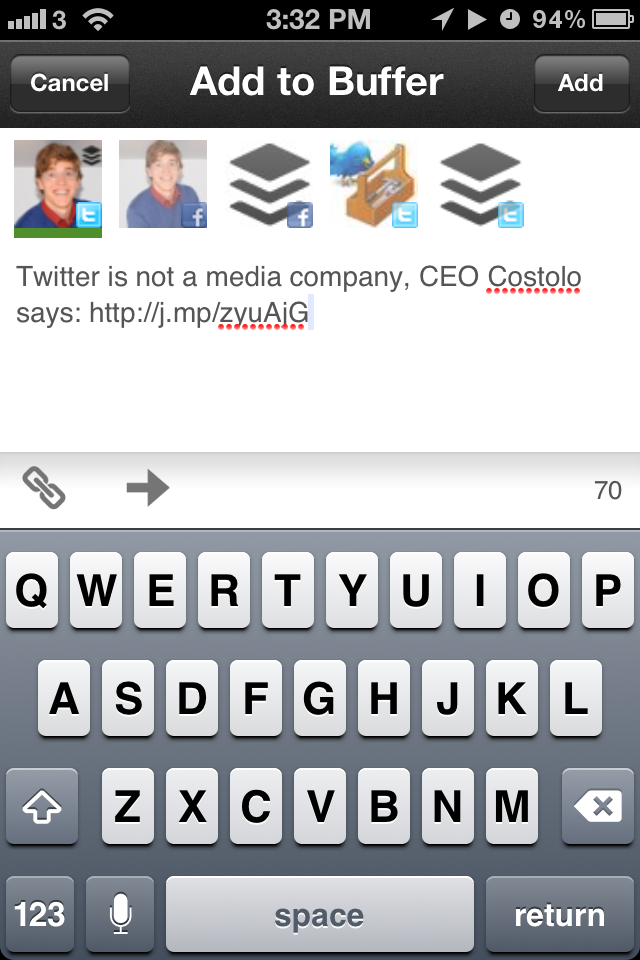 Here is a real quick walk through to get the bookmarklet setup:
Inside the App, go to "settings". Tap on open Safari, which opens a page with a guide.
Here, tap "Add Bookmark" and quickly add this page to Mobile Safari. You can call it "Buffer Bookmarklet" or whatever you prefer so you can recognize it. Once you are done, click "save":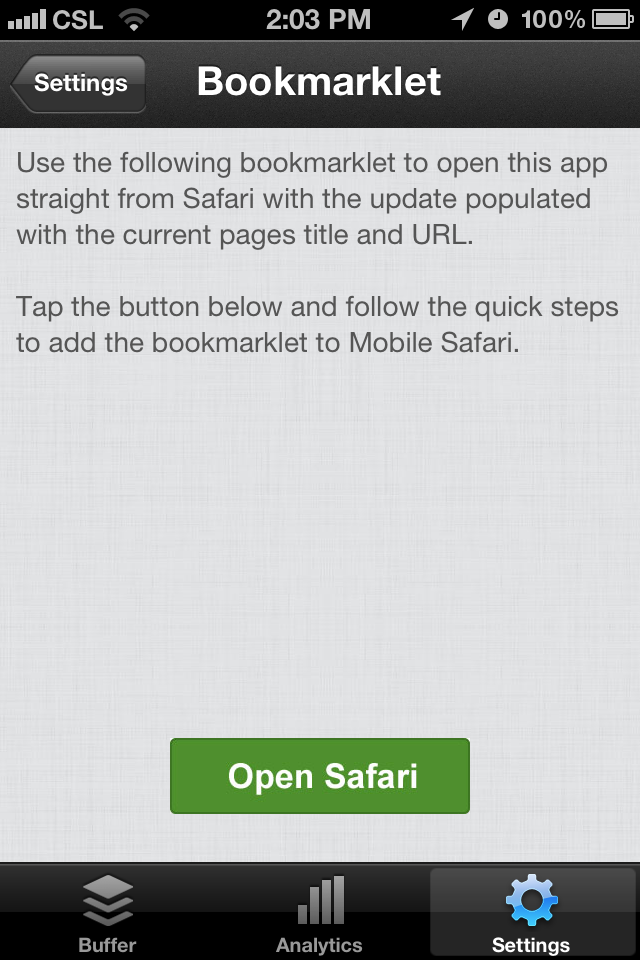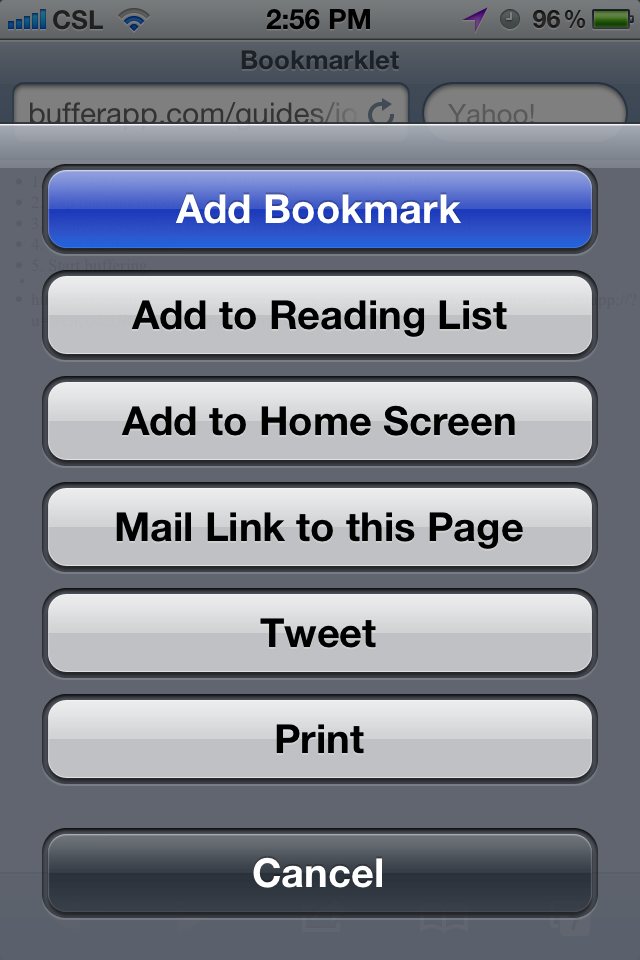 As the second step, head back to your bookmarks and click "edit" on the bottom left. Click your "Buffer Bookmarklet" and then go into the URL.
What you have to do to make it work is to edit the URL slightly. Set your cursor after the "#" sign. From there, including the "#" remove everything before the word "javascript". Hit save afterwards: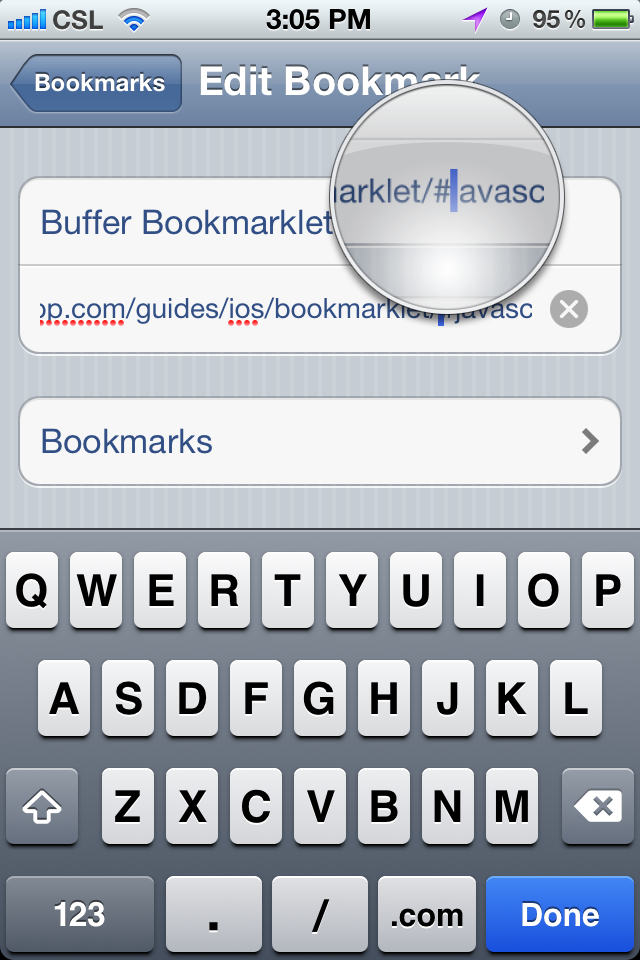 You are all set! Head to any webpage you want and start Buffering. Whenever you like an article, click your bookmark bar and tap the Buffer bookmarklet. It will work just like you are used to using it from the web interface with our browser extensions.
How to rearrange, edit and organize your Buffer on the go
Of course, you are able to rearrange and edit all Tweets from within the App, just like you are used to do with the web app. The first thing that might be useful here is to edit updates.
To do this, just tap any update that you see in your Buffered queue showing up for you. If now you decide that you want to actually delete this Tweet, just tap "options". You will see that you can now either post the update now or delete it altogether.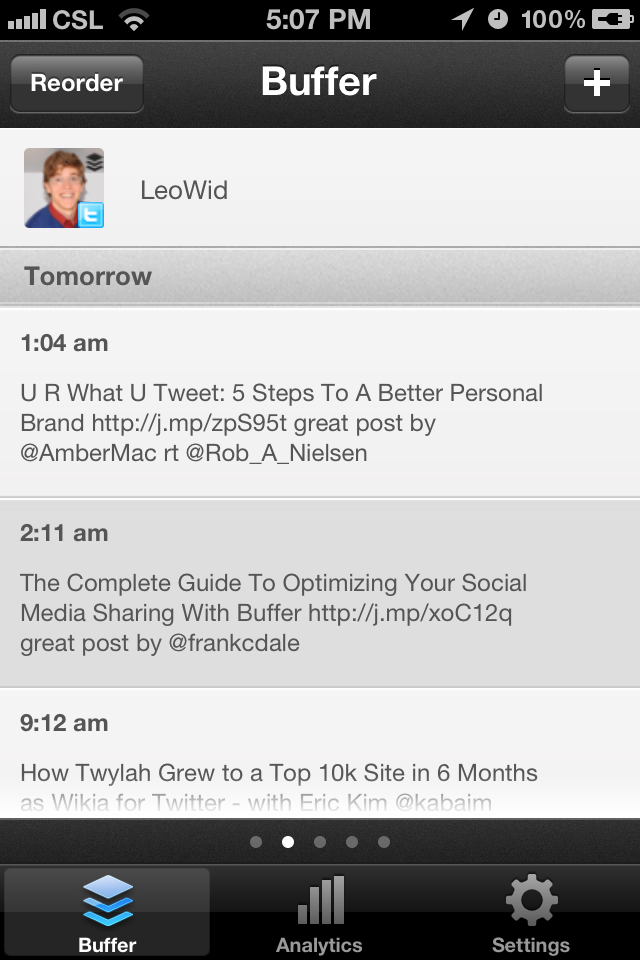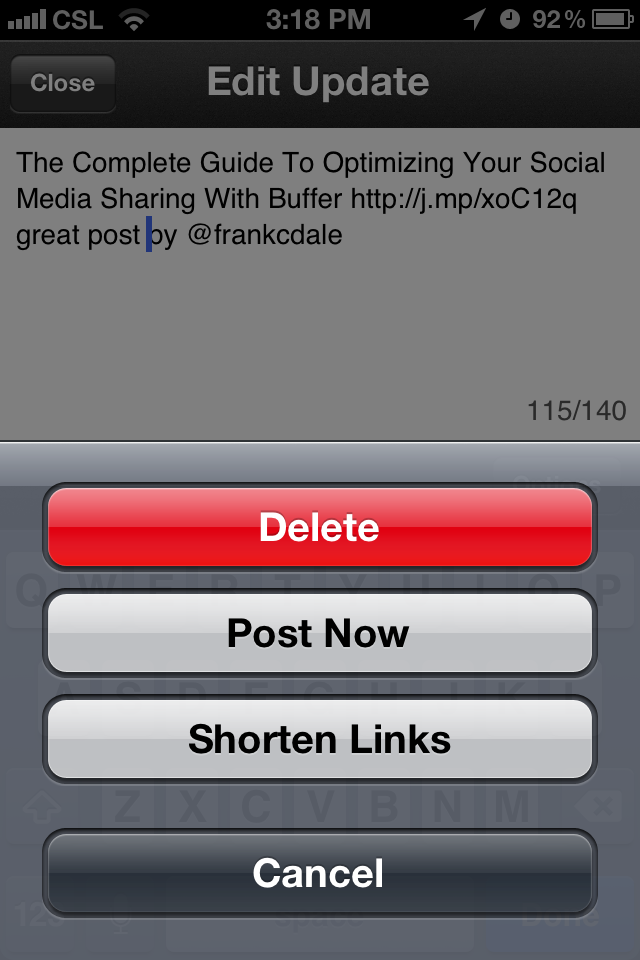 To rearrange the order of when your Buffered updates are going out, just tap the reorder button at the top right. You can then drag and drop updates around however you want.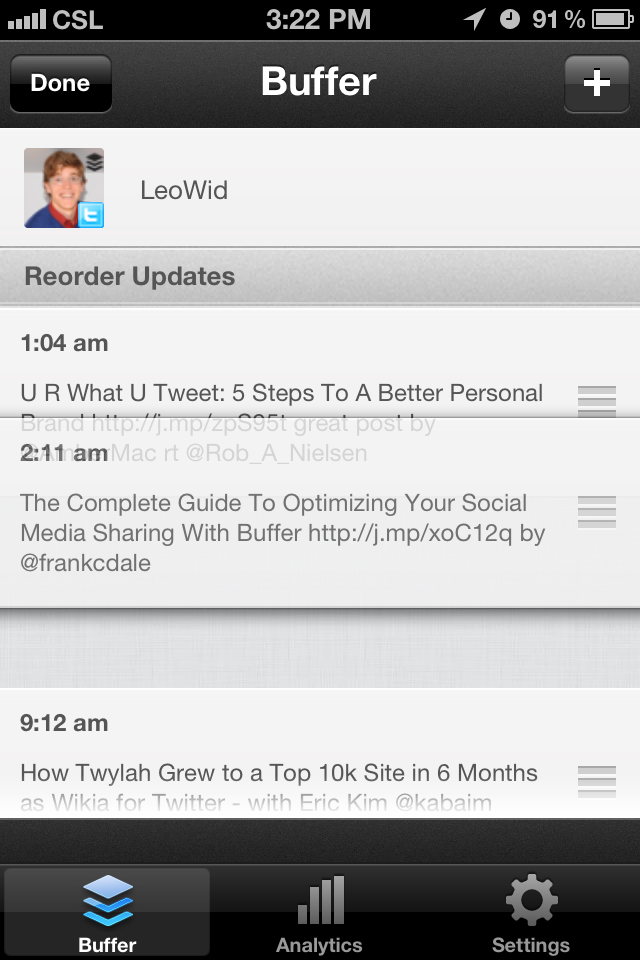 Accessing your analytics and swapping between multiple accounts
Very prominently you will immediately see the "Analytics" section at the bottom of the App. You can tap it to see all about how many clicks, retweets and reach you have gotten with your Tweets.
Personally, I am using this feature a lot on the go, to see how well my Tweets have done. It is a great opportunity to filter out those that have done better than others and try new and better copy for more Tweets.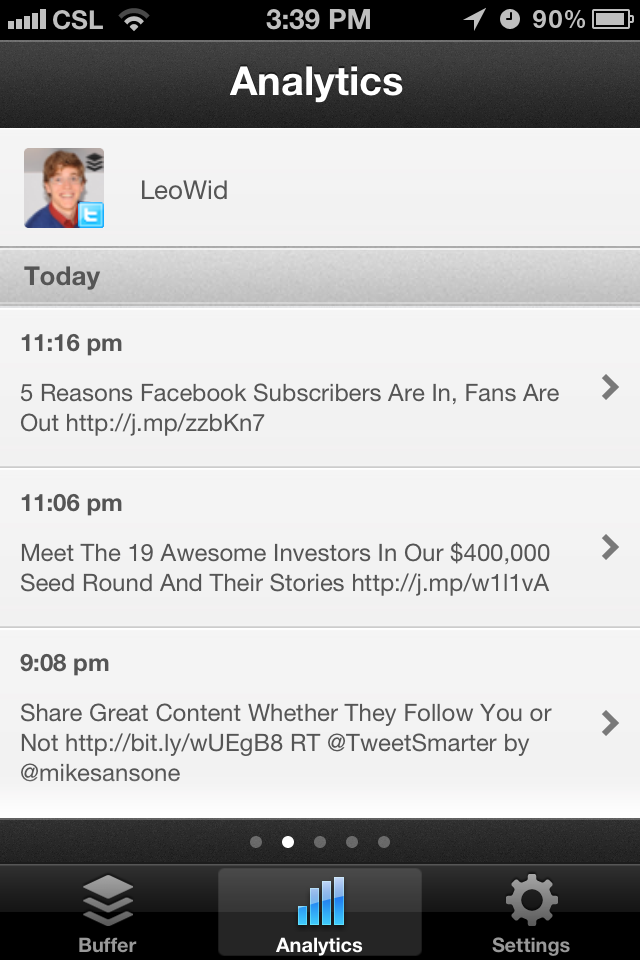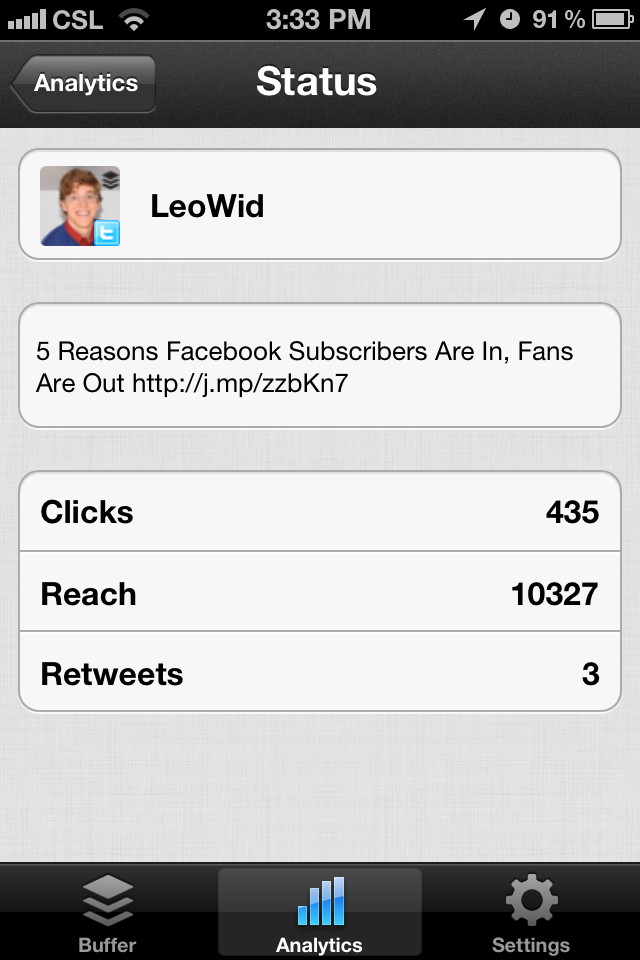 You can also conveniently swipe across the screen to get to other accounts you have connected. This works for both when you are in the analytics section and the queue section of course.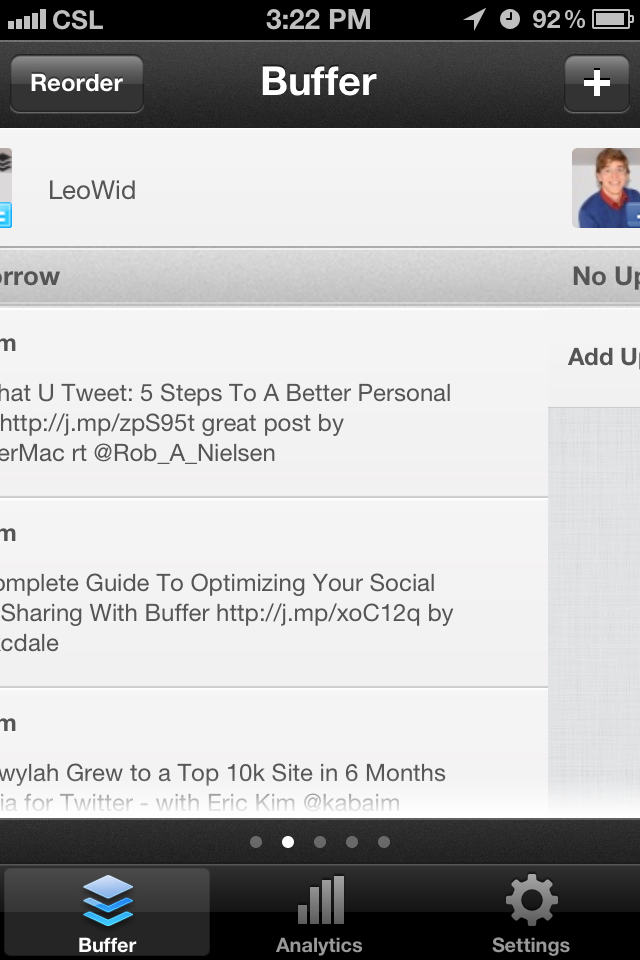 Bonus – Buffer now also works from iPhone Twitter client Tweetings
As a quick bonus, Buffer now also works with the Twitter client Tweetings for iPhone. You can Buffer retweets, just like you can on Twitter.com.
If you download it, you can go to settings and connect your Buffer account. Now whenever you hit retweet, you will be given the option to add it to your Buffer and have it spaced out and posted at a better time.
Buffer from Android, iPhone or any phone you want
The great thing is that we have completed our full range of mobile products with the iPhone App. Our Android App, that has been out for a few months, has received some great responses, sending close to 15,000 updates every day.
We have recently also created a new email to Buffer feature. It allows you to Buffer from Flipboard, Zite or any other news reading App. No matter which phone or tablet you are using.
With the new iPhone App, there shouldn't be any phone left, that you can't Buffer from now. And on top of this, if you sync your bookmarks you can also Buffer from your iPad too already.
I hope that this makes sharing on the go for you a lot easier and more efficient. What do you think about the new iPhone app? Would love to hear any feedback you have.