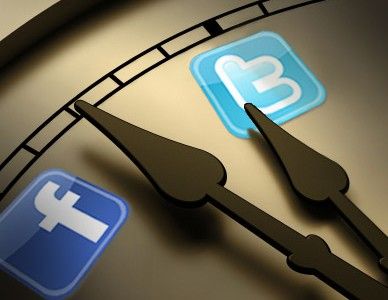 Ever wondered what your truly best times to Tweet are? Knowing when you can reach most of your friends and followers can have a huge impact. We found that it can increase the number of clicks by 200%, double your retweets and considerably increase your Klout score.
So, over the past few weeks, we over here at Buffer sat down with the team from SocialBro and brainstormed a solution for you.
SocialBro is a wonderful Social Media dashboard that gives you a huge amount of information about your Twitter account. Personally I have been very successful understanding more where my followers are from, whom I engage with the most and much more.
And as of today, SocialBro also integrates with Buffer. This works in the most hassle free way possible. Simply with the click of one button.

SocialBro's algorithm finds out the time when most of your followers are online to see your Tweets. With one click, you can now set up these optimal times inside your Buffer.
Yes, it really is that simple. To show you, our friends over at SocialBro made a super short 1 minute video to show you how this works:
How to get your best times to Tweet report
If you aren't the video viewing kind of person, here is a quick walk through for you. Setting up your best times to Tweet won't take longer than one minute. The first thing you can do is head to SocialBro's site and create an account (it's free).
From there, you will find a great amount of different features you can explore. To get your report on when your optimal Tweeting times, simply click "Best time to Tweet".

Configuring your best times from SocialBro inside Buffer
Now, SocialBro takes some time and crunches the numbers for you. They go over your Twitter followers and check on each of them, when they are posting Tweets. What you end up with is a great visual report from SocialBro graphing when most of your friends are online.
Now, whilst knowing this information is useful, it is even more powerful to start Tweeting right at these times. This is where Buffer comes in. With clicking on "configure in Buffer" you will be able to automagically set these times inside Buffer.
This means that whenever you are adding Tweets to your Buffer from now on, they will be posted at your pre-set times under "settings".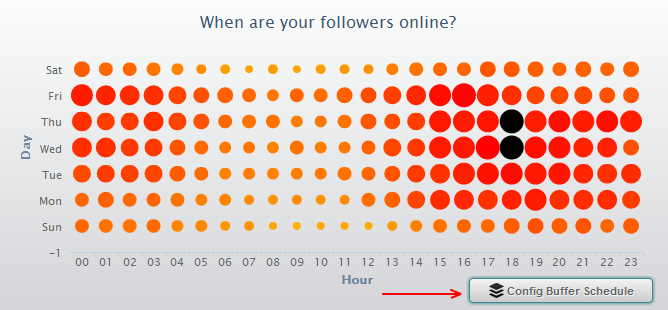 Optimizing your schedule for Buffer
What I like best about how the SocialBro team solved this is that you are still able to decide which frequency of daily Tweets you want to pick. They give you a table of their optimal Tweeting times and you can easily change it to your needs.
Of course, you can also go back to your "settings" inside Buffer at any point and change your times from SocialBro. Here is how your dashboard looks for this: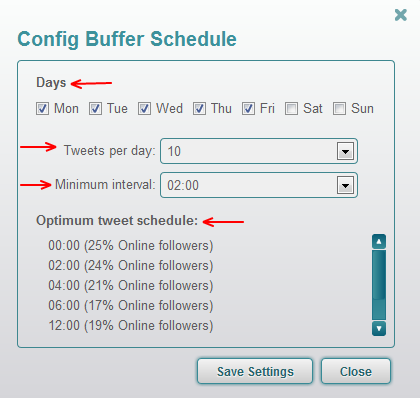 How does this help your Tweeting?
Of course, the main reason for our collaboration with SocialBro is to help you get more out of your Twitter efforts. With this power combination, you should be able to do two things very easily:
find your optimal Tweeting times from SocialBro
easily post at these times from any website or Twitter.com with Buffer
Whilst we are yet about to release a full study, I have personally already noticed that both click through rate and retweet rate has picked up significantly. The guys at SocialBro must definitely be doing something right with their algorithm.
Over to you now. I hope you will try out this combo too. Do you think this could help making your Tweets perform better too?