How do you go from having no conference — from almost having no marketing team, just you being the 9th employee and one of the very first marketers — to a marketing conference of 1,000 attendees, acclaimed in your industry, a must-attend destination on the annual events calendar?
How do you do all of that in just four years?
We had the pleasure of speaking with Stefanie Grieser, International Marketing Manager at Unbounce, about the multifaceted strategies that go into marketing and growing one of the most successful marketing conferences in the industry. And how marketing events help to engage your audience and create delighted customers for life.
A huge thank you to Stefanie for jam-packing this episode with actionable wisdom and takeaways for social media managers and marketers looking for the best ways to start, grow, and nurture successful marketing and social media events.
This episode is available on:
In this episode, here's what you'll learn:
Stefanie Grieser shares the fascinating story and strategy of how Unbounce went from small meetups to hosting one of the largest marketing events in the industry. You'll also learn other great things like:
How social media can help you market and grow your offline community
Why measuring the ROI of events is challenging, but important
Key factors and strategies in promoting marketing events and conferences
Where sales and acquiring new customers fits into the event marketing cycle
2 Key Takeaways for Successful Event Marketing from Stefanie
In Stefanie's words…
1.Keep in mind the backbone of any great event is great content
"Keep in mind the backbone of any great event is great content: deliver great value for your audience and an audience. If you keep those two things top of the priority list I think you'll succeed in event marketing. Again, I said this throughout the interview, you can have all the bells and whistles and you could be worried and stressed about catering, but at the end of the day that's lower on the priority list to make a great event."
2. Keep it simple at the start
"I would also advise people that are thinking about doing event marketing, whether it's a conference or a smaller meetup, to keep it simple at the start. You don't need to over-complicate things. Again, keep those two things top of mind, an audience and great content. Really keep it simple. I think the first year you can get sidelined. We're going to have all these different tracks and all these people and it can get complicated really quickly."
I think if you simplify things, especially if you're a one person team. I was by myself. I was doing this. I was spearheading things from the ground up and there's a lot of people around me would be like, "Oh, what about this? What about this?" I had to … It's so great to think about all these extras and think about all these different tracks or what we could do here, but at the end of the day I think keeping it simple and keeping those two things top of mind will really serve you well."
Mentionable Quotes and Shareable Snippets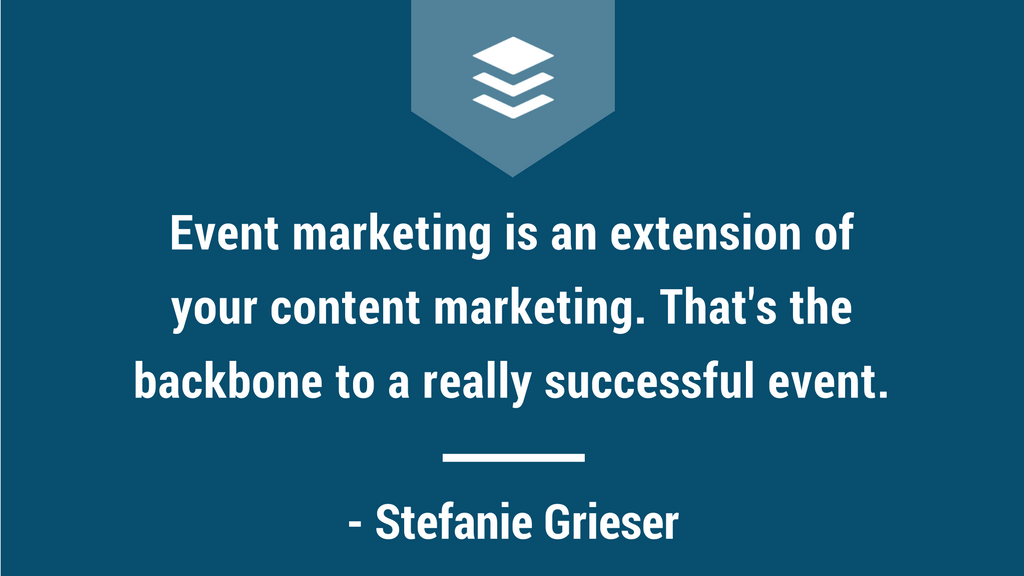 In Stefanie's words…
"Really, event marketing is an extension of your content marketing. That's the backbone to a really successful event. You can have all the bells and whistles, and events oftentimes get overshadowed by all these bells and whistles and great AV and balloons and swag. But really the backbone of a great event is an audience, the people there. That makes an event: a community and great content, valuable content that people can learn from."
Show Notes and Other Memorable Moments
Thanks a million for checking out this episode! Below are the websites and other tidbits that were mentioned in today's podcast about creating incredible Facebook communities using groups. If you have any questions for us, feel free to drop us a line in the comments and we'll respond right away!
Companies and Events Mentioned by Stefanie
Great Quotes
"It's a very big word, but really like any project or startup or even marketing channel, you should think of it as an MVP. Start small. We didn't start by saying, 'We're going to do a conference. We're going to pull off a conference.' Yes, we kind of had the endgame in mind: It would be nice to do a conference. But why don't we take little steps to get there?"
"These communities could really be strengthened through in-person encounters. Unbounce is a software company. We provide marketing and conversion software to marketers, and all of our interactions are done online. Building an in-person marketing strategy really actually strengthens some of the ties that we have to our community, to our customers, to people that could be customers — future customers I call them."
"It showed us that people want in-person experiences and events. They want in-person connections. That was one little thing on the road to a bigger event. We did five or six meetups in different cities, and we found that it was really valuable. People were learning a lot. They were a high touch opportunity."
"If you think of an event as a marketing campaign you are driving and you're using different levers to promote your event to get people to come. Social is one of those, social is something that we integrate into a marketing campaign. It's always an aspect. Okay, we have this campaign, you have this event. How are we going to tell people about it? We have an audience on social. We have a community on social so we'll tell them through social media."
How to Say Hello to Stefanie (and us)
Stefanie "Stef" Grieser is a must-follow marketer on Twitter and she would love to say "Hello" at smgrieser.
Thanks for listening! We'd love to connect with you at @buffer on Twitter or with the hashtag #bufferpodcast.
Enjoy the show? It'd mean the world to us if you'd be up for giving us a rating and review on iTunes!
—
About the Show
The Science of Social Media is a podcast for marketers and social media managers looking for inspiration, ideas, and results for their social media strategies. Each week, we interview one of the very best in social media marketing from brands in every industry. You will learn the latest tactics on social media, the best tools to use, the smartest workflows, and the best goal-setting advice. It is our hope that each episode you'll find one or two gems to use with your social media marketing!
The Science of Social Media is proudly made by the Buffer team. Feel free to get in touch with us for any thoughts, ideas, or feedback.