Sending emails. Checking emails. Responding to emails. Emailing – in all of its iterations –  is a huge part of communication in today's world. For many, email strikes the perfect balance of conveying information— it's an organized, instantaneous, and convenient way to stay in touch with others.
Emailing has especially proven to be an effective medium for small businesses to connect with their customers. After all, over 4 billion people are active on email – making it a great channel to reach customers.
If you're considering sending a weekly newsletter for your company or dipping your toes into email marketing, these eight small businesses offer great examples of high-quality email content.
The promising data on email marketing
Email is likely to drive more sales than social media marketing, as 60 percent of consumers claimed to have made a purchase because of an email. Customers are also more likely to see promotions and deals that get sent straight to their inbox while they may not be catching all of your brand's social media posts on their feed, making email the most direct link to your customers.
The great news for small businesses is that the data shows readers actually like brand emails. An Adobe survey found that 50 percent of users prefer receiving emails from businesses they follow. According to Mapp Digital's email marketing report from 2016,  40.7 percent of consumers would rather receive weekly emails from brands than daily or multi-weekly emails. But sending more than one email a week can be beneficial, too. Constant Contact – one of the top email platforms – recommends businesses send a three-email series for each promotion or product launch in the form of an announcement, reminder, and last chance alert to ensure your customers are up to date with your latest promotions.
While you can play around with the frequency of messages you feel is best for your brand and customers, sending at least one a week is a good starting point.
8 ideas to take your email marketing to the next level
The key to a successful email is having something interesting and appealing to say. Adobe found that 37 percent of readers wanted brand emails that were less promotional and more informational, while 27 percent of users wished for emails that were more tailored to their interests. Creating more informative and personalized emails is something any business can absolutely achieve.  
Let's get into real examples from small businesses that you can use in your next email:
1. Give early access and exclusive deals to subscribers
One of the biggest perks customers can receive from subscribing to a newsletter is gaining exclusive access to deals, joining some kind of reward program, or being the first to learn about new products.
Good Day Chocolate lets subscribers know first
Good Day Chocolate sells a variety of fair trade chocolate supplements, including supplements promoting sleep, calmness, and energy. When they released a sleep aid for children in February 2022, they sent out a newsletter with the good news, writing, "You're the first to know!" They also included a call to action (CTA) by allowing users to "Shop Early," this helps customers feel in the know and like they're benefiting from insider information.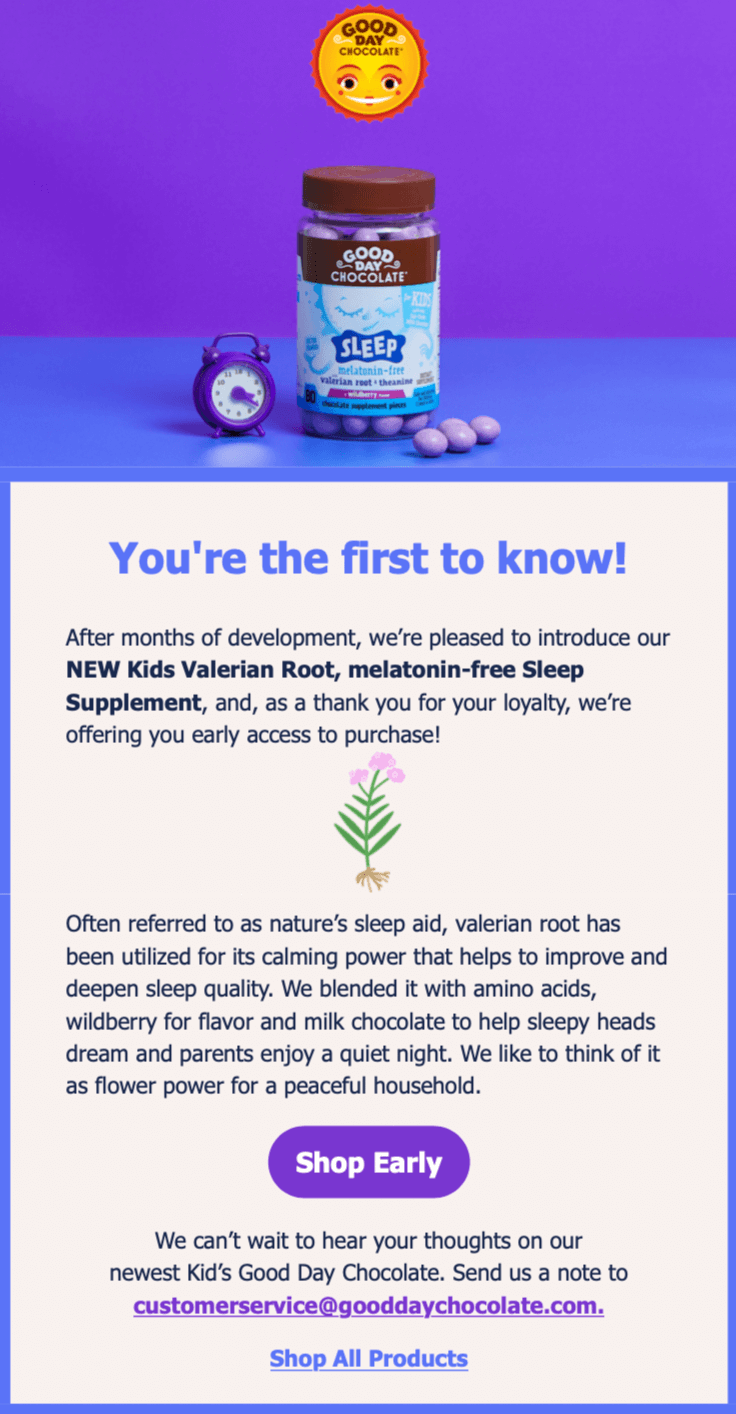 Saie offers early access
Similarly, when makeup brand Saie released their highly anticipated concealers, they paired their Instagram campaign launching the product with a newsletter offering early access to email subscribers. Users were able to purchase the concealer in advance of its launch date simply by clicking the link included in the email. From the get-go, Saie used keywords in the subject line of the email – your exclusive access –  to make their subscribers feel special and valued.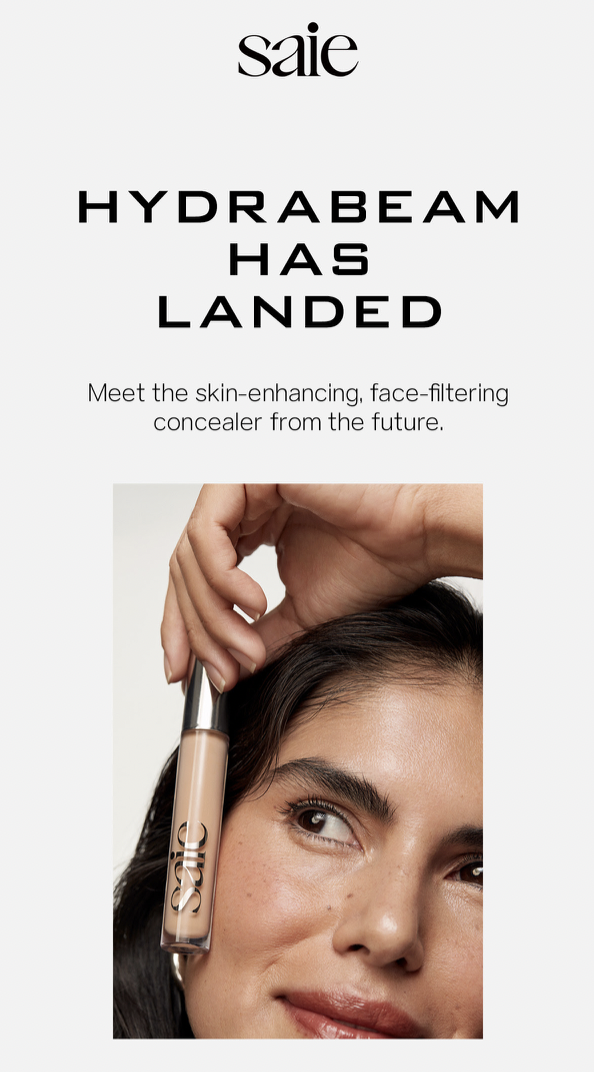 These types of offers can be super valuable as they help customers beat out the competition that new products are usually met with. Saie got extra creative by marking their CTA to purchase the concealers "From the future." This connects back to the fact email subscribers were able to buy the new product an entire week before it went live on Saie and Sephora's websites.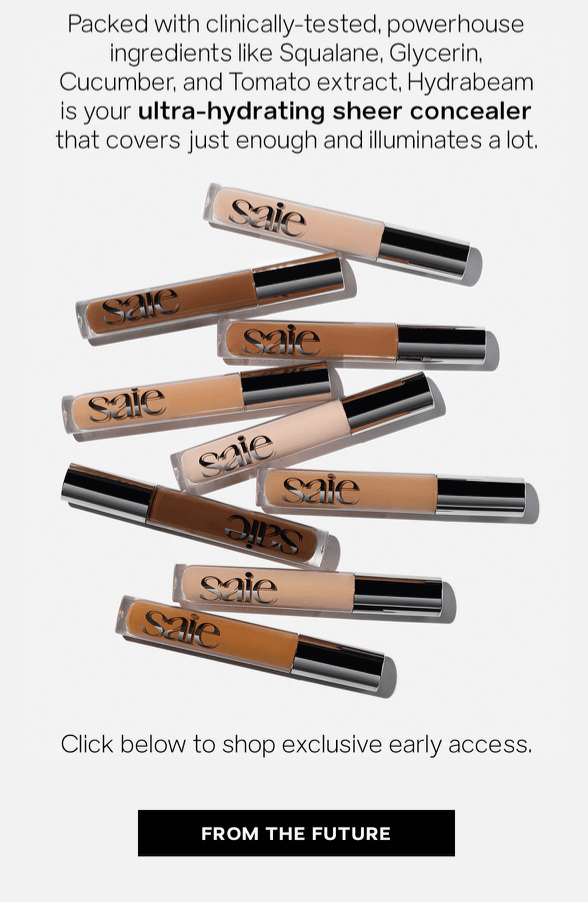 2. Create an email series
An email series is a fun way for businesses to produce content on a broader scope. While the brand is still the focal point, a series usually has other defining factors that help it stand out from product-focused marketing.
Reformation's First Impressions
Fashion brand Reformation launched an email series entitled "First Impressions" in which they gave their clothing personas asking, "what if our clothes talked back to us?" As a treat for readers, they worked with journalist Hunter Harris – an entertainment reporter turned TV writer – who penned these special edition newsletters, infusing her humor and flare into the emails. The campaign was a huge success – even getting shoutouts from readers on Twitter – and it was an innovative way for the brand to highlight their dresses, pants, and blouses.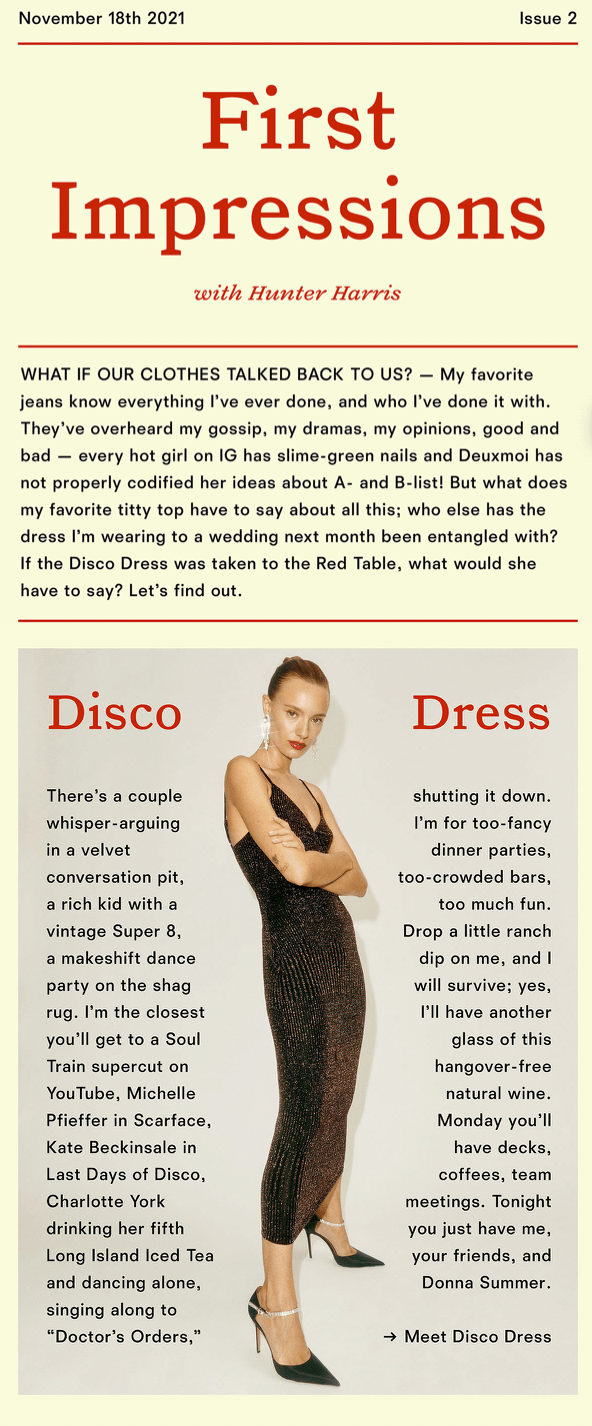 Saie is Obsessed
Saie also created an email series featuring their teammates' favorite things. While Obsessed does include Saie products, the company also made sure to highlight items separate from the business. Here, Lauren – Saie's Head of Community –  shares her love of rock climbing, innovative art pieces, and one of her favorite restaurants – BarPart Time in San Francisco – with readers.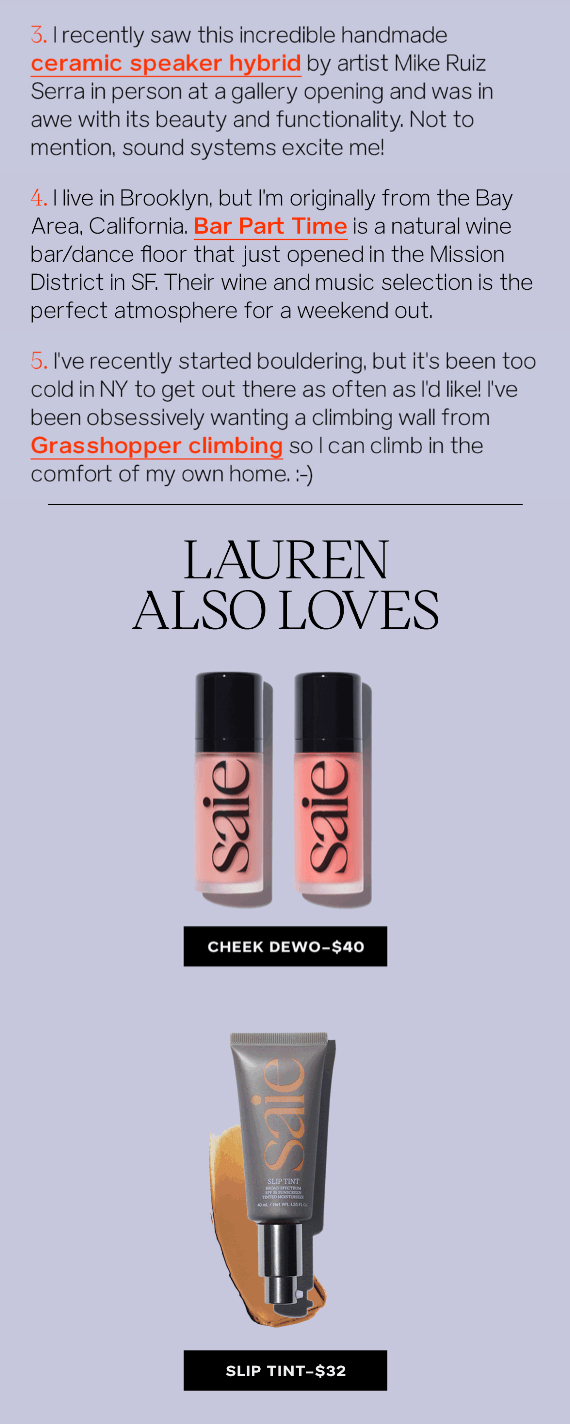 3. Take a stance
Your business provides you a platform, and you can choose to use your voice to spotlight important social causes. In a 2021 survey, 35 percent of consumers said they are more likely to trust companies that take a stance on environmental, political, and social issues. After all, people want to know whether their values align with the businesses they support. Speaking about these issues in your newsletter is a great way to let your readers know where you stand.
Tàche stands up for abortion rights
When the future of abortion rights was front-page news in the states, Pistachio Milk brand Tàche sent out a newsletter letting followers know they were donating proceeds to organizations supporting reproductive rights.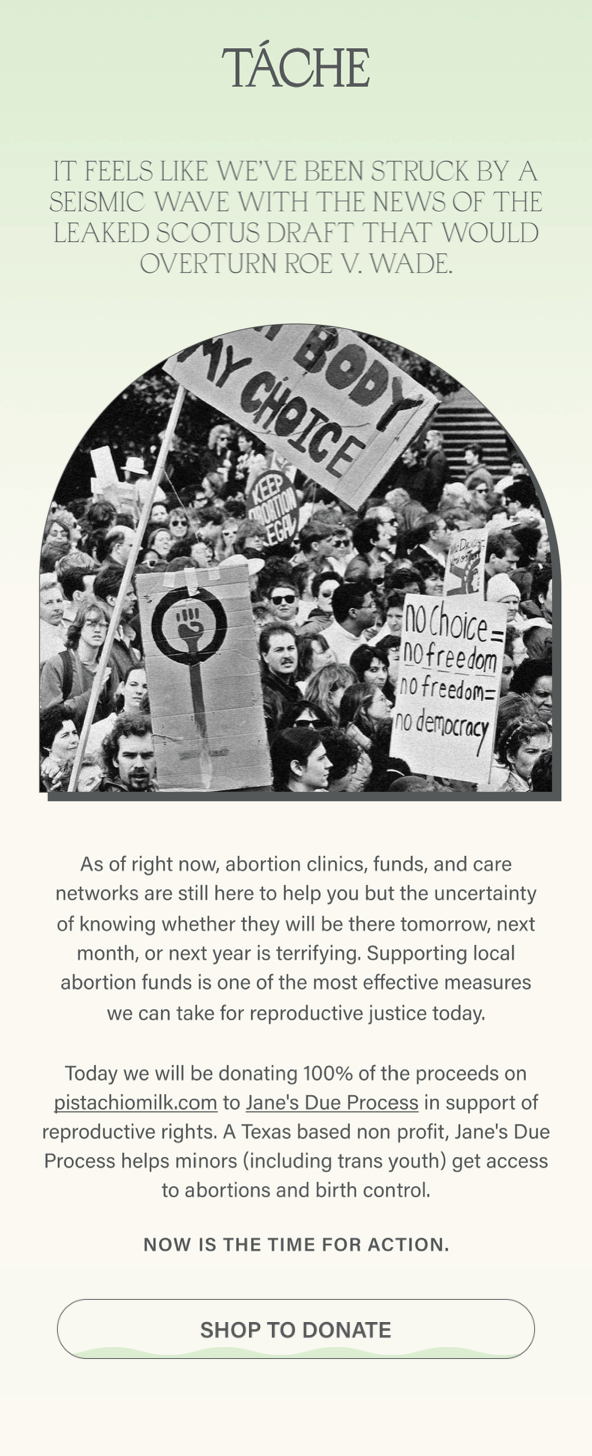 Glossier encourages voting
In 2020, just before the U.S. presidential elections, makeup brand Glossier released an email campaign encouraging users to vote by introducing their partnership with the organization "When We All Vote." The email focused solely on voting, with zero mention of any Glossier products making it feel more authentic for customers. This is a great way for a brand to provide more informative content for users, rather than only thinking of the bottom line.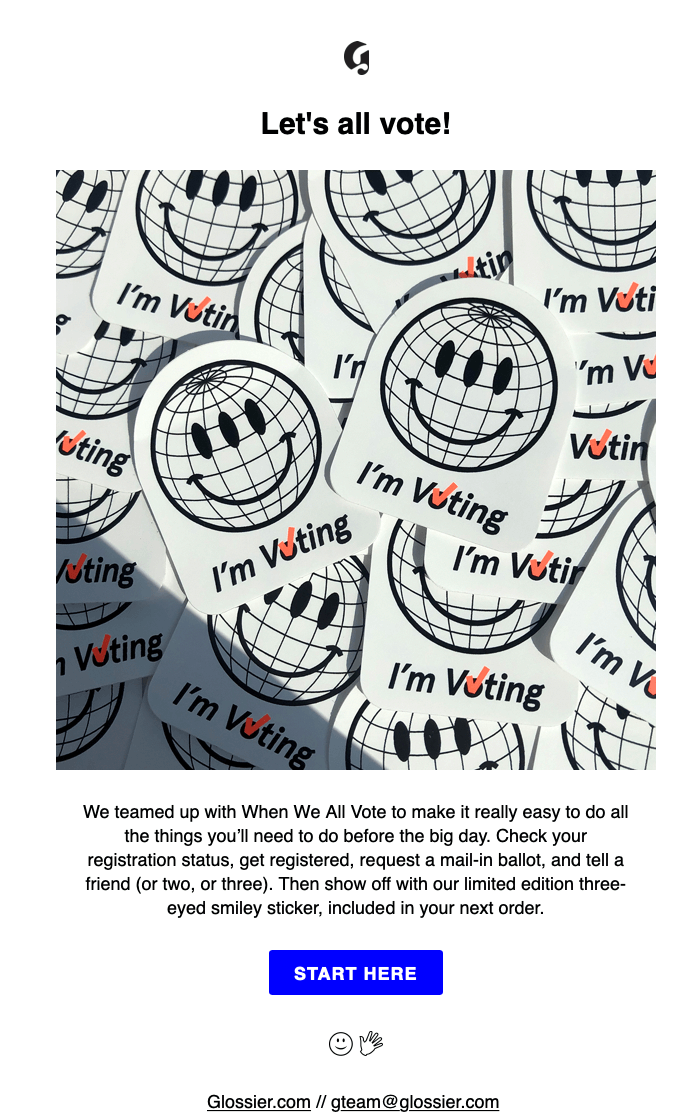 4. Personalize your message
With email, brands can get much more specific than they can on other platforms and it's an opportunity to forge a stronger connection with readers as a result. This could include addressing the email with the customer's first name, but also touching on more sensitive topics as a message delivered via email can feel a bit more intimate than one posted on Instagram or a website.
Hu Kitchen gets real about Mother's Day
When Hu Kitchen – a clean and vegan chocolate brand – posted about Mother's Day on Instagram and Facebook, there was no real way for the company to filter out the post to only be seen by certain customers. But by emailing individual customers in advance of the holiday to ask if they'd like to opt-out of all Mother's Day content, Hu was able to modify who they sent their Mother's Day emails to.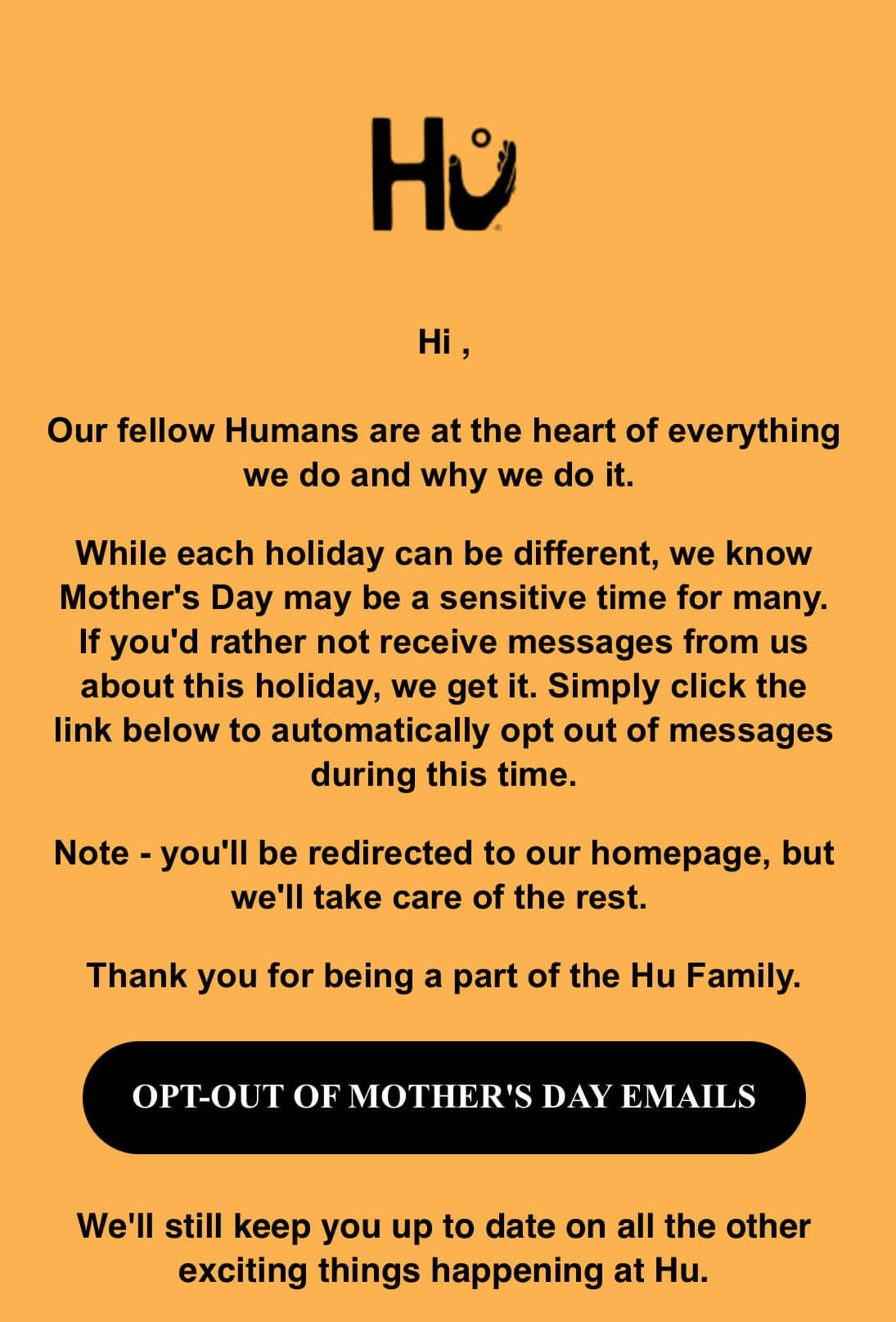 This type of content shows that the company was considering all of their customers, and went above and beyond to make sure people were only seeing content applicable to them.
Paynter Jacket shares custom product updates
Paynter Jacket releases limited-edition jackets – four a year to be exact – and they put almost as much thought into their emails as they do with their custom denim. Once a customer purchases one of their drops the brand sends several personalized emails updating the customer about their order. More than just a tracking number, the emails contain fascinating behind-the-scenes details. In the below email, they share how many different countries the batch will be delivered to and the various individuals who'll be a part of the jacket-making process.
A special touch, Paynter also includes photos of the manufacturing process.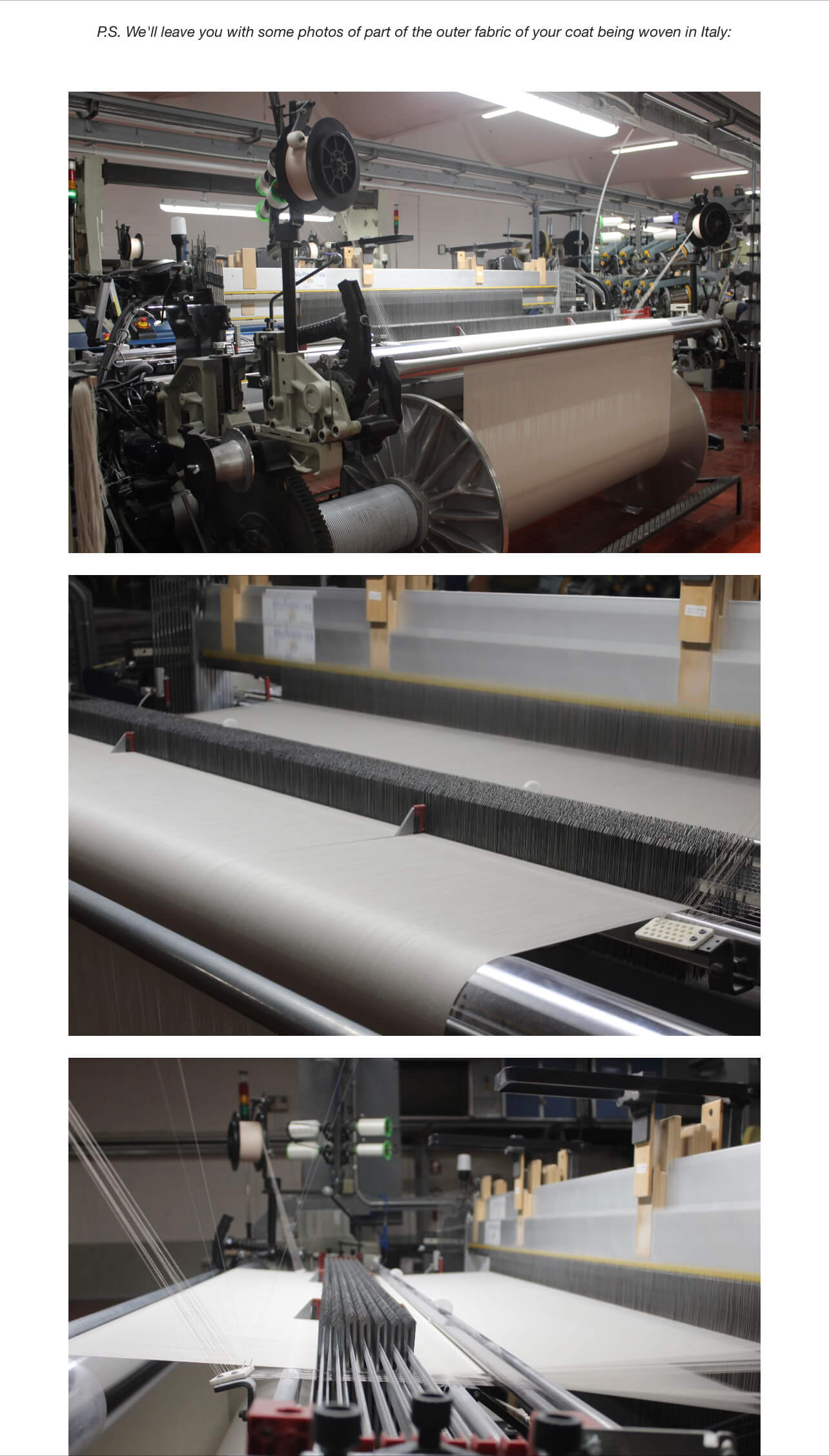 5. Send a weekly digest
Sending a weekly roundup that covers a variety of topics is a great way to ensure your customers are staying up to date with the latest your business has to offer.
Elpha shares what's top of mind for their community
Elpha, a professional network helping women succeed in the workplace, sends out a weekly digest with multiple sections. Essentially, the newsletter rounds up the most popular topics that took place on the site during the week, giving members easy access to high-priority items like upcoming virtual events and job postings.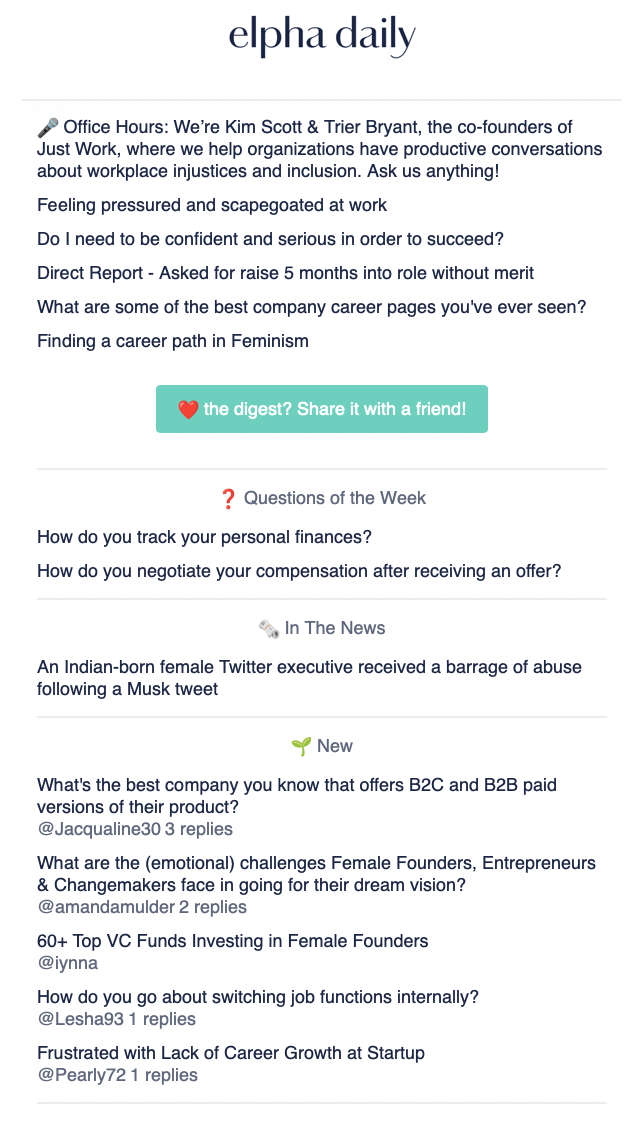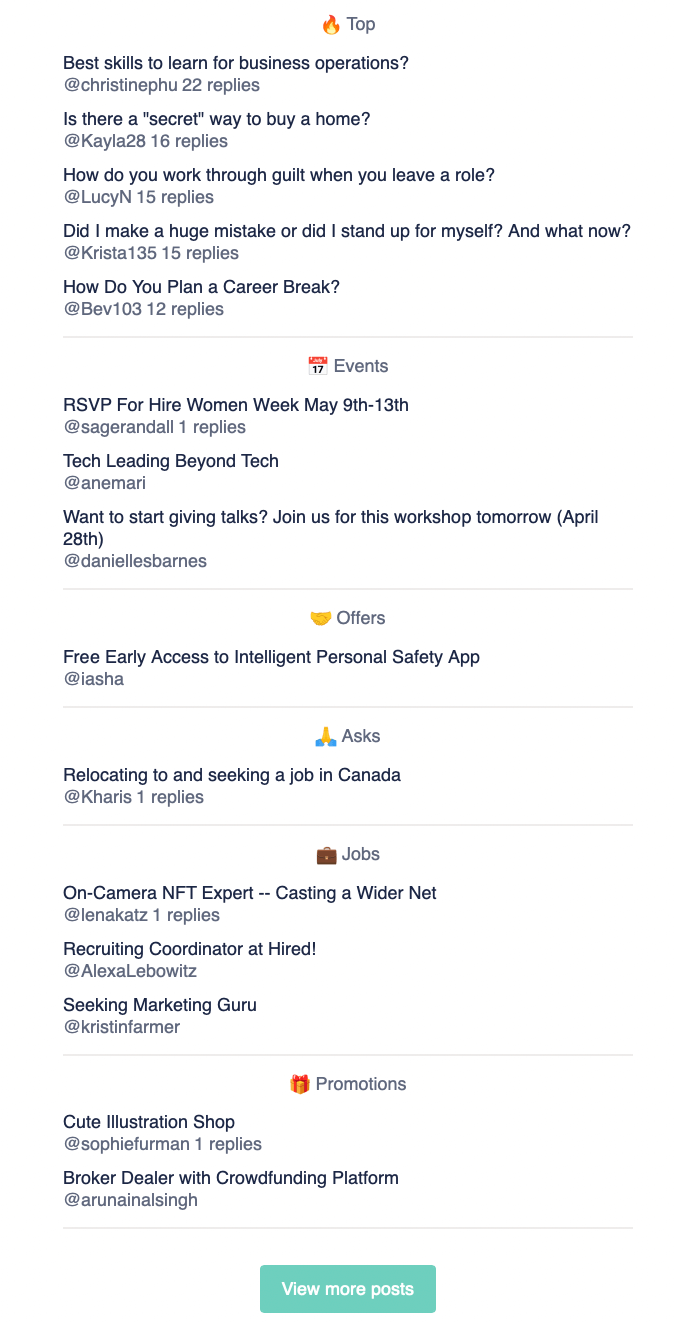 There are truly so many ways you can customize your newsletters. As long as you pack each message with entertaining and useful information, your readers will look forward to receiving these regular emails from your brand. Hopefully, this article has inspired you so you to get started more easily now!
What's your favorite kind of newsletter to receive from brands? Send us a DM or Tweet and let us know!