Just over a year ago, I joined the growing ranks of professionals leaving salaried positions behind to take their side hustles full-time. At the time, I knew I was in for a year of ups and downs and accelerated professional growth—but I still wasn't quite prepared for how the year would unfold.
In the months since, my freelance copywriting business hit six figures, so it's safe to say my leap of faith paid off. I found my footing as the year evolved, but I did learn some unexpected lessons along the way. If your side hustle is on its way to becoming your main hustle, here are the things I wish I knew a year ago!
"Working vacations" aren't vacations—just take the time off!
When I used to dream of my freelance life, "working vacations" were one of the main perks I looked forward to. I thought it was amazing that freelancers could pack up their laptops, jet around the world, and work from anywhere, anytime. I couldn't wait to start crossing new destinations off my travel bucket list—no PTO required.
It turns out that it's easy—maybe too easy—to mix work and leisure time when you make the rules. This year, I've learned that working vacations are actually the worst parts of work and the worst parts of vacations. Instead of the idyllic version I had in my head, I found that working from a new place mostly meant my "vacation" never really became a vacation.
Instead of mixing work and pleasure, I now prefer to get the work done all at once and take shorter vacations that are truly time off. If you're great at working from different environments and think you can enjoy your new locale during off hours, give it a shot and see what happens. But if you thrive on routine and like vacations to feel like vacations, keeping them separate is easiest.
Lesson learned: just because you can work from anywhere doesn't mean you should!
Growth won't always be linear

Before quitting my full-time job, my side hustle had several record-breaking months in a row. It was easy to believe that trajectory would continue, but it didn't. Instead of continuing to increase my earnings each month, I hit a plateau for the first few months of my solopreneur journey. Later in the year, I even had a few of my slowest months to date.

Looking back, it makes sense that my growth was more volatile as time went on. When you start something new, every little improvement or knowledge boost can have a major impact on your growth and revenue. But as you get more of those small lessons out of the way, it gets harder to push the envelope every single month. And that's okay! Now, I prefer to look at quarterly revenue instead of monthly revenue to account for some of that volatility month-to-month.
My quarterly numbers trend positive, so I don't worry too much about a down month here and there. Looking at each quarter holistically also helps me notice trends in seasonality (my business is slowest in the summer, for example), take time off without my goals taking a major hit, and commit to growth strategies that may not generate results right away. The more volatile your industry, the more I'd recommend a longer timeline for evaluating success.
Your well-being is a business asset
While I was building my side hustle, I was so focused on growth that I ran myself into the ground trying to make things work. I had one clear goal as my finish line: to earn as much (or more) from my side hustle as I was bringing in from my salary. As a result, I was often working 12-hour days to hit that milestone while keeping up with my full-time job.
That commitment may have been fine for a time, but it wasn't designed to be sustainable. Now that I've committed to my business for the long haul, my well-being is one of the factors that determine whether I succeed or not. If I get burnt out and fall behind, my work suffers—and there's no one else to pick up the slack. Staying ahead of my own wellness and prioritizing balance are the keys to making sure I can show up and give my clients my best work long-term.
My takeaway? Fill your own cup as you reach your business goals rather than waiting until you burn out (or reach an arbitrary success metric) to "earn'' your rest. When you run your own business, it's a marathon, not a sprint!
You don't have to keep standard 9–5 hours
When I left my full-time job to strike out on my own, I knew that 9–5 hours weren't my ideal work schedule. Despite that, it felt like what I was "supposed" to do, so I forced myself onto that timeline for weeks before realizing I could make my own rules.
I personally work best with one chunk of work early in the morning, a long break (and often a nap!) in the afternoon, and another chunk of work later in the day. I was never very productive during the afternoon slump in the office, so now I work that into my schedule as pre-planned downtime.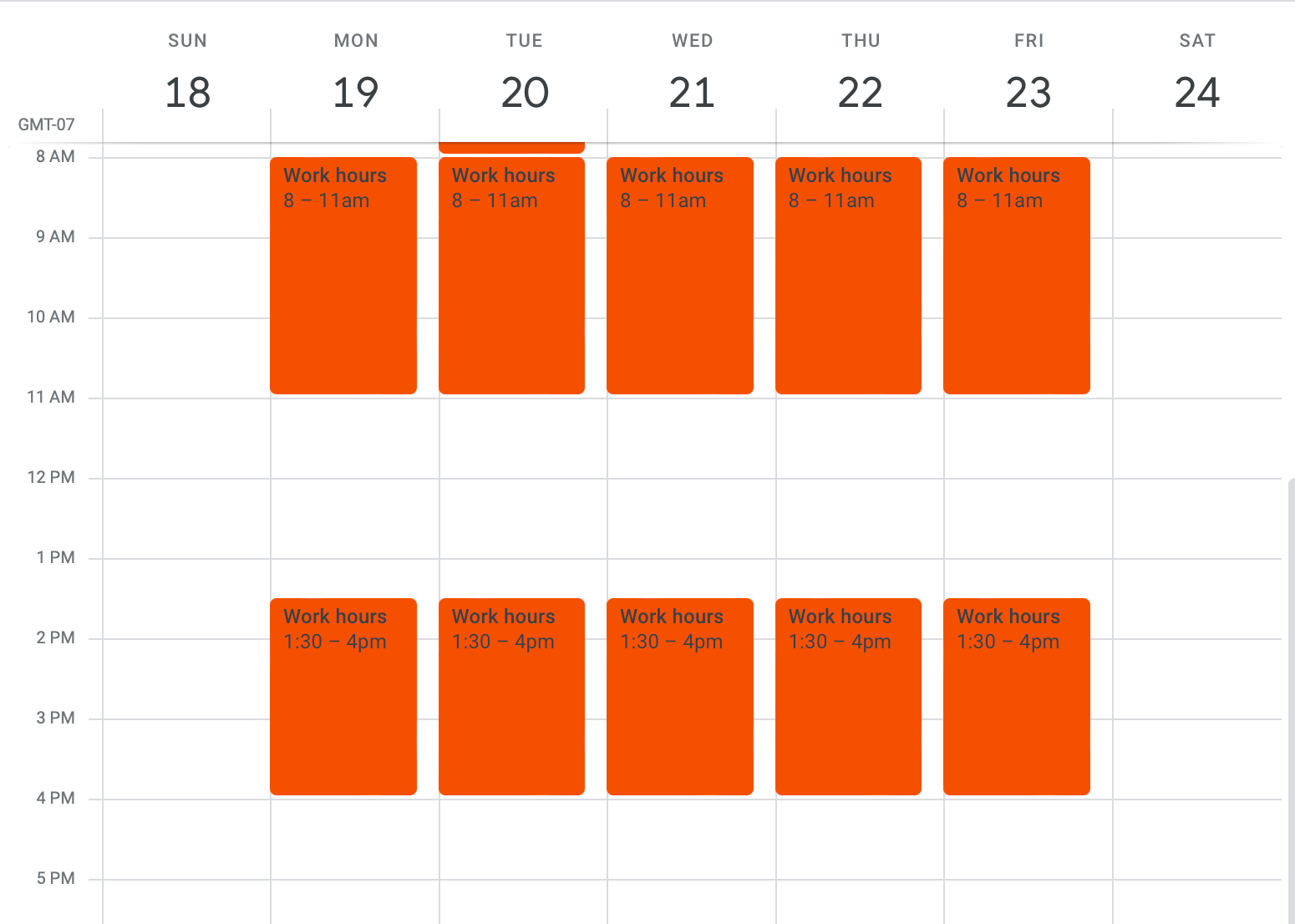 Since adopting this schedule, I'm much more productive than I was on the 9-5 track, and I actually work less. I definitely should have implemented my own schedule earlier in the transition process.
When you set your own schedule, it's important to think about when you do your best work, what other priorities you want to fit into your day, and when clients might expect to hear from you. If that results in a 9–5 workday, that's great—but it might not. The best part of owning a business is throwing out the rule book on what you're "supposed" to do altogether. Instead, think about what actually works best for you and your life, and set up your business practices accordingly.
Final thoughts
Ultimately, it's been an exciting year of personal and professional growth, and I'm not giving up my solopreneur lifestyle anytime soon. But, for the year ahead, I'll do things a bit differently: take real vacations, focus on quarterly growth, invest in my own well-being, and ditch the 9–5 schedule.
If your side hustle is almost ready for the big leagues, learn from my mistakes and implement these lessons sooner rather than later. I promise you'll be glad you did!