Remote work is an amazing way of life for so many people and companies around the world, but it also comes with its fair share of challenges.
Even with the wonderful perks — the flexibility, getting to work where you're the happiest, focused work time, potentially traveling around the world, and more — it's hard to avoid moments of loneliness with this work and lifestyle.
As this is something many of us on the Buffer team experience from time to time, we wanted to collect as much advice as we could and pass it along to you!
So, we decided to partner with our friends at 7in7 — a conference and community for digital nomads, remote workers, and location independent entrepreneurs — to talk about loneliness among remote workers and explore ways to solve it.
We asked the experienced members of the 7in7 and Buffer communities to share their tips, stories, and hard-won lessons from their experiences, and we are excited to pass along their nuggets of wisdom to you!
Why it's important to talk about remote work loneliness
Including my time at Buffer and the year before I started working on the team (when I was working independently), I've been working from home for the past four years. While I love working remotely and am so grateful to work with my amazing team, my biggest challenges are the moments of feeling lonely.
These moments impact my productivity, my connection to my teammates, and my all-around wellbeing, and it's become a big priority for me to find ways to combat this loneliness.
In our State of Remote Work, we learned that 20% of remote workers also feel that loneliness is their biggest struggle with working remotely. Plus, loneliness is on the rise in young adults, many of whom are likely to be the ones to take a chance on remote work.
At Buffer, we've found that putting some thoughtful intention into our days and work weeks can make a huge difference in minimizing feelings of loneliness.
Below, we are going to explore ways that we've found help to conquer remote work loneliness at Buffer, and share advice, stories and learnings from the 7in7 and Buffer communities. Some of these folks work remotely for a company at a home base, some are full-time digital nomads, and others are location independent as they work for themselves. They've all experienced loneliness at some point in their journeys and have come out the other side.
Let's dive in!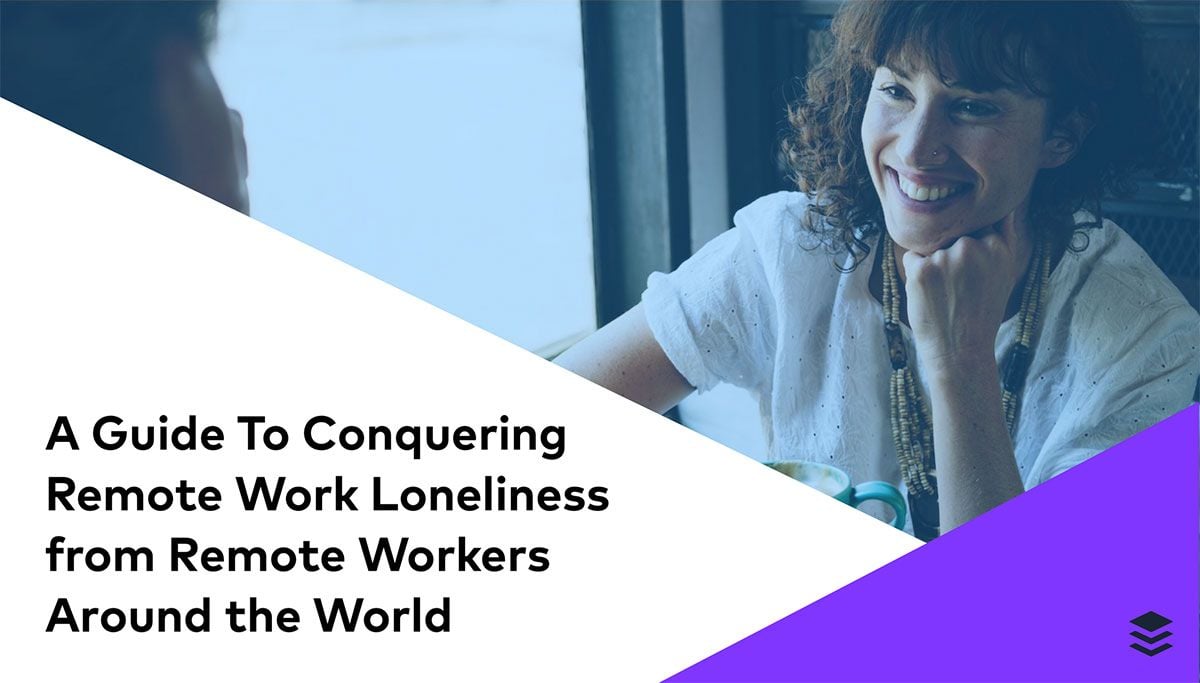 Feel free to jump through the sections
Starting Off as a Remote Worker
Knowing Yourself
Making the Most of Where You Are
Being Part of a Community

Advice on: Starting Off as a Remote Worker
It's often difficult to fully predict what remote work will be like until you actually try it! Still, there are still many things you can do to build healthy habits for a positive remote work experience, sans loneliness, right from the start.
Know that you're not alone in how you feel
From my experience, it's so easy to feel like you're the only one experiencing loneliness, and then to pass judgments on ourselves. Like one community member expressed: "I wish someone would have told me that it would happen in the first place. Everyone talks about the freedom and positives of remote work, so when the loneliness hits for the first time it's a bit overwhelming!"
Similarly, here's the advice that Kit, one of the founders of 7in7, wishes she had gotten earlier in her remote journey:
"Learn from what others are doing, but don't try to be them. It's so tempting to fall into the trap of following in someone else's footsteps, but the truth is there are no shortcuts to building a life you love. So while you can take courses, follow thought leaders on Instagram, and read every advice column on the internet… the work of actually creating your best life is yours alone. Which is freeing and terrifying at the same time.

The best thing I ever learned is that all the most successful people feel stressed, anxious, and unconfident a lot of the time. There is no secret ingredient or finish line. We're all always improving." – Kit Whelan, 7in7 Co-Founder
Incorporate human connection
Many of the folks who join the Buffer team are working remotely for the first time, and we've found it to be incredibly important to help our new teammates learn that human connection is an important part of our remote work culture.
Right off the bat, all new hires get matched with a different teammate every week for what we call "pair calls". It's a chance to get to know someone new (often someone who they don't work with directly), and for each person to share more about themselves, their goals, and the ways they're working on self-growth.
On these calls, our new teammates get to tell their story and have a conversation with someone who is 100% focused on listening to them — which can be quite a meaningful experience. We've found that these pair calls are a wonderful way to gently guide new teammates to prioritize making thoughtful connections with others during their work days.
Susan, a member of the 7in7 community, values hearing someone's voice every day:
"I think the most important thing to combat loneliness is to try to actually TALK to a friend or family member every day. Not just texting. It's important to hear a real voice, the inflections, and laughs which just don't come across in emojis. We are so fortunate now to have Skype, WhatsApp, etc that make connecting so much easier than it used to be." – Susan Colby, 7in7 community

"If you're terrible at keeping in touch (like me!), schedule time to connect with people if you have to. I have an alarm on my phone that goes off at 2pm every day that reminds me to reach out to someone important to me. I like to use voice messages instead of text to feel more connected when communicating and when I schedule a catch up call I treat it like I would if I were meeting someone in person for coffee. It's easy to lose track sometimes and forget to keep in touch but it's so essential in combating the feeling of loneliness as a digital nomad/remote worker." – Kyrie Melnyck, 7in7 Co-Founder
Find like-minded people around you
What's one of the best things to do when you're first starting out as a remote worker? Find other remote workers! Connecting with others in person who understand your work style can be an awesome support system as you acclimate to remote work.
"Find your tribe i.e. people who work and live in a similar way." – Laïla von Alvensleben, Buffer community
While it can be exciting to get out of working in a traditional office, it takes a bit of intention to replace the built-in connections that come with an office. Like Nisha explains:
"When you work in a set office, the environment is constant and you're always surrounded by like-minded coworkers. Having the freedom to work from anywhere is great, but also means you're going to have to go out of your way to find inspiring and productive work environments. It takes time to find your groove!" – Nisha Garigarn, Buffer community

Advice on: Knowing Yourself
One of the most significant things that happens when you start working remotely is that you learn a lot about yourself. You start to understand how you work the best, when you work the best, what your energy levels are throughout the day, how you need to recharge, and much more.
You might discover that, for certain work, hunkering down by yourself in a quiet home office is the key to feeling productive and fulfilled and, for other work, hopping on a video chat with a teammate is just the ticket to getting more done and feeling more connected.
That balance might work for you, or you might really need to be around people every day! Whatever the case may be, when you know yourself and your people-related energy needs well, you'll be able to conquer any feelings of loneliness that trickle in throughout your day.
Understand your own unique personality type
At our team retreat in Madrid in 2017, the entire Buffer team took the 16personalities test, and it was a fantastic way to learn more about ourselves and our fellow teammates. If you haven't taken a personality test before, I highly recommend trying out this one or another one!
For me, one of the most important things I've learned about myself through working remotely is that I am an extrovert, through and through. I recharge my energy levels by being around people, so when I feel sluggish or disconnected during a work day, I know I need to leave the house and find someone to talk to. Knowing this information about myself can help me proactively plan my weeks so that I can replenish my energy while getting lots of focused work done.
Take time to reflect on your needs
In order to really dig in and learn about ourselves, we need to set aside the time to do it. Here's Kit's advice on why and how to do this:
"Often when we first strike out on our own, we feel like a lone explorer setting out into the great unknown. That can be a great opportunity to learn about yourself – what you like, how you work, what you need to be happy. But it's not sustainable for most of us.

So my advice is to use that time to really dig deep and try to understand what makes you tick. This can be difficult when you feel like you're scrambling to find your footing, but taking time for yourself, whether it's through long walks, journaling, or meditation, is key.

Then, when you're ready to find your community and truly craft a life that works for you, you will know exactly what you need. And if you're well past the lone wolf stage of remote work… well, there's no time like the present to get to know oneself!" – Kit Whelan, 7in7 Co-Founder
Through reflection, you might discover that working by yourself is actually really wonderful for your productivity and that the workday is not when you need that connection with others. Amna, a full-time digital nomad, knows herself well:
"I think being able to work alone happily makes you feel less lonely. I enjoy coworking but often get my best work done alone. When I'm done working, I enjoy company but it means those hours of working are ones where I almost never feel lonely." – Amna Shamim, 7in7 community
Incorporate right amount of variety for you into your days
Once you know how you work the best, you can structure your work days to help you feel as connected as you need.
For me, this means making sure I schedule days working in coffee shops, meeting up with fellow remote working friends, or heading to a coworking space, so that I'm not home alone every day of the week.
In addition to a variety of environments, variety can also exist in the kind of work we're doing. Mixing up a work day with solo focus time, collaborative group projects, and video chats with teammates can be a fantastic way to bring new and different energy to your day. Kirsten and Alicia share their experiences with this:
"When I'm blogging I concentrate for hours at a time and don't feel lonely. When I'm doing other work it would be nice to have someone to share opinions with, and doing it on Slack is not quite the same as in-person pair work. On the other hand, working in group projects and using video calls extensively is almost like being in the office and is a good way to reduce feelings of loneliness." – Kirsten Ruffoni, Buffer community

"I work best in quiet areas where I can concentrate – because of this I do most of my work alone which contributes to my loneliness. I get relief and a sense of balance from a sprinkling of meetings and virtual tea times with my coworkers." – Alicia Suttie, 7in7 community

Advice on: Making the Most of Where You Are
Whether you work from home, in a city, in the country, at coworking spaces, or from coffee shops, loneliness can kick in anywhere. There are many ways to feel more connected in whatever situation you are in.
Allow for serendipitous interaction throughout your day
While it is easier to stay at home every day, it can really help to put yourself in situations that lend themselves to opportunities to talk with other people. One of my Buffer teammates, Adam, shares his story:
"This past winter was a rough one for me. The kids were at school and [my partner] was helping a friend by watching her baby as she returned to work. That left me at home by myself for majority of the day. It forced me to be intentional with my morning schedule to then allow me to get out of the house and I found that it forced me to be intentional with my interactions during the day. Where I typically like to slip in and out of places – I started to hold a few conversations here and there and casually chat about things. Purposefully putting myself in a position to interact with others – no matter how I felt initially about getting out of the house – was such a huge part of my 'winter survival.'" – Adam Farmer, Buffer community
When I work from coworking spaces, I really like to take the opportunity to build connections with the people around me. The kitchen area tends to be a really awesome space for this, in almost every coworking space I've been in, and Kat agrees:
"When visiting a coworking space, it's important to take time out to chat with people in the kitchen or grab a coffee with someone in the cafe. Don't be afraid to reach out in Slack and find some people to meet with!" – Kat Loughrey, Buffer community
Sometimes, simply having a routine out and about can help to make the world feel a little less small:
"A few tips I have would be: if you can set up a routine of sorts, like working in the same coffee shop or coworking space, you'll run into the same people (and hopefully feel less isolated). And giving yourself permission to balance the familiar with the unknown, which I find gives me more energy/capacity to seek out social interactions." – Grace Taylor, 7in7 community

"Go outside and talk to people. It's not that hard to become a regular at the cafe up the street, the bar with the good tapas or even the ice cream shop. You can chat with the doorman at your building (assuming you have one) or the cashier at the grocery store. Not every connection needs to be deep but when someone remembers your name and/or a little bit about you, you're less likely to be lonely." – Amna Shamim, 7in7 community
Slow down, no matter where you are
Whether you live in a big city or a small town, one of the best ways to feel more connected is to, simply, appreciate the world around us.
"Since working remotely, I've lived in both a large city and a small rural town, and surprisingly I'm less lonely in the small town due to the increased sense of community and opportunities to connect on a personal level." – Mark Potter, 7in7 community

"Going on walks in new cities or enjoying a slow morning at a coffee shop before I begin working for the day help me feel connected to my environment." – Jacqueline Jensen, Buffer and 7in7 communities

Advice on: Being Part of a Community
As a community builder myself, this one is my favorite.
To me, being part of a community is more than simply being in the same space as others. It's the experience of connecting with others who share your values, or appreciate the same things you do, or want to support you or share an identity in some way with you. And that's a powerful thing.
A community can look like a small group of people that do things together, an online forum, a local group in your neighborhood, a regular conference, and many other forms as well. Whatever form it takes, being part of a community allows you to feel connected to other people, no matter where you are in the world.
Get involved with an online community
In this day and age, there are so many communities forming in a plethora of online spaces. There are Slack communities, Facebook groups, Twitter chats, and private community forums that bring people together — I encourage you to try a few out until you find where you feel the most connected!
As remote workers at Buffer, we know how valuable it is to be part of a community, and so it's important for us to create that experience for our users. Our community has become a space for Buffer users, social media marketers, and anyone else interested in learning more about social media to come together and support each other's growth.
I always encourage people to step out of their comfort zone when joining an online community space — in my experience, you get out what you put in! When you offer others advice about the challenges they're experiencing, or start a conversation about something you're passionate about, or simply say hello and introduce yourself, that's when the good conversations can really start.
Jennifer decided to build her own online community after experiencing the nomadic lifestyle:
"Through my Facebook Group, Digital Nomad Girls, which I started within a few months of going nomadic, I have met dozens of incredible women from all around the world." – Jennifer Lachs, 7in7 community
Be open to new community experiences
Whether you're digital nomading around the world or working at your local coffee shop, keep your eyes and ears open for opportunities to meet others.
Perhaps you'll hear about a coworking space you didn't know about, or an event coming up that's right up your alley. Often, simply smiling and say hello to someone in a coffee shop can lead to wonderful conversations, or perhaps something more. For instance, Erin happened upon an awesome, local, in-person community meetup while traveling:
"While it may seem counter-productive to be social during work days – I've found that this energy makes me do BETTER work in a more efficient manner. It makes me happy and I feel connected.

THE best scenario I've experienced in my 1+ year of traveling and working was when I was in Valencia. A local English expat had cultivated this amazing group of people by partnering with a local cafe with a long conference size table in the back to host a weekly co-working meet-up. During the day, people came and went. There were little breaks of conversation and shared smiles across laptops, but it was very productive. Then, as happy hour rolled around, laptops would close and you'd share some wine and head to dinner as a group together. This was the fastest we've ever been plugged into a community of friends and it was a great mix of GSD and feeling like you belonged :)" – Erin KM, 7in7 community
Embrace 1:1 connections
Inevitably, through these communities, you'll meet others — online or in person — who you really connect with. The next step — cultivate these relationships! Suggest a lunch together, a virtual coffee chat, or even a twitter conversation back and forth. It's great to have a go-to person or people who you can reach out to when you're feeling especially lonely. One community member shared this tactic for maintaining an accountability partner:
"Having accountability partners helps tremendously; people who work in entirely different fields but understand what it's like to not be surrounded by colleagues. A weekly Monday morning sit-down over a cup of tea (in person or by Skype) to discuss weekly goals and the prior week's accomplishments helps keep the loneliness at bay." – Anonymous
And to sum it up, Laïla says it well:
"I think the only way to conquer loneliness is via real, human connection." – Laïla von Alvensleben, Buffer community
At the end of the day, the best solution I've found to remote work loneliness is to talk to someone about it — a boss, a teammate, a spouse, a friend at home or a friend online. When you open up and share what you're feeling, you give someone the chance to support you and, in my experience, that's when the loneliness tends to slip away.

Over to you
What do you do to combat remote work loneliness? What other advice would you give to folks just starting out as remote workers? We'd love to hear your thoughts in the comments below!
P.S
We did a Facebook like with myself and Kit from 7in7, check it out for even more tips on conquering remote work loneliness!
(function(d, s, id) {  var js, fjs = d.getElementsByTagName(s)[0];  if (d.getElementById(id)) return;  js = d.createElement(s); js.id = id;  js.src = 'https://connect.facebook.net/en_US/sdk.js#xfbml=1&version=v3.1';  fjs.parentNode.insertBefore(js, fjs);}(document, 'script', 'facebook-jssdk'));
Discussion on: remote work loneliness

Join us as we discuss an important issue with our friends at 7in7 Co. — how to conquer remote work loneliness. We have stories, advice and tips to share with you! Feel free to post any questions that come to mind, and we'll do our best to answer them. :) See you live on June 14th!

Posted by Buffer on Thursday, June 14, 2018
Cover photo by rawpixel