Rodolphe Dutel, Buffer team member and founder of Remotive, recently joined us to discuss remote working.
Rodolphe has spent many months traveling and working from all corners of the globe and has even sailed across the Atlantic Ocean. He brought many of his lessons learned, tools of the trade and general advice to #bufferchat!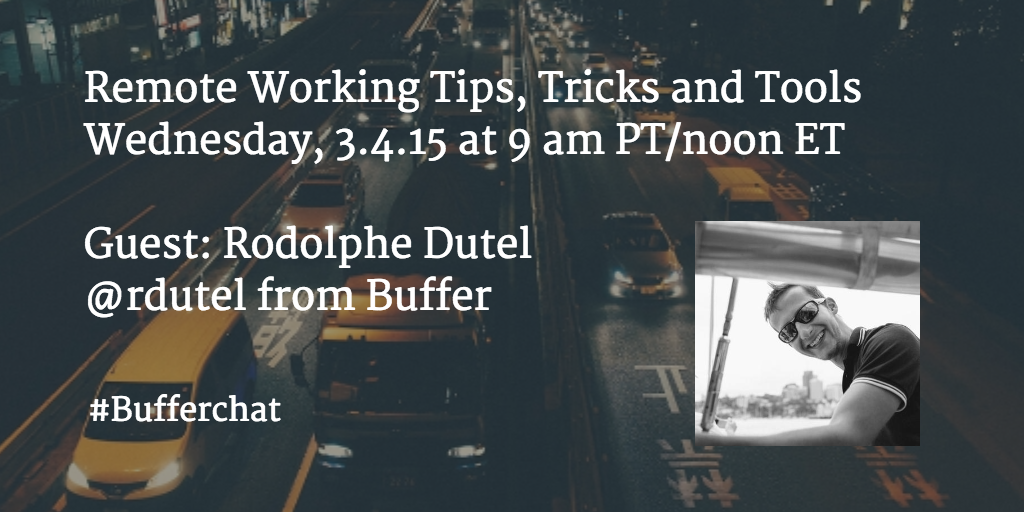 Catch all the great tweets from the chat here, or read on for the highlights:
How do you define "remote working?"
From Rodolphe:
Remote working is the ability to work from anywhere, with/for people that can be located anywhere too! :)
More great insights:
"Remote working is working from anywhere that's not the actual, physical workplace. Even if both are in the same town." @V4Violetta
"Remote working is the freedom to be wherever you do your best work." @Tylerrobb
"Being anywhere in the world, fulfilling the requirements of a job with support from others only really via technology" @rebeccalouiseee
What are some of the major benefits working remotely?
From Rodolphe:
I truly enjoy the flexibility remote working brings, you get to manage your energy and your time every day.
Remote working allows me to spend quality time with friends & family and to travel more (up to 50% of my time)
I love @joelgascoigne's answer: people choose ideal work environment (home, office), instead of forced into 1 setup by company
More great insights:
"It can also save both the company and the employees money, with rent/utilities for the biz, and commute for the emps." @bberg1010
"Working remotely = increased productivity due to less distractions/people stopping by." @The_ChrisBryant
"I truly believe if we eliminate "rush hours", the world will become a better place with less stress, more empathy :D" @julietchen
Where do you find yourself most productive? On a plane, train, or maybe even the coffee shop?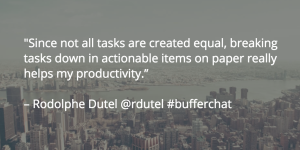 From Rodolphe:
Since not all tasks are created equal, breaking tasks down in actionable items on paper really helps my productivity.
I'm a fan of mixing locations: Mornings at coffee shops, afternoons in a coworking space & evenings at home :)
More great insights:
"I do my most productive thinking & planning from my backyard." @LMHinz
"Not any particular physical place, but with a good cup of coffee and sweet music pumping through my headphones." @KeewonMa
"My balcony has some magical power…it's by far the most productive space for me…maybe bc I'm removed from distractions" @apartmentalist
What are some tools you use to keep on-task and organized while on the go?
From Rodolphe:
More great tools:
How do you network and meet people without an 'office' environment?
From Rodolphe:
Socializing as a remote worker is tricky, at @buffer we're lucky to meet up every 5 months through our retreats
More great advice:
Is working remotely the future of work?
From Rodolphe:
There will be about 40 million of full/part time independents workers in the US by 2019 (source @MBOpartners) :)
Also, cost savings for companies & time savings for employees – remote working in gaining a lot of grounds!
Remote is an evolution of today's workplace and will certainly be offered as an option for workers in the future
Workers will be able to experience remote, and see how it feels for them to work & interact this way
Hiring talent from anywhere will help building amazing and diverse teams!
More great insights:
"It as the future of work is probably a stretch. More orgs will definitely redefine their model to include remote work." @2025Solutions
"I think part-time WFH, like on Fridays or in the AM to avoid traffic, is a great "future shift". @avizuber
"Some people want/need an office or group environment. But for those that want to be remote, I think it will become easier." @Odalis_SM
What are some helpful blogs and resources on remote working?
From Rodolphe:
More great resources:
Thank you so much for everyone who joined in on this great chat!
Do you have any comments or answers to these questions? Leave your thoughts in the comments! We'd love to hear from you!