---
Reddit is one of the most vibrant communities on the Internet and a powerful source of attention. A positive Reddit mention can mean thousands of visits to your website or your product.
Your audience may be there. Opportunities certainly exist there.
Should you be there, too?
It's a tricky question to answer because one of the first rules for marketing on Reddit — one of the first rules for marketing on any social media site, really — is that you have to be genuinely engaged and committed to the communities you're part of.
But there's good news. You can gain so much from the awesome people at Reddit whether or not you have the time to fully dive in. Yes, there are marketing tactics to drive meaningful traffic. But there are also a handful of other ways to benefit by learning from the community, engaging with the community, and building a thoughtful Reddit strategy.
We'll talk about it all in this post. Come along!
---
About Reddit Marketing
Reddit is one of the most vibrant communities on the Internet. And one of the largest, with over 300 million active users.
To put that in perspective, that's more than …
Twitter
LinkedIn
Snapchat
Pinterest
Yet when you hear about strategies for marketing to social networks, you rarely hear about Reddit.
This isn't to disparage all the great guides that people have written about Reddit marketing. They're really good! These guides have some great tips in them, which we'll do our best to condense into the most actionable takeaways that you can put to good use today.
So why does Reddit fly under-the-radar when it comes to social media marketing options?
Well, one of the key things to note about Reddit is that it's not exactly welcoming to organic, native promotion. Reddit wants authentic contributions — which of course makes sense. That's how the best social networks thrive!
This ethos is really well-captured in this phrase from Reddit's community guidelines:
It's perfectly fine to be a redditor with a website, it's not okay to be a website with a reddit account.
Hmm, well, all of us brands and businesses are definitely websites. What are we to do?
One great thing about Reddit is that, while its guidelines are protective, they're not meant to be exclusionary. There are ways for marketers to make use of Reddit in many ways, whether you're interested in becoming a redditor or not, and whether you're looking for organic or paid. Even if you don't have time for full-scale Reddit marketing, there are ways you can gain from the Reddit community.
---
Reddit Marketing Strategies
---
1. Use Reddit as a Customer Research Tool to Find the Latest Trends
We believe this strategy can work for all marketers — whether you're a redditor or not, and even if you only have small pockets of time to commit.
The great thing about this tip is that it doesn't require you to devote yourself to becoming a seasoned Reddit contributor. Anyone can use Reddit for research, right now. It only takes a few minutes, and there's a ton to gain for your marketing.
The premise is simple:
You can gain marketing insight by using Reddit as a research tool to see what people are talking about and what's trending right now.
Step one: Find the subreddits that are relevant to your brand or business.
This will come in handy for the Reddit strategies we mention later on, too.
There are a couple different ways to search for subreddits. You can go straight to Reddit and search for the topics that you're interested in. The search results will show you a list of suggested communities to join as well as a list of the most popular content related to your search term.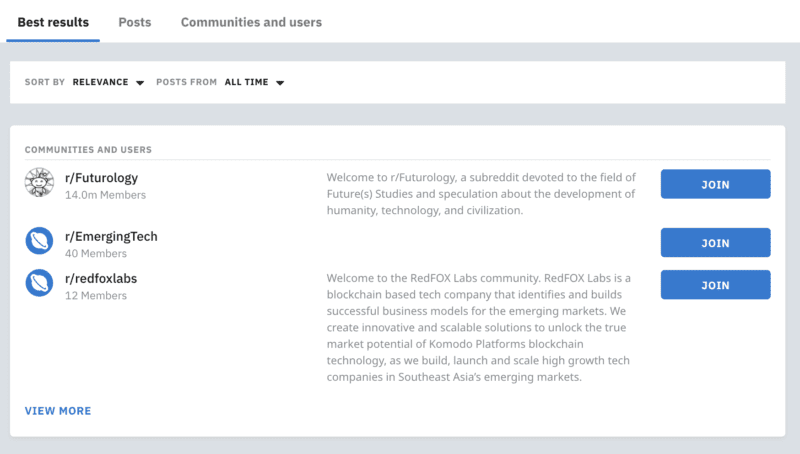 Another way to find subreddits is on a subreddit itself. The subreddit "find-a-reddit" is a place for people to ask questions about certain topics and then the community responds with ideas of subreddits to join.
Also, there are some great third-party options for subreddit searches. too.
One of the best is Redditlist which aggregates the most popular subreddits and lets you search for keywords. Also, Redditlist gives you some neat data on the subreddits, like how many subscribers it has and how fast it's growing.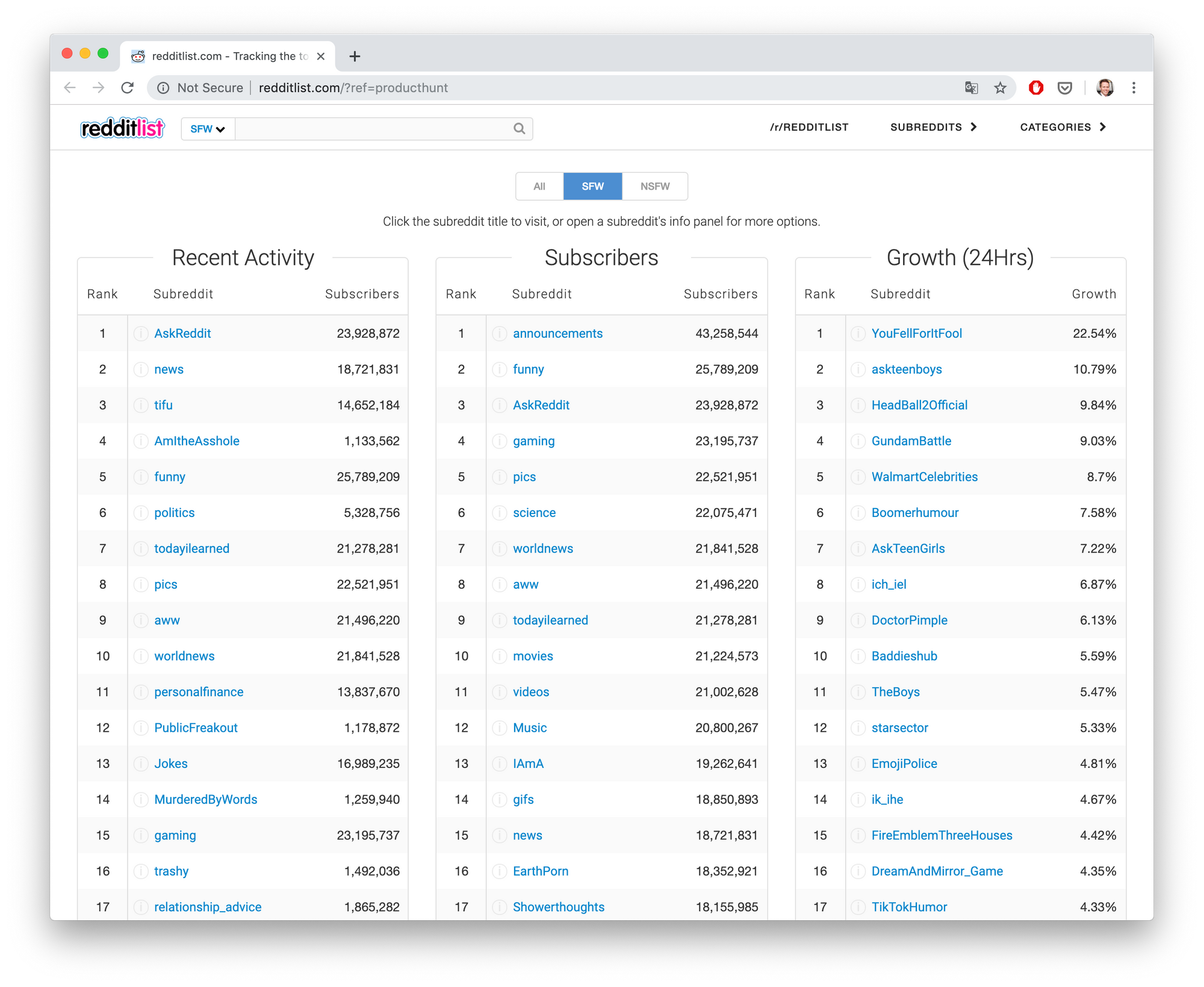 Generally, the larger the subreddit, the faster you'll be able to gain research insights. And of course, when you get into advertising potential, the larger the subreddit, the larger the audience.
Once you've found your "people" on Reddit, the next steps for researching are totally up to you.
You can go the super manual way and just navigate to each of the subreddits directly and browse them. If you go this route, I'd recommend setting up a regular reminder to visit things daily or weekly, depending on the volume of the subreddit.
And another way that works really well if you're doing research or content at scale is to plug your subreddits into a content aggregator like Feedly. We do this for social media content on our Buffer feeds. This will pull in all of the subreddit threads directly into Feedly where you can browse them cleanly all at once. We've gained a lot of insights into social media trends by following Reddit conversations over the past months.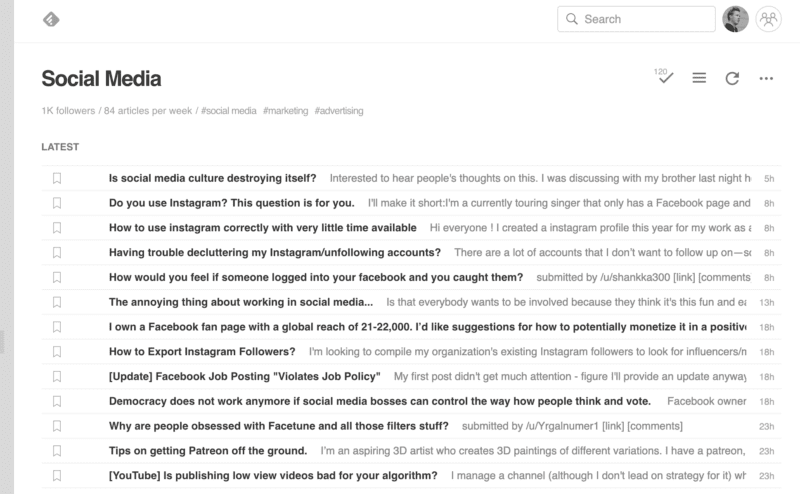 The one thing missing from the Feedly approach is going to be the upvotes and rankings for content. You won't see this in Feedly. So what you can do instead is sort the content using Feedly's popularity option, which scores posts according to their popularity on Feedly and other platforms.
Then just like that, you've built your research engine. You can use it for things like:
Hearing what questions people are asking
Noticing what topics are getting the most attention
Keeping an eye on upcoming trends and competitor products, and
Catching news stories you might have otherwise missed
While we're on the topic of research, let's go to our Reddit strategy number two, which you can also put to use whether you're a redditor or not.
---
2. Use Reddit to get ideas on how to write catchy headlines
One factor into why content does well on Reddit — other than the quality of the content itself — is how something is framed or worded in the title. Redditors make great use of this space to show off what their post is about. Marketers can learn a lot from this!
You can observe the copywriting on Reddit to see what kind of styles are resonating with people and getting upvoted. Anything at the top of your chosen subreddits will be good to see. You can also go to the Reddit homepage or the subreddit "all" and check out the most popular posts across all of Reddit.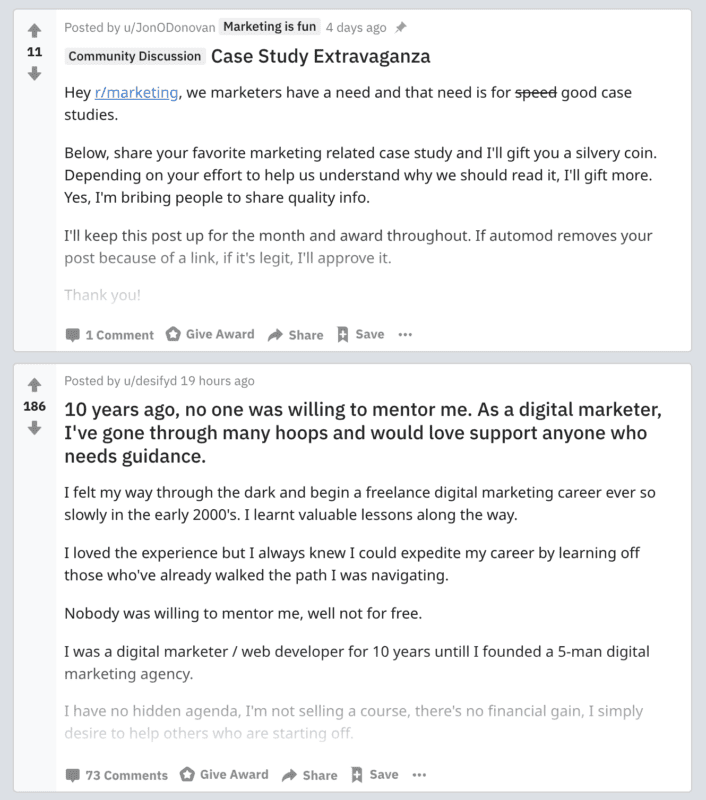 Then you can use these writing insights to feed back into your blog post headlines and email subject lines, just like that!
---
3. Connect with people on Reddit who want to engage with your brand
Though Reddit might not want marketers in their midst, the topics do occasionally shift to products … maybe even your product. A good social media practice is to be present with your customers and audience wherever they are, which means lending a listening ear to Reddit.
You can do this with a manual search, keeping tabs on any brand mentions that happen to come in. You can also look into some social support tools that have this functionality built in.
When you're choosing to respond, be sure you understand the context of the conversation you're jumping into, then feel free to jump in and be helpful. There's a fear with marketing on Reddit that the backlash for bad marketing can be swift and severe. But If you approach your conversations with authenticity, then you should be in good shape.
---
4. Get more traffic from Reddit (the right way)
When people talk about Reddit marketing, they're often thinking of ways to get traffic from Reddit to their website. If you're interested in using Reddit for referral traffic, then let's start with some of the advice we mentioned earlier …
First and foremost, you must be an authentic contributor to the Reddit community.
There's no way around this. If you want to drive organic traffic from Reddit, then you can't just show up and promote your stuff. You have to genuinely take part in the community.
The only other shortcut to Reddit traffic is through advertising, which we'll get to in a minute. But for organic referral traffic from Reddit, it all starts with you getting involved.
And once you're involved, here are the next steps to follow.
1. Find your ideal subreddits.
Again, you can do this by searching Reddit or by using a tool like Redditlist.
2. Understand the Reddit demographics
On the macro scale, Reddit's primary demographic is males between the ages of 25 and 44.  The overwhelming majority of users come from the U.S., in particular San Francisco and Seattle.
But that's by far not the only crowd that's on there.
Especially with Reddit's subreddit system, you can find huge pockets of engaged communities that are specific to your niche.
So when it comes to your Reddit traffic strategy, you can take a couple of different swings:
You can swing for the fences and aim to reach the front page of Reddit, where everyone can see your content.
Or, you can target specific niches on subreddits. These will have lower reach than the 330 million users we talked about earlier, but they do have significant sizes: Many subreddits boast 100,000 and more users.
Here are a couple more things to keep in mind if you're looking to get traffic from Reddit.
---
5. Earn karma points by giving value to the community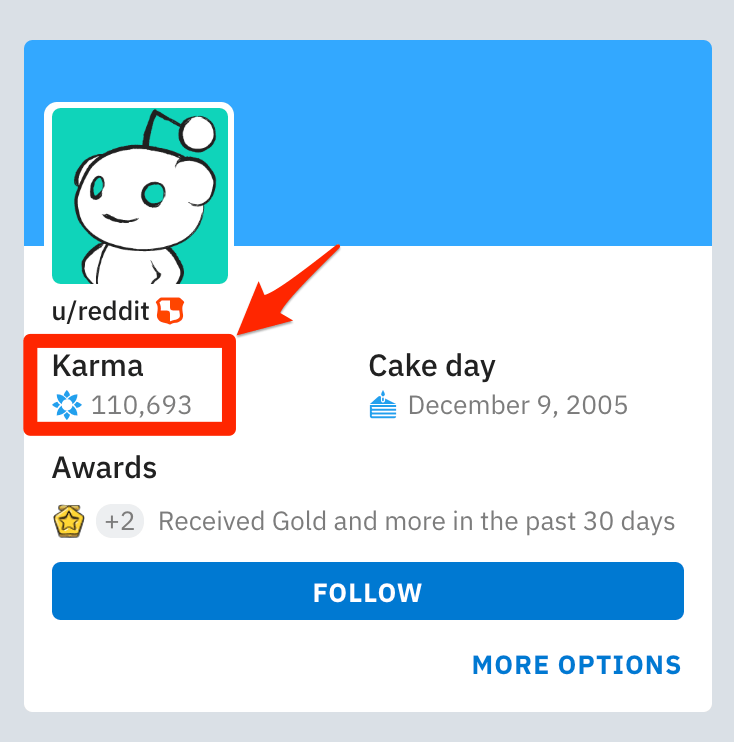 Karma points function as a scorecard for Reddit users and are earned every time you share links and comments. These links and comments can be upvoted or downvoted, which corresponds to the rising and falling of your karma.
To be successful on Reddit, you need to build up your karma points. At least a few hundred points are needed to show that you're serious about taking part in the communities. Some subreddits even require a minimum amount of karma before you can post.
Karma points don't necessarily affect the virality of your content, but they are a good signal to your fellow redditors of whether you're on Reddit to genuinely be involved or whether you're just there to self-promote.
When you're building up karma points, there are a couple of workflows that can help …
Get involved in popular subreddits like today-I-learned and Ask-Reddit. These are some easy, breezy places to get started with commenting.
And when you're link sharing, you can build Reddit into your usual content workflow and share to Reddit anytime you would share to Twitter and Facebook, too.
Ok, now when it comes time to post your content to Reddit, here are some ways to make sure it gets as much traction as possible.
---
6. Reverse-engineer the popular headlines of your subreddit
Like many things on social, one of the key aspects will be the title. The same goes for Reddit threads.
Look at the structure of how these titles are created. Notice what gets upvoted and what doesn't. Then you can take these insights and put them back into the title that you write.
On the Grow and Convert blog, they talk about a couple of headline formulas that work really well on Reddit.
The first is …
Need [x]? Here's [y]
For example, you could say: Tensed shoulders? Try these few stretches (very work-friendly!)
And the second headline formula is …
[specific time before] I [did something]. I will now [explain to you/share even more detail/teach you how/explain what happened].
And an example of this is: 3 months ago I posted the exact process on how I made $150,000 selling T-shirts on Amazon. I will now explain the exact steps you can take to earn your first $1,000,000 selling on Amazon via the Shopify integration with ZERO inventory.
The Foundation blog also did a study on Reddit titles, and they found some general rules to follow.
Posts with titles between 60 and 80 characters got the most upvotes.
Posts with titles that were longer than 120 characters or shorter than 20 characters fared the worst.
And their overall advice probably sounds familiar: The best approach to ensure that you're writing a title is to review the top 15-20 posts within a subreddit.
The research really pays off!
Additionally, it's worthwhile to pay attention to some of the trends on Reddit. For instance, the most frequently used phrase in titles is "if you have …" which is very similar to the "need this? try this" formula that we mentioned a moment ago.
And another favorite topic of redditors is year-end lists or year-ahead posts. Some of the most common numbers in titles are years like 2018 and 2019.
So if you authentically engage with the community and write good content with titles that resonate, then you stand a great chance of succeeding on Reddit. One last tip we'll mention is about promoting your content on Reddit … in addition to posting on your chosen subreddit, you can also
---
7. Cross-post to other subreddits to make sure it's seen by as many people as possible.
When you do this, you can click the "cross post" button at the bottom of your original thread to cross-post it to any other subreddit. One thing to note: You'll want to use this strategy wisely and not be overly promotional with every post you share.
---
8. Use Reddit paid ads to place your content
Reddit advertising is in its early stages compared to other social sites, so there's still room here to get good returns.
Reddit advertising works on a cost-per-click basis. You can optimize your campaigns for reach, video views, traffic, and conversions. The video views are especially great because videos are one of the most engaging types of content on Reddit.
For targeting, you can choose to show your ad to all of Reddit or you can focus on certain subreddits.
There's a neat case study on how the search engine DuckDuckGo found really stellar success with Reddit advertising.
---
How to say hello to us
We would all love to say hello to you on social media – especially Twitter!
Thanks for listening! Feel free to connect with our team at Buffer on Twitter, Buffer on Facebook, our Podcast homepage, or with the hashtag #bufferpodcast.
---
About The Science of Social Media podcast
The Science of Social Media is your weekly sandbox for social media stories, insights, experimentation, and inspiration. Every Monday (and sometimes more) we share the most cutting-edge social media marketing tactics from brands and influencers in every industry. If you're a social media team of one, business owner, marketer, or someone simply interested in social media marketing, you're sure to find something useful in each and every episode.  It's our hope that you'll join our 27,000+ weekly iTunes listeners and rock your social media channels as a result!
The Science of Social Media is proudly made by the Buffer team. Feel free to get in touch with us for any thoughts, ideas, or feedback.