What do you do when the product you're supposed to market is a dictionary?
You make it fun, interesting, and bold!
That's exactly what the team at Merriam-Webster did when they started experimenting on Twitter with, well, being themselves. Since then, their account has grown by more than 200,000 followers in just one year – gaining the attention of major publications like Mashable, BuzzFeed, NPR (and more) and winning awards along the way.
The brains and voice behind the operation? Lauren Naturale. Lauren shares insights into the success Merriam-Webster has experienced since they began experimenting with developing a unique and memorable brand voice and how your brand can find and develop your own.
A huge thank you to Lauren for loading this episode up with actionable wisdom and takeaways for social media managers and marketers looking to stand out by creating a powerful brand voice on social media.
This episode is available on:
In this episode, here's what you'll learn:
Lauren Naturale shares her expert insights into how Merriam-Webster has developed one of the most powerful and unique brand voices in the industry, which has led to major social media growth. You'll also learn other great insights like:
How brands and businesses can build a voice of their own
Utilizing company personalities to build a social media following
Why it's important to let your brand voice develop naturally
Some of the most successful Merriam-Webster Tweets and why they worked
How your brand voice will evolve and grow over time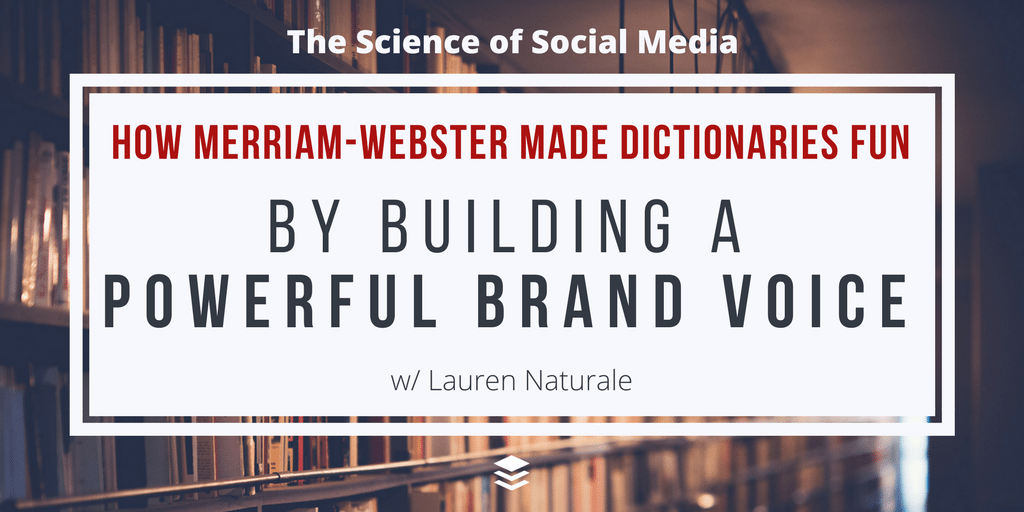 3 Key Takeaways for Brands Looking to Develop a Unique Voice on Social Media
In Lauren's words…
1. Be authentic
2. Listen to your audience
3. Communicate with your coworkers
A Great Moment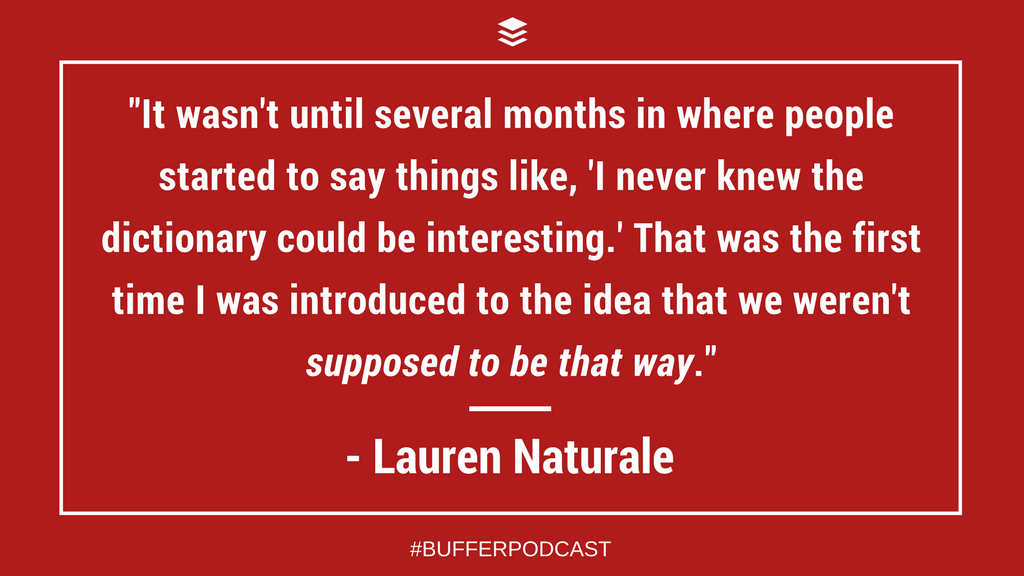 "It wasn't until several months in where people started to say things like, 'I never knew the dictionary could be interesting.' That was the first time I was introduced to the idea that we weren't supposed to be that way."

– Lauren Naturale
Awesome People and Stuff Mentioned in the Show
Favorite Quotes
The way that we've always described Merriam is that we want to be authoritative without being authoritarian… The smartest people are the ones that are interested in the world and other people.
It wasn't until several months in that people started saying things like, "I never knew the dictionary could be interesting." It happened very organically.
The brand voice is how we talk to each other in the office. It's not like some sort of marketing construct where we had a meeting and wrote down a bunch of adjectives.
To succeed, you really need to have a deep understanding of the brand and who you're working with.
Having a specific brand voice has been tremendously powerful in us growing our Twitter account over the last year. People are now coming to us on social media looking for that voice.
Know your brand in-and-out. Know why people like it and what people are looking for… and you should love it yourself!
If you're faking it and you don't actually like what you're talking about on social media, people can smell inauthenticity and insincerity from a mile away.
The spontaneous stuff doesn't always happen right away, but if you develop a relationship with your readers good stuff starts to happen for your brand.
How to Say Hello to Lauren (and us)
If you're looking for one of the funniest, smartest, and wittiest accounts on Twitter, then Merriam-Webster is the one to follow! The brains behind it all? Lauren Naturale! You can connect with Lauren on Twitter here or on LinkedIn here – she would love to say hello.
Thanks for listening! We'd love to connect with you at @buffer on Twitter or with the hashtag #bufferpodcast.
Enjoy the show? It'd mean the world to us if you'd be up for giving us a rating and review on iTunes!
—
About the Show
The Science of Social Media is a podcast for marketers and social media managers looking for inspiration, ideas, and results for their social media strategies. Each week, we interview one of the very best in social media marketing from brands in every industry. You will learn the latest tactics on social media, the best tools to use, the smartest workflows, and the best goal-setting advice. It is our hope that each episode you'll find one or two gems to use with your social media marketing!
The Science of Social Media is proudly made by the Buffer team. Feel free to get in touch with us for any thoughts, ideas, or feedback.