We're a fully remote team and have been since our start. We've also known the importance of meeting in person since the team started growing. For that reason, we never go too long without finding a way to get Buffer teammates together.
There's just something about meeting in person that you can't replace with video chats. (Maybe with VR one day!)
To make meeting in person possible, we set aside a budget every year to send the whole Buffer team on a retreat. (Here's a bit more on how we plan retreats for a team of over 75.) Once a year, each individual team area also gets together on a "mini retreat." If everything works out properly, Buffer teammates should get to see their colleagues at least twice a year, or more if they live in a city where there are lots of Buffer folks around (like New York or London).
In this post, we'll look over some of the science behind why meeting in person is so powerful, plus we'll share the location of our upcoming 9th retreat (or you can jump to that section now!)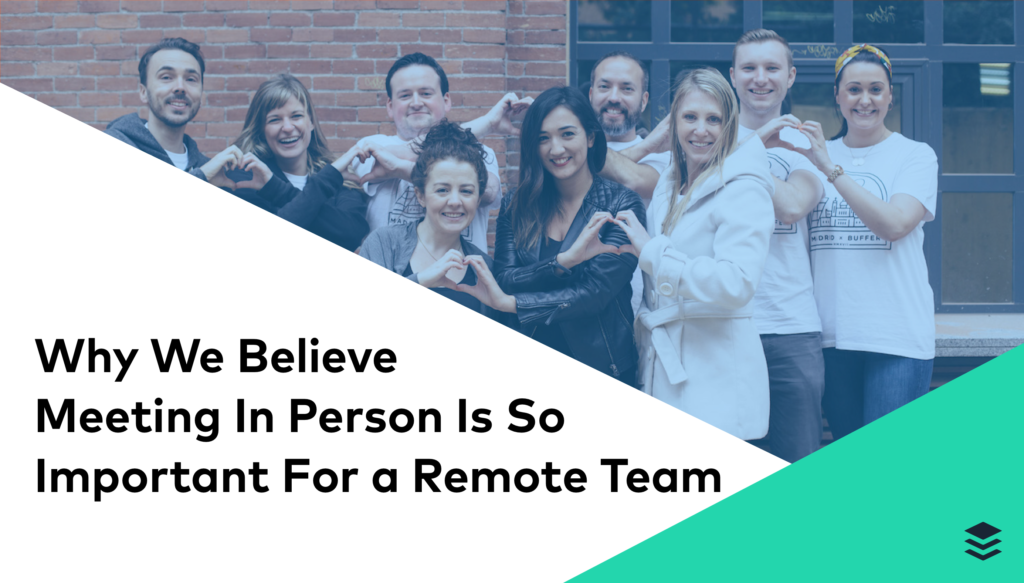 The Power of Meeting in Person
There are so many reasons why meeting in person is valuable; there are a few that you might expect and several more that were surprising even to us.
Communication
While we hop onto video calls with teammates quite often, we do try to do a lot of our work asynchronously as it can be tough to coordinate time zones for a real-time meeting. This means our primary method of communication is text, depending on the colleague you're working with and how your time zones align. "Text" might mean chatting in Slack, conversing in Discourse, or even adding comments in Dropbox Paper.
We have a culture of using many emojis so that our written tone is clear (avoiding the confusion that can be common with text-based communications), but that's not always easy as everyone communicates and perceives communication differently.
It turns out that 93% of communication effectiveness is determined by non-verbal cues. Speaking face to face becomes more important with that in mind and it's why it can be really nice to meet your colleagues in person and get some work done together.
For me, I found that I work better with my teammates online after we've met in person. I can imagine their tone and energy level — even through the written word — and it makes all of our communication afterward a lot more smooth.
Brainstorming
One of our favorite work activities to do in person is brainstorming.
It can be quite a challenge to brainstorm remotely. If everything is happening asynchronously in a Paper doc, then it can often take a really long time to build momentum on a new idea. Or, if there's a discussion happening synchronously in a Zoom video call, it can be difficult to know when to speak and often two people start talking at once, or some people don't speak at all because it's difficult to cut in.
While we work on many exercises to clear this up and make it easier for everyone, we still take advantage of in-person time to have plenty of collaboration and brainstorming sessions during retreats. For us, brainstorming is so powerful in person and it's been really fun over the years to make space for this — we've even gotten the entire team to brainstorm together at one time on topics such as our values and our company mission.
Building Closer Relationships
There are plenty of moments in person that cannot be recreated online. For example, when we are on retreats, we often eat meals together, which we've found to be an incredibly valuable bonding experience. According to one writer who researched the topic, "people sitting opposite each other inevitably pass dishes or pans, and are almost forced to look each other in the eye and to converse."
On our retreats, we form groups to have lunch together every day and do an exercise called Personal Stories with each other. This usually takes quite a chunk of time so, in a group of five or six, you might need at least four lunches together to hear everyone's journey. Journey sharing is an opportunity to share your story — the highlights that are important to you — with everyone at the table. We've had people share a summary of their lives from childhood to the present, how they got on the career path they're on today, the story of how they met their spouse, and more! These stories have been incredibly eye opening and a wonderful way to connect more deeply with colleagues in a short amount of time.
While we've tried different versions of journey sharing online, it's not quite the same as seeing the person sharing their journey across from you and feeling the emotions with them.
Touch
When we all meet up in person, we tend to take over the space we're in (likely a hotel lobby) for quite some time giving each other hugs and saying hello. Whether we're meeting for the first time or seeing a teammate after a year apart, it's a really exciting part of the retreat! It turns out this physical contact is quite literally bringing us closer together.
One experiment done by researchers at the University of Chicago and Harvard University found that "negotiators who shook hands were more open and honest, and reached better outcomes. Shaking hands causes the centers of the brain associated with rewards to activate. You are literally conveying warmth."
That means all of our in-person hugging over the course of the week-long retreat is conveying warmth to each other, which absolutely carries over to the online space as we relive the retreat together when we're all back in our home cities.
Buffer's 9th Retreat Location
If you jumped right to this section, we completely understand. When we were waiting for the retreat location to be announced, we were all at the edge of our seats!
? ? ? Drumroll, please! ? ? ?
Buffer's 9th retreat will be in …
Singapore!
Also known as the Lion City, Singapore is an island country in Southeast Asia. We have two teammates who live in Singapore, and who are looking forward to showing us their beautiful country!
We're headed there this month (April 2018) so look out for lots of photos from the Buffer team as we all travel across the world to get to Singapore. There are multiple planes that will have a Buffer team contingent aboard!
We already have exciting plans for this whole week that we get to spend together as a team. We're using this time to collaborate together, share our journeys, discuss Buffer's vision, mission, and team values, share many meals together, do group activities, and meet each others' significant others!
In case you're curious, here's a list of the first seven Buffer retreats we had. The team has been to Lake Tahoe, Thailand, Cape Town, New York, Sydney, Reykjavik, Hawaii, and Madrid!
Over to You
Are you on a remote team that goes on retreats? We'd love to hear your experience!
Have you ever been to Singapore? We welcome any tips you might have!