Wow, what can I tell you guys? Last night's #ToolsChat has just been completely out of control.
Not only did Klout's CEO Joe Fernandez join us to explain the recent changes, but the stream and discussion from everyone joining in was purely amazing.
After Joe joined, everything got seriously heated up. People, pro and con Klout joined in from all sides.
Here is a summary and highlights from the chat for you:
What has changed?
Joe explained to us that the new update for the Klout score was an effort to make the overall algorithm more accurate and focused. The new algorithm would be harder to game and a more accurate measurement of influence.
[blackbirdpie url="http://twitter.com/#!/JoeFernandez/status/129384181464698880″]
The key metrics that Joe mentioned matter for Klout and your score respectively are:
how many people you influence,
how much you influence them and
how influential they are.
Due to the recent update, scores have changed dramatically. For a lot of people they have dropped significantly, or increased significantly. Here is a breakdown of the average changes: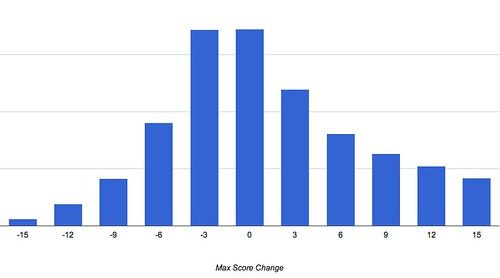 Why is there a problem?
A lot of great people from our Buffer and #ToolsChat community jumped in with some very interesting arguments and questions. A big issue seems to have been that the Klout score has dropped for a large number of people.
Personally, I haven't had time to look into the Klout algorithm too much. Jure Klepic (@JKCallas), a great friend took a much more in-depth look. Jure's argument centers around the accuracy of the score.
Dabney Porte (@DabneyPorte) and Lori Moreno (@LoriMoreno), were also thoughtfully arguing that there are still many flaws to be picked out, particularly what regards topics and privacy.
[blackbirdpie url="http://twitter.com/#!/DabneyPorte/status/129383134860034048″]
Get 200% more clicks on Tweets
By Buffering Tweets, they are posted at optimal times giving you 2x more exposure.
What is the future of Klout?
Many mixed feelings were involved in the discussion. Some were disappointed, some welcomed the new changes and thriving for improvement of a better score.
Joe, went on to explain to us that the key driver for the company's decision is to maintain the integrity of the score to reflect true influence across the web. One aspect was to clearly focus on transparency as explained in their latest blogpost.
Klout, who has often been criticized for too little transparency clearly took a lot of feedback on board for this improvement I believe.
[blackbirdpie url="http://twitter.com/#!/JoeFernandez/status/129385783118401536″]
Improvement or decline?
Above all things, I was very thankful for Joe and Megan joining us to discuss these crucial points about Klout in #ToolsChat. Even more so, it was amazing how many of you jumped in and offered thoughtful comments on the topic.
The many of you, all have a lot more insights and thoughts on this. So I better let you be the judge. What do you think of the latest changes Klout made? What do you like and what could be improved?
A big thanks to Michael Q Todd @MQTodd, who brought the Klout guys into the chat and Kelly Kim @Twylah, our two fantastic ToolsChat co-hosts. A big thank you to you and everyone who participated again this week, especially @JoeFernandez Klout CEO and @MeganBerry Marketing Manager at Klout. I hope to see you all next week in #ToolsChat, 10pm EST on Wednesday.