A business is nothing without its customers.
And yet as businesses grow and team members become more specialized, it's easy to get further and further from the customer.
Buffer is no exception – in the course of our journey, there have been multiple times when we've felt a much larger distance than we'd like between us and our customers.
What's interesting is that every time that distance starts to make itself felt, something amazing happens to close the gap. Sometimes it's a deliberate change on our part and at other times it's been almost like fate.
No matter how it comes about, it's always a welcome realization to reunite with our incredible customers. And now that we recognize the pattern, we're putting new systems in place to make sure we're never too far from those who use our product.
We'd love to share a few stories that illustrate the value of keeping customers at the heart of your business, and some strategies and tactics we're experimenting with to keep close to those who make Buffer possible.
The surprise senator encounter
When our Chief Technology Officer Sunil joined Buffer in 2012, he was an Android engineer, working closely with customers and answering plenty of support tickets.
In the past few years, though, his role has evolved to focus more on growing the engineering team and he's moved further away from that customer pulse.
Then, Sunil happened to meet a U.S. senator he had long been a fan of at a book signing. When the senator heard that Sunil worked for a social media startup, he encouraged him to talk with his staff about social media management — and in those following conversations, Sunil learned that the senator's team loved Buffer!
The more he chatted with the team, the more fired up Sunil got about certain features that would help the senator with his social media workflows.
The chance encounter gave Sunil a deep realization of how he'd lost sight a bit of the heart of Buffer – our customers.
He wanted to bring it back, and share that 'fired up' feeling with the whole Buffer team.
Customer-centered: What does that really mean?
Keeping customer-centered as a company means having a constant focus on our customers at an individual level. It's easy to say, but harder to apply on a day-to-day basis.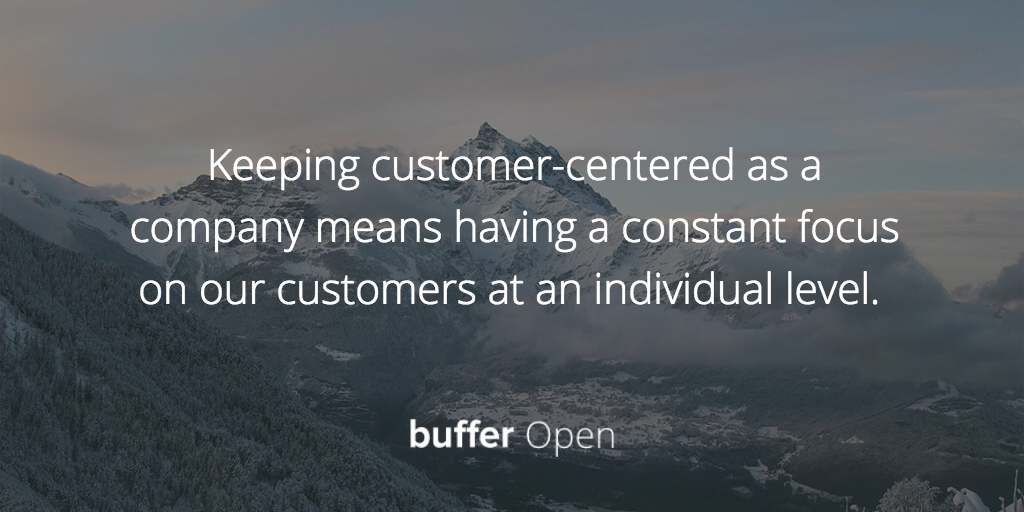 The most direct way of keeping customer focused is taking the time to talk to individual customers. Everyone in the company should have many opportunities to speak to the customers they serve.
"When you talk to customers it changes a lot of things," Sunil says. "You stop thinking in terms of deadlines and build up an intrinsic motivation to see them happier. This improves team execution because customer happiness will always be the most important shared incentive across different roles and teams."
Our founder, Joel, set the tone early in Buffer's journey by defaulting to the lean methodology where energy and time is saved in the pursuit of whatever is best for the customer. This applies to customer service, to marketing and beyond.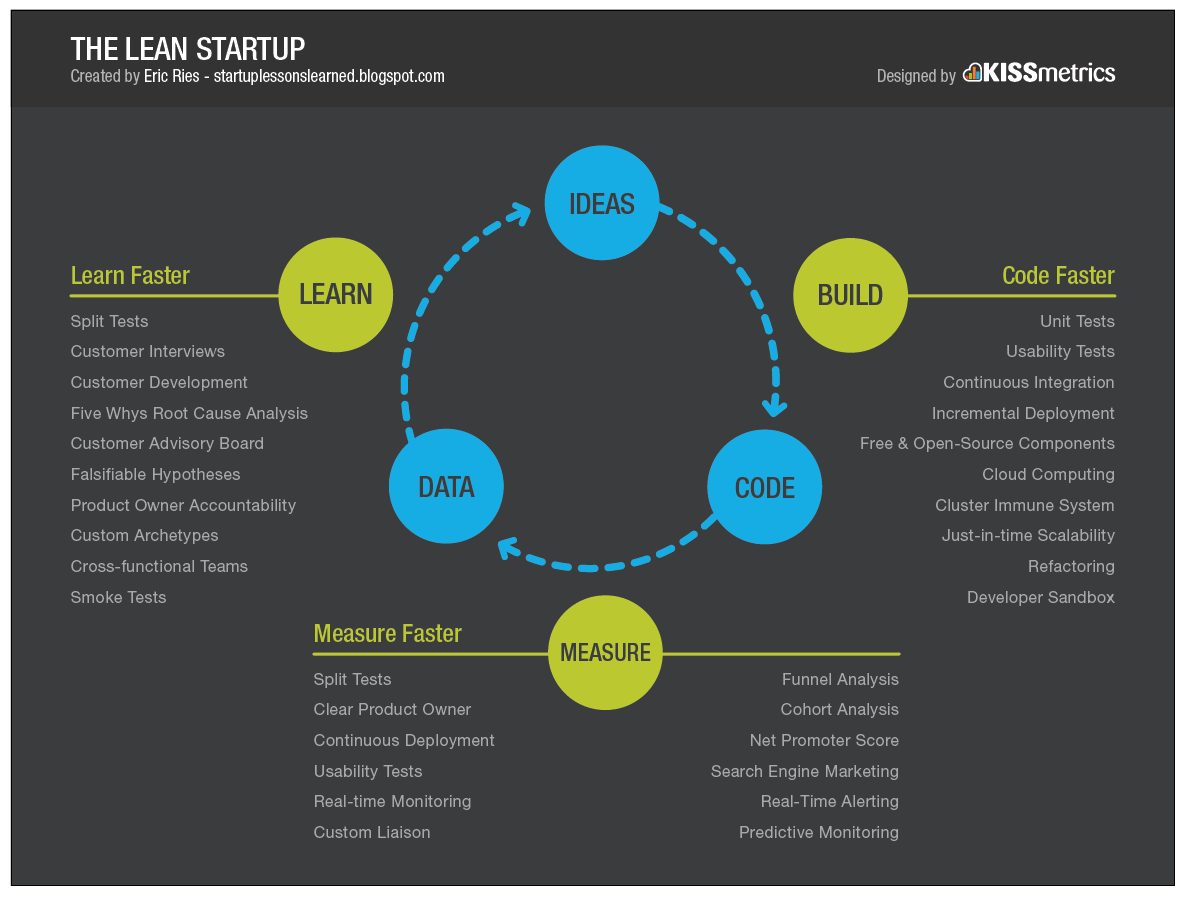 A 'toeless' organization
When Buffer was a smaller team, there were more roles that overlapped with customer interactions and it was easier to keep a pulse on customer feelings throughout the whole company.
As we've grown to a team of nearly 80, the roles are a bit more specific and we have dedicated customer support and research teams (some of our biggest teams) who are awesome at communication with customers.
While this is valuable in providing better customer follow through and response times, it can create an adverse effect in "shielding" our product and engineering teams from the true end goal of customer happiness.
During a time of massive team growth in 2015, we noticed a chasm between the Happiness and Engineering teams.
At the time, Sunil shared these thoughts:
"While we all have individual roles and titles and separate defined teams, it's absolutely important not to see ourselves fully contained within that context alone. I noticed for myself questioning, "I'm not even sure if I should jump in the inboxes since there are more heroes now and I'm uncertain what the flow is today and whether I'll slow them down." I've had a few conversations around the team on this challenge and hearing a lot more about the phrase: "I'm afraid to step on toes."I felt afraid to step on the heroes toes, and I'm sure the heroes have felt afraid to step on engineering toes–it ends up snowballing."
Creating more crossover between Happiness and Engineering was a powerful start to creating a "toeless" organization. (Thank you to team member Tom for the term!)
What does this look like?
If there's a down time in service, engineers jump into the support inbox and answer emails and Tweets.
If engineers deploy a coding change, pop into the appropriate Slack room to let the support team know and also monitor for any hiccups.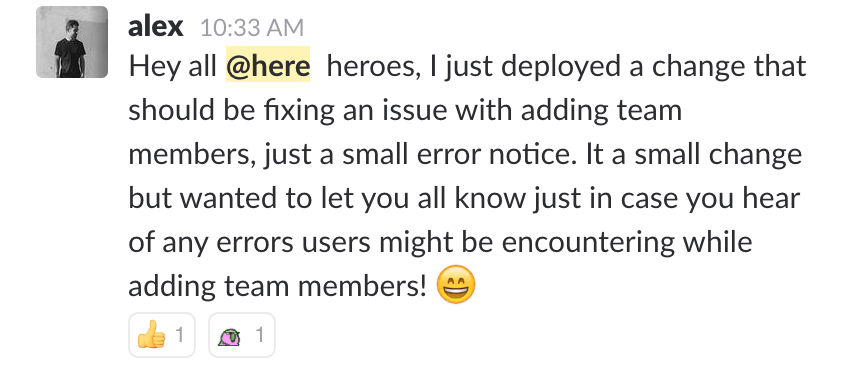 A closer relationship between teams on a personal level. Sunil shared this great reflection in a Discourse: "I think one key reason we had a closer relationship between Engineering in Happiness in the past was because we knew each other deeply. I would feel personally responsible if Caro, Mary, Adam had a tough day in the inboxes due to a change I made. I think it might be useful to connect the two teams to feel responsible for each other, rather than feeling like they're two separate teams with different objectives. This means, engineers should reach out to heroes, perhaps in the same timezones and get to know them better (and vice versa.)"
Next steps: Team, meet customers!
As a whole, we still have a lot of work to bring the team closer together and closer to our customers.
As I talked with Sunil for this post, I was personally struck at how long it's been since I interacted with Buffer customers and it drove home the deep conviction to dedicate some of my time to chatting with our community and reaffirming why we do what we do.
The next phases of our customer-focused plan involve:
Having team members all be involved in customer support in different capacities (and relevant to their roles or areas of expertise – for example, our Respond team wouldn't find as much benefit in talking to Buffer customers.)
Automatically sending feedback emails from every Business customer that leaves Buffer to the entire product team
Providing some level of customer service training during our bootcamp period.
Encouraging open customer calls and allowing slots for other team members to join in and listen to customers first-hand.
"We must be steadfast in seeking out the right voices," Sunil says. Sometimes, that means doing things that don't scale. "Data can only tell you so much. You need to dedicate time focused on that individual customer interaction. That builds up intuition and emotion in the best way."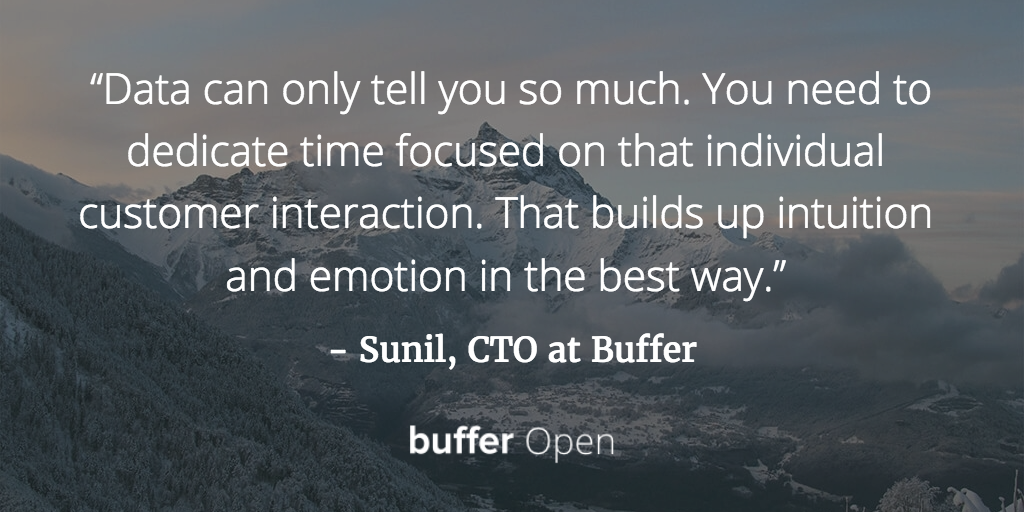 This will continue to take shape as the company grows, our customers change and our team learns from each experience.
What customers have taught us: Stories from our team members
If we ever stray too far from our incredible users, stories like those that follow are sure to bring us back.
We asked Buffer teammates to share some of their favorite customer encounters and what they have learned. They had some amazing reflections!
One customer's experience fixes problem for all
Niel, Engineer:
"I remember a few years ago working with a customer that had some trouble using the dashboard. It was quite slow at times for him. So I ended up taking a look and noticed that he had many many updates lined up in his queue. He was scrolling quite a lot which caused our app to suffer a bit. I really enjoy it when customers find the boundaries of our app. So I dug in a bit more and found some glaring performance issues related to scrolling. I ended up creating a special fix for him. Soon after we realized this could improve the experience for all our users and have since incorporated the fixes for him into the rest of our app. So grateful for customers like him who speak up. They help us a lot in improving the experience."
One minute matters: how a deeper investigation changed the posting process

Colin, Happiness Engineer:
"A great relatively recent example that struck me was one of our customers who kept seeing his 2:00am update actually post at 2:01am. Not a big deal, but he really wanted it to go out at 2:00am! Initially, I explained that with all the posts we send, some may naturally 'leak' into the next minute, but that it should be rare.

He came back, still noticing this, and it triggered me to do a more in-depth investigation of how good we are at posting 'on the hour'.

In the end, with some amazing work by Dan & Sunil, we re-configured our posting process to be a lot more efficient so that many more updates now goes out in that 'golden minute' when it should.

For me, this was a great example of the benefit of listening to customers as often-times they have a better feel for how things work since they use the product regularly and with particular requirement. Initially, I dismissed the customer's concerns as just being 'one of those things' – it was only with his patience and insistence that I dug in and found that there was indeed a problem."
Better accessibility for all in our weekly Twitter chat
Arielle, Community:
"One memorable moment was when a community member shared feedback that the way we shared Bufferchat questions was inaccessible for him. We shared the questions as text within an image, with the mindset that it looked nice and could show all of the questions in one neat and tidy image. This is when I learned a bit more about how a screen reader works, and that it couldn't read text in an image like this. It was so eye-opening and I am so grateful for this community member (and others who have shared similar pieces of feedback) for teaching me how to think about our customers in a very holistic way and put accessibility at the forefront of my mind!"
Test users catching huge issues right away
Andy, iOS developer:
"We have a bunch of iOS VoiceOver users who have graciously joined out TestFlight external betas and they consistently provide feedback around areas of the app which we can improve to make it even easier for them to use Buffer.

We've had cases in the past where the items on screen simply didn't have a label or hint associated with it which means users relying on VoiceOver weren't able to tell when some elements were tappable.

An example was with our v4.0 app, an awesome user joined our beta for v5.0. I sent over a personal note to thank him and ask him if he would fire over any VoiceOver issues he came across. Within a few hours we learned that our analytics in v4.0 weren't accessible at all but our v5.0 build had already tackled it for the most part.

The same user also noticed a regression in our accessibility when VoiceOver was announcing that the profile selection button was available when editing posts when it is only available when creating updates."
Customers turned trouble-shooting experts, forging long-time bonds
Sunil, CTO:
In late 2012, I rebuilt the Buffer Android app and released it. I quickly realized he didn't test it thoroughly across different devices that he didn't have access for testing.

I learned quickly how generous and forgiving our customers are — collaborating with many individual customers to get things fine-tuned. This level of fast feedback would not have happened without engineers working directly with customers.

One interaction stuck out in my mind and the customer still tweets me to this day about it!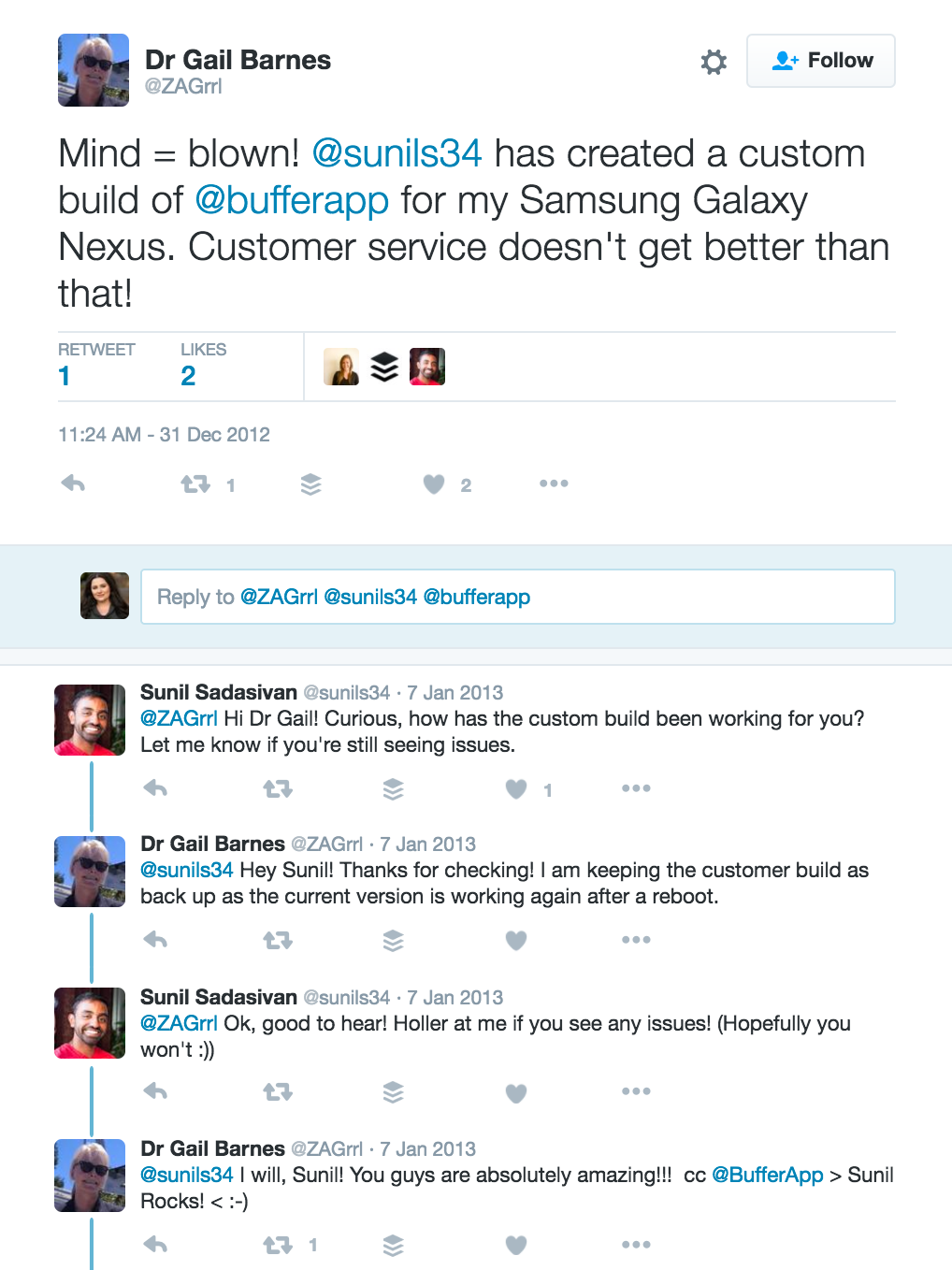 Every bug matters: Why spending hours for one customer is worth it

Darcy, Twitter Happiness Lead:
One day, a customer tweeted us about the URLs from her website not showing well when scheduling them through Buffer. As a blogger, she was dependent upon her URLs showing beautifully, and I instantly felt terrible for the situation we put her in.


I reached out to an engineer who I thought could help. After a few hours of digging in, he found a solution!


Some might feel that digging into a bug for a few hours is a long time to spend solving an issue that only affects one customer. That's not how Mike thought of it:



When a customer comes forward to share their troubles with our product, it's a gift. They not only shared their time with us, but they shared their expertise in using our tool and also gave us a the chance to make our product better.
Taking the time to share how our words come across so we can improve

Juliet, Happiness Hero:
A customer reached out to share their feedback on a pop-up message within Buffer – how it made him feel slightly sad and guilty, which is not at all how Buffer always makes him feel with our culture and value.

It was so amazing to hear how much emotion we could trigger in our customers with a pop-up that we might've written a long time ago perhaps without too much thought. We've shared these thoughts with the team to re-think this particular popup!

It was such an incredible reminder on how every detail matters – as each of them shapes the experience and relationship we build with our customers and communities.
We're honored to work with the most amazing customers on the planet and learn from all the knowledge and wisdom they have to share.
Over to you
Do you have any ideas to help us to connect more with our customers? We'd love to hear your thoughts in the comments!