We're delighted to hit almost $7.5M in annual recurring revenue and be fast moving towards the big $10M ARR milestone.
As a company, we're starting to feel that some of our recent team growth and structure adjustments in the last few months are starting to take effect.
Here are all the latest numbers and updates from all corners of what's going on in the Buffer team!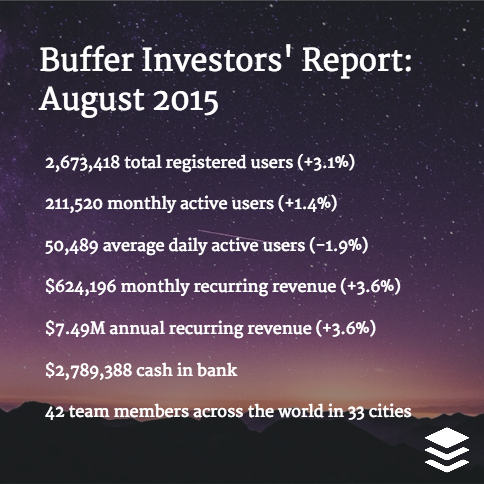 Key August metrics
2,673,418 total registered users (+3.1%)
211,520 monthly active users (+1.4%)
50,489 average daily active users (-1.9%)
$624,196 monthly recurring revenue (+3.6%)
$7.49M annual recurring revenue (+3.6%)
$2,789,388 cash in bank
42 team members across the world in 33 cities
Team and hiring: 14 open roles
We are still growing the team fast and have 14 open roles we are hiring for, including a new role: We have started looking for an in-house finance person.
We received around 1,500 applications in August. (July and August tend to be slower in terms of applications, we are excited for September.)
We will pass 50 people by the next update!
42 total team members
5 new team members during August
8 more people will start or have started during September
Product: Buffer for Video and structure changes
In the last couple of months, we've really shaped our product and engineering organization to set us up to move much faster. We've successfully split this large team into smaller, 4-6 person teams that are able to work autonomously and move fast.
We still have some roles where a single person needs to be working across several teams, and a key hiring goal is for us to reach a point where everyone working on products at Buffer is focused on a single area. This will help us to move much faster in the future. All of these changes and our increased pace are starting to be noticed. Here's a great note we received from a customer recently:
"I'm very surprised! In the last 5 days you add two great features to Buffer. First the ability to post videos simultaneously to various accounts and second we now can upload thumbnail images to the links we share thru Buffer in Facebook and LinkedIn. I just want to say thanks cause I feel heard. And I hope you keep hearing us."
Happiness: Team growth and new focus areas
Three new Happiness Heroes began Buffer Bootcamp in August, which has allowed us to fully commit to having several smaller teams working in separate areas. (These areas correspond to different Buffer plans and platforms, like paying customers, customers using Buffer's free plan, or those reaching out from the mobile app.)
We're working on improving our numbers by bringing down the average response times in September. We have also started exploring a customer success focus for our Enterprise customers.
Conversations: 9,063 (+22%)
Customer happiness percentage: 94%
34% of emails got a reply within 1 hour
55% of emails got a reply within 6 hours
55% of Tweets got a reply within 15 minutes
Asks: Share our finance position
We're looking for an in-house finance person, to help us to be more disciplined about our finances and be better data-informed across all areas of the company. We'd love your help to spread the word on the job listing! Tweet or Buffer.
Thanks for your help and support :-)
Best,
Joel Gascoigne