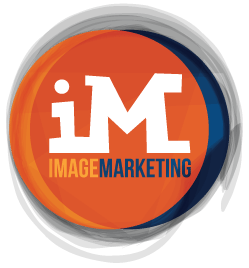 Some people go to great lengths to find the best ways to share to social media.
Social media management tools definitely help, and so too do the workflows and tactics that social media marketers discover to save time each and every day.
This is especially true for busy marketing agencies who run social media marketing in addition to a host of other duties. The folks at iM Image Marketing, a digital agency from Youngstown, Ohio, most definitely fit this description, juggling social media management on top of web design, branding, and so much more.
Their team manages more than 100 social profiles! And they do so with some really smart workflows that help them save time and gain great results for their clients. The iM team was kind enough to sit down with us and share some of these secrets. Here's a bit more about how this fast-moving agency gets work done.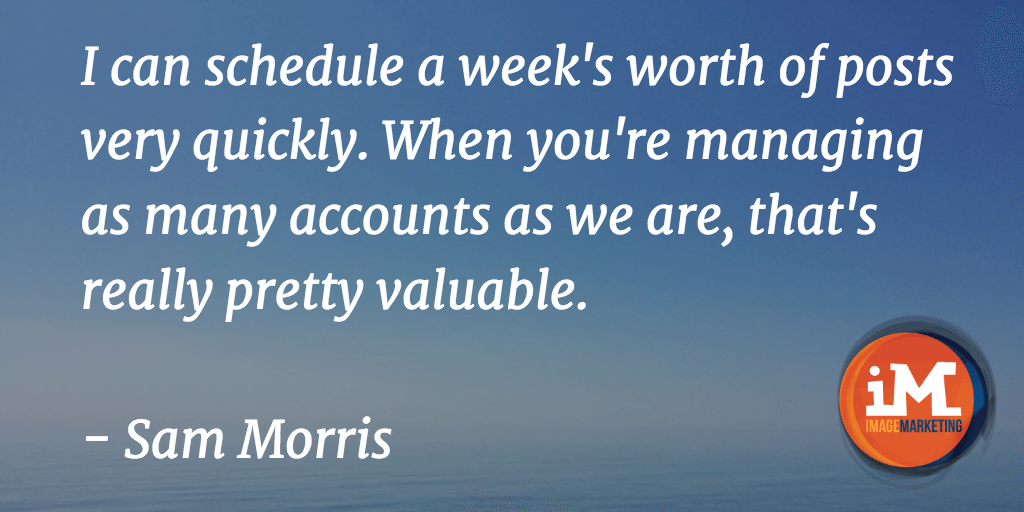 If I don't have a whole lot of time, I can still, very quickly, schedule a week's worth of posts for somebody. When you're managing as many accounts as we are that's incredibly valuable.
– Sam Morris, iM Image Marketing
The agency journey: From web design to social media
Like many other marketing agencies, iM Image Marketing began as something else entirely: purely graphic design.
Then they added web design.
Then digital marketing, SEO, social media, and most anything else the client might need.
This seems to be the path that many agencies take, embracing this 360-degree service to help clients succeed in whatever way they can. Social media has become a significant focus for the iM Image Marketing team and their clients. Project Manager Sam Morris, who leads up iM's social efforts, believes it's all due to the time it takes to do social media right.
Many business owners are strapped for time and need help delivering a consistent presence on social media.
We're a marketing agency nowadays and we kind of started out just graphic design and we added websites. As people wanted more stuff we did more stuff.

We deal with a lot of smaller businesses. We do have some that are multi-million dollar companies, and we have a lot of them that are two to five people or it's their home business.

We find that most business owners don't have time to do a lot of their own marketing.

They don't have time to do their social media, they don't have time to write blogs, they don't have time to do all that stuff.  We do as much as we can for these clients: maintaining their website, keeping their social media profiles updated. If they have an event coming up, we help them get the event organized and promoted, do the design for their flyers and print material.  We roll everything all into one package. We become their marketing department. Social media is one of those things that they don't seem to have time to deal with.

Honestly, there're a hundred or so accounts we manage in Buffer, and that number grows consistently over time as we sign more clients. We've got a pile of new websites to build, and that'll be more accounts getting added in to Buffer as we get those websites completed, too. It becomes a full-time job just doing the social media stuff.
Workflows: How to manage 100+ social accounts
Social media has become a full-time job for Sam at iM Image Marketing. Thing is, there are several other jobs still to do!
How do you maximize the time spent on social, while still saving away enough hours to get work done elsewhere?
Sam and the team use Buffer for their social media management, and within the app, they've found some useful workflows for working smart and saving time. Here are three workflows that stand out as time-saving ways to share quickly, share smartly, and keep track of over 100 social profiles.
—
1. Using groups of profiles to share to multiple places at once
Often, Sam will find that the same content will work great for a client on Twitter, Facebook, LinkedIn, and more.
Instead of creating the same update, one-at-a-time, for each of these networks, Sam shares all at once. Each client has its own group within Buffer so that Sam and his team can share quickly to all connected social profiles for the client.
When you open the Buffer compose window from either the app or the extension, you can click on the "+Group" button above the list of profiles.
Then name the Group, add as many profiles as you'd like, save, and close. Now this group will appear in the composer each time you go to share a new update.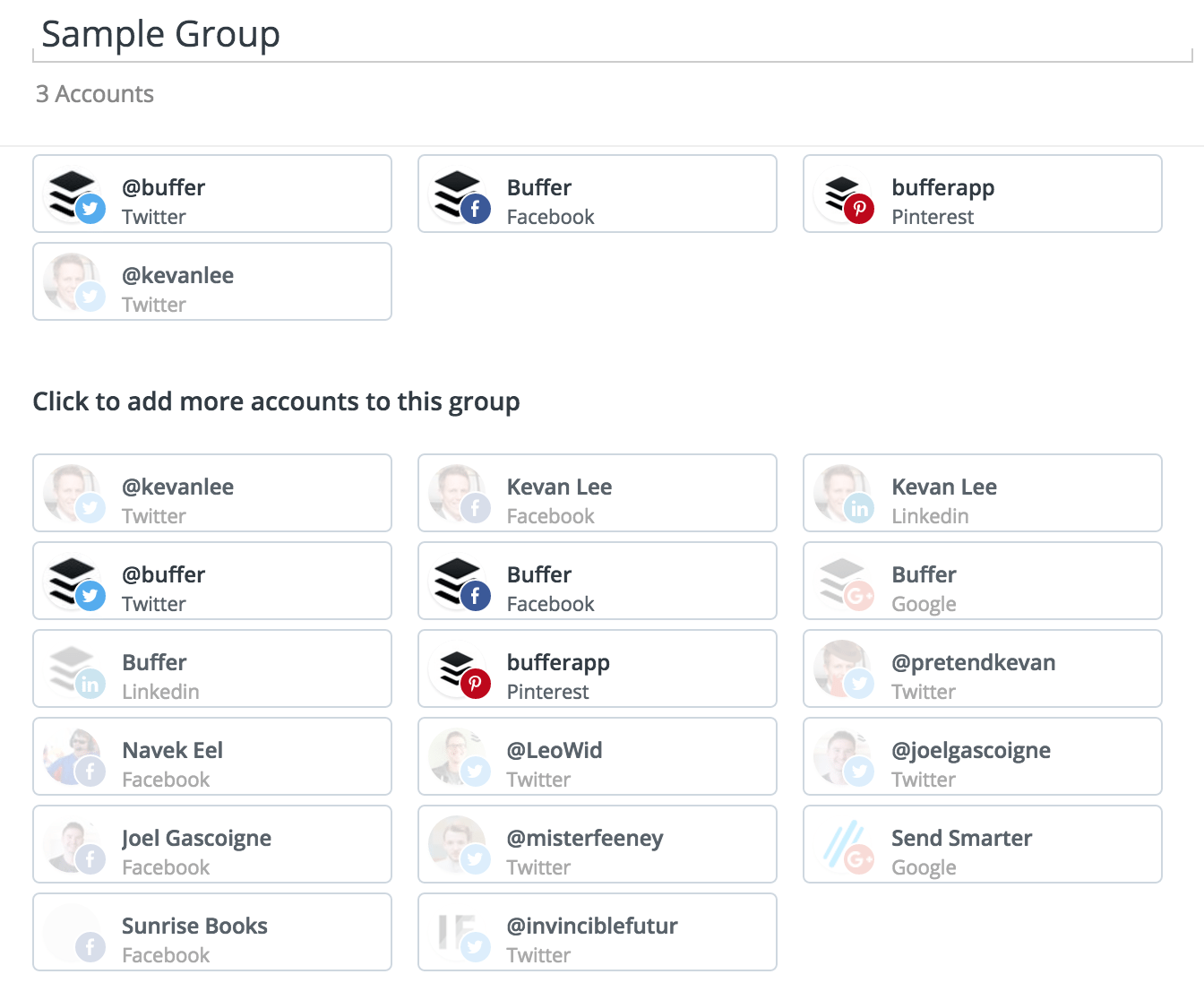 To take things one step further, Sam then shuffles the content for each of the profiles so that these similar posts aren't all being shared at the exact same time. All profiles will have their own unique order of content, while still sharing the same content. (Plus, Sam saves a ton of time placing it all in the queue.)
When I'm scheduling stuff for a company, because I'm posting to more than one account, I'm always using those groups.

A lot of times we'll have three people's LinkedIn plus their Facebook and their Twitter and Google Plus — I'm posting to several accounts at a time. I post all the same stuff, but I'll go and shuffle it. That way, you've got all the same stuff posting, but it's not posting the same link to three people's LinkedIn accounts the same day. It does it at random, which I think is a really cool thing because if I'm on, say, LinkedIn and I see that three people from the same company shared the same link at the same time, I can tell that it's automated. That shuffle option is really nice because it mixes them up so that we're not posting the same stuff all the time.
—
2. Sharing on the go (or on the couch) with mobile apps and tools
Another way to save a few minutes on social media marketing is to do your sharing and scheduling whenever you have a free moment.
Sometimes, those moments come on the couch.
I have two small children, and when I'm waiting for them to go to sleep at night is when I use Buffer on my phone. I'm sitting on the couch and my phone is in my hand, so it's handy to be able to get work done. I've done a lot of buffering through the app, just sitting on the couch waiting for my kids to fall asleep.

It's amazing how much work I can actually do from my cell phone nowadays. It's very nice to have that ability to schedule things from the phone by hand when I'm on the couch or out and about.

With social monitoring, too, I'm constantly — this is a lot of times another one of those things I do while I'm waiting on my kids to go to sleep — going in and monitoring the comments and likes in the native Facebook and Twitter app. You get a feel for what type of posts are working and what's not just from being in the accounts and looking at them.
—
3. Tracking progress client-by-client with a Trello board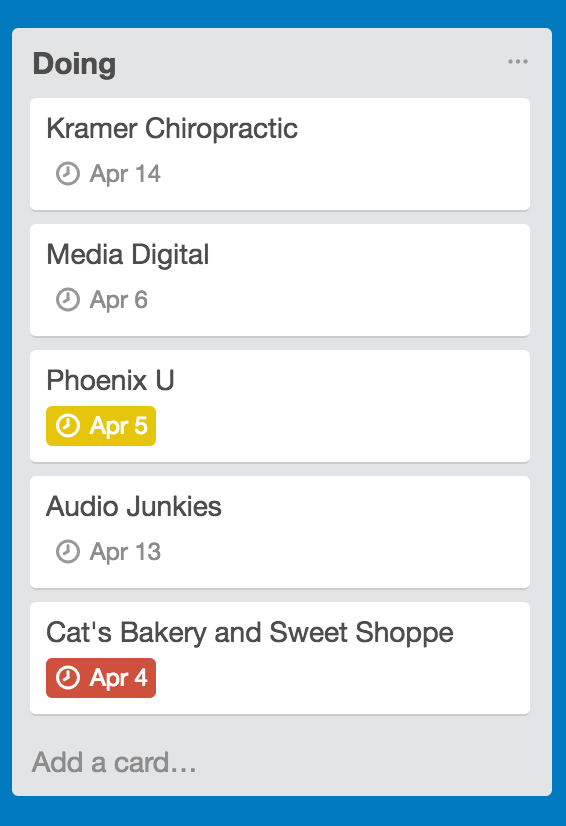 Managing a full slate of social accounts — 100 profiles for dozens of clients — can likely get a bit hairy.
There are some really wonderful tools to help with the management: Buffer for scheduling, Google docs for organizing, Dropbox and Paper for team collaboration and sharing.
Sam adds another layer onto these cool tools: Trello, for tracking the due dates and queue status of each client.
I've got a Trello column with all of our current clients. Each card has a different company name, and then I put a due date on them with how far ahead I've got them scheduled.

When we switched over to Buffer, I used this board to track everything. When I set up that company's accounts in Buffer, I just changed the color of the label on the card to yellow so that I knew it was in Buffer. I was able to move them over a little bit at a time. It wasn't really hard to do.
—
The biggest difference-makers for a busy social media team
With the amazing workflows that Sam has come up with he's able to save many hours a week with social media management.
In addition, there are particular parts of the tools he uses that come in handy for working smarter, not harder.
These are a couple of his favorites.
1. Smart social media scheduling
One of our aims at Buffer is to build a smart and powerful way to share to social media, and it's awesome to hear that this focus has been helping Sam and his team. In particular, there are three parts of the Buffer scheduling that have really stood out:
Optimal timing
Multiple schedules
Rebuffer from archives
With optimal timing, you can analyze your past updates to see suggestions for possible best times to post, based on the engagement of your past updates.
With multiple schedules, you can adjust the frequency and timing as often as you'd like, and all the existing content that you've scheduled reorganizes itself automatically to match your new times.
And with rebuffering from archives, you can quickly add back in the top-performing tweets and updates that you've sent before.

I really like with Buffer how I have the ability to put all these posts in there easily, then Buffer picks the best time and it reschedules everything.

We actually had somebody tell me the other day that they had noticed that the stuff that we post gets more reach than the stuff that they post. It's the same content: pictures of work that they've done. I said, "Yeah, a lot of it is because the program we use has an algorithm that picks the best time."

I really like that — and the fact that you can reschedule stuff all at once. If I decided I'm going to post twice a day instead of once a day, it can happen automatically.

Plus, I really like that it saves those posts for future use so that even on my phone I can quickly re-buffer things and add them to the queue to keep it filled up.
2. The importance of consistency
A great benefit to the ease of scheduling is the ease of consistency. When you're able to quickly and fully fill a schedule for the coming week, it makes a huge difference for the profiles of clients.
Sam and the iM team get a little bit of extra help here, too, by inviting the clients to participate in the scheduling and creating of content for their profiles. With Buffer's team member settings, Sam can invite the client to contribute to their own social profiles (without accessing any profiles that belong to others).
This helps with sharing content and visuals that the agency might not have access to, being off-site.
And overall, it lends itself well to maintaining a consistent presence on social media, where many consumers will turn to assess and inquire about brands.
We encourage our clients to post content to their accounts. Some of them do more than others. For instance, we have a running specialty store that we work with. Every once in awhile they'll have last year's models and they put them all on a table at 40 percent off. I'm not there in the store to know that. They take a picture and post it on their social media.

With most of the ones that do post on their own, they're very sporadic on when they do so. They might post two things today, and then they don't post anything else for two weeks. Having us schedule content in Buffer, we can make sure something is posting every day whether they're thinking about it or not.

That helps when consumers are out there doing research. I'm finding people are searching for services in two places, one's Google and one's Facebook. Sometimes people look for stuff on Facebook before they check Google. When that happens, it helps those companies to have a Page that's always being updated when people come across it. If someone gets there and there hasn't been an update in a couple weeks, it reflects poorly to that potential customer.
Want the smoothest social media experience for your team and clients?
iM Image Marketing and hundreds of other agencies use Buffer to manage social media profiles, content, analysis, and more for each and every client. With Buffer, you'll get straightforward pricing that scales along with your business, 24/7 customer support, and an agency-first approach to the features that matter to you.
Join iM Image Marketing and 5,000+ other brands and business with a free 30-day trial of Buffer's most powerful social media features!
Image sources: Pablo, Unsplash