One of the biggest challenges marketers often face with social media is understanding the impact is has on a business or brand.
Is social media for lead-gen? For brand awareness? For something else? Measuring social media success and overall impact is a task that may not have one simple solution.
So how do you know if your social media is working?
We had the pleasure of speaking with Hiten Shah, entrepreneur and co-founder of KISSmetrics, Crazy Egg and Quick Sprout, about the most important metrics you can be tracking on social media and what makes for the best content online.
A huge thank you to Hiten for jam-packing this episode with actionable wisdom and takeaways for social media managers and marketers looking for new and creative ways to analyze their social media efforts and tie it back to real business results.
This episode is available on:
In this episode, here's what you'll learn:
Hiten Shah shares his insights on the tough challenges marketers face when attempting to connect social media to business ROI and if it's possible. Hiten also discusses the implications of social media and what it can and should be used for in marketing. You'll also learn some other great things like:
Why social media is all about the "social" aspect
The importance of humanizing your brands on social
If social media is for more than just brand awareness
The future of Twitter and other platforms
3 Key Takeaways for Those Looking to Maximize Time, Effectiveness, and Value on Social Media
In Hiten's words…
1. Share what you love
Share what you love and what you're all about. Whether you're a brand or a person, people love knowing and understanding other humans and brands from a human standpoint. So humanize your brand and focus on sharing the things that matter to you – even if they are a little bit scary for you to share.
2. Share what you know
The number one thing you can do in any social media channel, when you blog, when you're doing marketing, is share what you know. If you know something, if you feel like you know something, even if it's something random or obscure, people love to learn. If you think of yourself as a teacher, you're going to have a much better time building affinity with your audience.
3. Don't take it too seriously
Just remember that social media, most of it, goes away really fast. So whatever it is you do, try and lower your barrier or anxiety of posting just because you're worried about what other people think. It's not as important as you think especially on social media where people forget really fast.
Mentionable Quotes and Shareable Snippets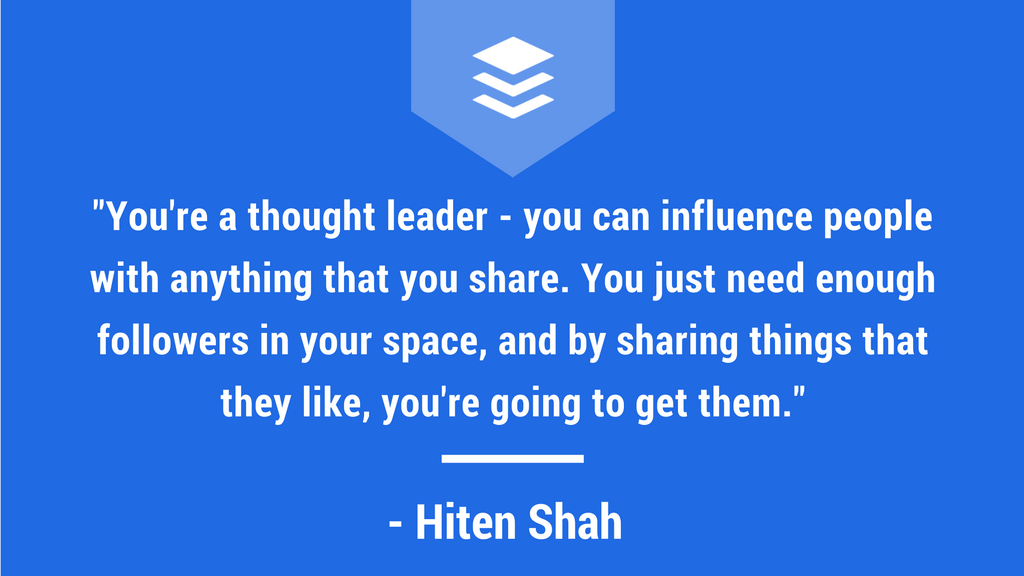 "You're a thought leader – you can influence people with anything that you share. That's super critical to understand. You don't need 1,000,000 followers or 100,000 followers, you just need enough followers in your space and by sharing things that they like, you're going to get them."
Show Notes and Other Memorable Moments
Thanks a million for checking out this episode! Below are the websites and other tidbits that were mentioned in today's podcast about creating incredible Facebook communities using groups. If you have any questions for us, feel free to drop us a line in the comments and we'll respond right away!
Awesome Companies & People Mentioned by Hiten
Great Quotes
"We all should remember the social in social media. Otherwise it would just be media. Social media on the whole is all about people."
"If you look at some of the most engaging content on any of the platforms, whether it's Facebook, Instagram, Snapchat, Twitter, you name it, a lot of it has to do with point of view and creativity."
"In my mind, social media is very much about awareness. It's also very much about retaining your existing users, customers, and prospects in a way that you couldn't do any other way."
"For me it's Snapchat as a viewer. Facebook and Twitter as a viewer and contributor and then Product Hunt much more as a contributor and less as a viewer."
"Twitter needs to exist. And it should be growing to be as big as Facebook, but it's going to."
How to Say Hello to Hiten (and us)
Hiten Shah is a super active Twitter user and would love to say "Hello" at hnshah and you can read more about Hiten and his work at hitenism.com!
Thanks for listening! We'd love to connect with you at @buffer on Twitter or with the hashtag #bufferpodcast.
Enjoy the show? It'd mean the world to us if you'd be up for giving us a rating and review on iTunes!
—
About the Show
The Science of Social Media is a podcast for marketers and social media managers looking for inspiration, ideas, and results for their social media strategies. Each week, we interview one of the very best in social media marketing from brands in every industry. You will learn the latest tactics on social media, the best tools to use, the smartest workflows, and the best goal-setting advice. It is our hope that each episode you'll find one or two gems to use with your social media marketing!
The Science of Social Media is proudly made by the Buffer team. Feel free to get in touch with us for any thoughts, ideas, or feedback.