Wow! We couldn't believe it. With all of you on board, we've hit the milestone we didn't even dream about when starting Buffer: 1,000,000 people have signed up for Buffer as of today.
We thought, what an incredible opportunity to reflect on the journey up until this point.
To breakdown some of the core numbers about Buffer, take a look at the infographic below:

Along the way to reach 1m users a lot has happened for us. Here is a brief review of the last 2.5 years:
The journey to the 1 million user mark
This of course the perfect time we thought for some nostalgia about how Buffer started and where it all began. So without further ado, here are the key happenings along our Buffer journey:
A twinkle of an idea in Joel's bedroom, Oct 2010
The origin of Buffer can be traced back to a (probably) rainy night in Birmingham, UK, somewhere in October 2010.  Joel, after having dabbled with a few social media tools to help him schedule his Tweets, was fed up with what was available and wanted to build something better and easier to use. "What if scheduling a Tweet, could be as easy as sending it now?" must have been one of the key questions he mulled over.
And so, without writing any code at first, Joel got to work and see whether others would find Buffer useful too. It then took him 7 weeks to validate and build the first version of Buffer.
Launch of Buffer, 30th of November 2010
On exactly the 30th of November the first version of Buffer was launched in the most lean and minimal way possible. The only network you were able to use was Twitter, without any analytics, team collaboration or other helpful features you can use today.
This is what the landing page looked like when Joel launched it: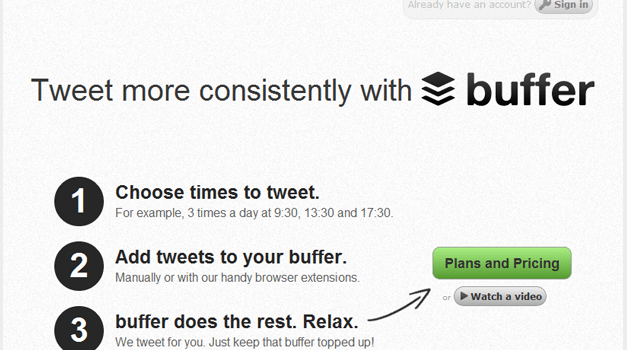 The first paying customer 4 days after launch, December 2010
Being fully focused on building something people want, the ultimate way to test whether Buffer was useful for anyone besides Joel himself was to see if people would pay for it. And they wanted to! Joel made his first $5 on the internet when the first person started to pay for Buffer 4 days after launch in December.
In the first few weeks, somewhere around 100 people signed up for Buffer, with a handful people paying. That was great validation for Joel to keep going. Good thing he did!
Quitting day jobs to go full-time with Buffer, May 2011
A little further into the year, whilst working on Buffer on evening and weekend, it was finally time to make the big jump. After mulling over when to finally go all in, May was the months to go all in. Shortly after hitting ramen profitability, at $1000/mo, Joel and I made the call to stop the mills on anything else we were doing (working full time and going to College) and put all our eggs into the Buffer basket.
Moving Buffer to San Francisco, July 2011
Shortly after quitting day jobs, Buffer was ramping up nicely, hitting 20,000 users in July 2011. Good enough, we thought, to pack our bags and make the move from the UK over to San Francisco.
This was the time, when Buffer finally became a real and incorporated company. Whilst we were quickly running out of money, after we realised that San Francisco is way more expensive than Birmingham in the UK, with lots of luck, we managed to get into the San Francisco based incubator AngelPad, which literally saved Buffer at that point.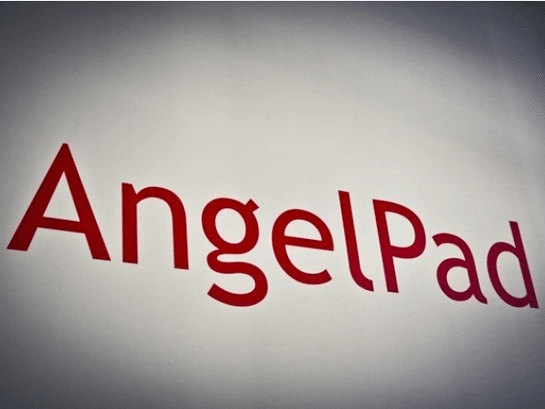 Raising seed round ($450k), Dec 2011
Fresh out of AngelPad, it was time for Buffer to secure some funding to turn what was a fun project and product to work on at the time into a real company, with real employees and a plan. It took us 150 meetings with different investors, of which 88% turned us down and said no. Fortunately, the other 12%, 18 of these awesome guys, said yes and invested into Buffer.
In total, we raised $450,000 to help build out Buffer. By that time, Buffer was quickly becoming a more complete social media tool. You were able to post to LinkedIn, Facebook and Twitter, with Google+ and other networks already on the horizon.
Raising a seed round was definitely one of the toughest things for us, especially for the stage we were at. Here is the pitch deck that we've used to explain Buffer's vision and help get investors on board:
Visa troubles – leaving San Francisco for Hong Kong, January 2012
Then, just as we closed the last investor to put money into Buffer, the Buffer plane experienced turbulence. Securing a Visa in the US isn't such a piece of cake we found out quickly and we didn't manage to secure one. This meant, we had to leave the US again.
Fortunately, that gave us the chance to pick anywhere in the world we wanted to go. Looking at Google Maps (literally!) we picked Hong Kong to move all of Buffer over there.
Visa troubles in Hong Kong – Moving onwards to Tel Aviv, August 2012
That fun in Hong Kong, didn't last for long either, as it turns out, getting a long-term Visa is also a difficult thing to do. So, on we went again to find our next destination: The startup nation Israel, more precisely Tel Aviv.
There, Buffer grew further to  7 people on the team, whilst we enjoyed some time at the beach and other stunning places in Israel: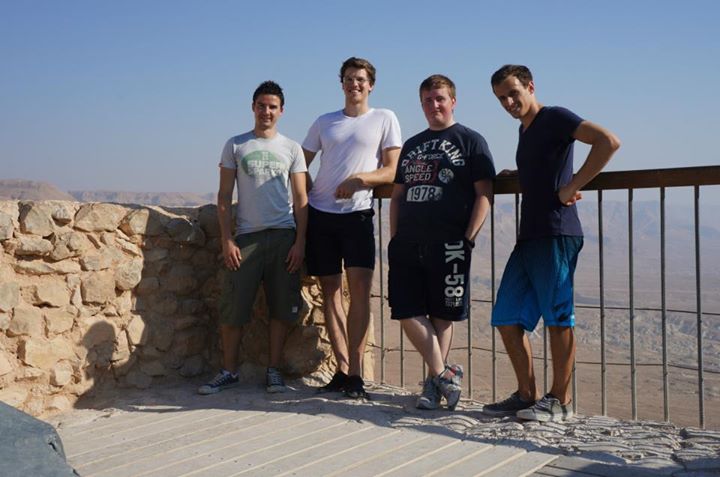 The Buffer team now 10 people, May 2013
Whilst for a few people on the Buffer team, we finally resolved our Visa issues and were able to move back to the US (yay!), we decided that Buffer will be a distributed team.
So we started hiring people from all over the world, growing the Buffer team to 10 people, including awesome folks from the UK, Australia, Hong Kong and the US.
From then onwards, after the core team was in place, it was crunch time for the product. We introduced many brand new features, including Google+ scheduling support, custom scheduling and more.
First retreat with the team in Lake Tahoe, August, 2013
Being a distributed team, one of the most important things is of course to get face time in still. That's when we decided to have retreats every 4 months and bring the whole team to one awesome destination in the world.
For this year, it was San Francisco, with a bit of time in Lake Tahoe. Here is the whole Buffer team on a boat trip on Lake Tahoe: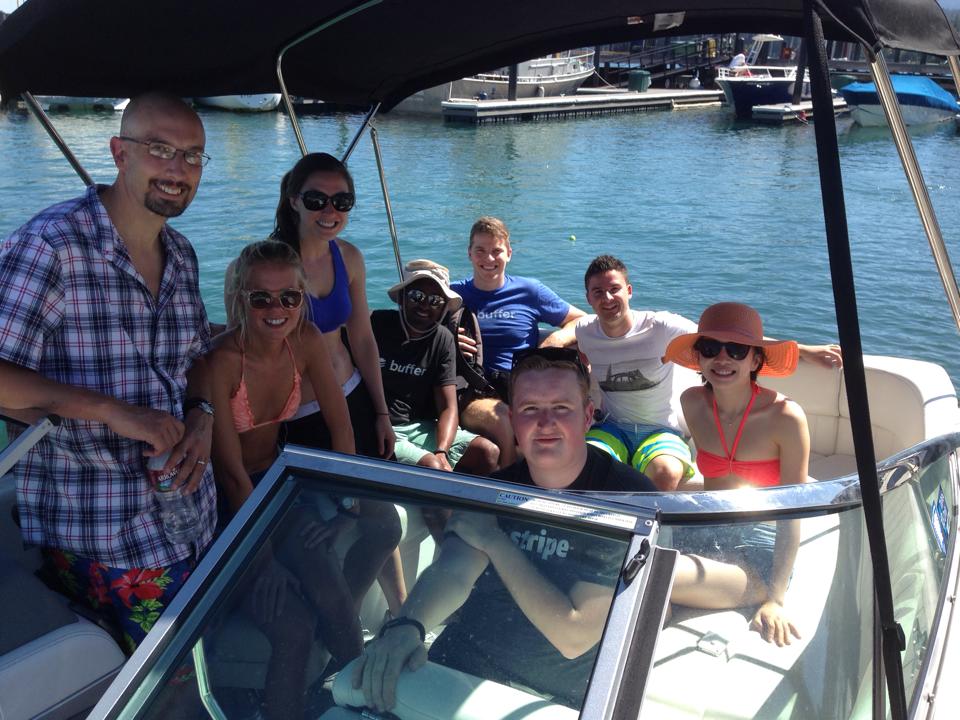 One million users reached, September 2013
And finally, we've come full circle, to hitting 1m users in September 2013. What a journey it was so far!
Thanks to all of you for being on board from the bottom of our hearts! We'd love to hear how your Buffer experience has been, please tell us in the comments below!