Your Facebook newsfeed is about to get a whole lot more meaningful.
After nearly a year of testing in various markets around the globe, Facebook has now released their new, supercharged 'like' button.
For the first time, Facebook users globally can now react to status with more than just a thumbs up. Facebook Reactions enable you to express yourself with five additional emojis, alongside a "like."
The new Reactions are: 'love,' 'haha,' 'wow,' 'sad,' and 'angry.'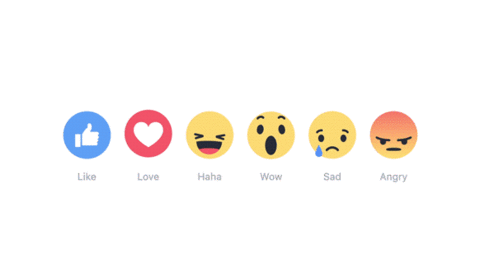 Curious to learn more about this change? Let's dive in.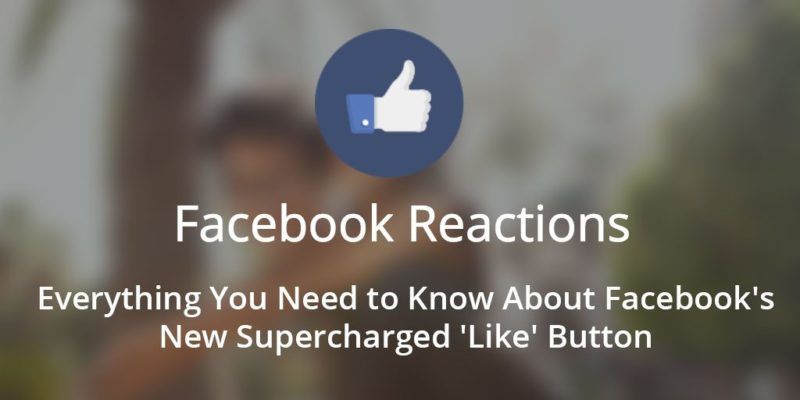 About the change
Reactions, is an extension of the Like button, to give you more ways to express your feelings towards a post in a quick and easy way.
To add a Reaction, hold down the Like button on mobile or hover over the Like button on desktop to see the Reaction image options, then tap either Like, Love, Haha, Wow, Sad or Angry.
Here's how the hover works on desktop:

And on mobile: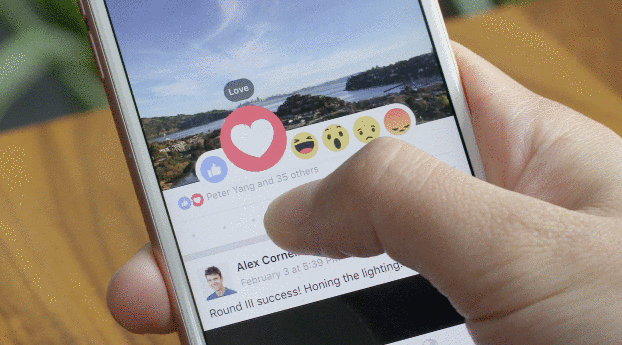 On the process of rolling out this change, Facebook product manager, Sammi Krug explains:
We understand that this is a big change, and want to be thoughtful about rolling this out. For more than a year we have been conducting global research including focus groups and surveys to determine what types of reactions people would want to use most. We also looked at how people are already commenting on posts and the top stickers and emoticons as signals for the types of reactions people are already using to determine which reactions to offer.
Even though there are now five extra ways to react to a status, the 'like' still holds to number one spot.
As you scroll through your Newsfeed, you'll still the 'Like' call to action on every post. Now though, instead of telling you how many people "Liked' something, Facebook tells you how many people "reacted."
During the testing period, Facebook learned a great deal about how people would like to react to the content in their feed.
Originally, "yay" was also included as a Reaction, but Facebook discovered that "yay" could also convey other positive emotions such as "love" and "haha, and the data showed it was used much less in testing that the other Reactions. As such, "yay" was removed.
Given the long-lasting rumours of a "Dislike" button, this update feels like something Facebook users have been longing after for a while.
Facebook is used to share an emotional range of posts, and often, a "like" wasn't entirely fitting to every post you wanted to react to. Mark Zuckerberg shared his thoughts on this topic as rumours of a "Dislike" button started to circle in 2015:
Over the years of people asking for this, what we kind of have come to understand is that people aren't looking for an ability to down vote other people's posts, what they really want is to be able to express empathy.

Not every moment is a good moment and if you are sharing something that is sad, whether it's something in current events, like the refugees crisis that touches you or if a family member passed away, then it may not feel comfortable to 'like' that post. But your friends and people want to be able to express that they understand and that they relate to you, so I do think it's important to give people more options.
With Reactions being rolled out across both individual and business pages, this feels like an excellent opportunity to dive into what Facebook Reactions could mean for anyone running a brand page.
What Reactions could mean for brands
It certainly feels like Reactions could be a significant update for brands on Facebook.
Just hours after Facebook Reactions were released globally, Chevrolet became the first brands to incorporate the 'like' button extension into one of their advertising campaigns.
The one minute video, posted on Chevrolet's Facebook page, allows customers to display their 'love' for the latest Chevrolet release. Check out the video below:
Like the all-new 2016 Malibu? More like Love. http://s.chevy.com/moV

Posted by Chevrolet on Wednesday, 24 February 2016
3 ways Facebook Reactions could affect brands
1. New ways to measure sentiment
Reactions will offer a new way to measure sentiment and gauge exactly how an audience is reacting to your Page's content or a sponsored post.
"Reactions gives businesses a really crisp way of understanding on a multi-dimensional level how people are feeling about the things that they're posting," Richard Sim, Facebook's director of monetization product marketing, explained to AdAge.
This update will also bring a refresh to Facebook insights, with brands able to see Reaction counts within Facebook's page insights tool.
2. Better understanding of customers
Previously, Facebook users had a few options if they saw a piece of brand content in their news feed:
Ignore it
Like it
Share it (if they really love it)
Comment on it (either positively or negatively)
Reactions open up multiple new ways for users to share their feelings towards content.
For example, if you're seeing a lot of 'haha' Reactions it may become clear that your audience finds your content amusing – this is context you previously wouldn't find with the "like" only button.
3. A decrease in comments
Reactions is designed to make it easier for users to react to posts without having to type a comment.
Comments have always been a way to keep an eye on how your audience have reacted to a post and qualitatively measure performance.
With this update, I could see a sharp decrease in comments as Reactions will provide users with more ways to convey their feelings without having to type and leave a comment. This may also lead to more quantitive ways to measure user emotions through data.
Could Reactions eventually factor into the news feed algorithm?
Facebook is always looking for new ways to improve their news feed algorithm and speaking to AdAge, Richard Sim explained:
"Over time we do expect to have a better understanding of how these different Reactions impact what people want to see in their news feed. So it's very possible that loves or hahas may be treated differently. We're going to learn this as we're going through testing."
Could we see Reactions factored into the algorithm in the future? Maybe, but I wouldn't expect it to happen anytime soon. I fully expect Facebook to be meticulous with the data here and fully test any updates before rolling them out to the news feed algorithm.
Over to you
Thanks for reading! I'm super excited about the update and can't wait to dig into the Facebook insights data for our Buffer page.
I'd love to hear your thoughts on this update. What do you think about Reactions? How can you see this update affecting brands on Facebook?
Feel free to share your thoughts in the comments below.