Understanding the consumer behavior of younger generations is one of the most talked about subjects in marketing today. Particularly when it comes to Millennial marketing.
But what if you could look inside the mind of a successful Millennial marketer?
At 27 years young, Everette Taylor is a 4-time entrepreneur and is currently serving as Vice President of Marketing for a fast-growing and revolutionary mobility company called Skurt.
We had the pleasure of speaking with Everette about what it's like to be the Vice President of Marketing for Skurt and how he approaches social media at a service geared towards a younger generation of mobile consumers. Everette dives into subjects like influencer marketing, where social media fits into the growth cycle, and how marketers can keep their skills sharp.
A huge thank you to Everette for jam-packing this episode with actionable wisdom and takeaways for social media managers and marketers looking for new and exciting ways to think in terms of generational marketing.
This episode is available on:
In this episode, here's what you'll learn:
Everette Taylor takes us inside the social media at a fast-growing company whose target demographic is a younger generation and how subtle differences in marketing tactics make a huge difference in ROI. You'll also learn great things like:
Everette's journey until now and how he got to be the VP of Marketing for Skurt
Where marketers can go to stay on top of their game and keep their skills sharp
The philosophy of ICE and how to effectively approach a marketing campaign or strategy
Generational marketing and how marketers can tailor their message to individual audiences
The importance of employee advocacy and how employees play a pivotal role in your organization
How Everette approaches influencer marketing at Skurt and how it has helped to shape their brand
3 Ways Marketers Can Stay Sharp in Social Media from Everette
In Everette's words…
1. Constantly strive for self improvement
Constantly try to self-improve. Constantly be learning and adding new skills to your arsenal. That's something that I always tell people all of the time is that you can't get comfortable. Continuing to learn every day is a key takeaway.
2. Always get better at being data-driven
Always get better at being data-driven. Understanding analytics tools and platforms and being able to see the return on investment on everything you're doing from a data perspective is huge. It is a huge skill set have.
3. Make sure that you are balancing your life
Make sure that you are balancing your life and are in a good emotional state to work. We all want to be successful, we all want to do great things… Your emotional health is so important for you to be successful and for what you're doing in marketing.
Mentionable Quotes and Shareable Snippets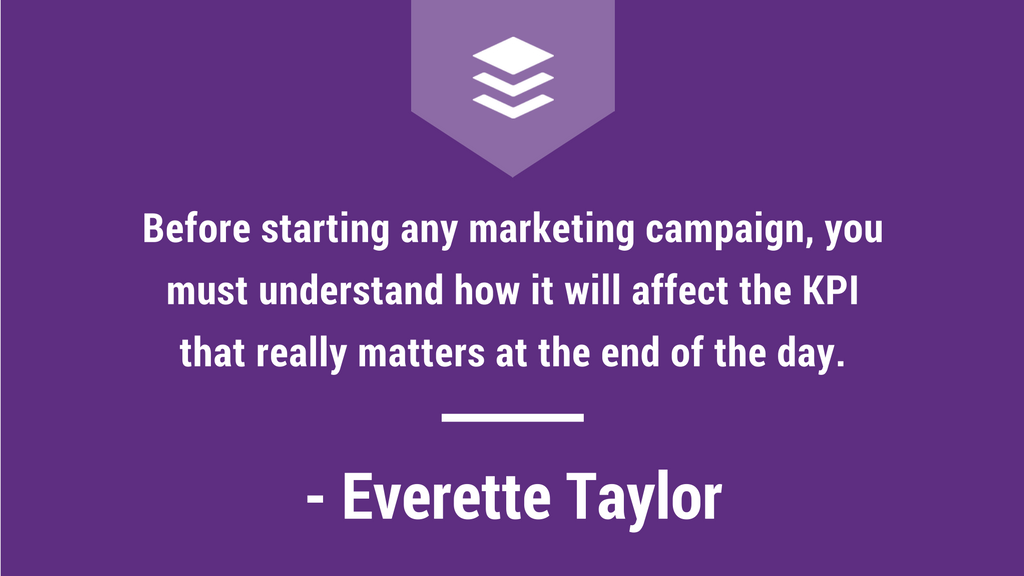 "One of the things that I always try and think about is the philosophy of ICE: Impact-Confidence-Ease. Before I start any marketing campaign or marketing strategy I always ask:
How impactful will this be?
How much confidence do I have in this particular campaign?
How easy will this be to conduct?
And most importantly, trying to understand how this will affect the KPI that really matters at the end of the day."
Show Notes and Other Memorable Moments
Thanks a million for checking out this episode! Below are the websites and other tidbits that were mentioned in today's podcast about personal branding on social media. If you have any questions for us, feel free to drop us a line in the comments and we'll respond right away!
Awesome Companies, People and Tools Mentioned by Everette
Great Quotes
"I think it's very, very important to be data-driven, to be intellectual about marketing. But where I feel like a lot of people don't understand is that you have to take a step back away from the data sometimes and have that EQ. To be able to understand people."
"One of the biggest things for me is being aggressive about and being a veracious learner. Constantly wanting to get better and constantly wanting to sharpen my skills."
"We want to really think big picture and take a step back when it comes to partnering with influencers on social media. We want to do really cool and interactive projects with influencers."
"Social media is so important from the very beginning in the overall growth cycle. When we started GrowthHackers our very first users came from Twitter when Sean Ellis Tweeted out that GrowthHackers is live. If you know where you're headed as a product, you can start building out that audience early."
"As a manager, your number one job is to make the people you're managing as successful as they can. And in return, they are going to do 10-fold in return because they respect you and know that you're they're for them."
How to Say Hello to Everette (and us)
Everette is active on Twitter at @Everette and you can read more about Everette Taylor's work in a great article from Forbes titled "Failure Is An Options and Other Advice from Millennial Marketing Genius Everette Taylor."
Thanks for listening! We'd love to connect with you at @buffer on Twitter or with the hashtag #bufferpodcast.
Enjoy the show? It'd mean the world to us if you'd be up for giving us a
rating and review on iTunes
!
—
About the Show
The Science of Social Media is a podcast for marketers and social media managers looking for inspiration, ideas, and results for their social media strategies. Each week, we interview one of the very best in social media marketing from brands in every industry. You will learn the latest tactics on social media, the best tools to use, the smartest workflows, and the best goal-setting advice. It is our hope that each episode you'll find one or two gems to use with your social media marketing!
The Science of Social Media is proudly made by the Buffer team. Feel free to get in touch with us for any thoughts, ideas, or feedback.