Ai Ching Goh didn't know what kind of company she wanted to start. She just knew she wanted to stop having the "Monday blues."
So together with her husband, the experimental psychology student and former Procter & Gamble corporate exec founded Piktochart, a web app that helps non-designers tell visual stories through images and infographics.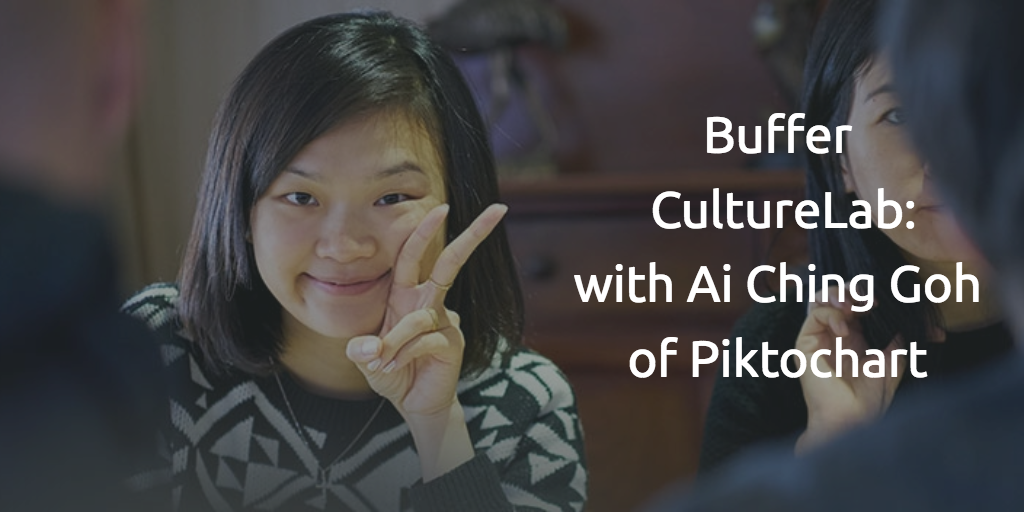 Today, Piktochart has grown from 4 people working in a small Penang-based warehouse to more than 50 people serving more than 5 million users. Naturally, they tell their whole story via a cool interactive infographic: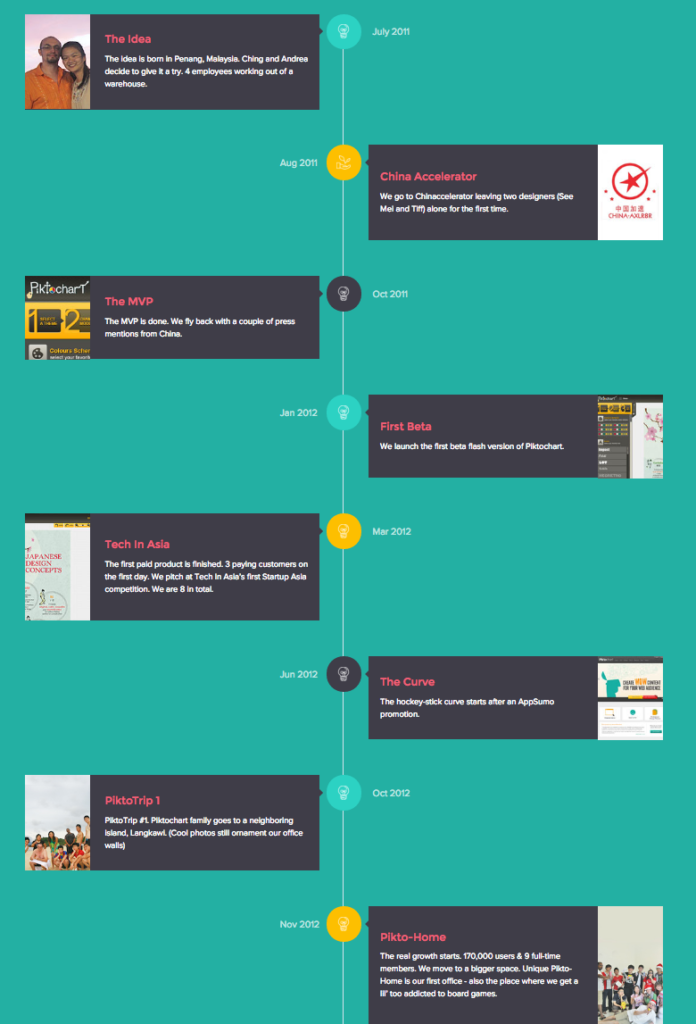 We're even more inspired by the kind of thoughtful company culture Piktochart is creating!
"We didn't realize that the biggest part of running a company really wasn't about the product or the technology, it was about the people."
Check out their values:
In Episode 8 of CultureLab, I had a great chat with Ai Ching about her on-the-job learning when it comes to creating a great culture, even across the world. Plus, Carolyn and I answer our first listener question! We talk about Buffer's value of positivity and how it actually works every day. Have a listen:
What you'll learn from this episode:
Why Buffer believes in a value of positivity
Why we changed our value of positivity by one word
What it's like to bring your whole self to work
The difference between criticism and complaint
The key element of startups that accelerators don't teach
How Piktochart determined their values
How it works to have a "semi-distributed" team
The perks and activities that support a great culture
How to run a company with your partner
How Ai Ching became so entrepreneurial and how she encourages other women now
Stuff we talk about in this episode:
Further reading
How We Created Our Company Values From Scratch
Notable Moments
:55: Our first listener question!
2:00: Complaining vs explaining
3:15: Complaint Twitter
4:30: Buffer's value of positivity
6:45: Removing perfection
10:30: We knew nuts about how to run a startup
11:30: The biggest part of running a company isn't about the technology, it's about the people
12:15: Monday blues syndrome
13:40: "That sounds crazy"
17:50: The give hugs rule
18:30: The two most surprising values
22:35: Becoming semi-distributed
25:00: Things got super multimedia
28:30: There's a lot of voting
30:01: Piktochart's well-being allowance
35:19: Founders date night!
36:45: The "woman founder" question
43:50: The Piktochart boy band?
44:46: It all goes back to love
Get in touch
Subscribe to get all our episodes automatically
Ready to subscribe and get all our new episodes automatically? We've got ya covered!
If you're an iTunes listener, click below to find us and subscribe. Ratings and reviews make us so happy! (If you write us a review and let me know about it, I will definitely tweet you a bizarre string of emojis to celebrate!)

If Google Play is more your style, you can find a link here to find and subscribe. We'd really love it if you'd be keen to share it with anyone who might find it helpful!

Other spots to listen include:
We welcome your feedback anytime on the podcast!
How do you view positivity in the workplace? Do you develop your company culture in any ways that are similar to Piktochart's? Let us know what you think about any of the stuff we discussed in this episode!