Car Next Door is a car-sharing platform that enables customers to hire a vehicle from a community of local owners and its long-term objective is huge. In fact, when Kate Trumbull, the company's communications director, told us their vision, we were kind of stunned:
Our mission is to free people and the planet from the 'one person, one car' mentality.
Now that is an audacious goal.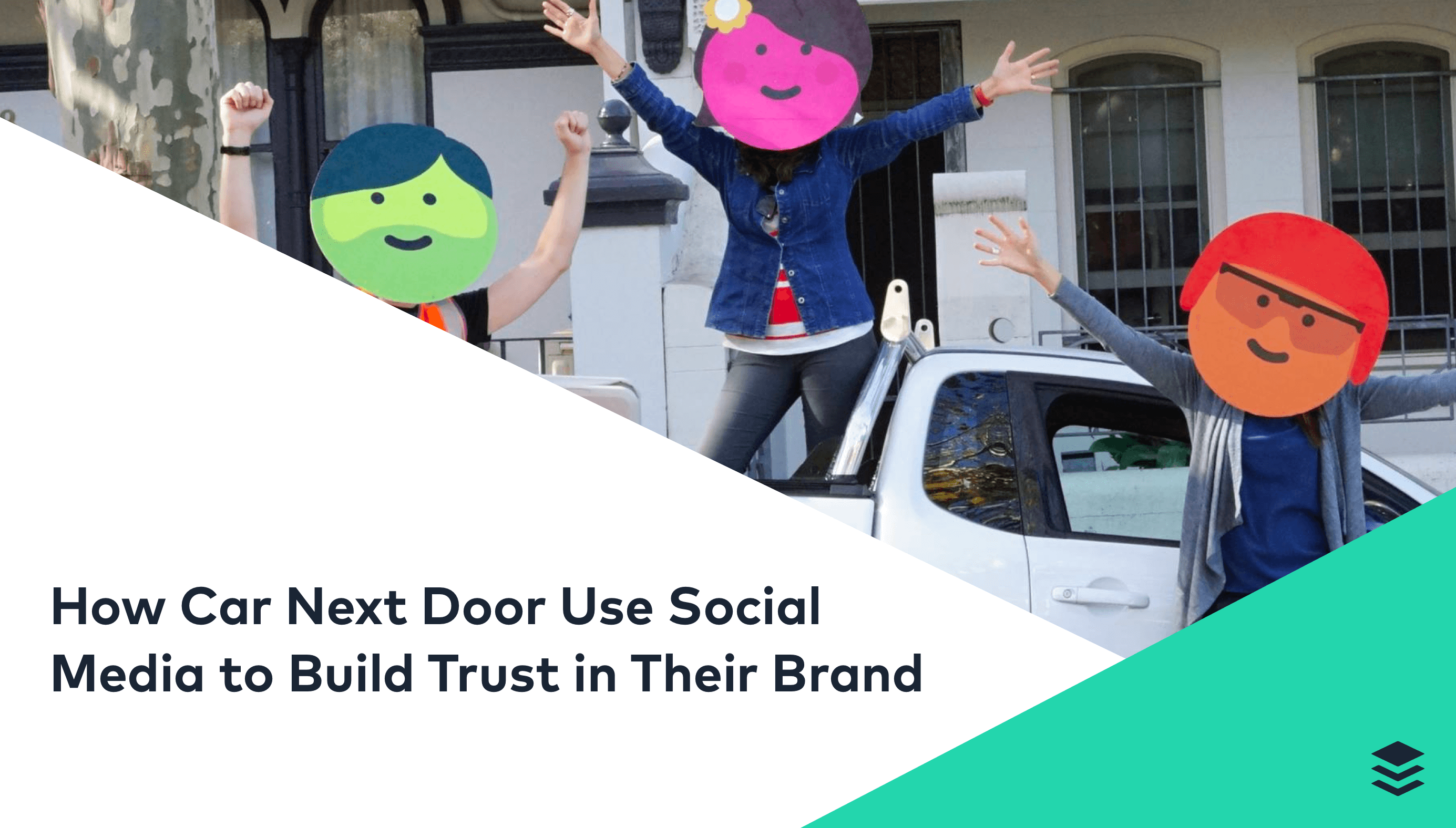 Getting cars off the road, reducing pollution and waste, and building more connected communities might seem like a huge endeavor for a small business of about 40 people, but Car Next Door has already come a long way:
We started out with a small pilot in a few Sydney suburbs. We did a lot of face-to-face local marketing: literally going to markets was actually a big part of our strategy! We would be really excited every time someone booked a car and we knew all of our members by name. We held a bush dance for our community early on – one of our members catered for it.

Now there are more than 80,000 borrowers and 1,500 cars listed on Car Next Door. More than 160,000 trips have been booked on the platform.
Scaling trust and engagement through social media
So, how do you scale such personal service and engagement (like a bush dance)?
To find out, we asked Kate about the role social media plays in their marketing strategy:
Social media serves the dual purposes of creating social proof and ongoing engagement with our audience. Social proof is important for us – peer-to-peer car-sharing is still really new in Australia and people can initially be a little uneasy about it. Being able to show that we have active social media channels with thousands of followers adds to the perception of legitimacy for people who are just discovering us – it shows that we're established and increases trust.

On a day-to-day level, it also allows us to stay top of mind with our audience. We know that most of our borrowers drive really infrequently (most of them around once every 3 months or less). We want to make sure that when they do need a car, they're getting one from us rather than somewhere else. Sharing regular content with them helps with ongoing engagement with our brand and, ultimately, our product.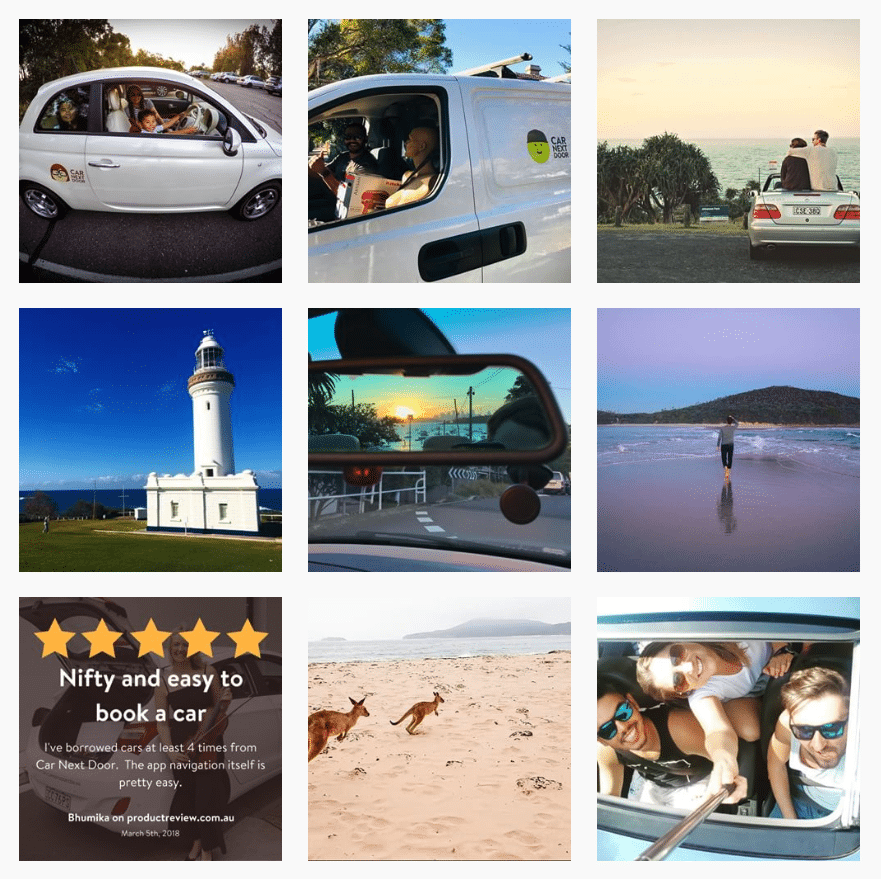 Engagement is a keyword for Car Next Door, and it isn't just limited to the marketing team sharing content:
Nearly everyone at the company is involved in social media either directly or indirectly. A lot of our members and prospects also use social media as a customer service channel, so our Member Experience and Sales teams are regularly responding to enquiries. We also have a private Facebook group for our car owners, and every team helps manage that channel – even our CEO regularly jumps in to respond to questions or feature requests.
From time-consuming, manual posting to calm social scheduling
Being keen to learn more about how Buffer has changed the way they work, we asked Shannon, their social media manager, about how they managed their social media before they discovered Buffer:
It's a bit hard to remember actually … we did it manually. I think I used a spreadsheet at one point. It was too time-consuming, and it was hard to schedule things for out of work hours.
It's a story we hear quite a lot; time being spent in spreadsheets and navigating between social networks, time that could be better spent when you're a fast-growing business with a big mission:
Buffer made it really easy to set and forget our social scheduling. Having the posting schedule set up for each channel makes it so easy to add things to the queue – whether it's content we've created or something I've seen elsewhere. I like the clear visual of the queue – at a glance, I can easily see what's being posted when and if anything needs adjusting.
What does a typical day of social media scheduling look like for Car Next Door? Here's a little insight from Shannon:
Anytime I or someone else in the team publishes a new blog post or another piece of content I'll add it to the queue in Buffer. If it's evergreen content (which it almost always is) I'll schedule it a few times over the next 3-4 months in different formats – a link directly to the post, with a graphic we've made in Canva, with a different caption, etc. The rest of the slots I'll fill up with reposts of photos or videos our members have shared, recent media coverage of Car Next Door, and curated content that will be of interest to our audience.

I also use the analytics features to see our top performing posts from the last few months and re-buffer anything that did well. I often find that our top-performing posts will continue to perform well on a second or even third share. Finally, a couple of times a week I'll quickly check on the queue and rearrange anything or fill any empty slots.
Handy social media scheduling tips from the Car Next Door team
Use a tool like Canva to create channel specific graphics
Use analytics to find and reshare your best social media posts
Experiment with different content formats
Keep an eye on your queue of posts to ensure you have a consistent presence
We were also curious about Shannon's favorite Buffer features and how they make her life easier:
The flexibility of the posting options is really helpful. I use the Buffer queue as a standard, ongoing schedule that chugs away in the background and I use the 'share next', 'share now' or 'schedule post' options for time-sensitive content. For us, this is usually for a long weekend when we share something designed to encourage bookings, or for specific days like Earth Day or Valentine's Day when we might want to share something specific. Being able to manage both the regular evergreen content and the date-specific content in one place makes it really easy.

I also love the Chrome extension – when I find something I want to share it just takes a minute to add it to the queue for any of our channels, all without needing to leave the page.
A comprehensive presence with minimal time
Finally, when asked how has Buffer helped Car Next Door to move towards their social media and overall business objective and Kate explained:
Buffer keeps everything in one place and kept things simple. It helps us to maintain a presence across a range of social platforms with minimal time and fuss. It keeps our social media time costs down while allowing us to keep a steady flow of content going out.
About Car Next Door
Car Next Door makes it simple to turn any car into a shared car, empowering people to save money, reduce waste and create cleaner, greener, and better neighborhoods.
Find them on:
We hope you found this case study useful! Ready to grow your small business? Getting started with Buffer is easy. Learn more about our plans and try it free.