Social media has entered the video era.
In 2015 we've seen the addition of video on Twitter and a giant push by Facebook to make video a major component of the News Feed. Check out some staggering social media video stats:
The number of videos in Facebook feeds has grown by 360%
82% of Twitter users watch video content on Twitter
Globally, people are posting 75% more videos to Facebook
50% of Americans who use Facebook on a daily basis watch at least 1 video every day
And today we're excited to announce that Buffer customers can now upload, share, and schedule video from Buffer to all your social media networks.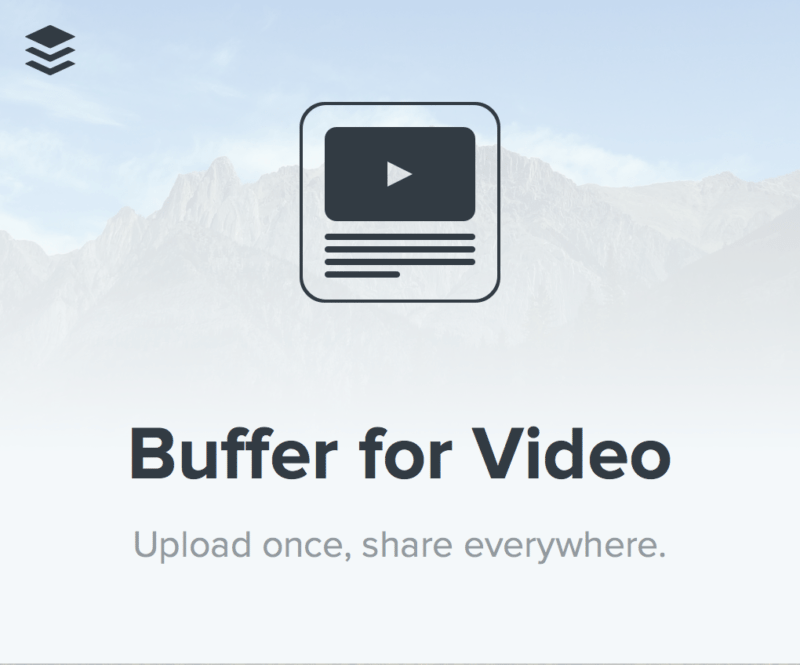 Upload once, share everywhere
How to schedule video to Facebook, Instagram, Twitter, Pinterest, and LinkedIn
To get started uploading videos through Buffer, select a video file from your computer—either an mp4, mov, or avi file of up to 1 gigabyte in size.
Drop your video into the Buffer composer window or choose the file you'd like to upload, and Buffer will do the rest!
You can add to your queue or share your video at any time during the 'Preparing Video' step. Once the video finishes uploading (large videos may take a minute or two to import fully), Buffer will offer you a selection of potential thumbnail images from your video. The thumbnail you select will appear as the cover image that people will see before your video plays.
Once you choose your favorite thumbnail, give your video a title, and add your message, you're ready to share or schedule to any and all of your social media profiles!
With Buffer for video, you can upload a video once, on your schedule, and share it to multiple social media networks at the time that's right for you and your audience.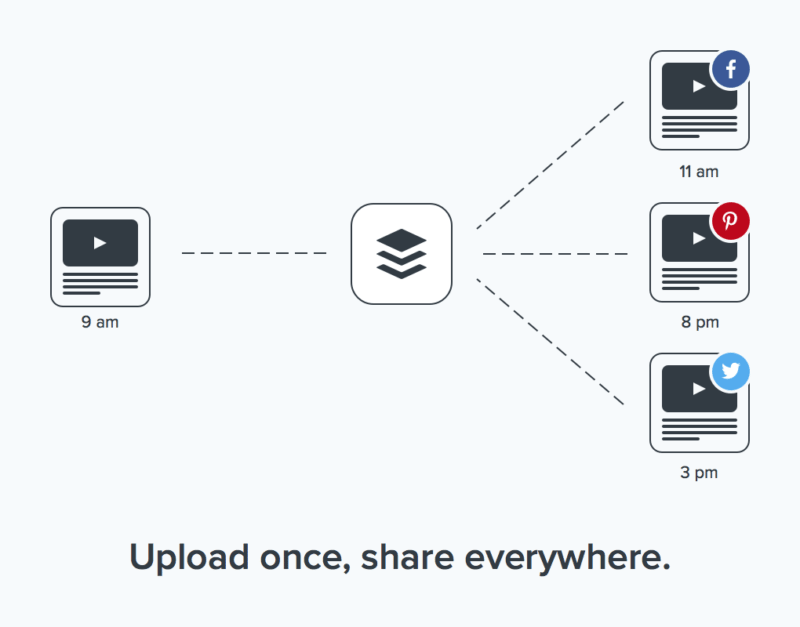 Sharing videos with Buffer: By social network
Wondering about a specific social media network? Here's how your video will look on Facebook, Instagram, Twitter, Pinterest, and LinkedIn.
Facebook
Native video is blowing up Facebook — our study of 777 million Facebook posts in 2018 revealed that video posts received 59 percent more engagement than other post types.
When you post through Buffer, your video will look native and play automatically, just the same as if you had posted it directly there.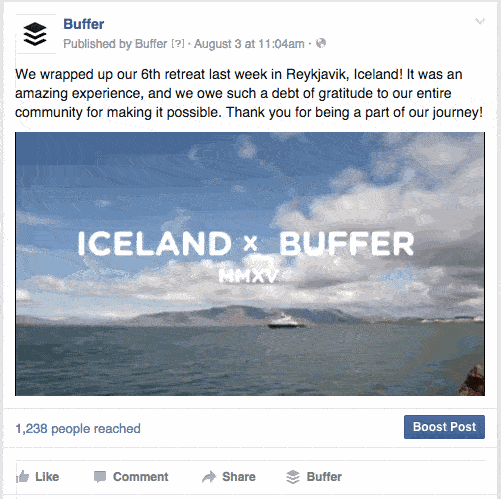 Instagram
A study of 8.9 million Instagram posts by Quintly in 2018 found that videos, on average, generated 21 percent more interactions than images and 19 percent more interactions than image carousels.
Here's how a video on Instagram looks like:
Twitter
On Twitter, native video is capable of driving more than two and a half times as many replies and nearly three times as many retweets than third-party videos shared on the platform.
30 seconds or less
For videos of less than 30 seconds and less than 10MB, Buffer will play the video automatically through Twitter, without leaving the app. Here's an embedded Tweet to show you how it looks online:
Note: This works great with animated GIFs, too!
Longer videos
Even for videos longer than Twitter's 3o-second threshold, we'll post a link to our Buffer video player, which is still playable directly from Twitter. Here's a look at how that appears on Twitter:
Pinterest
When you post a video to Pinterest, Buffer will create a Pin with the thumbnail you selected: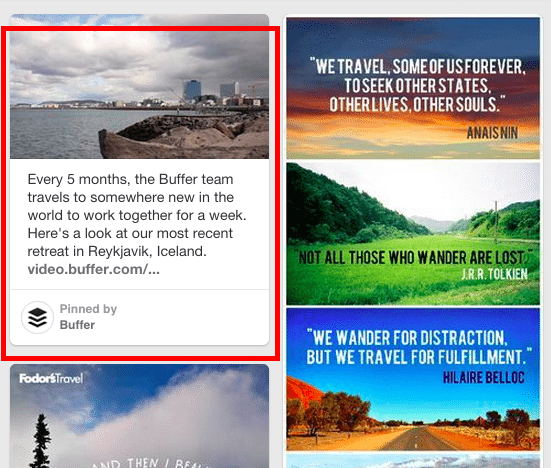 We'll create a link to Buffer's video player in the source field so viewers who click on your Pin will be directed right to the video player: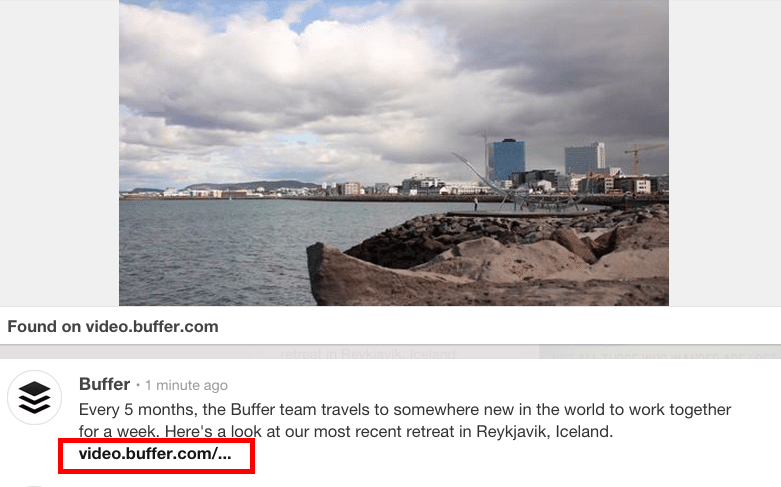 LinkedIn
Since LinkedIn doesn't support video just yet, when you post a video here, Buffer will provide a link to your video like this …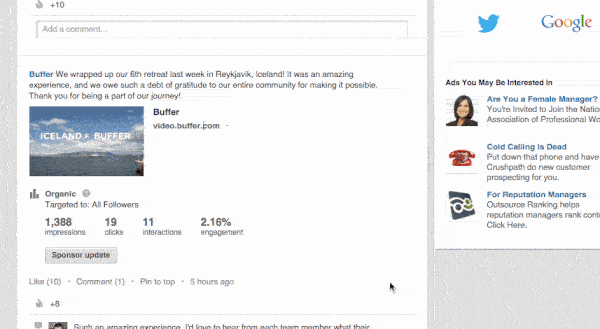 … and then direct viewers to our hosted video player: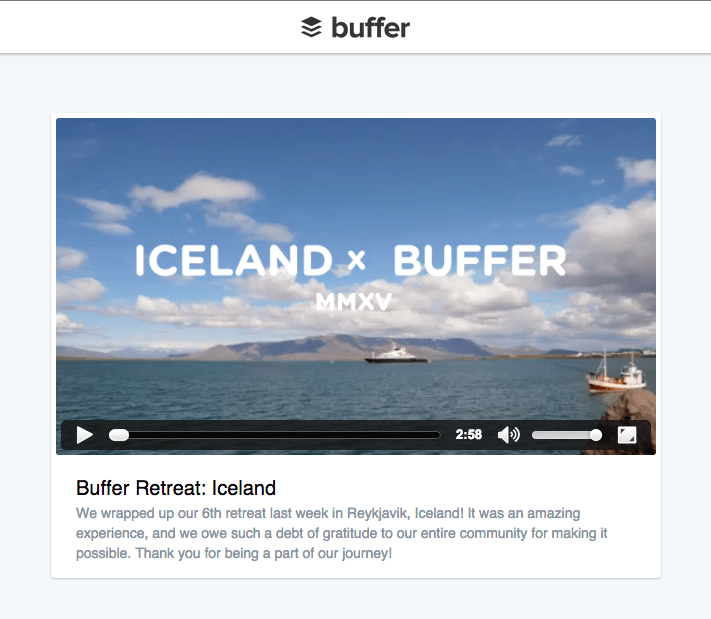 Analytics
For each social network, we'll show you analytics including likes, shares, and comments for each of your videos.
5 tips for great social media videos
Looking for a few pointers on creating great social media videos? We'd love to help out!
1. Grab viewers early
Facebook says that shorter, timely videos do best in the News Feed. Wistia's research says that the first 30 seconds of a video gives viewers everything they need to know. Make sure you get them hooked early!
2. Use the psychology of auto-play
Facebook and Twitter have given content creators an awesome gift in auto-play—it's so hard to look away from a moving image!
That's why creating video is Facebook queen Mari Smith's No. 1 tip:
"They come in through your newsfeed, start to see a tiny bit of movement—boom, it draws them in. They'll stop and play your video. Make it short, quick and easy, with a call to action."
Remember that auto-play videos on Facebook and Twitter play silently until a user elects to hear sound, so it's great to create videos that can capture attention even without sound.
3. Harness the power of storytelling
We can't help but be drawn in by a good story. Can you create a video that uses storytelling elements like plot, conflict and a protagonist?
4. Provide context
Another suggestion from Facebook: Set context by pulling out a key quote or moment from the video as the text component of your post. This will help set expectations for the experience ahead.
5. Make it shareable
Videos on social media can—and should!—be shared. For the best shareability, consider why someone would want to share your video before you ever start working on it.
Bonus: More video resources
How will you share video with Buffer?
We're really excited to share Buffer for Video with you and see how you'll use it to share and schedule incredible social media videos.
If you're able to give Buffer for Video a try, let us know what you think! We'd love to hear of any ways we can make this feature better and more useful for you.

P.S. I had the amazing privilege of working closely with a number of teammates to help make Buffer for Video possible. Big thanks to Sunil and Phil (engineering), Jim (product), Thomas (customer development), Dave (design) and Kevan and Sandrine (marketing) for helping to get this shipped!