I'm excited to write the very first Buffer update of 2015, which is also going to our new Series A investors following our transparent funding round.
Welcome to our new investors, and thank you so much once again for joining us on this journey!
The latest Buffer metrics:
2,002,495 total registered users (+3.5%)
168,455 monthly active users (-1.4%)
40,430 average daily active users (-0.40%)
$421,787 monthly recurring revenue (+3.0%)
$5.06m annual revenue run-rate (+3.0%)
$2,088,537 cash in bank
29 team members across the world
22 cities, 11 countries, 6 continents
We're very happy to have reached $5m ARR, and we are excited about the current pace of team growth too.
I'd love to share some of the most important and interesting things going on within the company right now:
Brand new company structure
During November, as a company we started to think about how our organization was changing as a result of our team growth. We had gone beyond 25 people, and we had felt the need to introduce some hierarchy and this naturally created separation between some teams.
Some of these changes we were not completely happy with, and this triggered some reflection and searching for how we want to structure the company. It was also right around this time that we had a chance to visit Vegas Tech Fund in Las Vegas and get insights into some of the big organizational structure changes that have taken place at Zappos.
We then discovered Frederic Laloux and his incredible book Reinventing Organizations (I can highly recommend his YouTube video). Laloux talks about the previous paradigms which have existed for companies in the last few centuries, and convincingly shares his thoughts on how a whole new paradigm is emerging.
The whole team got very excited about this, and almost every single one of us has read his book in full now. After the discovery, we started to make a number of changes which felt very aligned with the values we have put in place and followed for Buffer already.
If you would like to fully understand some of the changes we are going through, I highly recommend grabbing Reinventing Organizations. I'll try to outline a few of them here:
Task forces instead of teams
Perhaps one of the biggest changes that we have made in the last month is moving away from having long-term, static teams within the company. Instead we have shorter-term, more fluid task forces which are formed for a specific purpose and then disband once that task is completed.
Here's a look at all our task forces as of today: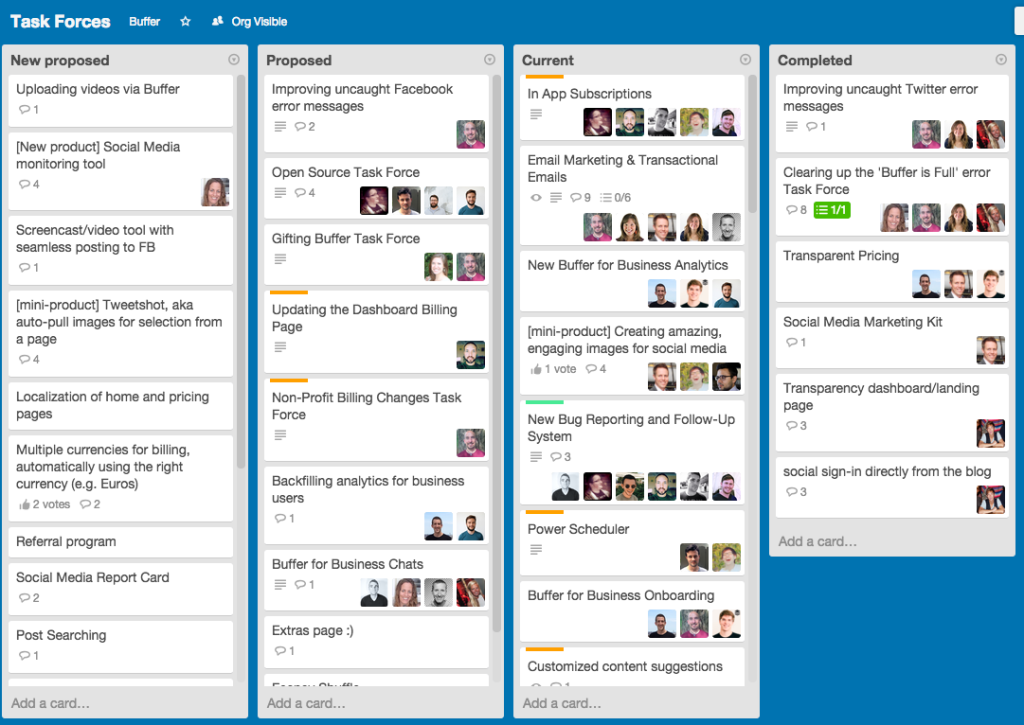 Two of the key concepts we are embracing from Reinventing Organizations are the ideas of self-management and wholeness.
Self-management means that we believe there is a way for the whole company to manage itself. As a result, we no longer have any managers within the company.
Wholeness is the belief that we should bring our full self to work, something that is often hard to do. We think that if people can bring their whole self to work, then people will be happier and the company will benefit from the full skills everyone has.
The move to task forces is very much in line with self-management and wholeness. Anyone in the team can propose and create a task force, and people choose which task forces to be part of. This is a truly self-managing way for a company to run, and so far we have seen great results.
With task forces, everyone in the team is generally a member of 3-5 task forces, and this is what makes up their role. Whereas previously people would have a job title, now they have a role which is made up of them being part of a number of task forces.
These roles could be across completely different areas of work, for example someone could be an engineer in a few product development task forces, but could equally be part of a customer service task force or a Sydney retreat planning task force or a hiring task force.
Job titles no longer make sense with this new paradigm, and that makes us happy because we can no longer look at our job title for what we should do, or for what our identity is. We think that we're all much more than that. We still think job titles may be useful for external communication purposes.
Some of the task forces currently going on:
We launched Transparent Pricing
We're hiring more Happiness Heroes (though that title doesn't necessarily mean they'll only do customer support!)
We are now able to pay ourselves part of our salary in Bitcoin
We've improved how errors sending posts are displayed to users
We launched a Social Media Marketing Kit
We're working on a new mini-product for creating engaging images for social media
We launched a Transparency Dashboard which lets you easily see all the details of things we've been transparent about
We're building a new Calendar View for posts
We're experimenting with social sign-in from the blog
I couldn't be more excited about the possibilities of task forces. Many of the things listed above would previously have had to go through a number of layers of hierarchy and some would probably not have happened. I think the growth potential here is quite huge, and we are already moving much faster than we were just a month ago.
No managers
As part of the move towards task forces and the ideas in Reinventing Organizations, we started to feel that the existing hierarchy and managers no longer made sense.
The idea is not that there will be no leaders or hierarchy, but that the hierarchy should form naturally and change more fluidly and organically. There will naturally be people who contribute more and take on more tasks and accomplish a lot, and these people will naturally be regarded as leaders and looked up to.
However, anyone is able to propose a task force and no one needs to be told what to do. We believe everyone is smart and is already making many smart choices in their personal lives, and can be trusted to make great decisions at work.
One of the key components of making this work is the advice process, which is something we implemented previous to all of these changes, but which is even more important now.
The advice process is a key part of the way Buffer works and governs how decisions are made: anyone can make any decision within the company (small or big), provided they get advice from people who 1) would have knowledge about the choices and/or 2) will be affected by the decision. This really helps things to happen organically and the advice process is used for proposed task forces and to make decisions within task forces.
Evolutionary purpose
Without managers, it doesn't make sense for us to have milestones and a set path. Our vision is now the natural combination of all the task forces, and we have trust that people are making choices that both they are passionate about and which move the company forward.
This is what Laloux calls "evolutionary purpose." In a sense, the vision and purpose can naturally evolve over time, and the company is structured in a way that it can fluidly move in the best direction.
We have already seen some of the great possibilities just in a couple of months of letting go of our strict adherence to growth goals, and I am excited to see what might happen as a result of all of these new task forces.
We are moving ahead on this new path simply because it is what feels right for us to do. At the same time, I have a hunch that we might see some great outcomes from the many task forces that are now forming and from the fact that things can be acted on much more quickly without hierarchy.
An ask and an offer for you!
We normally ask our investors for a small ask, and this time we have also given them a small offer–we'd like to extend both of these to you, reading this, as well, in case you're interested.
A couple of small asks
An offer from us and Frederic Laloux
Within the team we've all been incredibly inspired by Reinventing Organizations, and we'd love to offer each of you a copy of it if you're interested.
The book is a great way to get more insights into some of the thinking behind these and upcoming changes, and we'd love to hear any thoughts that are triggered by it. There might be perspectives we've missed and you all have much more knowledge and experience, so we'd be privileged to hear any of your insights.
For this offer, we are so honored to work directly with the author of Reinventing Organizations, Frederic Laloux, who has created a special page just for Buffer blog readers on his site.
Fill out this quick form and Frederic will send the book your way via your choice of Kindle, ePub or PDF!
UPDATE 1/26: After giving away more than 30o copies of Reinventing Organizations we have reached the maximum our budget can allow. Thanks to everyone who grabbed a copy; we'd love to hear what you think of it!
(If the whole book feels a little heavy, perhaps check out the YouTube video or an awesome summary blog post from my coworker Kevan.)
Thanks for all your awesome support. Wishing you a great 2015 ahead!