At national business magazine and website Fortune, there's a lot of news being reported, published and shared every day by many different editors and reporters.
With that much going on, a few social media pileups might seem inevitable.
"The problem we kept running into was if we had three stories going up at the same time by different editors, each editor would publish a tweet and not pay attention to when last tweet occurred," says Franchises and Social Media Editor Heather Muse. "So we'd have three tweets in the span of five minutes and—if nothing else got published for a while—maybe an hour would go by. Everything was sort of uneven."
So when a colleague at Time Inc. introduced Muse to Buffer, she jumped at the chance to streamline her team's social media routine.
"We did a trial and really liked it and signed up. It's pretty intuitive," she says. "Once I got everybody using the bookmarklet, that made things a lot easier."
Now Fortune has 10-15 team members using Buffer at any given time—with no pileups in sight.
"Buffer solved our problem," Muse says. "We've been very happy with it."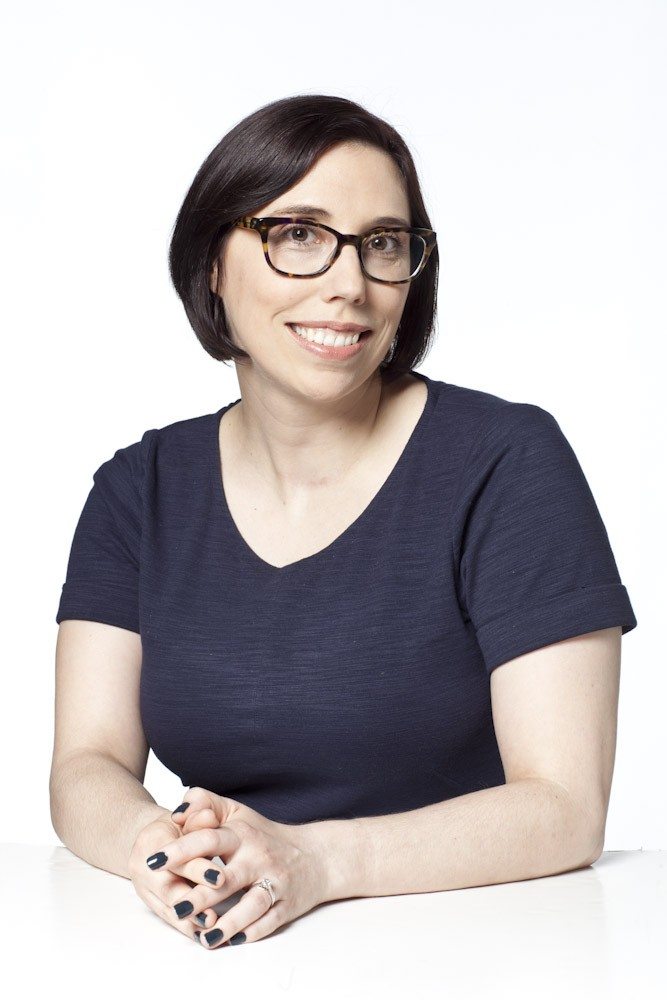 Read on for more details about Fortune's Buffer success story.
Q&A with Heather Muse of Fortune
Name: Heather Muse
Company: Fortune
Position: Franchises and Social Media Editor
Challenge: Working smoothly with a team
Favorite Buffer feature: "The bookmarklet has just made life so much easier."
Quick win: "We don't have post clusters anymore. Everything's spaced evenly, but not robotically. You can still tell we're human behind the feed."
Quick quote: "The ability to schedule and create a queue has definitely helped our twitter workflow immensely."
What's Fortune's social media strategy?
The main objective we have is to grow our brand. Social is a place where we can own our brand and promote it.
We pay a lot of attention to Twitter, Facebook, LinkedIn and Google+ it to promote our content and to break news, basically to get our stuff out there.
How does Buffer help you achieve you goals?
Buffer is great for us because I'm not the only person who runs social feeds. Pretty much every editor at Fortune.com has access to our social channels. Part of our workflow is after you edit a story and publish it, you promote it on social channels.
With Buffer, we have a schedule set up. Now we tweet every 20 minutes; you just hit the Buffer button and it goes into the Buffer queue. It's also been really great for Facebook. Sometimes people would forget to post to Facebook, so having it all in one place we finally upped our Facebook posting volume.
Since I'm the social media editor, I pay more attention to what's in the queue. So if something is trending or more newsworthy, I can move it up—or even share it now if it's breaking news.
How much time would you say Buffer saves you?
It definitely has made things easier, especially with the browser extension. If you're on a story, you can just click on it to update your queue.
Another thing we really like is the ability to highlight with the bookmarklet to post a quote from a story. If you want to share a quote from an interview or something beyond the headline, that's really convenient.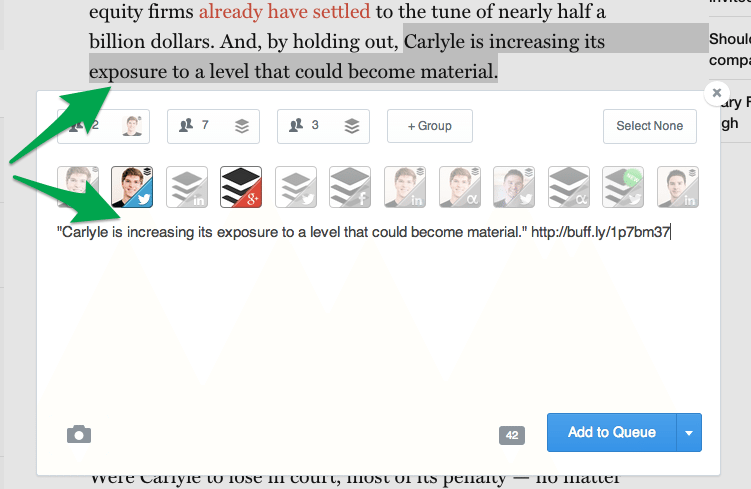 And it helps me with programming over the weekend. I have to pay attention if there's breaking news—sometimes you have to scuttle your weekend plans. Which is why I have the Buffer app on my phone.
How do you use Buffer's analytics?
Every week I send around an email to the editorial staff with our top five stories: The top 5 most clicked on Facebook, Twitter and LinkedIn, and the most reshared posts. I use Buffer analytics for that.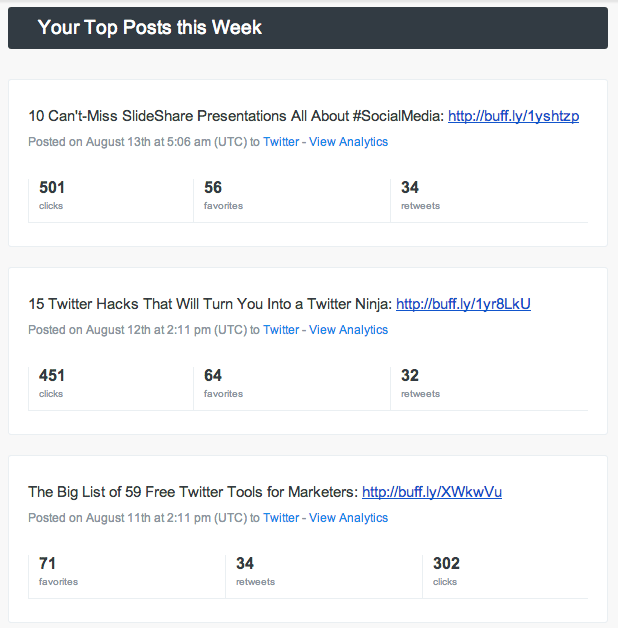 Have you noticed any traffic changes since starting with Buffer?
We've definitely noticed an uptick because of the change in post volume. It's also good for the other editors, so they can see how their tweets did and learn from it. Sometimes you try to tweet the most clever thing ever and it fails.
I notice a giant uptick in engagement when we post photo tweets. Another thing I really like about Buffer is that you can schedule a photo tweet. In some of the other platforms you can't schedule a photo—you have to tweet it live.
What other tools do you use?
I use Tweetdeck to monitor Twitter feeds and keep an eye on what's going on, and we use Hipchat for conversing in the newsroom. I use the actual sites for Facebook and Twitter just to check things—delete spam, check on comments.
What's your favorite Buffer feature?


I love the little messages when you delete a tweet, like "What did that one do to you?" That's my frivolous answer.
My serious answer is the bookmarklet. It has just made life so much easier when I'm trying to program a bunch of tweets. I can just go to our homepage, click a story, it loads and click the bookmarklet. I can also change the language on the tweet because I have the story to refer to. You can just click and move onto the next one.
Can Buffer help your team or individual social media strategy, too? We'd love to help you find out. Why not give Buffer a try?