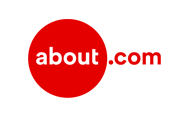 It's a great problem to have—tons of content and lots of social media channels to connect to your audience.
That's where About.com—one of the most visited sites on the Internet—found itself. Team members wanted a way to streamline their social media publishing process so they could have more time to connect with fans and build relationships with users.
Buffer's simple scheduling and intuitive team management quickly earned it an important place in the About.com team's workflow. Now members work more efficiently and save time so they can focus on the content creation that's at the core of their business.
Read on to hear more about About.com's Buffer success story from Matthew Knell.
Q&A with About.com's Matthew Knell
Name: Matthew Knell
Company: About.com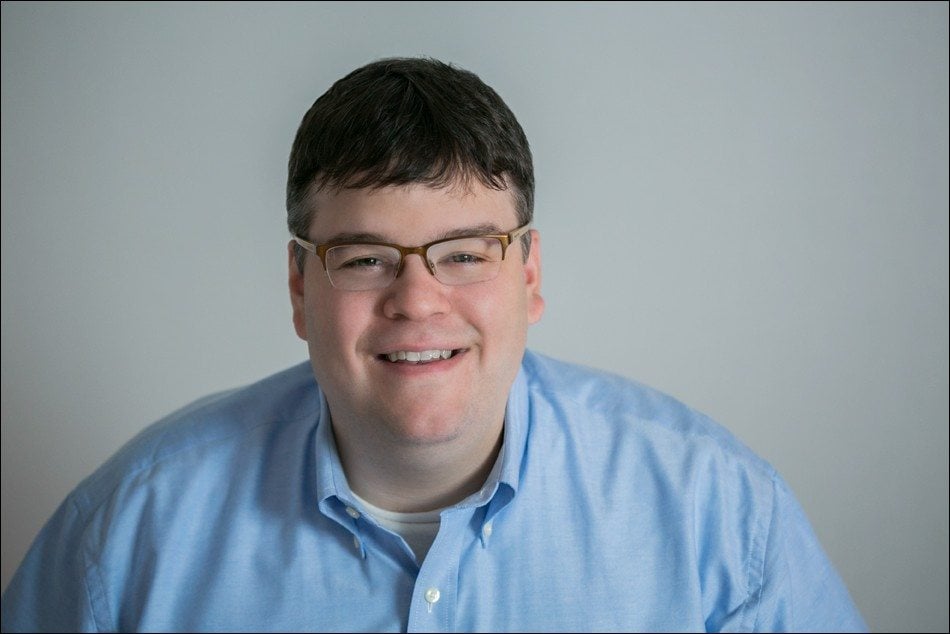 Position: Vice President, Social Media and Community Strategy
Challenge: So much content, so many platforms
Favorite Buffer feature: Teams. "I just added an account this morning for one of our new verticals. It only took me about 15 seconds and we were ready to go."
Quick win: "Quickly we were driving more traffic from our social channels through Buffer weekly than all traffic from Tumblr, LinkedIn, and YouTube combined."
Quick quote: "Buffer being as lightweight and quick as it is saves a lot of time."
What are the key objectives for About.com's social strategy?
It's really about trying to evangelize our brand. We have a whole new vision for where we want to go. We're really trying to re-introduce ourselves to people who have forgotten about us or don't realize they are using us. It's influencer outreach, but it's also just regular people outreach. We're trying to figure out ways to entice people with different content.
How do you use Buffer to achieve those goals?
Publishing is priority one. If it's not out there, we can't get any traffic. We definitely want to have personal relationships with people who are passionate about the topics we're passionate about. But at the same time, you've got to get content out there in order to get traffic back.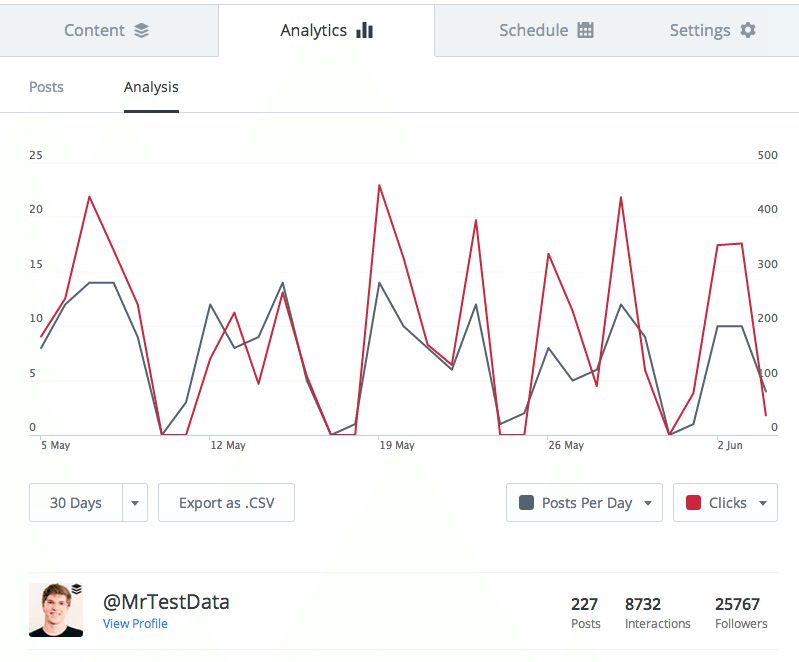 We have a slightly platform-independent strategy. So we'll do different posting schedules on Facebook and Twitter and LinkedIn and Google+.
We've found that Buffer is just amazing for doing lightweight publishing without a whole lot of overhead. And we really like where the pro analytics are headed. It's just a really easy way for us to publish content.
We think it's a really great, quick glance for a Content Manager to pop in and see just how a post is doing, and then we can do a deeper analysis with some other tools.
What features of Buffer would you say help you the most?
By using the Buffer browser extension, we're able to curate content easily and add it to queues. Then we'll review the queues en masse and figure out how to optimize for time of day and different kinds of content. It's really nice to not have to manually schedule times of day for lots of our content—that helps a lot.
And as my engagement team grows, we're using the contributor option. We submit to the contributor queue and the Content Manager can pick it up. We don't disrupt their workflow as they're churning through content, we just augment it.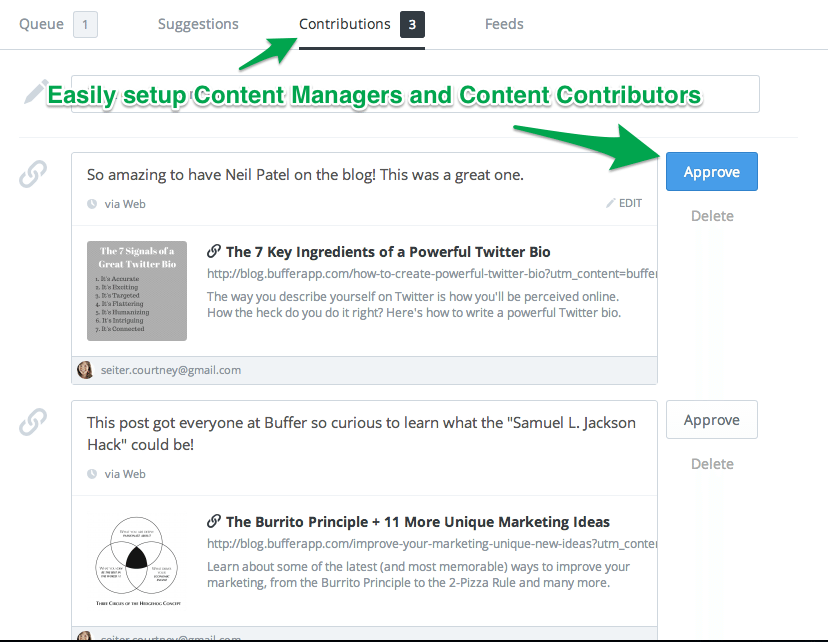 It gives them the opportunity to be the business owner of the channel, which is what we prefer, but it also gives us an opportunity to have a wider breadth and depth of content coming from a lot of different sources without having any collisions happen.
How much time would you say Buffer saves you?
Potentially an hour or two a day, which is pretty valuable as we're ramping up the business here. Buffer being as lightweight and quick as it is saves a lot of time. It allows us to do an efficient job in a relatively small amount of time.
It's great also as we're trying to expand things to not have to worry about ramp-up time. For instance, I just added an account this morning for one of our new verticals that we hired a Content Manager for. It only took me about 15 seconds, and we were ready to go. That in and of itself is helpful in terms of time in the back end, too. You think of the publishing effort involved and the amount of time for analytics, but people forget that you need time to ramp up accounts and get things going. The quicker that can happen the better.
What other tools do you use?
We're doing a little bit of this in Google Analytics, also in SimplyMeasured, which we use for our enterprise social stats. We're looking at a secondary tool that is really more designed for engagement like a Sprout Social. I want to have one tool that does publishing, one tool that does engagement, one tool that does enterprise reporting. That allows us to optimize for everybody's strengths – both from a team and a product perspective. I think the way the tasks are split is logical for us, given the way that social media is just a small part of the job but we want to make sure that the strategy is there.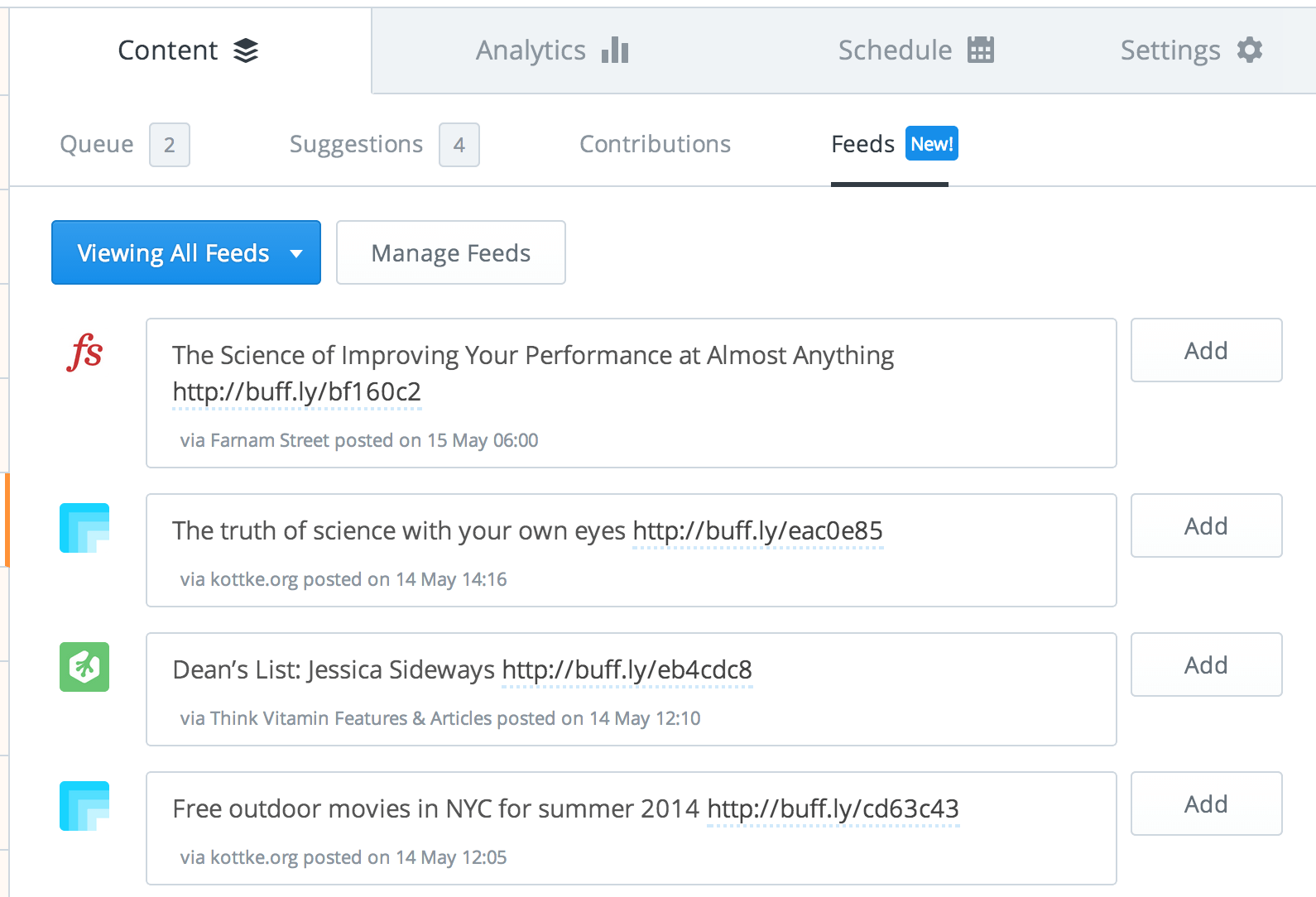 We tried a couple tools before Buffer—all the usual suspects! We even did some due diligence on a few enterprise tools, and after that process, we realized quickly that Buffer's flexibility and efficiency was just right for us at this time in our growth.
Providing analytics that are operationally useful to somebody at the moment is something I would want our team of Content Managers to have, and I think Buffer provides a nice opportunity for that.
And with the addition of Feeds in our Buffer for Business plan, we're much more easily able to find our most popular content to share.
How has your traffic and engagement been impacted by Buffer?
We've gone from nowhere to somewhere. We've doubled our Facebook followers and we're 60 percent higher in Twitter followers in the last year or so. Quickly we were driving more traffic from our social channels through Buffer weekly than all traffic from Tumblr, LinkedIn, and YouTube combined.
Having the analytics tracking at the Google Analytics level allows us to qualify what exactly is happening with what our Content Managers are doing across accounts. That's a really powerful number because we can actually say that we're getting some impact there.
We're seeing really good growth, and Buffer allows us to do that at scale more quickly.
Can Buffer help your team or individual social media strategy, too? We'd love to help you find out. Why not give Buffer a try?