If you've ever sat through a 90-minute YouTube video essay about a random obscure topic — like this one about Disney channel's theme — you may find the stats about humanity's reducing attention spans jarring.
It's easy to see why people are worried, but if a video about the theme song of a network that creates content for kids and tweens has four million views, then we might not be approaching the topic of short attention spans correctly.
Anyone who participates on social media knows that there is so much competing for our attention that of course we can only afford a few seconds to decide what will hold it. This opens up some concerns for creators. How do you create content that captures and holds (the right) people's attention?
In this article, we offer some advice to help you practically approach creating content that engages your audience.
Choose the right format(s)
The "right" format looks different for everyone, and deciding what that looks like for you will always be an ongoing process. However, this is an important step because it's about you. If you don't look forward to creating and sharing content even on rough days, you won't be able to build an audience, let alone engage them.
Formats abound for creators, from short to long form. You can create hour-long YouTube videos, tweets, carousel posts, or newsletters. But here's the thing about holding attention: if you pick a format that you enjoy creating for, you will find your audience.
One approach is to go pyramid-style by picking one or two primary channels and focusing on creating your best content for them. Once you're ready to expand, you can add another channel that repurposes the content from your main channels. Then another and another as you grow your team, acquire resources and an audience size that justifies the expansion.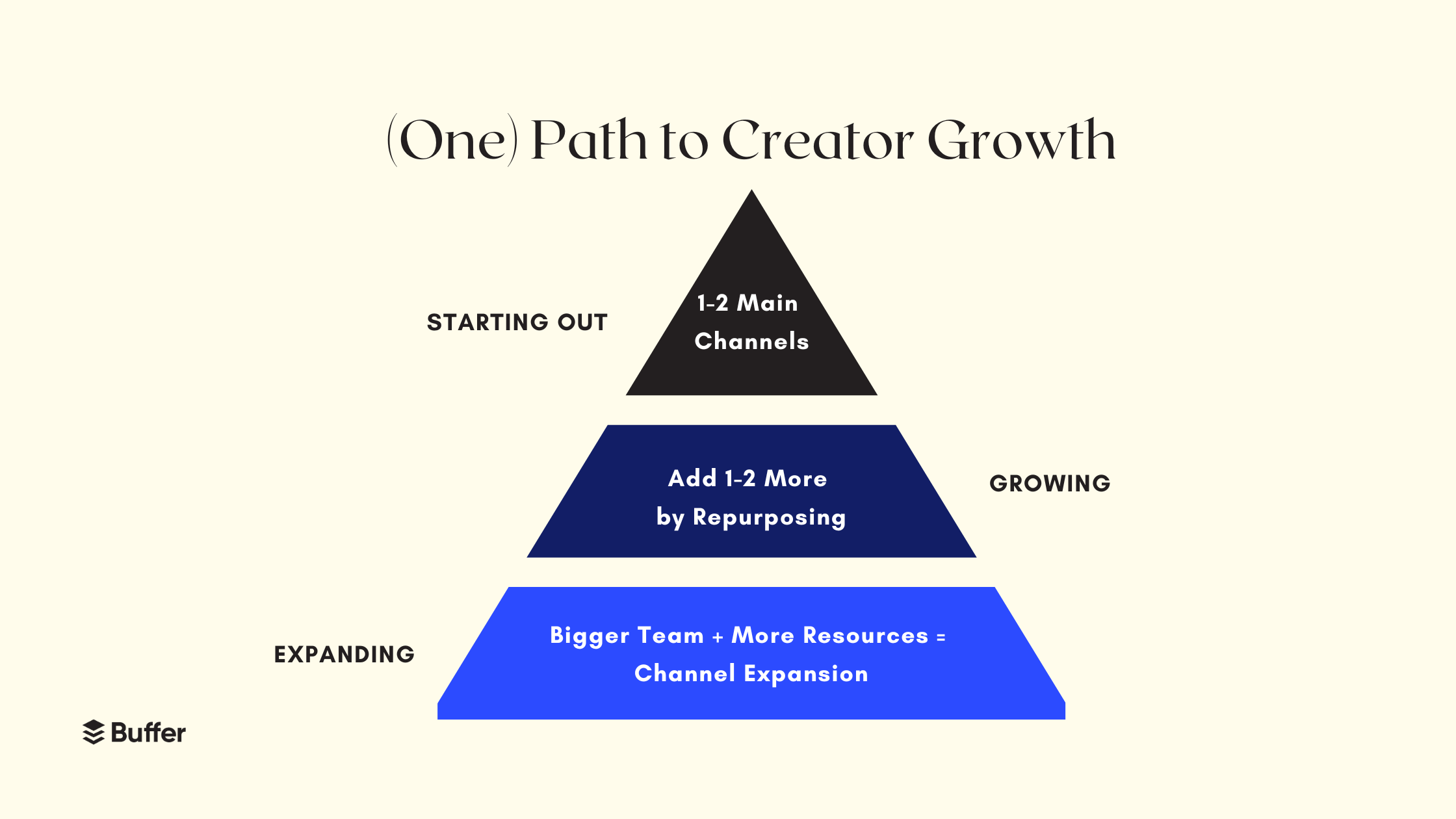 Ali Abdaal is a great example of this, starting on YouTube, sharing productivity content, and using his content there to fuel the rest of his approach to content on other platforms. He now hires a team of 20+ people, offers courses, and has millions of followers – still with one clear niche.
If you get weary of a particular format, re-evaluate your relationship with it. You might just need to switch up the content you're creating, dabble somewhere else, or it might be time to move to a whole new platform. Evolution is a standard part of the creative process.
Aim for deep, not wide, relationships with your audience
We're in a society and economy that's hyper-focused on growth at all costs, and that often trickles down into how we approach individual pursuits. Of course, the large numbers are great and satisfying – there's a reason top influencers command high rates.
But are you so focused on growth in terms of audience size that you forget that the true value of your audience comes from its engagement? In other words, if your follower count is massive, but you can't get a significant portion of them to take a key action, then is that audience truly valuable?
A lack of focus on your part as a creator is at the core of a poor engagement rate. Sure, your audience loves your content, but none of them can say what you create or the value they receive from you in one sentence.
When I think of my favorite creators, I can usually state why I like them so much. I trust them implicitly and would take their recommendations for anything because they've earned my trust, usually through honesty and authenticity.
Podcast expert Lloyd George emphasizes that you don't need a large following to be a successful creator, sharing, "I make almost $8,000 a month just from content with about 12,000 followers on TikTok." That further proves that you don't need a big following to monetize your content.
So, how can you create deeper relationships with your audience? Focus on creating connections with them. As Jay Acunzo recommends, "The best way to [create connections] is to ensure that your own personal creative fingerprints are all over the work. Infuse your personal perspective, your lived experiences, and your stories, and you become irreplaceable in the eyes of your audience."
Your content should resonate with a few people first before you start looking at reaching a larger audience. And it's okay if you can never figure out to expand – resonating deeply with a small audience is better than being ignored by a large one. Elisa Doucette is a great example of having a small but mighty audience.
Her work caters to "driven writers" and if those two words don't apply to you, you might not be as engaged with her content. But she's built and sustained a career and business by sticking to her audience. Like Jay says, "Pick your audience, pick your future."
Take control of what happens when you have your audience's attention
Picture this: you had a video go viral and suddenly have a lot of the attention you've been seeking. Even better, it's attention from the right people! So, what's next?
Do you continue creating the same type of content, hoping to capitalize on their attention? What happens when a portion of them move on to the next thing? Granted, a portion of them will stick with you post-virality, but you can do more than hope they do.
You need to be prepared with your funnel with or without a viral video. Ayomi Samaraweera hit the viral jackpot early in her start as a TikToker, which she attributes to her immediate niche focus. However, she took action and kept the ball rolling on the virality by reaching out to the networking and careers platform Fishbowl, landing a brand sponsorship with only 2,000 followers at the time.
What can you be working on in addition to creating content on social media that will help you capitalize on a viral moment or when someone famous retweets you? There are many options available to you when it comes to directing your audience to take a specific action.
Our top recommendation is setting up an email list so you have direct access to your audience, then highlight it in your comments and link in bio. Also, consider starting a newsletter or a podcast – something that puts you directly in front of your audience and isn't controlled by an algorithm. Or if you have particular expertise that your audience might find valuable, put it together in an ebook or online course.
If you don't have any upfront ideas for content, remember that it's okay to repurpose what you've already created. Any videos you're particularly proud of? Write something about what inspired it. Had a tweet perform really well? Break down what you did differently. Basically, treat your new formats as a way to bring the members of your audience who are really interested in what you have to say, further into your world.
Have a presence on every platform (wait, let me explain)
The last thing you want is to lose the trust you've built with your engaged audience. So, contradictory as it might sound, you need to be present on every relevant platform to protect your image and identity. You can deter impostors if you have at least an account on each platform, even if you don't use it.
This is a more pressing concern than you might think – scammers create fake social media accounts by the thousands daily to target celebrities, influencers, businesses, and even regular people. In 2022 alone, Facebook took action on 1.6 billion fake accounts – and that's just one social network.
In addition to protecting your identity, you also protect your followers. This TikTok creator with over 90,000 followers, @mor10web, spotlighted the issue, identifying 27 accounts pretending to be him. While the fake accounts may seem obvious, it's not unusual for creators to have second accounts. Also, not every person on the Internet is discerning.
So even if you lock your account and don't do anything with it, you have somewhere to point people looking for you on any platform, even when you're inactive there. Plus, you'll have your desired username if you ever want to become active on a new platform.
Conclusion
Thinking about attention spans, your competition, and audience engagement can inspire two feelings: dread or excitement – it all depends on your perspective.
There's an audience out there for every type of creator and every type of content. It's up to you to determine how you will approach that audience to become successful.